ELEVEN Keep My Colour Blonde Shampoo 300ml
Hair Concern:
Brassy tones (blonde/grey hair)
Colour protection
Hair Curl Type:
Curly
Straight
Very curly/African/Caribbean
Wavy
Questions & Answers
(No Questions Yet)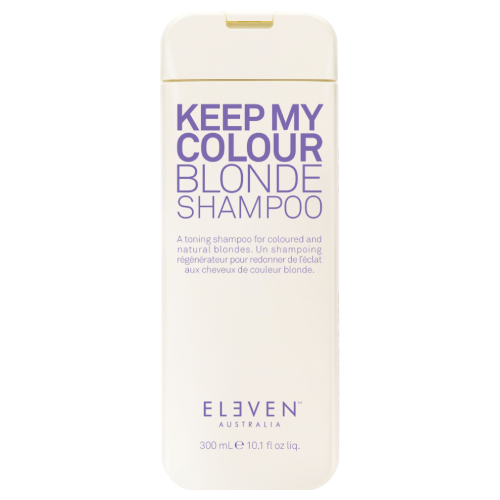 ELEVEN Keep My Colour Blonde Shampoo
Get an expert to answer your question about this product!
Ask a Question
87% recommend this product
Most Helpful Positive
Best product
Excellent for blonde hair, stops the brassy look and keeps my hair looking great, it also smells nice.
Most Helpful Criticism
Not sure
I really don't know if this product does what it claims to do. I like the smell and how clean my hair feels after using but not sure if it really keeps that brassy look out of my blonde locks, I will keep using it for awhile longer to see if there is any difference but for me the difference is not instant.
Best product

Excellent for blonde hair, stops the brassy look and keeps my hair looking great, it also smells nice.

Not sure

I really don't know if this product does what it claims to do. I like the smell and how clean my hair feels after using but not sure if it really keeps that brassy look out of my blonde locks, I will keep using it for awhile longer to see if there is any difference but for me the difference is not instant.

Disappointing

I really wanted to love this shampoo as I love the conditioner. However, as with other reviews, I found the shampoo to be very drying and it left my hair in a tangled mess!! I had to use an insane amount of conditioner to detangle it!!

Excellent blonde shampoo

Tried this shampoo as a more affordable option and was not disappointed! The smell is amazing and keeps my hair looking bright and fresh. Only need a small amount of the product as it lathers up easily.

All time fave

I've tried so many different toning shampoos and found that this is the only one that consistently works for me! It keeps brassy tones at bay and if I accidentally leave it in too long it doesn't turn my hair too blue toned either. Smells awesome and you only need a tiny bit to get a good lather. I've lost count of how many bottles I've used! I always follow it with the Eleven Keep My Colour Treatment.

Amazing

Smells amazing and keeps my blonde bright and fresh! I've tried so many purple shampoos and they are usually so drying on the hair but this one isn't.

Really Good!

I have used every purple shampoo under the sun and have found most of the drying or over tone my hair too silver but this product is so hydrating and gets rid of the brass tone that i dont want! I LOVE it and it is such a good price.

Love the product

I love this purple shampoo. Not only because it does wonders to my very blonde hair but the smell of the shampoo is amazing and leaves my hair feeling amazing too. I also love knowing it's not tested on animals makes me feel much better about using this product :)

Hair looks good

I love this, my hair looks good and clean and bright, nothing worse than brassy blonde hair, I will definitely be purchasing more when this runs out. All in all another great Eleven product.

Stops discoloration

I swim a lot and find this helps to prevent the discoloration in my hair due to the chlorine, it also helps my hair retain moisture,

Excellent shampoo!

I have been using this shampoo for a week or two now and it leaves my hair shiny, silky, and refreshed. The tone of my blonde is better than ever; my hair looks & feels healthy! I can't say I love the smell, however that doesn't hold in my hair

I would definitely recommend this for anyone with a medium to light blonde to maintain great colour and procrastinate visiting the salon.

Okay

Thought this product was okay, nice smell but didn't do anything amazing to my hair or colour, good price point though

Works a treat!

This product is pretty kind to my hair & wallet! Definitely saved it from looking "brassy". 100% would recommend!

OK

This shampoo stops all " brassiness" when used regularly.

Best Purple Shampoo!

I bought this first, purely because it came in a travel size and was reasonably priced. I very quickly came back to buy the regular size! I use this with the Eleven Hydrate My Hair conditioner, regularly (every 3-4 days) and it makes my hair a great icy blonde colour! Every touch of brassiness is gone and people always comment "Oh, you've been to the hairdressers!" Nope, just washed my hair! I love the colour and the smell too.

I've tried many purple shampoos and this is by far the best.

A must have!

My go to blonde shampoo. It is very affordable, not tested on animals and does not leave my hair feeling oily. I love this!

Great product for blondes

I have been using this shampoo for several years now and seems to be the only one that holds my blonde.
I have semi thick Indian hair and have been blonde for 4 years.
This shampoo stops all " brassyness" when used regularly.

Not the best

It didn't change or tone my hair at all, it only made it feel super dry and hard to manage. It smelled really good and only felt better after I used the conditioner. Over all not worth it

Great toning shampoo

Having been a blonde my entire life, I've tried almost every toning shampoo on the market. This shampoo is exceptional value if you're after a good quality blonde toner! It isn't overly drying like many purple shampoos out there. Leaves hair a lovely cool, creamy tone. If you're after a high quality purple shampoo without a huge price tag, this is it! Also smells divine.

Love!

This is my favourite shampoo by far. Keeps my blonde so blonde!

Love it

Amazing product, a must have

Ruined my hair

At first this product was AMAZING. It made my hair go so icy blonde, which I have never been able to find a purple shampoo do this before. I was so happy with this product and it didn't feel like it dried out my hair at all. About halfway through the bottle i noticed how much it was damaging my hair, it had so many dead ends and made my hair very damaged and frizzy.

Best shampoo for lightened hair

I have been using this shampoo for years. It is so good, keeps my blonde from going brassy and you can use it several times a week and it never goes too ashy - you can't really overdo it. Great price and love that it is an Australian brand. If you highlight your hair, you should definitely try this.

Great toner

A strong toner. Don't leave it on for too long though...
Keeps my blonde balayage from going brassy. Love this product.

Solid performer

Really good purple shampoo. I have brown hair with some lighter highlights and I use this once a week to make sure my hair stays fresh and just doesn't go full or brassy.

Best for blondes

Love it!

Find this a really great product. I have highlighted blonde hair that goes brassy in the sun and this works a charm. I also like my colour to be very clean and white and almost overtoned and I find this is great for keeping it like that.

Not my favourite

Since going blonde, this was my first purple shampoo i had tried. However i felt that it made my hair feel so much drier. Although it did tone my hair fairly well, i wouldnt recommend if your hair is already brittle.

OK

I used this product to stop my hair going brassy, it does work but you have to use it every time you wash your hair so it doesn't last long. There are cheaper products that work better on the market

Smells like banana

I've tried many a purple shampoo and this is up there with the best. It smells really nice and is easy to rinse and people have complimented my hair colour more often since using it.
Cruelty free is a definite bonus for this product!

YES YES YES!!

Omg yes, this purple shampoo leaves me feeling like I have just walked out of the salon! Leaves my hair feeling fresh and 10/10

Favourite Blonde Shampoo

This product not only smells amazing, but you only need a small amount to get rid of the brassiness! Best blonde shampoo on the market.

No More Brassy Blondes!

I have long thick bleached blonde hair. . This works miracles as a once a week treatment to fix brassy tones. It leaves my hair feeling clean and soft. I would not recommend this as an everyday shampoo as it could be drying on bleached hair.

Amazing product for blondes

Amazing product for blondes. Keeps you blonde beautiful and not brassy. Smells great and leave hair feeling great

Best purple shampoo

I have bleached hair, and used this product on reccomendation from my hairdresser. My hair is quite ashy in toning, and this has kept my hair colour fresh between appointments. It's not too drying and doesn't over tone like other purple shampoos on the market.

Gets rid of unwanted yellow

This shampoo works, it definitely gets rid of the yellow blonde and tones it quite well. However, i used it frequently and my hair started going silver/ashy in some parts, so maybe cut down on the usage.

great

I bought this product as a recommendation from my hair dresser. I have had this product since June and it's still going strong. The product goes far as you don't need to use that much each time. I try to keep it on my hair for a few minutes for the best results when toning my hair. It has a good thick consistency. It keep my colour well in my hair and has very much impressed me since purchasing it.

ELEVEN Blonde shampoo

It was ok, I feel there's better products on the market. Left it on for 20 minutes and still didn't feel like it toned down the brassiness.

Sourcing the product

When my local hair salon stopped stocking the product, I looked for an alternative source. Buying it on line from Adore gave me an alternative. The item arrived quickly & the price was comparable.

last ages and cheap for the quality you get

this shampoo has lasted me months! i have bleached blonde hair and it works well! it makes me hair less brassy although its not very strong if you have stubborn yellowness that needs to be taken out, otherwise its a great product and would highly recommend getting the blonde treatment to use after

Go to purple shampoo

This is my go to blonde shampoo that I use every second wash. I have used many purple shampoos in the past that would remove the brassiness but would not clean my hair! This is an affordable shampoo that smells absolutely amazing and cleans the hair removing any brassiness from my cool blonde hair. I do find that my hair doesn't stay clean for very long but definitely the best one that I've tried. I love the Eleven brand as it doesn't test on animals and no chemicals!

Love it

Have found my holy grail for blonde shampoo! This thing got me through 7 weeks in a European summer without a toner. My blonde still looked fresh, and no brassiness <3

Fantastic product to use between salon visits

This is one of my favourite products for keeping my hair blonde between visits to the salon. It's easy to use, washes out easy and gives my blonde highlights a nice ashy colour. Great for the price you pay.

I do find that if I use it weekly, by the end of the 12 weeks between my salon visits there will be a bit of build up of the ashy colour but it doesn't look awful - I'm just very particular with my blonde!

be gone yellow tones

My hair tends to get that real brassy yellow tones on the ends but using this shampoo has really helped prevent that from happening.

Amazing

The purple counteracts the colours to neutralise the blonde tones and remove brassy colours. The packaging, smell and price of the product is also great and I think really reasonable and affordable whilst also getting great results

Best Blonde Product

Match this with the Keep My Colour Blonde treatment for the perfect blonde. I've used so many blonde products to tame my bleached, curly hair and nothing keeps the colour looking and smelling amazing like this duo.

great

This shampoo really does work, I use it also by mixing some in with my everyday shampoo.

A great product at the right price point.

The price point for this product is just right... a great blonde shampoo and conditioner. It took the cooper look of my hair away to create a cooler tone. However, as other reviews have pointed out it is a tad drying. I did find I had to use a leave in conditioner. But for the price worth the buy.

Beats The Brass

I have bleached Asian hair which is prone to brassiness pretty much as soon as I leave the hairdresser, along with a sensitive scalp. I've tried a handful of blonde shampoos but this one is miles ahead of any others. It keeps my blonde looking super fresh, while my hair is incredibly soft, and it doesn't irritate my scalp. My hair is clean I find that I can go longer between washes. It also smells delish!

Fantastic!

I've been using this for about a year now and I'm on my 4th bottle. This is the best purple shampoo I have ever had, and I've tried a lot.

I use it 1-2 times a week and it always brightens up my highlights without staining my ends. It smells delightful and never leaves my hair oily. I use mine with the 3 minute treatment and it works amazing for my dry ends.

Top product

This shampoo keeps my hair blonde between colouring at salon

Can't decide on this one

I wanted to love this but I'm honestly not sure if it makes a difference to my lightened ends. It is very drying when using however when teaming it with the conditioner it feels good again! I have only been using this weekly and can't say I've noticed a difference but maybe I should use it more frequently. A bit un-decided on whether I should repurchase yet.

Good value, feels nice

I have fine wavy hair: oily roots and damaged ends .

This Eleven blonde shampoo is great - it cleans away the oil from my roots and leaves my hair feeling fresh.

I don't know if it really brightens the blonde (I'm not convinced any shampoos do much for me), but certainly since I started with this, the blonde treatment and I want body conditioner my hair does feel nice, healthy and is easy to style.

It's good value for money and I'd repurchase.

Eh Product, Good Price

I was looking for a cheaper purple shampoo and it did an okay job, it did make my hair a little bit purple in some areas, but thats to be expected. I prefer KM or Olaplex products but for the price this is a good alternative. My hair is platinum so I need a blonde shampoo that works overtime and this didn't quite cut it for me sadly, I suspect would be better on highlighted or naturally light hair

Fantastic!

Unlike other purple shampoos I have used, this one actually cleans your hair and leaves no residue! Foams up beautifully and smells wonderful. I'm on my second bottle now and will continue to repurchase as long as I have highlights ;)

My first choice of purple shampoo

This shampoo leaves a beautiful blonde finish. It evens out uneven ones in your hair and tones down brasses and yellow tones extremely well.

Would 10/10 recommend.

Best purple shampoo!

I've tried quite a few brands for my blonde hair and this purple shampoo is hands-down the best I have come across. It doesn't leave my hair feeling brittle or dry like many other brands do. I use it a few times per week and it keeps the gold undertones away.

Best Purple Shampoo for blondes

I love this Shampoo for toning my hair and keeping my blonde free of orange hues. It didn't stain my scalp like other purple shampoos and smelt heavenly. If you are just using for a once a week tone it lasts a looong time. Will repurchase

LOVE

I use this inconjunction with the hydrating range and I swear by them! It helps keep my blonde ashy. While it's not the strongest I've used, it definitely does the job and you cant go wrong if on a budget.
I've had 4 or so bottles now? It's my go to

Amazing!

Smells great, doesn't dye your hands purple but still leaves your hair with a lovely ashy tone - what more could you want!

Eleven hair review

This product is great for when you have highlights through your hair and it starts to turn that slight yellow colour, if you leave it in for 5-10 mins it brings it back to that rich creamy blonde colour. It also smells really good to :)

Great Shampoo

This is the best purple shampoo I have found and will definitely be re-purchasing. I leave it in for quite a while and am always really happy with the effect it has on my blonde ends. I haven't found it to be drying but I don't ever really have issues with dry hair.

Great without turning your hair purple!!

This was good for a once a week toner/shampoo. Really loved the fact it didnt give my hair those horrible purple tones. would buy again

Best thing ever!!

After being blonde for years and having many purple shampoos that would turn my hair blue or purple, when my new hairdresser recommended the eleven range I jumped on it. I love that this shampoo keeps my blonde for up to 12 weeks after seeing hairdresser and there is no yellow tinge at all! I absolutely love this product!

Best purple shampoo

I find most purple shampoos very drying for my bleached wavy hair. This one works very well for toning with a deep purple hue and still find it leaves moisture in my hair to keep it soft

Unsure what I think of this product

I bought this as I wanted a cheaper alternative to opaplex. It was good, did it's job but it was nothing special. Definitely prefer opalex.

Not The Best

Not the best blonde shampoo I've ever used but pretty affordable compared to others!

Excellent for blonde hair!

Oh boy is this shampoo a godsend for blonde hair! I've used a number of different blonde toning shampoos in the past and this one has a nice, thick texture and maintains the vibrancy of my colour well. While it's perfect for colour maintenance, I do make sure to always use this with a hydrating and moisturising conditioner - without it it can leave my hair feeling dry and flat, and prone to breakage.

Great product to keep blondes fresh

I use this about once or twice a week. You need to be careful you don't use it every wash because it's very drying. It made my hair very toned and refreshed my colour. Great for blondes!!

Exactly what I want

Love this shampoo. Keeps my greying hair a beautiful blonde colour. My fabulous hairdresser recommended it and she was right, I love what it does to my hair

Fabulous purple shampoo

I have very subtle baliage that had a tendency to go very brassy quickly. I use this daily and I have ZERO orange yucky hair now. It is a little drying so make sure you use a highly moisturising conditioner.

Blonde perfection

I love this product and will be making another purchase! It's the perfect blonde shampoo, it's budget friendly, lasted well over a two months (for long hair and a girl that goes through a lot of shampoo and conditioner that's saying a lot), a found it a little brittle to wash through my hair but when towel drying and bowling drying the results where silky silk hair!

Amazing!

Finally a blonde shampoo that doesn't dry your hair out but has enough colour pigment to actually tone! Couldn't rate it high enough and love that it's an Australian company

Works well

This purple shampoo forst work for yellow hair. It definitely does work better on day hair rather than wet hair. It is very pigmented compared to other purple shampoos so definitely would repurchase.

Good toning shampoo

My hairdresser got me on to this brand. I have very fine straight blonde hair.

I alternate this shampoo with the Eleven fine hair shampoo every three washes to tone and remove the brassiness in my coloured hair. It is very very purple though so you need to be careful where it splashes when you put it on. It also smells lovely. Australian company so support local.

Highly recommend.

It does the job but with some definite negative side-effects

This shampoo is definitely the most effective purple shampoo I've tried for my bleached hair. After a home-dye bleach disaster my colour was a horrible orange-blonde, and after three washes with this product it took the colour to a cool, light blonde.

It is incredibly drying to my hair, however, and it is not at all pleasant to use. My hair feels like straw afterwards and I need to use a heavy-duty conditioning mask afterwards. It also leaves my palms purple and I need to scrub them to get the colour out.

Smells amazing!

I found his really hydrating and the bottle is really nice as well. It's also Australian made which I love. You don't need a lot of it either.

Love it!

This shampoo surprises my hairdresser! I was prone to going brassy but not since using this! Smells great and is cruelty free. Win/win

Only one I've used

I no longer have coloured hair but when i did this is what i was recommended by my hairdressers and it didn't disappoint!

Not too bad

Good product. Love the smell but I feel it doesn't tone my hair as good as others

Blonde babes!

I have never used a purple shampoo before! I was getting so fed up of my colour always looking so brassy and not fresh after a few weeks. I switched to the eleven brand and purchased this product. I wash my hair once a week (lucky me) and this shampoo I do first after soaking my hair. I leave it in for
About 5 minutes and then rinse. This shampoo I find does actually make your hair feel a bit dry, so I have paired it with the moisture shampoo and I do this as a second shampoo, rinse and then the conditioner!
I have never had so many compliments on my hair colour before using this product, and all the eleven products!

One of the best blonde shampoos on the market!

This is perfect for blondes with pesky yellow and brassy tones where in one wash will eliminate all of those problems. The smell is amazing and so yummy and lasts quite a while. However, it does leave the hair a little dry, so I would personally recommend using it only once a week to keep brassiness at bay! Overall, very good shampoo!

Good product for value

Last 8 weeks which is good value but can leave my hair feeling dryer out, I would recommend only using once a week alongside a leave in treatment to keep your hair feeling soft.

Great for purple hair!

While I don't have blonde hair, I do have bright purple hair and this is one of the best purple shampoos I've used. It helps retain my colour a bit longer, and even when it is fading more the colour fades more even that when I used other ones.
To top it off the smell is divine! and it doesn't stain my hands like another brand

Value for money

Very rich purple pigmented shampoo. Great value for money. I use once a week and it keeps my hair free from brasiness.

A must have!

I very much enjoy using this ELEVEN Blonde Shampoo as I see visible results from using it. I have dyed blonde hair and was recommended this shampoo from my hairdresser. It helps to stop my hair from going brassy. It gives my hair a lovely light blonde colour. I keep this in my hair for five minutes when using as my hair is naturally dark brown. You will not regret buying this product.

Love it!

I got this since my hairdresser uses it and I love it so much. Its heaps better for your hair/blonde colour than other purple shampoos since it doesn't create a buildup of product - which changes the colour and makes your hair look dull. Its great value for money too... lasts ages!

Love the result!

This is by far the best toning shampoo I have used so far.
You don't need very much and it actually foams up a little which helps to spread it through the hair, unlike a lot of other toning shampoos.
Depending on how deep I want the colour to turn out I leave it on for different times, if I just want my blonde to brighten up I only leave it on for 2 mins or so, but if I want it to be really ashy and almost silver then I leave it on for 5 mins +!
It does leave the hair a little dry, but I pair it up with a moister conditioner and it all fine, worth it for the result!

Beautiful blondes

I absolutely love this product. I was referred to it by a fellow blonde friend as I didn't want to fork out the money on the Kevin Murphy blonde shampoo products. It's kept my hair a beautiful blonde colour - just make sure you're using a good conditioner afterwards. It makes the hair feel a little dry if you don't use with conditioner.

Pretty in purple!

Amazing product for keeping the dull yellow tones of blonde away! I have recently gone from brunette to blonde and use this shampoo every second wash to keep the light blonde tone.

Yes, the product can leave your hair feeling a bit dry after the wash but pair it with ELEVEN Hydrate My Hair Moisture Conditioner and you will forget about the 1 minute you spent with dry hair.

Always happy with the end result after a wash with this product.

Great product

Really good for keeping the colour tone. Has a really great lather and scent as well.
It is a great price for a high-quality product and one of the most effective and affordable purple shampoo I have tried.
Kept my colour looking really fresh and blended that I haven't had to retouch it for over 6 months!
Bonus, it's cruelty-free!

Good toning shampoo.

I like this shampoo as it does exactly what it's supposed to do - keep my blonde tones looking good! I use it in conjunction with the other Eleven hair products. Very happy with it.

Kept my blonde (or grey)

Probably one of the best toning shampoos I've used as far as keeping the brassy-tones at bay. I have bleached and grey-tone balayage locks, so it was very good at maintaining those cool tones. It smells lovely – some sort of rose scent that is very nostalgic – and makes washing your hair a lovely experience. Like a few others, my hair felt a little dry after multiple uses but it's great to pair with a good conditioner or hair mask.

Best ever

THis blonde shampoo is just fab! It has taken out the copper and orangy tones from my blonde hair and given me a beautiful colour! It needs to be used just being the condition though as it feels dry at first. Also, only needs to be used once a week or fortnight, I'm still on my first bottle and have had it for 3 months!

Good toning shampoo

Works well on eliminating brassy tones; did dry out my hair a fair bit but leave-in conditioner fixed that!

Too drying - will not repurchase

Unfortunately this really dried out my hair so I won't be reusing it. My hair today looks frizzy and straw-like which it never normally does. I even used great other nourishing products after my shower (O&M Know Knott Detangler and Snobgirls Hydramend capsule) but still the same.

Product does smell great and is very purple toned - I am sure it does remove brassy tones but the drying factor makes it a loser for me.

Lucky I bought the travel size to test first!

BEST PURPLE SHAMPOO!

The best purple shampoo i have EVER used and ive used plenty. This product does NOT dry your hair out and doesnt over tone your hair like many others that leave your hair violet until the next wash. You DONT need alot of product a little goes a long way! It smells amazing and i love the feel of it when washing my hair. I havent experienced my hand going purple. I have thick and alot of hair and this product goes along way. Since i have been using this i always use the conditioner treatment that goes with it. They are a great team for us blondes natural or not.

Leaves the hair dry

Love the smell of this shampoo, leaves you smelling like a candy shop. It does as it says and keeps brassy yellow from the hair but unfortunately I just can't get passed how much this dries my hair out. It strips any moisture from the hair and leaves it looking frizzy and feeling like straw. Will not purchase again as there is much cheaper and better purple shampoos on the market

My favourite blonde shampoo

I've been using this for ages on my hairdresser's recommendation and it has become my favourite blonde shampoo. it smells amazing (my fiance is always telling me how much he loves the smell of my hair) and it feels even better. If my hair is at a good colour I sometimes use this with the 3 minute treatment instead of the matching conditioner.
This is definitely a long term staple in my shower.