ELEVEN Hydrate My Hair Moisture Shampoo 300ml
Hair Concern:
Breakage and split ends
Dull, lacking shine
Frizzy hair
Oily roots, dry ends
Hair Curl Type:
Curly
Straight
Very curly/African/Caribbean
Wavy
Questions & Answers
(1 Question)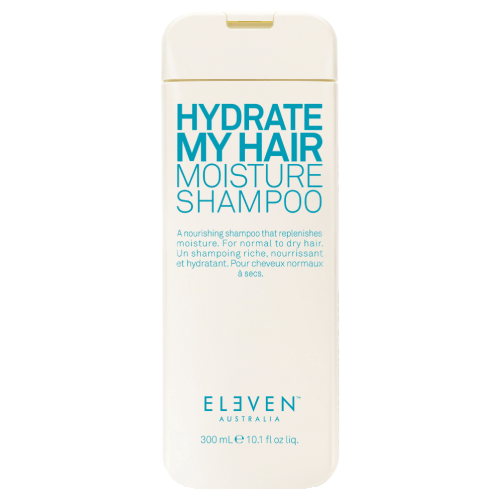 ELEVEN Hydrate My Hair Moisture Shampoo
Get an expert to answer your question about this product!
Ask a Question
92% recommend this product
Most Helpful Positive
Love it!
My hair has never felt this soft and hydrated, definitely recommend! And it smells amazing!
Most Helpful Criticism
SMELLS AMAZING
This shampoo smells so good! Leaves hair feeling slightly dry however following up with the conditioner leaves hair feeling silky smooth
Love it!

My hair has never felt this soft and hydrated, definitely recommend! And it smells amazing!

Ah-MAZ-ING

I have used this product for years with their Conditioner and it does wonders!

So hydrating

I use this with the hydrating conditioner and love the products together! Definitely recommend

Great for my frizz prone hair

My curly hair can verge on unmanageable and I find this shampoo coupled with the conditioner makes a noticeable difference, adding much needed shine!

Fave Shampoo right now!

Was recommended this from my hairdresser and it works amazing! Keeps my hair hydrated and smelling great! Best shampoo scent ever in my opinion

Less drying than other shampoos

I went to a music festival recently and normally need to shampoo my hair twice after. This cleans super thoroughly and quickly so I only had to do it once. Doesn't dry as much as other shampoos.

SMELLS AMAZING

This shampoo smells so good! Leaves hair feeling slightly dry however following up with the conditioner leaves hair feeling silky smooth

3 stars but wish I could give 5

I wish I could give this 5 stars as I use to be a long time lover of ELEVEN products. I mean I've used it all. I still like the products. However I think there is better (but it comes with a cost) I love this shampoo for its smell and it gets the wash done. However, after repeated use I noticed it strips my hair. My hair goes from brunette to a honey golden brassy colour. I also have residue left on my scalp after using this product. I feel this creates weird sores on my scalp as well. I still buy as it's cheaper than others but I try to limit use.

Smells lovely, doens't dry hair out

I like this shampoo, it smells good but not over powering. You don't need to use a lot and it cleans the hair well. Does the job, I will keep purchasing this one :)

Best Shampoo

This is honestly the best shampoo I've ever used. Since my hairdresser told me to buy this I have never looked back. Would definitely recommend for that moisturised and clean feeling.

Always a staple

I've been using this product with the matching conditioner for over a year now and it's always my staple shampoo...it lathers so nicely which is great for long, thick hair and has a lovely smell to it too which is nice. It definitely is mositurising and noticed a different immediately after using this product in comparison to supermarket branded shampoos.

Best stuff

Love eleven more than any other hair products I own!
It's my go to every time
The smell, the quality, and everything about it!
Love elleven always!

Leaves hair feeling soft and looking shiny

I've never really invested in good shampoos, but I'm really glad I took the risk to purchase this product. After only the second use I noticed a huge difference in my hair. Now every time I was my hair, it looks like I have been to the hair salon. It's shiny, feels fantastic and sits great! This product lathers really well, which makes it easier for me to wash my hair. It also smells like watermelon, which on application is a little too strong for me, but is not an issue as the scent on clean, fresh, dry hair is subtle and not overwhelming at all.

Love the smell

This shampoo is such great value. Leaves your hair soft, shiny and easy to manage. I normally stay away from hydrating shampoos as I don't like heavy shampoos, however this isn't heavy at all and leaves my hair manageable with minimal frizz! Will purchase again.

Best shampoo

Bought this with a pack. Great.
My hair has less frizz. I've been using the conditioner for a year and this shampoo makes it work best as a pair.

Love both hydrating shampoo and conditioner

Perfect for dry frizzy hair

This shampoo makes my hair feel so soft and tamed my frizz. Doesn't leave it greasy not even between washes and smells AMAZING! I even use it on my 4 year olds hair which is really curly and usually hard to brush, but this helps soften her hair and easily untangles her knots.

Does Exactly that - Hydrate!

I wash my (short) hair every day and I don't often use Conditioner. This shampoo is perfect - I only need to shampoo once and that's it. The result is hydrated, soft, shiny hair. If I do require conditioner, I love the Hydrate My Hair Conditioner because it is weightless and provides the extra Hydration needed for my fine hair.

Only down side is the SLS indgredient - I'm not a fan.

Brought life to my hair

Using this product definitely brought some life to my hair, keeps it nice and moisturized!

Great for hair prone to dryness!

I have dry, wavy hair prone to breakage that I colour often.

This is a great option as it cleans my hair without stripping it too much. I think it adds some hydration but my hair doesn't feel gross or greasy.

I think the Eleven range is full of great salon-quality hair products for a price that isn't too bad.

Too drying

Smells good but didn't like it
Suppose to be for dry and damaged hair but after rinsing it out it actually made my hair unbearably dry and turn into a challenge even trying to get my fingers through my hair.
Not for me and will not purchase again. The conditioner in this same line however is amazing


Won't be buying again

have really fine, dry hair with some damage, so I tried this product with the matching conditioner and found that it really didn't work. If anything my hair felt more brittle after using it. A small upside is it smells really nice.

Love the smell!

I just love the smell and feeling of this shampoo, my hair is so soft after using it, great product.

Another essential in my bathroom

I really love the eleven Haircare range and recently bought the hydrate shampoo and conditioner. Found it smells amazing, definitely makes my hair feel smoother and healthier especially as it is coloured and can get quite dry at times.

Love it

Love this shampoo so much, my bleached hair has never looked softer and smoother, and it never looks dry anymore. Super nice on the hair and the smell is incredible!

Beautiful smelling shampoo, great hydration

This shampoo smells divine, really fruity scent. A little goes a long way. I generally alternate between this shampoo and a protein shampoo and I find this perfect for improving my hair's hydration level. Have not yet paired it with the matching conditioner but works well with my OGX conditioner anyway! Would recommend.

Ooo amazing

Omg this Is amazing for my hair! It doesn't dry out my hair or make my hair itchy love love love

This is such a great product. Will always use it.

This is a great product. Wish i knew about it before. Very happy hair.
Thank you

Very very happy

Love this product
Thank you

It works

Love using this product, it does what it says.
After every use I notice my hair fresh healthy and fresh and definitely no frizzy

smells great, feels great

This shampoo smells fantastic and lathers easily so a small amount goes a long way. My hair feels smooth and silky soft after using it when others have dried it out.

Hydrating!

This shampoo is fantastic! The scent is really nice, it doesn't dry out my hair at all and the price point is great! I have blonde hair and my ends tend to get dry and split, since using this shampoo this has not happened! After using the shampoo I can feel that my hair hasn't been stripped of moisture like other shampoos do. Would definitely recommend!

love this product

Leaves your hair smelling amazing and super soft. Perfect match with the hydrate my hair conditioner and miracle hair

It was alright

This product was ok. It smells amazing but my hair was constantly greasy after using these products. Just didn't work for me.

Great results

I was so pleasantly surprised at the effect this shampoo and conditioner have had on my hair. I have oily roots and very dry ends and have found it difficult to find the balance between hydrating and cleansing shampoos. This gives me a great fresh clean with a watermelon scent, and once conditioned my hair is hydrated and soft. I feel like after a couple of weeks of using this my hair has also gotten stronger. Will continue to be purchasing. Hoping they bring out bigger bottles!

Surprised

I like this product and you only need a small amount when applying it to your hair. It definitely hydrates your hair but I think it is more effective when you use the hydrating conditioner as well. Both have a nice creamy feel when applying it to your hair and I really like the small sized products for travelling.

It's actually does hydrate

Once I finished my first bottle of this I actually ordered a few different brands to tell the difference and this was the only one that actually repaired my dry hair. My ends were soo much better. I live in north qld and my hair goes through the extremes. This shampoo is forever my everyday shampoo.

Love at first wash

My hair feels amazing and beautiful and highly recommend this brand!

Live for this shampoo and conditioner!

Firstly, it smells AMAZING, a hairdresser washed my hair with it at a salon and I had to buy it after I smelt it, but it leaves your hair hydrated and soft. I have oily hair and it doesn't make my hair extremely oily. I think this shampoo and conditioner is worth the price. I adore it, you dont need to use much at all and it lasts quite a while. Sooo many pros to this shampoo and conditioner its so worth trying.

Love this product !!

Don't need to use much of it at all and smells awesome !!

♡♡♡♡

I started using this brand after my hairdresser began using & selling it. I absolutely love it, the smell is too die for, and my hair looks & feels so much better!

Smells too good!

I have always struggled to justify spending more on Shampoo and Condition as I felt some higher level supermarket brands have done me well. I have a lot of fine hair a wash every few days with minimal heat styling.

I decided to "splurge" after smelling this shampoo while at the hairdresser. I couldn't resist the sweet smell as well as the way it hydrated my hair. I used the shampoo and conditioner at home and found even without blow drying my hair was sleek and hydrated without being weighed down.

The fragrance isn't too overpowering and lingers in your hair even a few days after you wash!

Excellent shampoo

I love this shampoo, it's not too drying and it has a pleasant smell. A small amount goes a long way. I love the fact that it's australian.

Good product for the price

I use this in conjunction with the Eleven Hydrate Conditioner and find that they both are sufficient in delivering moisturised hair. I still believe that there are better products out there which are better for my damaged hair, as these products can err on the fluffy side. However for this price, I will buy these as the ingredients list is promising, and I can save my splurges for getting an incredible hair masque instead.

good

I got this shampoo in a gift pack and i have loved it ever since. Due to my hair being constantly dyed blonde i find between visits it gets super dry and brittle. Through a recommendation from my hair dresser i use this shampoo before my eleven blonde and it has been a miracle worker! I find my hair is alot my hydrated, smooth with less fly aways. The fact it has no animal cruelty and Australian owned it a bonus to this already great shampoo.

Not very hydrating...

I was quite surprised when using this for the first time, that for a "Hydrating Moisture Shampoo", my hair did not feel hydrated or moisturised. I have quite fine hair and after washing, my hair felt like the moisture has been stripped, giving it a extremely "squeaky" clean feel - which honestly surprised me. I am also not a fan of the scent, it reminds me of watermelon chewing gum.

Live for this

i have tried so many brands, but this is the best - really hydrating and moisturising

Great Product

LOVE this shampoo. The smell is amazing and it leaves my hair so soft and silky with quite alot of volume. I use this on my daughter's hair that is a rats nest of ringlet and it works miracles her hair is so soft and it separates the curls and is so much more manageable This is worth its money amd the only shampoo ill be using from now on.

Arguablurite eleven product`

i have tried so many brands, but my hair dresser recommended this to me a few months ago and i have not turned back! My hair is healthier - softer and shinier

Holy grail shampoo!

I have been converted To this shampoo by my mum. She has fine, thinning and oily hair and my hair is thick, dry and damaged. Yet this product has given us both amazing results! My hair is nourished healthy and soft and only requires a small amount of shampoo to work up lather. An excellent shampoo with a very reasonable price point for the results achieved!

best shampoo ever

i have tried so many brands and was never happy, my hair dresser recommended this and i have not turned back. my hair is softer and more nourished than ever.

Great price great product

Great price and very conditioning shampoo on my dry frizzy hair, doesn't weigh it down either.

Good

The shampoo lathers up nicely, leaves my hair feeling and looking clean without leaving a residue, dehydrating it, weighing it down or fading the colour. This product leaves my hair moisturised and keeps it moisturised for longer and my hair looks shiny and healthy and smells amazing!

Healthy feeling hair

I have a lot of hair, it's curly, thick and bleached, this is a fabulous moisturising routine with the conditioner, and it smells amazing.
My hair is left soft and manageable after using them.

Great shampoo and conditioner

This is a great shampoo and conditioner that doesn't clump in your hair and leaves it soft and healthy. Love that it's also a local company and ethically produced

Works a treat on fine coloured hair!

I have bright, red, coloured fine hair. I wanted a shampoo which would keep the intense bright colour in my hair between treatments. This does a wonderful job of that. I often get asked how I keep it looking so bright. I'm over 60 and it's great for me.

Amazing and cheap!

This is such a great buy for money, I feel my usually dry and frizzy hair has been so much more hydrated using the hydrating shampoo and conditioner combined! Such value for money too!

Amazing

Smells amazing, and lathers up really nicely. My hair has looked amazing and felt great since switching to Eleven. Could not recommend more

A must for dry hair

I use this on my fine colour treated hair. It does exactly what it says on the bottle. Gives you extra moisture. My hair is left soft and smells great. Doesn't strip the colour from your hair either!

Love it!

Have recently tried this shampoo after my hairdresser recommended it and have never looked back - hydrating and not heavy on my fine hair. Lovely smell too

Smells amazing!

This shampoo is so hydrating and smells amazing, just like watermelon! It cleans hair really well and also leaves feeling smooth and moisturized! Would highly recommend!

EFFECTIVE

I have naturally frizzy curly hair and this product combined with the matching conditioner have transformed my hair! After a quick air dry, i'm ready to go for the day! It has a delicious watermelon scent when washing. The only down side is that i need to double shampoo in order to feel completely clean however I think this is what hairdressers recommended.

Shiny, soft hair

I've just been recommended this by my hairdresser since dyeing my hair dark after having bleached ombre hair for the last three years. It works incredibly well! My hair feels so smooth and luscious. I use the Hydrate shampoo and conditioner in conjunction with the Eleven Miracle Hair treatment. I love the results!

It's just ok...

I have dyed blonde hair. I have used this product for the last 2 months and it is just ok. I haven't found it anything to rave about, but it hasn't dried out my hair so I would judge it as an ok product. For the price it is fine but I think I could spend slightly more money and get a much nicer result for my hair.

Great product

My hair had been so dry and dehydrated and I was feeling quite desperate to get it to feel nice again, so after getting recommended this product (shampoo and conditioner) I started to see and feel results immediately! I couldn't recommend this product anymore!! A+++

Best shampoo

Best shampoo I've ever used and I have spent more than $50 on shampoo in the past!

Not moisture

I just felt this didn't give me enough moisture. I felt when I was washing my hair it was feeling like straw. Might be good for short hair

Soft hair

Love the subtle fruity smell. I have lots of long hair and this leaves it clean but also soft and manageable. Lathers really well.

Love the eleven range!

I use both the Hydrate shampoo and Hydrate conditioner and have noticed a huge improvement in the condition of my hair since i first starting using them both. My hair is fine and suffer from split ends but since using eleven it has got noticebly healthier.

Absolutely awesome.

Great cleansing shampoo. My hair feels so much softer after a few weeks of use. Smells great.

Repeat purchase

This shampoo lathers well so it feels satisfying, and smells amazing! I have been buying this shampoo for 4 years now, not quite as hydrating as I wanted but keep coming back to it - a good shampoo for the price!

Leaves my locks luscious

I use this inbetween using fudge/Eleven blonde range! It keeps my hair happy and healthy and oh so hydrated! Being a bottle blonde, my hair gets a work out but I can always rely on Elevens hydrating range to save my hair!

Love this!

This shampoo smells really good and it leaves my hair feeling squeaky clean. I use in conjunction with the conditioner and my coloured hair feels fab.

Watermelon goodness

This shampoo is so hydrating and smells amazing like watermelon! This product lathers really well and you only need one wash to leave your hair feeling fresh.

Love it!

This shampoo smells like watermelon! It will give you a refreshing feeling after showering your hair. Very bubbly as well that will give you a feeling that your hair is very clean afterwards. It works really well if you use hydrate conditioner and my hair treatment.

Wonderful

I have really dry hair from too much heat styling. I love using this shampoo because it feels so soft afterwards! I follow up with the conditioner and it's helped bring back the moisture to my hair so much. This brand is a definite winner.

Good solid performing shampoo

This is a nice shampoo, didn't find it overly moisturizing. I like to shampoo twice and by the second shampoo my hair was feeling quite dry

Great!

Love using this product in between my purple shampoo or as the first shampoo when i shampoo my hair twice in one wash. Leave my hair clean and moisturized. Cant fault it.

Great

I have tried many brands of shampoo. both high and low price. This is a great product for the price. It did feel a bit like a 'cheaper' shampoo the first couple of times but please bear with it as it's worth it. I have just put I'm my 2nd order in a row. The smell is devine. I have fine long bleached hair that can go frizzy with the wrong product. This doesn't make my hair frizzy. I get a good couple of days without needing to wash my hair. It is smoothing and it doesn't make my scalp sensitive like some other products. I recommend giving it a try.

Best product

I waited a few months after buying/using to review, usually i don't do this, but this has saved my hair.
I have packet dyed black mid back length hair (i know big no no) and my hair falls out in clumps due to stress. I bought the Hydrate my hair S+C and the miracle hair treatment. This has completely changed my hair. I can make it to 4 days without washing it -depending on hairstyles-, i can brush my hair with a comb when wet and it doesn't hurt and minimal hair fall. I have noticed that i dont need to straighten it as much as well. It is a bit pricey, but it lasted me about 8 weeks and i'm still using the miracle hair cream, which i bought back in july. This time i have bought the deep clean shampoo, which i like, but the hydrate pack is so good. Definitely worth the investment! it smells so yummy too :)

Not Repurchasing

This shampoo started off really great for me but I noticed the more I used it, my hair started to become really oily - very out of character for my hair. I figured since my hair is coloured that a moisturising shampoo would be helpful but in the end it wasn't for me. Perhaps this is a shampoo for someone with really dry and dehydrated hair.

So soft

My hair was so soft after using this and the conditioner

Very happy to repurchase

My hair is coarse and dry partly owing to the outdoor conditions I work in.
This shampoo read as being ideal for me.
I find it of a lightweight consistency, smells good and appears to be very nourishing.
The price point is excellent so I won't be too worried about my husband using it!!

Hair felt good but scalp was sore

I used this product along with the matching conditioner. Initially I was excited about my hair feeling nice and soft and the dryness was gone. But after a few washes to the end of the bottle, i noticed a lot of irritation on my scalp. There was a lot of flaking, a lot of burning and itchiness as well.
My boyfriend used this once and he said it felt like his head was on fire afterwards.

New go-to

After trialing a bunch of shampoos, conditioners, and hair masks to save my frizzy heat fried hair, this and the matching conditioner have become my go-to. Leaves hair soft, smells great, and with the occasional hair mask my hair is basically back to normal!

OK

Good smell but not big difference after long time using.

Incredible for bleached platinum hair

Any one who bleaches their hair platinum, knows the feeling of dry dehydrated hair. This shampoo washes without drying out my hair, and you can literally feel the difference in quality compared to those cheap drug store brands (no hate) shampoos. It leaves my hair so clean and unstripped!! :D

Works amazing

My hair felt amazing after using this. After previously using supermarket shampoos I can definitely see a difference in the health of my hair aswell

Amazing, amazing, amazing!

I have a balayage, like a reaaaally ashy blonde. A few months ago, my hair was at breaking point and would literally start to break off if you tugged on it lightly. My hairdresser recommended Eleven products and I haven't gone back since!
After I started using this shampoo, I noticed its immediate effects and my hair has never felt or smelt better in my life!

Perfect for coloured hair

This shampoo is great if you have coloured hair, as it really keeps it clean without damaging or fading your colour.

Incredible for bleach/ colour damaged hair

I bought this shampoo after a hairdresser recommended it for me. I constantly bleach and dye my hair from natural dark asian hair to platinum silver, and my hair always takes a beating with the moisture sucked out, after all the damage.

This shampoo makes your hair SO soft, it's amazing quality, the smallest amount goes the longest way, and smells amazing.

Hydrate shamppo

I have coloured hair and use this daily...I have tried other brands but nothing beats this...Love it

Great for dry hair..

My hair is generally pretty healthy, but it does tend to sit on the drier side. I purchased this after reading good reviews, and after using the shampoo and conditioner in the range I have noticed an improvement in the moisture of my hair. It smells nice and leaves no unwanted residue - for the price I think it's a good buy and I will be repurchasing.

Amazing

Amazing product, it smells soooooo darn good, and makes my hair feel sooo soft!!

Amazing

In love! Can't bring myself to buy any other shampoo now. My hair feels incredible and this smells amazing!

Love these products

The shampoo and conditioner from this range are amazing! Have done wonders for my hair which was unmanageable before using these!!

Good quality!

I have been using both the shampoo and conditioner, the quality of my hair has improved so much!

Yes !

The Hydrate my Hair range is so fantastic. I have repurchased this along with the conditioner so many times. I will not use anything else on my hair. Leaves my hair so soft and shiny and manageable. Definitely recommend !

The name sums it up

My hair is dark and wavy and was damaged from bleaching my hair, after using the ELEVEN Hydrate My hair moisture, my hair smells amazing, my hair looks healthier, no longer looks dull and dry, even my hair dresser was jealous, highly recommend

Great hydrating shampoo

Nice shampoo with a great price tag. But I have gone back to O&M as it seems better for my perioral dermatitis.

Does a decent job

Soft and nourishing. Worth a try but there are definitely more hydrating shampoos out there, especially for very dry, damaged hair.