ELEVEN Hydrate My Hair Moisture Conditioner 300ml
Hair Concern:
Breakage and split ends
Dull, lacking shine
Frizzy hair
Oily roots, dry ends
Hair Curl Type:
Curly
Straight
Very curly/African/Caribbean
Wavy
Frequently bought with
Please wait while we find a match
Questions & Answers
(No Questions Yet)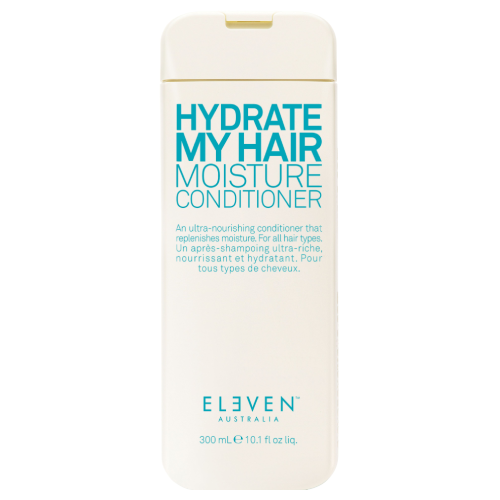 ELEVEN Hydrate My Hair Moisture Conditioner
Get an expert to answer your question about this product!
Ask a Question
93% recommend this product
Most Helpful Positive
Use it all the time
Fantastic I use it all the time with the shampoo, I am a convert.
Most Helpful Criticism
Average
Smells nice but didn't find anything special, my hair was left normally not oily or dry
good conditioner decent price

this conditioner is okay
it isn't the best I've used but it smells nice and leaves my hair soft
it helps with the frizz a little bit but not as much as others
decent for price

A really good lightweight conditioner

Great conditioner for really fine hair! Wouldn't recommend if you have thick, curly or highly processed hair as it's very lightweight. I found I had to use a lot of product to make it feel like it had conditioned it!
Beautiful summer smelling product,

Use it all the time

Fantastic I use it all the time with the shampoo, I am a convert.

Best product

This is great for frizzy hair, I will always have frizzy hair but it does not look as dry and sad as what it used to. I also use this with the Eleven shampoo and it makes all the difference, so much easier to brush.

Average

Smells nice but didn't find anything special, my hair was left normally not oily or dry

Amazing

This conditioner is just amazing. It moisture my dry hair and leaves it soft and smooth. Definitely love it.

Smells amazing!

Love this conditioner when paired with the Hydrate My Hair shampoo. It smells amazing and leaves my hair soft and smooth.

Love it!

I've been testing products for a long tome to find the perfect ones for me - and I found them! Without having to use too much, this leaves my hair feeling clean, healthy and soft

No more frizz

Love, love, love this conditioner! Love the formula and the size is pretty good for the price. Usually lasts me 4-6 weeks depending on how recently I got my hair thinned out. Keeps my hair from being frizzy and hair feels really light and weightless but my hair can get a bit oily with how rich this is

Incredible

I have very dry and damaged hair from years of lightening and I can hands down say this has really helped nourish and hydrate my hair. My hair is visibily less frizzy and looks much healthier, I will definitely be purchasing again.

Silky hair

Love this!!! Smells like watermelon and leaves your hair so silky and soft.
Safe on dyed hair does not strip the colour.

LOVE IT

I loved this product. Would definitely buy again.

Great price

Smells delicious, great price point and does the trick. I have fine hair that gets a little dry, it leaves my hair smooth & clean. I only apply to the end of my hairs.

Great for dryness and a hit of nourishment

I suffer from very dry hair and scalp and this really does work and it such a reasonable price. Will definitely re purchase.

Nourishing conditioner

This works hand in hand with the Hydrate My Hair shampoo. It smells amazing and nourishes my thick, coarse hair. Will definitely be repurchasing.

good for price, size and great product.

I have Hagrid type curls some days, however when I use Eleven hair I seem to find my curls and get definition which is awesome. good price and great to travel with. also smells great too plus its cruelty free!

Leaves hair feeling silky and smooth

This conditioner is amazing. It nourishes your hair and leave it nice and smooth along with smelling amazing. My favourite conditioner I've found yet

Love this conditioner

I love this Conditioner. Not only because it does wonders to my extremely blonde hair but the smell of the Conditioner is amazing and leaves my hair feeling amazing too. I also love knowing it's not tested on animals makes me feel much better about using this product :)

Great Hydrating Conditioner

I have been using this product for quite a long time and I will never use anything else. I have quite dry, thick hair and this conditioner helps to make it feel soft and smooth. Also has a nice smell.

Absolute favoourite

This is my favourite conditioner, it can be so hard to find a product that works for you and I have tried my fair share, this is light and leaves my hair feeling clean, hydrated and smooth.

Goodbye dry hair!

For a very long time I have dealt with having dry hair. It has been a long struggle for me to find good shampoo + conditioner that really hydrates and moisturises my hair. This product honestly stands by the name and the details given. It also smells amazing, leaves you feeling shiny & fresh. Will be purchasing again.

Soft hair

Eleven Australia is an affordable conditioner, smells nice and leaves my hair hydrated.

Awesome

great hair conditioner leaves me moisturised

Great Product

Really loved this conditioner! The scent is delicious and really worked wonders for my hair. Even though I'm bleached blonde it didn't make my hair brassy or yellow, so that's always a win for me!

Best conditioner!

This with the "I Want Volume" shampoo is the best combination! This conditioner leaves your hair soft, hydrated and smelling like bananas.

Soft silky hair

Great conditioner for dry coloured hair. Makes my hair feel so silky and soft around each use. Love all eleven products

Yes please

This conditioner is light weight, super hydrating and smells fantastic. It leaves my hair feeling super soft and silky and looking luscious. I have noticed a marked improvement in the hydration and condition of my hair. My hair looks and feels healthier, I have had less breakages and split ends. Love eleven products!

Best product

I have been using this for quite some time and find it is really good for my hair, it smells nice and has really helped hydrate my locks.

Great Conditioner

A hairdresser recommended I use this alongside the shampoo and miricale hair treatment as my hairs so dry and dehydrated, and I will never go back. It never leaves a build up and leaves your hair feeling refreshed, soft and moisturised

Must have with the shampoo

This conditioner smells amazing and not much is needed for a result. Really softens my hair and doesn't dry it out.

Amazing

I LOVE this conditioner. It smells great and a little goes a long way. I have Frizzy and curly hair and this product smoothes it alot just wish it came in a bigger size !

Perfect for my blonde ends!

I love this! I have fine (chemically) blonde hair which tends to get oily at the roots quickly so I was worried that this would be too heavy for me. I focus it on the mid to ends and it is perfect- not heavy at all but my hair feels so soft and smooth.

As an added bonus the smell is amazing! Highly recommend this.

Love it

Great product, helps hydrate my hair without making it heavy, love the smell and softness.

I love this!!!

This conditioner has quickly become one of my favourites! it leaves my curly hair soft, shiny, and hydrated every single wash. I never feel like my hair is weighed down, which happens all the time with other conditioners. It's definitely worth a try if you need an affordable, hydrating conditioner!

Saved my hair

This product saved my blonde locks! The ends were dry and this product helped revive them. The scent is to die for also, such a lovely fruity awakening in my morning shower.

Amazing!!

Such an amazing product I've been struggling to find a good shampoo and conditioner and decided to try this will absolutely never go back!

Fantastic

This is fantastic especially when used with the hydrating shampoo, I will continue to use this as it makes my hair feel silky soft.

Best product

Smells great and my hair feels beautiful and hydrated after use.

Sweet scent

Gel/cream like consistency and does a decent job of conditioning. Great conditioner.

Well priced good quality conditioner

Lovely smell and hydrates without weighing down my hair, I switch up with the give me body conditioner depending on concern and my hair always feels thick and soft. Will continue to purchase

Best for dry hair!

Absolutely love this product. Highly recommended

Pretty good

I have very dry hair and can be frizzy, used the shampoo and conditioner and hair definitely feels more hydrated, smells amazing (reminds me of my childhood but I can't put my finger on what the smell reminds me of!)
Still get frizzy hair but good product for a decent price

Best product

Love this, makes my hair nice and smooth, I use it with the hydrate shampoo.

Love it!

My hair has never felt so soft and hydrated, definitely recommend! And it smells amazing!

AH-MAZ-ING

I have used this product for years with their Shampoo and it does wonders!

Great product

This product made my hair super soft and hydrated! Would definitely recommend

Love it!

This has become my new favourite conditioner (combined with its shampoo). It was recommended to me by my hairdresser and works like a charm. It smells amazing too!

Great Conditioner

I bought this first, purely because it came in a travel size and was reasonably priced. I very quickly came back to buy the regular size! I use this with the Eleven Keep My Hair Blonde shampoo and it most definitely keeps my heat treated, definitely-not-natural-blonde hair hydrated. I love the thickness and smell of it too.

Great daily conditioner

Had a really sweet scent. I didn't think it did anything dramatic to my hair health but its definitely a great daily conditioner. I would use this with other treatments.

Love this

My hair is dry and has a rough texture. Love how this conditioner calms and hydrates my frizzy main.

SMOOTH AND SOFT

If you want your hair to feel amazing you need this in your life. I pair this conditioner with any shampoo and it always leaves my feeling so soft and smooth

Oily hair

I have extremely oily hair and only need a small amount of this product placed on my ends for 2 mins, can leave hair feeling greasy if too much product is used

My No.1 Go To!

I have thick, long brunette dyed hair. I have been using this product for 2 years, I'm not going back to any other brand. Hydrate keeps my ends healthy and gives my hair a little shine. I don't use the Hydrate shampoo and conditioner together, I use the Deep Clean shampoo

Love the bottle, love the scent

I really like this conditioner. Its not too heavy on my hair, I usually apply to my whole head and leave it on for 3 minutes. I don't feel it makes my hair oily. It moisturises well, smells great and I receive compliments on my hair often. I also like the fact that the bottle is robust, I was buying another brand and the bottle was a bit flimsy (robust is good if it hits the shower floor, it doesn't break) I will re purchase this one.

Best Conditioner I've Ever Used

This is my go to conditioner. After a hairdresser referred this to me I have bought this and can't live without it. I can feel the difference in my hair when I use other conditioners. Nothing compares to the clean and moisturised feeling of my hair when I use this conditioner.

nice!

I've used multiple haircare products including shampoos and conditioners and i must say this shampoo is amazing! makes my hair feel and smell so good! when using it in the shower i can really tell the difference between this and drugstore brands.. makes my hair feel sliky and smooth love love love it

Great product

The price of this is amazing but the smell and the results are even better. It's very nourishing and creamy. It's comparable to 'big brands' that are two or three times the cost. It's australian made and natural which is a big plus for me.

Greatest

This product does nothing but great to my hair keep it's shiny healthy and also smelling great every single use! I cannot recommend eleven more than what I do now! WOULD never go back

Great for dry hair !

This conditioner is so moisturising for my oily hair when I leave it on the ends for a few minutes.

Great formula

This product is amazing and the formula is great. After washing my hair with this product, my hair feels so nice and refreshed and hydrated. I will continue to buy this product.

Smells delicious but expensive for what little it did

Pros: smells delicious (fruity fun scent), lathers well, easy to move around the hair
Cons: expensive, didn't do much more than a normal priceline brand would have.

I got this product expecting that as per it's marketed name it would 'hydrate' my dry and brittle balayaged hair. It did very little of this. Smelt lovely but did not make any difference to hydration of my hair.

Leaves my unruly hair so soft and manageable

First tried the ELEVEN Hydrate My Hair Moisture Conditioner & Shampoo in the mini travel size and instantly fell in love. My hair is dry and frizzy and this shampoo and conditioner made it feel soft and tamed the frizz. Love it so much I use it for my 4 year old who has really curly hair and usually too knotty to brush, but this conditioner makes it so much easier to brush out.
Love it!

Smells great!

Smells great and leaves my hair so smooth!

My favourite conditoner..

This makes my hair soft and lovely despite being frequently coloured. I tried another brand for a bottle, and when I went back to Eleven I could feel the difference. My hair feels hydrated but not greasy. It's not too expensive for salon shampoo/conditioner but it does the job beautifully.

For reference I have thick, wavy hair prone to frizz and I frequently get highlights.

Love this!

Miracle in a little bottle
Smells amazing and works a treat
My hair is pretty dry and damaged from bleaching it to blonde and this conditioner definitely helps keep it in check.
I usually leave it in for 5 mins and then brush through with a tangle teaser
Will def be repurchasing


Don't recommend

I have really fine, dry hair, so I tried this product with the matching shampoo and found that it really had not impact at all. If anything my hair felt more brittle after using it. A small upside is it smells really nice.

Great conditioner

This is such a good conditioner for dry hair! It moisturized it so well and the bottle lasted awhile.

HIGHLY RECOMMEND

I have been using this condition for while now. My hair had never felt softer and healthier. I have quite thick hair which I colour blonde regularly. Worth the cost.

Love it!

This conditioner is rich and smooth with a delicious smell, my fine hair looks and feels great after using it. Highly recommend!

Lovely conditioner for fine hair

I love this. I have REALLY fine hair and this conditioner leaves my hair smooth and soft, but ISN'T so heavy it just ways it down. It's a really fine line, and I swear by this. I use it with the body shampoo too. Lovely smell, formula, nice simple bottle. Very happy

Great moisture boost

Purchased this after getting my hair lightening ... definitely feel it makes my hair feel a lot smoother especially as it is coloured. Have re-purchased both the shampoo and conditioner. Also it smells so good!

Fixed my hair

This stuff not only smells amazing but it does wonders to my bleached hair. I have used supermarket hair products my whole life up until I switched to Eleven about 2 months ago and my hair has never felt better. My hair doesnt look dry and gross and is way more manageable now that it ever has been. Would recommend this product to anyone and everyone.

Best used in conjunction with other products.

I have extremely coarse, frizzy curls and try to avoid using shampoo, washing with conditioner instead. I don't recommend washing with the Eleven Hydrate My Hair Conditioner alone, the extra hydration left my hair quite oily. So I'm going to reintroduced shampoo and try out the whole regimen. The conditioner smells lovely so I'm really looking forward to it!

Loving it

Smooths my hair! Really makes a difference. Thank you

Great conditioner, great value

I bought this as an alternative to the evo version which costs $10 and love it as least as much. Lovely smell, moisturises without weighing my hair down

So soft!

I'd just run out of my custom product and wanted to try something else this time. As always, I was fairly sceptical when trying out a product on my hair.. I was so pleasantly surprised! I used this with its matching shampoo which felt like it cleanses without stripping everything - then I left this on for maybe 2 minutes as I was fairly rushed. Left to dry naturally and it was SO SOFT! So easy to style and my fingers glide through. Most of all, my ends don't feel dry anymore (after one wash!) highly recommend.

Very hydrating

I paired this conditioner with the Eleven Volume Shampoo. They really compliment eachother, especially with blonde hair. It makes it feel very hydrated and shiny!

Note - only use a small amount on the ends otherwise it's too heavy. Highly recommend!!

Smells Amazing

Great value for money. Leaves hair feeling incredibly soft. Perfect as an everyday conditioner

Just what I needed

Hair- dark coloured, dry and limp

This conditioner is great!! Does exactly what it says... hydrate with silky soft results. It's so rich, thick and creamy so a little goes along way. I love that it makes my hair feel hydrated without weighing it down or making the roots oily. It's also colour safe which is a necessity for me.

Great conditioner and the price is even better, love it!!


Smells delicious

Smells delicious but didn't do much for my hair, Left it quite oily.

Great product for the price

I love it, wish they sold it in a bigger size.
I definitely notice that it works, as I don't have any frizzy when drying the hair plus it make my hair feel and look healthy

Smells amazing but too heavy

I had high expectations of this product after reading through multiple positive reviews. Sadly I am quite disappointed. I was delighted when I first opened the bottle, the smell is absolutely divine. The texture of the product felt nice while I was showering. However, after rinsing and once my hair had dried, my hair was left feeling heavy and greasy, and my ends were actually frizzy?
I had tried with the shampoo of the same line, so I tried without but no difference. Have tried using less product, but still the same results.
I would describe my hair as average thickness, naturally wavy and with balayage so colour has dried my hair out.
I was really sad this didn't work for me, perhaps it's just not suited to all hair types.

AMAZING strong scent

Obsessed with Eleven products and Hydrate my hair conditioner is one of my favs. Leaves your hair smelling amazing and super soft. Perfect match with the hydrate my hair shampoo and miracle hair

Perfect Everyday Conditioner

This makes my hair sooooo smooth! It's hard to tell the difference with conditioners but when I paired this with the treatment one from eleven I was running my hands through my hair all day.

Very hydrating

Leaves hair feeling very soft and hydrated. Definately recommend!

Love at first wash

This brand is now my go to! Absolutely love the hair products and my hair is super soft and beautiful!

Smells amazing

I have bleached hair, and used this product on reccomendation from my hairdresser in conjunction with the purple shampoo. The conditioner smells amazing and the bottle goes a long way! My hair was left feeling soft and hydrated

Awesome product

Love this product !! Don't need to use much of it at all for a good wash

♡♡♡♡

I started using this brand after my hairdresser began using & selling it. I absolutely love it, the smell is too die for, and my hair looks & feels so much better!

Best conditioner yet !!

I love this conditioner and shampoo they leave my hair so soft and they smell amazing ! Highly recommend , if only they came in bigger bottles that's my only issue !

Sleek and soft

I've used Hydrate my Hair Moisture Shampoo & Conditioner and after a few months couldn't imagine using anything else!

The conditioner is thick and luxurious with a deliciously sweet scent. I have lots of fine mid length hair and this conditioner keeps my hair hydrated without looking limp and oily.

This product is reasonably priced with salon quality. Love It!

Lovely scent and value for money

I've tried a range of conditioners from cheap to super high end and this one is my favourite. Love the watermelon scent and it's a great everyday conditioner for keeping my thick hair hydrated.

Fantastic for the price

- smells amazing
- hair felt soo silky and soft after 1 use
- very good value compared to others
- will definitely use again

Fantastic smell and value!

- good value
- smells gorgeous
- left hair very silky
- will use again, mainly for the value of how good it is vs price

Good product for the price

There are still better conditioners out there but for this price, Eleven Hydrate Conditioner delivers what it promises. The scent is delicious, and I find it moisturises my hair. It can leave my hair a little on the fluffy side but I am still likely to use this product

great

I received this conditioner in a pack with the treatment and shampoo. I am so happy i tried this is at has been a god sent to my dry hair. The conditioner smells great, the packaging is easy to use and using a little product goes a long way.

After using this in conjunction with the treatment and shampoo my hair stays hydrated between salon visits as well as climates any fly away hairs. Highly recommend!

Awesome Product

I love love love this conditioner. It has brought life back to my dry brittle hair. My hair is now so soft and shiny and so hydrated that it is no longer brittle. It now have volume as well. This is my new conditioner i cant recommend this enough.

Love it!

I absolutely love this conditioner! It makes my hair so soft and silky smooth and is a real treat for my hair! It instantly becomes more mangeable with added hydration. I definitely recommend this product!

silky and smooth

i use this once a month when i don't wash my hair with blonde shampoo and conditioner, it makes my hair feel so smooth and soft it is unbelievable! would highly recommend for people looking for extremely soft hair

Daily luxury!

I have been converted to this conditioner by my mum. She has fine, thinning and oily hair and my hair is thick, dry and damaged. Yet this product has given us both amazing results! My hair is nourished, healthy and soft and only requires a small amount of conditioner to cover my long hair. An excellent conditioner with a very reasonable price point for the results achieved! Oh, and the smell is divine and lingers in your hair up tuntil the next wash!