ELEVEN Hydrate My Hair Moisture Conditioner 300ml
Hair Concern:
Breakage and split ends
Dull, lacking shine
Frizzy hair
Oily roots, dry ends
Hair Curl Type:
Curly
Straight
Very curly/African/Caribbean
Wavy
Questions & Answers
(No Questions Yet)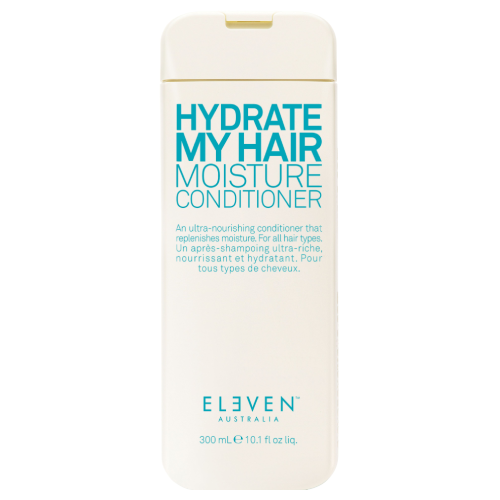 ELEVEN Hydrate My Hair Moisture Conditioner
Get an expert to answer your question about this product!
Ask a Question
92% recommend this product
Most Helpful Positive
Love it!
My hair has never felt so soft and hydrated, definitely recommend! And it smells amazing!
Most Helpful Criticism
Smells delicious
Smells delicious but didn't do much for my hair, Left it quite oily.
Love it!

My hair has never felt so soft and hydrated, definitely recommend! And it smells amazing!

AH-MAZ-ING

I have used this product for years with their Shampoo and it does wonders!

Great product

This product made my hair super soft and hydrated! Would definitely recommend

Love it!

This has become my new favourite conditioner (combined with its shampoo). It was recommended to me by my hairdresser and works like a charm. It smells amazing too!

Great Conditioner

I bought this first, purely because it came in a travel size and was reasonably priced. I very quickly came back to buy the regular size! I use this with the Eleven Keep My Hair Blonde shampoo and it most definitely keeps my heat treated, definitely-not-natural-blonde hair hydrated. I love the thickness and smell of it too.

Great daily conditioner

Had a really sweet scent. I didn't think it did anything dramatic to my hair health but its definitely a great daily conditioner. I would use this with other treatments.

Love this

My hair is dry and has a rough texture. Love how this conditioner calms and hydrates my frizzy main.

SMOOTH AND SOFT

If you want your hair to feel amazing you need this in your life. I pair this conditioner with any shampoo and it always leaves my feeling so soft and smooth

Oily hair

I have extremely oily hair and only need a small amount of this product placed on my ends for 2 mins, can leave hair feeling greasy if too much product is used

My No.1 Go To!

I have thick, long brunette dyed hair. I have been using this product for 2 years, I'm not going back to any other brand. Hydrate keeps my ends healthy and gives my hair a little shine. I don't use the Hydrate shampoo and conditioner together, I use the Deep Clean shampoo

Love the bottle, love the scent

I really like this conditioner. Its not too heavy on my hair, I usually apply to my whole head and leave it on for 3 minutes. I don't feel it makes my hair oily. It moisturises well, smells great and I receive compliments on my hair often. I also like the fact that the bottle is robust, I was buying another brand and the bottle was a bit flimsy (robust is good if it hits the shower floor, it doesn't break) I will re purchase this one.

Best Conditioner I've Ever Used

This is my go to conditioner. After a hairdresser referred this to me I have bought this and can't live without it. I can feel the difference in my hair when I use other conditioners. Nothing compares to the clean and moisturised feeling of my hair when I use this conditioner.

nice!

I've used multiple haircare products including shampoos and conditioners and i must say this shampoo is amazing! makes my hair feel and smell so good! when using it in the shower i can really tell the difference between this and drugstore brands.. makes my hair feel sliky and smooth love love love it

Great product

The price of this is amazing but the smell and the results are even better. It's very nourishing and creamy. It's comparable to 'big brands' that are two or three times the cost. It's australian made and natural which is a big plus for me.

Greatest

This product does nothing but great to my hair keep it's shiny healthy and also smelling great every single use! I cannot recommend eleven more than what I do now! WOULD never go back

Great for dry hair !

This conditioner is so moisturising for my oily hair when I leave it on the ends for a few minutes.

Great formula

This product is amazing and the formula is great. After washing my hair with this product, my hair feels so nice and refreshed and hydrated. I will continue to buy this product.

Smells delicious but expensive for what little it did

Pros: smells delicious (fruity fun scent), lathers well, easy to move around the hair
Cons: expensive, didn't do much more than a normal priceline brand would have.

I got this product expecting that as per it's marketed name it would 'hydrate' my dry and brittle balayaged hair. It did very little of this. Smelt lovely but did not make any difference to hydration of my hair.

Leaves my unruly hair so soft and manageable

First tried the ELEVEN Hydrate My Hair Moisture Conditioner & Shampoo in the mini travel size and instantly fell in love. My hair is dry and frizzy and this shampoo and conditioner made it feel soft and tamed the frizz. Love it so much I use it for my 4 year old who has really curly hair and usually too knotty to brush, but this conditioner makes it so much easier to brush out.
Love it!

Smells great!

Smells great and leaves my hair so smooth!

My favourite conditoner..

This makes my hair soft and lovely despite being frequently coloured. I tried another brand for a bottle, and when I went back to Eleven I could feel the difference. My hair feels hydrated but not greasy. It's not too expensive for salon shampoo/conditioner but it does the job beautifully.

For reference I have thick, wavy hair prone to frizz and I frequently get highlights.

Love this!

Miracle in a little bottle
Smells amazing and works a treat
My hair is pretty dry and damaged from bleaching it to blonde and this conditioner definitely helps keep it in check.
I usually leave it in for 5 mins and then brush through with a tangle teaser
Will def be repurchasing


Don't recommend

I have really fine, dry hair, so I tried this product with the matching shampoo and found that it really had not impact at all. If anything my hair felt more brittle after using it. A small upside is it smells really nice.

Great conditioner

This is such a good conditioner for dry hair! It moisturized it so well and the bottle lasted awhile.

HIGHLY RECOMMEND

I have been using this condition for while now. My hair had never felt softer and healthier. I have quite thick hair which I colour blonde regularly. Worth the cost.

Love it!

This conditioner is rich and smooth with a delicious smell, my fine hair looks and feels great after using it. Highly recommend!

Lovely conditioner for fine hair

I love this. I have REALLY fine hair and this conditioner leaves my hair smooth and soft, but ISN'T so heavy it just ways it down. It's a really fine line, and I swear by this. I use it with the body shampoo too. Lovely smell, formula, nice simple bottle. Very happy

Great moisture boost

Purchased this after getting my hair lightening ... definitely feel it makes my hair feel a lot smoother especially as it is coloured. Have re-purchased both the shampoo and conditioner. Also it smells so good!

Fixed my hair

This stuff not only smells amazing but it does wonders to my bleached hair. I have used supermarket hair products my whole life up until I switched to Eleven about 2 months ago and my hair has never felt better. My hair doesnt look dry and gross and is way more manageable now that it ever has been. Would recommend this product to anyone and everyone.

Best used in conjunction with other products.

I have extremely coarse, frizzy curls and try to avoid using shampoo, washing with conditioner instead. I don't recommend washing with the Eleven Hydrate My Hair Conditioner alone, the extra hydration left my hair quite oily. So I'm going to reintroduced shampoo and try out the whole regimen. The conditioner smells lovely so I'm really looking forward to it!

Loving it

Smooths my hair! Really makes a difference. Thank you

Great conditioner, great value

I bought this as an alternative to the evo version which costs $10 and love it as least as much. Lovely smell, moisturises without weighing my hair down

So soft!

I'd just run out of my custom product and wanted to try something else this time. As always, I was fairly sceptical when trying out a product on my hair.. I was so pleasantly surprised! I used this with its matching shampoo which felt like it cleanses without stripping everything - then I left this on for maybe 2 minutes as I was fairly rushed. Left to dry naturally and it was SO SOFT! So easy to style and my fingers glide through. Most of all, my ends don't feel dry anymore (after one wash!) highly recommend.

Very hydrating

I paired this conditioner with the Eleven Volume Shampoo. They really compliment eachother, especially with blonde hair. It makes it feel very hydrated and shiny!

Note - only use a small amount on the ends otherwise it's too heavy. Highly recommend!!

Smells Amazing

Great value for money. Leaves hair feeling incredibly soft. Perfect as an everyday conditioner

Just what I needed

Hair- dark coloured, dry and limp

This conditioner is great!! Does exactly what it says... hydrate with silky soft results. It's so rich, thick and creamy so a little goes along way. I love that it makes my hair feel hydrated without weighing it down or making the roots oily. It's also colour safe which is a necessity for me.

Great conditioner and the price is even better, love it!!


Smells delicious

Smells delicious but didn't do much for my hair, Left it quite oily.

Great product for the price

I love it, wish they sold it in a bigger size.
I definitely notice that it works, as I don't have any frizzy when drying the hair plus it make my hair feel and look healthy

Smells amazing but too heavy

I had high expectations of this product after reading through multiple positive reviews. Sadly I am quite disappointed. I was delighted when I first opened the bottle, the smell is absolutely divine. The texture of the product felt nice while I was showering. However, after rinsing and once my hair had dried, my hair was left feeling heavy and greasy, and my ends were actually frizzy?
I had tried with the shampoo of the same line, so I tried without but no difference. Have tried using less product, but still the same results.
I would describe my hair as average thickness, naturally wavy and with balayage so colour has dried my hair out.
I was really sad this didn't work for me, perhaps it's just not suited to all hair types.

AMAZING strong scent

Obsessed with Eleven products and Hydrate my hair conditioner is one of my favs. Leaves your hair smelling amazing and super soft. Perfect match with the hydrate my hair shampoo and miracle hair

Perfect Everyday Conditioner

This makes my hair sooooo smooth! It's hard to tell the difference with conditioners but when I paired this with the treatment one from eleven I was running my hands through my hair all day.

Very hydrating

Leaves hair feeling very soft and hydrated. Definately recommend!

Love at first wash

This brand is now my go to! Absolutely love the hair products and my hair is super soft and beautiful!

Smells amazing

I have bleached hair, and used this product on reccomendation from my hairdresser in conjunction with the purple shampoo. The conditioner smells amazing and the bottle goes a long way! My hair was left feeling soft and hydrated

Awesome product

Love this product !! Don't need to use much of it at all for a good wash

♡♡♡♡

I started using this brand after my hairdresser began using & selling it. I absolutely love it, the smell is too die for, and my hair looks & feels so much better!

Best conditioner yet !!

I love this conditioner and shampoo they leave my hair so soft and they smell amazing ! Highly recommend , if only they came in bigger bottles that's my only issue !

Sleek and soft

I've used Hydrate my Hair Moisture Shampoo & Conditioner and after a few months couldn't imagine using anything else!

The conditioner is thick and luxurious with a deliciously sweet scent. I have lots of fine mid length hair and this conditioner keeps my hair hydrated without looking limp and oily.

This product is reasonably priced with salon quality. Love It!

Lovely scent and value for money

I've tried a range of conditioners from cheap to super high end and this one is my favourite. Love the watermelon scent and it's a great everyday conditioner for keeping my thick hair hydrated.

Fantastic for the price

- smells amazing
- hair felt soo silky and soft after 1 use
- very good value compared to others
- will definitely use again

Fantastic smell and value!

- good value
- smells gorgeous
- left hair very silky
- will use again, mainly for the value of how good it is vs price

Good product for the price

There are still better conditioners out there but for this price, Eleven Hydrate Conditioner delivers what it promises. The scent is delicious, and I find it moisturises my hair. It can leave my hair a little on the fluffy side but I am still likely to use this product

great

I received this conditioner in a pack with the treatment and shampoo. I am so happy i tried this is at has been a god sent to my dry hair. The conditioner smells great, the packaging is easy to use and using a little product goes a long way.

After using this in conjunction with the treatment and shampoo my hair stays hydrated between salon visits as well as climates any fly away hairs. Highly recommend!

Awesome Product

I love love love this conditioner. It has brought life back to my dry brittle hair. My hair is now so soft and shiny and so hydrated that it is no longer brittle. It now have volume as well. This is my new conditioner i cant recommend this enough.

Love it!

I absolutely love this conditioner! It makes my hair so soft and silky smooth and is a real treat for my hair! It instantly becomes more mangeable with added hydration. I definitely recommend this product!

silky and smooth

i use this once a month when i don't wash my hair with blonde shampoo and conditioner, it makes my hair feel so smooth and soft it is unbelievable! would highly recommend for people looking for extremely soft hair

Daily luxury!

I have been converted to this conditioner by my mum. She has fine, thinning and oily hair and my hair is thick, dry and damaged. Yet this product has given us both amazing results! My hair is nourished, healthy and soft and only requires a small amount of conditioner to cover my long hair. An excellent conditioner with a very reasonable price point for the results achieved! Oh, and the smell is divine and lingers in your hair up tuntil the next wash!

Godsend

Softest hair after using this!
I blow-dry and straighten my hair 2-3 times a week, and using this before (of course, using a heat-protectant too), I have noticed my hair still stays soft! The smell is amazing

best conditioner ever

i have tried so many brands and was never happy, my hair dresser recommended this and i have not turned back. my hair is softer and more nourished than ever.

It works

I bought this conditioner hoping for great things - I have fluffy hair - it's blonde (dyed) and unless I straighten it, it's fluffy - from the reviews I was hoping this conditioner might be the miracle I've been looking for but alas it wasn't - the product is lovely - it does condition hair - it did leave it feeling soft and smelt lovely and definitely didn't leave it greasy - but my hair was still fluffy. (I'm not sure if anything will solve this problem though).

Great price

Great price and very conditioning on my dry frizzy hair, doesn't weigh it down either.

Great

I received this conditioner in a pack with the treatment and shampoo. I am so happy i tried this is at has been a god sent to my dry hair. The conditioner smells great, the packaging it easy to use and using a little product goes a long way.



Smells and feels amazing

I have a lot of hair, it's curly, thick and bleached, this is a fabulous moisturising routine with the conditioner, and it smells amazing.
My hair is left soft and manageable after using them.

Works wonders for damaged hair

My hairdresser recommended this line for me and ever since making the switch I have not looked back.

It leaves my hair smooth and clean and is a great bang for buck!

Works like a mask or a conditioner

I can leave this in for a couple of hours and it works just like a mask. It's so hydrating and doesn't leave my hair feeling greasy. Eleven is such an amazing brand for the price, I highly recommend giving it a try.

Smells amazing

Smells amazing although I noticed no difference in moisture - if anything I felt it was drier (although my hair is highlighted and I blow dry and straighten twice a week). I have previously purchased Eleven Volume and found this to be incredibly moisturising - will go back to the volume range.

This hydrates nothing!

This conditioner has turned my hair into a dry mess. It does not provide any hydration or nourishment whatsoever. I swear eleven products are just the cheap fruits shampoo and conditioners in fancier packaging. This turns my hair into a tangled mess.

Highly recommend

This is a great shampoo and conditioner that doesn't clump in your hair and leaves it soft and healthy. Love that it's also a local company and ethically produced

Works a treat on coloured fine hiar!

I have bright, red, coloured fine hair. I wanted a conditioner which would keep the intense bright colour in my hair between treatments. This does a wonderful job of that. I often get asked how I keep it looking so bright. I'm over 60 and it's great for me.

Amazing and a bargain

This is such a great buy for money, I feel my usually dry and frizzy hair has been so much more hydrated using the hydrating shampoo and conditioner combined! Such value for money too!

Highly Recommend

Love the Eleven Range. I use this with the Hydrate Shampoo and will never look back. Hair feels and look great, feels healthier and stronger

Worth it!

This conditioner (with the shampoo) is an essential for my bathroom! I have really thin, colour damaged hair and it can get quite dry. These products answer all my prayers!! Really concentrate and last a few months for me washing my hair 3 times per week. Smells great too

Very happy with this purchase!!!

I bought this conditioner based on all the good reviews it received and they were right!! I'm a big fan of this conditioner, really moisturising and leaves my hair smooth and soft!! Will definitely be buying again

Leaves you feeling fresh

I expect a lot from a product that claims to restore moisture to my hair and although this product smelt amazing and the perfume left me feeling fresh after every wash my ends still looked and felt brittle after shampooing. I'd find myself washing my hair more frequently than my usual once/twice a week as my brittle ends were frustrating me. I do love the ELEVEN brand and everything they stand for, so i'll give another conditioner a go- just not this one.

Smells like watermelon!

Love this product, smells amazing like watermelon and leaves my hair knot free and feeling so smooth! Really helps to detangle my hair as it's blonde and bleached, would recommend for unruly hair!

Shiny, soft hair

I've just been recommended this by my hairdresser since dyeing my hair dark after having bleached ombre hair for the last three years. It works incredibly well! My hair feels so smooth and luscious. Amazing!

Smells great

I much prefer the smell of this conditioner compared to the "Smooth me now" conditioner. However I find the "Smooth me now" makes me hair softer and more manageable compared to this product. I have not used it long enough to judge if it hydrates my hair better than the "Smooth me now". My hair is dry, thick and frizzy and this product does make it more manageable.

It's ok

I have dyed blonde hair. I have used this product, with the shampoo, for the last 2 months and it is just ok. I haven't found it anything to rave about, but it hasn't dried out my hair so I would judge it as an ok product. For the price it is fine but I think I could spend slightly more money and get a much nicer result for my hair. I also wish that they made the condition 50ml bigger than the shampoo so I wasn't running out of conditioner before finishing the shampoo!

Great product!

My hair had been so dry and sad and I was feeling quite desperate to get it to feel nice again, so after getting recommended this product (shampoo and conditioner) I started to see and feel results immediately! I couldn't recommend this product anymore!! A+++

Best conditioner I've used

Best conditioner I've ever used and I have spent more than $50 on conditioner in the past! I can now go back to wearing my hair natural after years of it being too frizzy to do so as my hair is bleached

Great detangler

I have lots of long hair and this easily detangles it with a comb in the shower, even after a day at the beach and in the surf. Subtle fruity kind of smell. Not good for defining curls though.

amazing

Would absolutely recommend for anyone with colored hair, works incredible! never dissapointed.

Fantastic conditioner

This is a great conditioner for fine hair because it adds moisture without weighing hair down. My only concern is that I have ordered it twice and both times it has arrived open and leaking.

Love the eleven range!

I use both the Hydrate shampoo and Hydrate conditioner and have noticed a huge improvement in the condition of my hair since i first starting using them both. My hair is fine and suffer from split ends but since using eleven it has got noticebly healthier.

Absolutely awesome

I've got really oily roots and dry ends. My ends are silky smooth after using this product for a few weeks. Have already bought more. Love it.

Smells amazing!!

Smells amazing and feels good. I wish it was a bit more hydrating on my colour treated hair, but overall I love it!

Lovely product

Leaves hair very soft and smells beautiful.

Great product

I love this conditioner! It leaves my hair soft and it is safe for my colour. I have super sensitive skin and this one does not cause any flare ups. Highly recommended.

Miracle hair products

This conditioner is so moisturizing and leaves my hair feeling soft and hydrated without feeling oily. It smells amazing like watermelon!! And it makes my hair so easy to brush which is what I need with bleached hair!

Love this conditioner!

Ever since I've tried this product I never bought any new conditioner brand. My hair type is really dry from bleaching before but it did repair it in no time. Highly recommended!

Awesome!

I use this product with the Eleven Blonde shampoo and its great. Doesn't affect my color. Leaves my hair feeling nourished and moisturized. Best color safe conditioner I've used

Nice conditioner

Felt moisturizing, but not overly so. Probably;y not the best choice if you have super dry hair, I felt like I still needed to use a leave in conditioner.

Smells delicious!

The smell is that damn good. And it makes my hair feel super soft (my hair is really dry and frizzy!) and my frizziness is so much less now that I've been using this.

Good product

Smells really nice
Makes ur hair nice and soft and dosent make ur hair feel gross or greasy

Smells so good!

I love this conditioner. It's super light and smells amazing and I feel like I don't need too much to detangle my long hair. Doesn't weigh it down at all and makes it feel so soft. Would definitely repurchase this!

Smells amazing but could be better

I use a lot of dry shampoo in my hair throughout the week and I felt like I needed to use a fair bit of this product to get my hair feeling properly clean. It definitely leaves my hair feeling soft and it smells amazing, just wish the smell lasted longer. Leaves my hair feeling light but not as clean in between washes as I hoped. Would still repurchase.

AMAZING HAIR

I have been using this conditioner for over 2 months now and the difference it has made to my hair is amazing! My hair used to be really unhealthy and dry but since using this conditioner my hair is now soft, smoothe and looks super healthy! It also smells delicious :)

Great!

I have tried many brands of conditioner both high and low price. This is a great product for the price. I have just put I'm my 2nd order in a row. The smell is devine. I have fine long bleached hair that can go frizzy with the wrong product. This doesn't make my hair frizzy. I get a good couple of days without needing to wash my hair. It is smoothing and it doesn't make my scalp sensitive like some other products. I recommend giving it a try.

Pretty nourishing!

Have used this a couple times now and it's definitely one of the better conditioners on the market. Leaves hair feeling smooth without being greasy and smells great. After my wash I pair it with the eleven miracle treatment on the ends of my hair - which btw is my fave eleven product ever!!

Lush hair!

A great moisturising and hydrating conditioner that perfectly complements my blonde toning shampoo to restore moisture and body to my fine blonde hair!