ELEVEN 3 Minute Repair Rinse Out Treatment 200ml
Hair Concern:
Breakage and split ends
Colour protection
Dull, lacking shine
Frizzy hair
Thinning hair
Hair Curl Type:
Curly
Straight
Very curly/African/Caribbean
Wavy
Questions & Answers
(1 Question)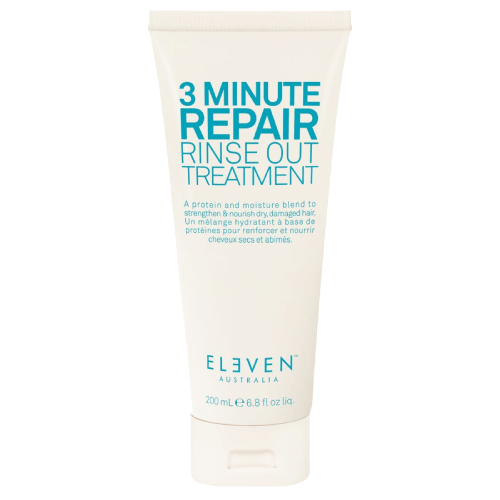 ELEVEN 3 Minute Repair Rinse Out Treatment
Get an expert to answer your question about this product!
Ask a Question
89% recommend this product
Most Helpful Positive
Awesome!
Quick, easy, simple, effective and cruelty free!!!
My fine long hair is very grateful.
Most Helpful Criticism
Okay product
This treatment left my hair softer, however it wasn't as hydrating as other hair masks I have tried before. My hair is quite dry and brittle and needs something more intensive.
Good value for money

Love that it only takes 3 minutes. I usually leave it in for longer if I have the time though. Helps with my dry hair and makes it feel smooth. Good value for money.

Awesome!

Quick, easy, simple, effective and cruelty free!!!
My fine long hair is very grateful.

Great to use as a conditioner for dry hair every time you wash it

Love this product, use it every time I wash my hair and it makes it noticeably less dry and brittle, smooth too. My hair is shoulder length and i feel like this product reverses the damage my heat tools do to it.

good product for size, price and its cruelty free

this is a good product. I've only used it a few times however my Hagrid hair is getting smoother by the week. It smells good and helps th curls- giving them hydration to curl and not to split quickly between cuts at the hairdresser!

Nice Addition

My hair has been getting really dry on the ends so I have been looking for a mask that can help hydrate and repair my damaged hair. I tend to leave the product in for longer than three minutes but I love the way my hair feels afterwards. I only wash my hair about once...maybe twice a week so I use the product every wash or every other wash.

Good for price point

I have very, very thick wavy hair that is very dry. I find this is an effective masque for a moderate price point. It leaves my hair soft and manageable

Soft, manageable hair!

I love the addition of this treatment to my current regime - it's so quick and easy to use and can be used in shower! Leaves my bleached hair soft and easy to manage. I've even noticed less split ends! Love it!

Total game changer

I have very tempermental high maintenance hair, its fine but also dry and curly...this has been a total game changer for me! Best conditioning treatment I've ever used! I wash my hair twice a week and use this instead of normal conditioner. Highly recommend!

Nice product, but nothing amazing

This mask does what it says - it makes your hair softer, more manageable, and tackles any damage at the same time.

Silk and Shine

I find this treatment quick and easy to use. Leaves my hair feeling silky with shine without being oily.

Love

I feel this product has been a god send to my hair, it's the perfect balance of protein and moisture and my hair loves it! My hair feels soft and silky after use and I have thick coarse color treated hair so that is saying something.

Saved my hair!

I have thin coarse, curly, frizzy hair but A LOT of it and have gone from dark brown to very blonde balayage over the course of about a year and over that time of my ends did suffer from the bleaching and then straightening it, a lot, and I was really worried until I found this and omg it's amazing. My hair feels extremely smooth, soft and stronger after using this product. I use it once or twice a month depending on how my hair's feeling and it saves me from having to get that dreaded trim when you're trying to grow your hair long! It also helps control the frizziness that the dry, coarse ends produce.

So nourishing...

My hairdresser recommended this treatment for me as my hair was feeling a little fine and brittle. It is such a great treatment and has helped nurse my hair to health. Now that my hair is in much better condition, I feel that at times it may be a bit to heavy, but it definitely does the job!

Great

Just started using this, works great along with other products!

5 stars

Love Eleven 3 minute Repair Rinse out Treatment. It leaves my hair soft and easy to manage & it has a pleasant smell. Love that it only requires 3 minutes, or until I've shaved my legs.

Silky smooth

I use once a week and find if I leave on a little longer than the suggested time I get a nice shine and hair feels silky! Has become a staple in my hair care regimen.

Great value

Does exactly what it promises. After I rinse it out my hair is smooth and detangled. My hair brush glides through my hair afterwards. It's a good addition, really good price, and on par with a few more expensive brands I've used. Will repurchase for sure.

LOved this product

received this as a sample gift but went on to purchase as full size. Loved that it helped control my tangles and smooth out my hair, Due to purchase again

favourite eleven australia product

i've tried a lot from this brand and found it very hit or miss - this is my favourite though, and the one i've found to be the most effective for the smallest amount

leaves hair soft and strong

this makes my hair feel really soft and leaves my ends feeling healthy. My hair is less frizzy and my curls style in much more defined way. would recommend for dry curly hair.

Would use again

I remember being amazed after the first time I used this as my hair felt so much softer. I received this as a free sample and would use this product again.

WIll use again and again

I have long colour treated hair and I received this in sample form with a previous order. I loved it! I have bought it again since. Smells lovely, light enough to use 2-3 times a week, and immediately impacted my hair. Felt my hair was softer and sleeker. Just the thing to give my hair a lift between hair appointments.

Amazing treatment

I have damaged blonde hair and this treatment is amazing at making my hair feel healthy. Highly recommend this and the blonde shampoo to my fellow blonde ladies out there!

Absolute winner

Yes yes yes. This product loves my hair and my hair loves it. It's a gentle but effective treatment for my colored hair. It's not too heavy as I have lots of fine hair but still looks after my locks, when maybe I haven't .. Great product for me

Another fantastic Eleven product!

As a fan and long time user of Eleven shampoo/conditioner/serum I decided to try this treatment - Definitely impressed! For the price and the whole '3 minute' thing I wasnt sure if it would deliver on results but my hair feels sooo soft after using (I have thick coarse bottle blonde hair). I really like it and will definitely repurchase, Ive have just as good results with much dearer products!

Eleven has the most amazing products

I went through a phase of changing my hair colour All. The. Time. This brought it back to life.. I highly recommend this and Eleven's Miracle Hair Treatment as well. Seriously can not rave about them enough.

Adore this treatment

Received in lieu of another's gift which was out of stock, and it was obviously meant to be.

My hair is recovering from the post natal phase where it falls out and becomes very thin and this provides the perfect nourishment in my opinion.

From the first moment of running it through my hair, I could feel my hair felt stronger, kinda reinforced from the mask. I left in for 5 minutes and styling went so smoothly, it didn't make it weighed down or greasier, just felt super soft, manageable and well nourished. Healthy hair.

The smell is like a tropical sherbert which is amazing,

I will definitely be restocking, and this takes the place of the previous mask I was using, as I wasn't seeing the results despite the extra $$$.

Great

My hair is frizzy at the best of times and I find this product does hydrate it to a point, I do not think I will ever find the perfect solution for my hair but this does add moisture to it and I find it easier to comb when I get out of the shower.

Great product

Great smell and leaves my hair silky smooth!

Obsessed

I am obsessed with this product! It is half the price of the last treatment I was using and works far better! In just three minutes my hair feels soft, shiny and healthy. Can't recommend enough.

Love

My hair is, I mean was dry, bleached until I tried this product. After just 1 week of using this product my hair feels amazing and hydrated. Pairs nicely with the deep clean products



my go to!!

so i have bleached blonde hair, its prone to being dry and easily damaged. but with this in, i get silky smooth great looking locks.

Okay product

This treatment left my hair softer, however it wasn't as hydrating as other hair masks I have tried before. My hair is quite dry and brittle and needs something more intensive.

Great product

I have very dry, broken, bleached hair that also suffers from me straightening it everyday. I kept hearing hairdressers on Instagram raving about this product so I thought I would try it. A couple of weeks later and I can already tell the difference, my hair feels nice and smooth and the ends don't feel as dry/brittle. I would totally recommend this product!

Lovely

This product is amazing to be used in conjunction with any hair care! After 3 minutes my hair in particular dry ends are hydrated and silky soft with my fly aways. From dying my hair it gets fairly dry at times and i found this is one of the only treatments that i use weekly between salon visits that keeps it from drying out and getting brittle.

Very effective!

A great, effective hair mask which restores my hair to complete softness! This treatment gives the same result as a salon treatment, which I'm able to do myself in the comfort of my own home! I love how the results only take a few minutes to achieve and I'm left with super soft and manageable hair! I love the Eleven Hair Products!

Ok hair mask

Got this as a sample and it does leave hair slightly softer but not the best that I have tried.

Say bye to expensive salon treatments!

I've recently discovered the brand Eleven and have been super impressed by everything I have tried in my long, dry and damaged hair. I left this on for the suggested amount of time and noticed instant results when I rinsed my hair from the treatment. If your hair is like mine, expect softer, more tamed and healthier looking looks. I fee like I no longer need expensive planked treatments at my spam and am very happy that I have discovered this treatment!

Good

This product is amazing to be used in conjunction with any hair care! After 3 minutes my hair in particular dry ends are hydrated and silky soft with my fly aways. From dying my hair it gets fairly dry at times and i found this is one of the only treatments that i use weekly between salon visits that keeps it from drying out and getting brittle.

feels so good

This fruity smelling saviour in a bottle is so good for dry, bleached, frizzy hair, it's extra nice after the eleven deep clean shampoo.

Love this treatment

Great treatment, Eleven has such a great range of products

Great Treatment

I try to use this product a few times a month, and I think it works well. I try to if i can leave it in for longer than the 3 minutes but if I'm short for time i find it still works well. Leaves my hair feeling really soft .

Unsure

I purchased this product because of its good reviews and the excellent price. I have thick, curly, dry hair and unfortunately I did not notice any difference using this product. As my hair is quite thick, I went through the bottle very quickly too. Excellent price though - and it smells DELICIOUS.

it is gooddddddddddd

I really like this product and does the great job, I highly recommend it.

Recommended

Been using this for a few months ands it's fantastic for the price. Hair is smooth and less frizz

Not bad..

I ran out of my Kevin Murphy re-store treatment (fantastic btw) and decided to buy this as a replacement since it's cheaper. It's not as good but I feel it does help with retaining moisture.
Have used this a couple times now and so far so good. Hasn't made a huge difference to my hair but am going to keep trying it out to see whether my hair improves.


Saved my hair!

This product has brought my hair back to life. Since I went blonde my hair started to snag and become so weak. I have tried so many different treatments over the past few months and none worked. Until I was recommended the eleven miracle hair treatment! I am so thankful I purchased this product because my hair is healthier than its ever been!

It's ok

Didn't really notice any improvement, even after several treatments.

Good leave in treatment

Whilst this product has not wowed me as much as the other ELEVEN products I have tried it is still a good leave in treatment. Love the smell and that it is a light weight product.

Handy for a quick go-to

It's nothing particularly remarkable, though it does live up to what it's advertised to do and leaves hair feeling smooth-ish.
Wouldn't necessarily purchase again in favour of trying another product, but would still give it a go if needing something effective on the fly.

Quick and effective

This 3 minute repair mask is perfect for a quick hair treatment when you don't have too much time to spare. I usually leave it it while I wash the rest of my body or shave my legs. For just three minutes, this mask makes my hair feel so soft and refreshed.

The god to dry hair

I recently got my hair bleached and coloured and to prevent it from getting dry I used this as part of my hair care, as well as the ELEVEN Hydrate me shampoo and conditioner! I sometimes use this instead of the conditioner sometimes because it leaves my hair so soft!

Great!

I have wavy frizzy, dry, brittle blonde hair and this was recommended to me by my hairdresser.
I use it as a conditioner and my hair has been so much more manageable and moisturised without leaving my scalp oily.
I will continue to purchase this product.


Still on the fence..

I wanted a mask to repair my dry, blonde hair that wouldn't have too much protein and dry it out. This ticks that box!
It has a lovely smell and smooths through easily. I left it in for probably 5 minutes and was amazed at how silky it felt when rinsing- one of the best I've tried.
However I found that when my hair dried, a lot of that silky, smooth feel had gone.. I was a little disappointed as I was hoping for smooth , frizz-free hair for styling. I've only used it a couple of times but am hoping that long-term it will benefit my hair.
So far it's nice, but not the best I've used for repair and hydration.

So hydrating

This product works wonders for dry hair. It makes it so smooth and manageable. It smells great too

Magic in a bottle

This stuff is absolute magic! So quick and easy to use. Absolutely love this treatment! Highly recommend all the hair care products from the Eleven range

Not the best ELEVEN product

I use the ELEVEN Hydrate my Hair Shampoo and Conditioner with the Miricale Hair Treatment and thought I would try this out to add to my collection! Unfortunately, I don't really like it that much! I have used it a couple of times now and it leaves my hair feeling stringy unlike their other products. But maybe its just me, I would like to see other's opinions!