When you're looking to convert to natural, organic products as a whole, it can be difficult to find a toothpaste that not only feels and tastes nice, but also does the trick. Dr. Bronner's knows this and has created some amazing formulas to bring organic, ethical ingredients into every step of your self-care routine.
Dr. Bronner's toothpastes are made with 70% organic ingredients. These toothpastes cut everything that isn't totally necessary, leaving you with a product that's only as invasive as it needs to be—no more, no less. The brand's natural toothpastes are low-foaming, vegan, cruelty- and fluoride-free, and contain no artificial flavours, colours, or preservatives. You're able to avoid whatever ingredients are troubling to you.
Toothpastes by Dr. Bronner's go above and beyond to be kind to the environment and consumers with their ingredients AND their packaging! Each tube and box is 100% recyclable, minimising waste and maximising a positive effect on the ecosystem.
Although Dr. Bronner's toothpaste may not have exactly the same consistency and ingredients you're used to, there are multiple flavour options to choose from. There's the classic option of Peppermint, as well as Cinnamon and Anise for those who aren't fond of mint. So you've got no worries! Check out some of these top-notch toothpastes for a fresh, ethically clean, and healthy set of teeth.
Recent reviews on Toothpaste products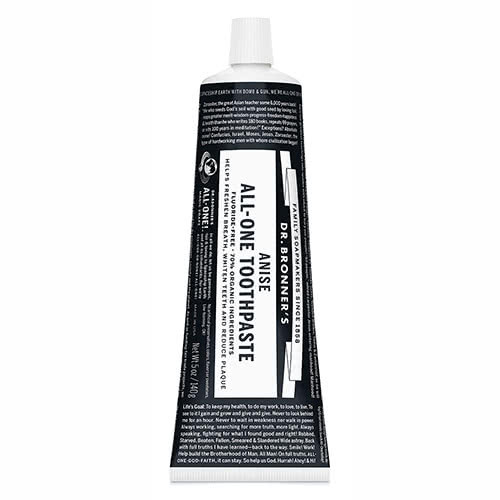 Dr. Bronner's
Dr. Bronner Toothpaste - Anise
$12.95
amazing natural toothpaste
I've been on the lookout for the perfect natural toothpaste and I have finally found it. I love Dr Bronner's philosophy and this toothpaste does not sacrifice on anything for being all natural, amazing taste