Dr. Bronner 4-in-1 Sugar Sugar and Peppermint Organic Pump Soap 355ml
Frequently bought with
Please wait while we find a match
Questions & Answers
(1 Question)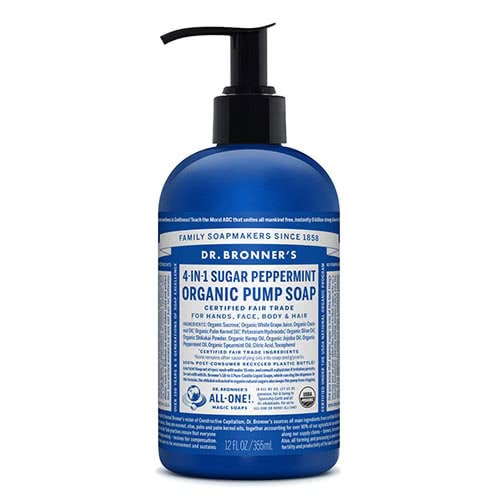 Dr. Bronner 4-in-1 Sugar Sugar and Peppermint Organic Pump Soap
Get an expert to answer your question about this product!
Ask a Product Question
95% recommend this product
Most Helpful Positive
Love this
Works so well, only need a little bit, boyfriend and dad approved!
Most Helpful Criticism
Great foot wash
This works sooooo well on sore tired feet at the end of the day or after the gym - leaves feet squeaky clean, fresh and cool. Definitely wouldn't use this on my face or hair though.
Minty fresh

This is a wonderful multi purpose soap. It smells minty fresh and leaves the skin feeling squeaky clean. It is a great size and is an easy to use pump bottle.

great wash

I love using this during winter as it stops my skin from appearing flaky! Nice and sensitive formula. Another important factor is the amazing smell, I look so forward to using it in the shower.

Peppermint smell is so refreshing!

Well worth the price, the peppermint smell is so refreshing on your face in the morning. Really hydrating & a little bit goes a long way!

lovely soap

I suffer from dry skin and this product keeps my body very hydrated! It's not as drying as a conventional soap, so I recommend to anyone with dry skin! It is definitely slightly more expensive, but worth it for the great quality!

Refreshing and minty

Very refreshing scent. This soap hydrates and refreshes tired skin without drying it out

Love this

Works so well, only need a little bit, boyfriend and dad approved!

Really good!

Smells so good and lasts forever! Pretty decent price for how good the product is!

A little bit of luxury for your bathroom

Whilst I am usually the $3 foaming soap from the supermarket kind of person, I purchased this based on other reviews. The smell is amazing like peppermint candy canes! Removes makeup from my hands without an issue and I have already repurchased to ensure I have a back up.

great hand soap

We have recently swapped hand soaps from Aesop to Dr. Bronner 4-in-1 Sugar Sugar and Peppermint Organic Pump Soap as this is a much more cost effective solution. The soap itself is very liquidus however it foams up nicely, leaving hands feeling fresh and clean.


Smells divine

Smells divine, a little goes a long way with this so it lasts ages and it leaves skin feeling soft

Great product

I have just re-bought this product.
Lovely smell, and lasts for ages! I just use in the bathroom for hand soap but good to know that I could use it for other purposes if needed.
Definitely a go to product for me.

Great Product - Always Feel Great Afterwards

I have only just stared using this product, and I am already ordering it again. I was surprised by the color/feel of it when I first put it on my hand, however it lathers up great. Leaves skin feeling completely clean, and it feels even better knowing that it's fair trade.
I would highly recommend.

Clean crisp fragrance

Our household uses this as a handwash and I also use it as a shower gel. The peppermint smell is amazing and you don't need a lot for either use. My husband was a little 'confused' by it at first as it different from other hand washes but now loves it. I also love that it has a lot less harsh chemicals than other washes.

very good!

this is another one of the many Dr Bronner products i am obsessed with. I absolutely love this soap so much it is so fantastic in cleaning the skin and makes it feel so soft. I love the scent as well and i love that there are no harsh chemicals and sulfates to dry out your skin in this. Amazing for sensitive skin and i would highly recommend

Great foot wash

This works sooooo well on sore tired feet at the end of the day or after the gym - leaves feet squeaky clean, fresh and cool. Definitely wouldn't use this on my face or hair though.

Big fan of Dr Bronner Sugar soap

We are big fans of this soap in our household now. I especially picked out the Peppermint to go in our kitchen to deal with Kitchen hands and post gardening work hands. always leaves a fresh scent and cleans so well Total convert

Smells like heaven

I have never had some people comment on my hand wash since purchasing this wash. It smells devine and doesn't leave hands feeling dry. Plus the packaging is super cute on your vanity, so that's a bonus.

So refreshing

This is my favourite body wash, I'm on my second bottle! The peppermint makes my skin feel so clean and fresh. Will definitely keep buying it

Fresh soap

Really great hand wash that smells very fresh and minty

Lovely scent

The peppermint scent is one of my favourites! The bottle is a nice size as well. Fantastic hand wash

Fresh minty soap

I like that the soap comes in a pump bottle. Peppermint is such a nice scent, it's very fresh and minty

Favourite soap

The pump bottle is great and I love the peppermint scent. Gentle soap that's versatile and lathers well.

The best!

Super soft and nourishing with a beautiful scent to match. Big fan of this brand.

Makes a great body wash

I use this mainly as a body wash and it's so invigorating, the cooling peppermint sensation helps wake my body up and energsies my mind. So great for morning showers!
I have tried this as a shampoo a couple times and although it feels like it improves the circulation on my scalp, it's too drying for me so I only use it on my body.

Makes for a lovely kitchen soap!

I love this soap. It smells great and works well. There is always a bottle of this in my kitchen!

Great product

This soap is amazing. Although I haven't tried it as a shampoo, it does basically everything else. This peppermint soap smells amazing, lathers well (without the nasties) and my husband even said it helped him with his haemorroids. I don't think I've ever used a soap before that was THAT versatile! Anyway, will definitely buy again. Amazing stuff.