Dermalogica UltraCalming Cleanser 250ml 250ml
4 instalments of $13.64
Or 4 instalments of $13.64 with
LEARN MORE
4 instalments of $13.64
Or 4 instalments of $13.64 with
LEARN MORE
Official Stockist
Is this for you?
Recommended for sensitised, reactive and recently resurfaced skin.
Skin Type:
Dry

Normal to dry

Normal to oily

Oily
Frequently bought with
Please wait while we find a match
Questions & Answers
(1 Question)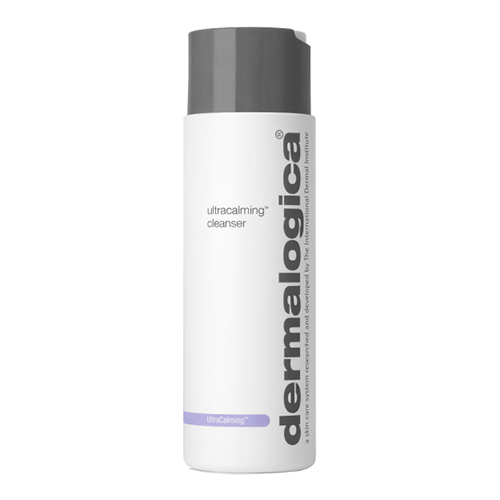 Dermalogica UltraCalming Cleanser 250ml
Get an expert to answer your question about this product!
Dermalogica UltraCalming Cleanser 250ml Reviews
90% recommend this product
Most Helpful Positive
dermalogica
use this everyday. so good for dry skin. I recommend.
Most Helpful Criticism
Not too sure
I purchased this as a break from my normal cleanser and used it consistently for about a month. It started giving me really bad breakouts, so now I only use in the morning on dry skin or as a precleanser.
dermalogica

use this everyday. so good for dry skin. I recommend.

BEST CLEANSER FOR DRY SENSITIVE SKIN

My skin is mostly dry and sensitive. Got this to try since my skin was acting up. So far best gentle cleanser I've used!! Love it! Doesn't feel like it strips your skin. Recommend for anyone dealing with sensitive skin

Hopeless as a cleanser

It feels more like rubbing a moisturiser on your face rather than a cleanser, it doesn't remove any makeup at all so I always have to wash it again with a different cleanser. May be ok to wash bare skin after prewashing but I wouldn't be so sure it's actually cleaning anything.

Love it

I used a deluxe sample and I love it. It's so calming and gentle. Will definitely buy a full size.

Go to cleanser for sensitive skin

Tried this product as a sample and I am now on my 3rd bottle. This is a great cleanser for sensitive skin - not fragranced or too foamy. Took some getting used to (as I was using much harsher cleansers). Great as a part of the 'Ultra Calming' range (recommend pairing with the serum and barrier repair)

So kind on the skin

Such a Beautiful product. Super gentle on the skin but also deep cleans and prepares skin for more products. A little goes a long way

Gentle & effective

I have sensitive skin prone to irritation, pimples and dryness.
This product is gentle, yet effective at removing oil build up from my T zone.
I haven't had break outs with this product.

Not the best at removing make up.


Gentle

This is gentle and easy to use. It is a good second cleanser after removing makeup. However, it is expensive for a cleanser.

Great everyday cleanser

I love this cleanser and repurchased a second big bottle recently. It's not the best at taking off makeup (but Dermalogica Pre cleanse is great for that I got that as a free goodie from Adore which I would recommend also!) but it is a beautiful cleanser for sensitive or reactive skin, like mine is. It doesn't leave your skin feeling stripped, just clean without the fancy smells or irritants. It ju...

Read More

Perfect for Sensitive Skin!

So refreshing and moisturising. It is perfect to use after a long day in the sun, during a breakout or after a facial.

Gentle cleanser

I have sensitive skin and this product was suitable for me and didn't cause any reactions. It is a nice product but it quite expensive and not sure if it is worth it or not.

Very gentle

I find this cleanser a little too gentle for me and that I dont get that really deep clean I get from other non cream cleansers. However, is great when I feel like my skin has had too much sun or post treatment. I would say it is great for red and inflamed skin, and people that dont like that tight feeling you get from a gel cleanser.

Perfect for sensitive skin

I suffer from a lot of redness and irritation and have tried a number of sensitive skin products but none like Dermalogica's calming range. This is the first cleanser that I have used that has not only cleared up my redness and removes my makeup but it also leaves my skin feeling hydrated and not stripped like other products have done. Don't think I will try anything else after this!

Great!

Great at taking off makeup and cleansing the skin without stripping it.

Love this

Love this brand, expensive but worth it compared to other cheaper brands. Cleans well and my face feels fresh and soft afterwards

Not too sure

I purchased this as a break from my normal cleanser and used it consistently for about a month. It started giving me really bad breakouts, so now I only use in the morning on dry skin or as a precleanser.

a lovely gentle cleanser

feels very moisturising and calming

It's okay

It's a decent cleanser to clean your face and it smells calming with the lavender but it doesn't do much else and sometimes it seems irritating to my sensitive skin.

Interesting texture

This cleanser has a gel type texture, which was fine. I thought the cleanser was okay, it did the job but was not my favourite for sensitive skin.

very gentle

Not for me.

I have really sensitive combination skin and I thought this product would do at least something good but instead it made me break-out all over my face, acne without heads so they just brewed on my face and hurt, and it made my neck, collarbones, and chest suddenly show up with red patches that lasted for at least a week at a time.

I'm sure this product works for some but t definitely ...

Read More

Wasn't impressed

This cleanser was recommended to me due to my sensitive red skin and dermatitis on my face and neck. However I didn't find this cleanser helped with that and didn't really calm my skin. I used in conjunction with the ultra calming serum and barrier repair. I also didn't find it very hydrating, I've gone back to my usual cream cleanser which I find quite gentle and nourishing

So lovely and gentle

The bubbles are very fine and my face feels really clean after. It also doesn't strip my face from the hydration. Will definitely be adding this to my holy grail products, it's so gentle I'd trust it above anything else.

really great cleanser

I will continue to use this as a daily cleanser as its by far the best ive ever tried

the best!

so good, finally a cleanser that just does what its meant to do without drying out my skin or making my skin breakout

best cleanser ive had

will always repurchase this one, I love it! and the scent is to die for

Everyday cleanser

This Dermalogica cleanser is fantastic and can be used 1-2 times per day! I have sensitive skin and do not react with this product. It leaves your skin feeling fresh and clean!

A life saver for dry skin

I have used Dermalogica's special cleansing gel every day for years until about 6 months ago when I noticed my skin was becoming more on the dry side (it was Winter). This cleanser feels so lovely and hydrating and always leaves my skin feeling soft.
I'd recommend this cleanser to anyone with dry or sensitive skin.

Gentle and calming

This cleanser is calming and gentle. My skin didn't feel tight or dry after using, but also did not feel like residue was left after cleansing. Good for my dry, sensitive skin. Need to use a pre-cleanse to remove makeup as it won't remove it, but definitely use after to calm skin.

amazing gel cleanser

always calms down my redness in my skin and also perfect post facials as its calming on my skin and isnt adding any harsh ingrediengs to my skin.

Dermalogica UltraCalming Cleanser

The bubbles are very fine and my face feels really clean after. It also doesn't strip my face from the hydration. Will definitely be adding this to my holy grail products.

super cleanse

i found this cleanser really helped calm my face - rednness - breakouts - itchyness - overall great!

Sensitive skin

I have psoriasis on my face in small patches and have had a few reactions with other cleansers. This cleanser doesn't cause any reactions, it doesn't completely strip my skin causing irritation. It's great to remove my heavy make up without drying my skin out too much.

Gentle skin cleanser

This is a good cleanser for sensitive skin. Non irritating, cleans the skin well without stripping the skin. Skin definitely feels hydrated still after cleansing, not tight and dry as some cleansers tend to do.

Perfect!

Can use this one without water, perfect to take to the gym or camping. Does a good job at cleansing

Great for sensitive skin

Received this product as a sample, the cleanser was quite different to any i've Experienced, it didn't work up a lather, it felt rather moisturising, as I was rubbing it into my face, I felt a slight tingle. When washed off, my face felt really clean and soft . Love that it dudn't Have a strong perfume smell.

Holy grail

This... THIS is my cleansing holy grail. My skin has never felt any better after cleansing after using this. I am so glad I bought this, has really made a difference in my skin!

excellent

I really really love this product! It helps so much with redness and irritation! it doesn't make me break out at all which is always good! It is very good for sensitive skin, it doesn't dry you skin out at all and is very hydrating without being oily! I love this so much and think it is perfect! 10/10

Great post procedure :)

I got a sample of this cleanser with my Adore order. I saved it for when I had a professional skin treatment done. I found it worked best on my complexion either post procedure or in the morning after I have used an intensive Retinol serum.

FAVOURITE MORNING CLEANSER

This is my all time favourite morning cleanser. It literally feels like I'm moisturising my skin and it doesn't make it break out or cause any other issues. It's just so cooling and I've recommended it to a few friends and they love it as much as me.

GREAT FIRST CLEANSER

I recently bought this cleanser for my boyfriend as he doesn't have a skincare regime at the moment. Since I didn't want anything harsh, I decided on this cleanser for him. He LOVES it and now enjoys cleansing his face. It's SUPER gentle and great for anyone that is just starting in the skincare world.

Not my favourite

I tried this cleanser after using the Special Cleansing Gel and I much prefer the Special Cleansing Gel. I didn't like that this doesn't foam at all. The consistency is more of a gel cream and left a weird feeling residue on my skin.It's a nice cleanser and didn't break me out but definitely prefer the SCG.

Love this for my sensitive skin

Love this for my sensitive skin. I've been using is for nearly a year and it never leaves my skin dry or tight

Perfect for sensitive skins!

I love the way this cleanser makes your skin feel! It's a cooling gel texture but leaves your skin feeling super soft and plump afterwards even for people without sensitive skin! You don't need water either to use this cleanser - you can just wipe off with cotton pads so perfect for trips away/camping! Didn't congest/breakout my oily skin either

very gentle cleanser

i am absolutely obsessed with this range!I have pretty oily skin that can be sensitive at times. I wouldn't recommend this as a first cleanse as it didn't remove my make up too well. Great to use in the mornings!

great cleanser

I have used this on and off for years! And everytime I come back to it I am impressed. It does wonders for my sensitive skin and I will continue to repurchase it!



Nice and lightweight

I love this cleanser. I use it every morning, it's lightweight but at the same time hydrating. It leaves my sling feeling soft and calm, it's great for when my skin is reactive and had a a break out.

Good

I first got a sample of this product and after just a few uses my skin was feeling softer and brighter so I had to buy! Absolutely love it. Very soothing especially after taking off makeup or doing a big workout at the gym.

great for sensitive skin

reat for sensitive skin, as it says in the name it's great for calming skin, I found my skin became less red after a few uses. very worth what you pay for. My skin never feels dry or tight after using this cleanser. I recommend this product to people who are looking to start a skin care routine

Great for camping

After derm stopped making their face wipes I was on the lookout for a cleanser that I could take with me when we went camping that could be used even if we didn't have any fresh water nearby. This product is perfect for that. You can apply it onto your dry skin and simply wipe it clean with a wet face cloth and it cleanses your skin beautifully. It leaves your face been fresh, clean and hydrated e...

Read More

Nice and gentle

I was recommended this cleanser by my beautician after having a facial since it was gentle for sensitive skin. I have combination skin with an oily t-zone and congestion. This cleaner worked well and was nice to use after peels and treatments but I prefer a more foaming cleaner for daily use.

good cleanser

i used the ultra calming serum and i had to try the cleanser too. got it as a sample and loved it. it is very light and gentle on skin and calmed my irritated skin

Good

I have used this on and off for years! And everytime I come back to it I am impressed. It does wonders for my sensitive skin and I will continue to repurchase it!

lovely gentle cleanser

This cleanser is gentle and soothing on my skin, a real pleasure to use. And it takes off make-up too, so now I'm using it instead of Pre-Cleanse. It is a nicer to massage on, easier to rinse off.

Great for sensitive skin

I started using this cleanser after my facialist recommended it. My skin is really sensitive and most cleansers irritate it and dry it out but this cleanser is so light and moisturising - it's great!

Excellent

So good for my sensitive skin

Perfect for all skin types

Never leaves my skin feeling dry, hence the name of the product! Fairly priced as well for how well this product works!

Great for rosacea

Nice cleanser to use doesn't dry or irritate my rosacea skin.

Great

Leaves skin feeling so clean and refreshed, love using this cleanser before I go to sleep at night!

Good

This is great for sensitive skin, so light but effective, makes my skin feel great

Calming and refreshing

I started using this cleanser after my beautician recommending it for my breakouts. Due to my skin being so sensitive it often gets irritated very easily, however, since using this cleanser my skin has become less irritated and I have seen a reduction of redness and acne. Will continue to buy and recommend to friends.

Great

This is good for dry and sensitive skin. For makeup removal, I recommend pairing with the pre- cleanser first.

Nice face wash

Nice face wash, I use it as an initial cleanse after a day of makeup then use a stronger wash for the second cleanse.

Lovely cleanser

This is a wonderful product.
It's definitely best used as a second cleanse or a morning cleanse (not sure it would be a great makeup remover) but after a decent cleansing oil or balm it's a beautiful non-irritating skin cleanser.

Great product

I received this as a sample and at first thought it may not be strong enough for my skin, but it was really good. I am 35 with large pores and oily skin and always use the resurfacing cleanser. I used this cleanser I. The mornings and it was beautiful. It was silky and didn't dry my skin at all. I washed it off with warm water and it didn't irritate my skin. I would consider buying this as a gentl...

Read More

A great soothing cleanse.

This is a very soothing product. And a little goes a long way. It's great on inflamed and sensitive skin. It works well on rosacea and doesn't leave the skin feeling dry. I'm waiting to see whether it still keeps me happy in the Queensland extreme heat and humidity of summer, not sure if it will give enough of a clean. I have positive expectations though, as Dermalogica haven't let me down yet....

Read More

Great for sensitive skin

The ultracalming cleanser is a great cleanser for sensitive skin, which is still effective enough to remove makeup/oil/dirt etc. I even found my skin has become less red and inflamed since using it! :)

Favorite Facewash Ever

I have fallen in love with this face wash. My skin is sensitive and acne prone but this has helped significantly to clear my skin while keeping it smooth and refreshed. It also doesn't dry out the skin very much. I would highly reccomend it!

Best cleanser for sensitive skin...period.

Does not strip the oils from skin. Use twice daily...fabulous. Love the larger size with pump, very convenient.

My sensitive skin saviour

I'm 32 with a history of sensitive skin that has in the last 12 months exploded with cystic acne. I'd tried just about everything possible to clear it - more products, less products, no products - absolutely nothing worked and I was breaking out on a daily basis with painful pimples and bumps for several months. I was just about to give up and try something invasive through my dermatologist when I...

Read More

Beautiful cleanser for all skin types, but especially helpful for sensitive skin

I first bought this product when I had really sensitive skin and was looking for something to help calm it down. It worked - now my skin is combination (oily t-zone, dehydrated elsewhere, occasionally sensitive due to retinol/exfoliation), and I still love this cleanser.

I always clean my face with a flannel and with some cleansers I get a little redness after, but never with this as ...

Read More

Great for sensitive skin

I have very sensitive and reactive skin. This cleanser is true to its name, ultra calming. It feels good without any irritation, nor does it make my skin feel tight after rinsing it off. The only complaint I have is that it doesn't remove my makeup. So I use Dermalogica's pre-cleanse first.

Gentle cleanser

i have combination skin and i use this cleanser every few days with my special cleansing gel and pre-cleanse oil just for something calmer and i love it, it makes my face feel so soft and silky and gently cleanses my skin without any harsh smells or feeling at all.

Dermalogica is my hero

I love this ultracalming cleanser. I have rosacea and I've found this cleanser to be the best so far. It cleans without stripping or drying skin, but also rinses off well, not feeling like it's still on my face. My skin loves this cleanser, and as much as I love to try different products, I don't think I'll be giving up my Dermalogica products anytime soon.

it's nice

had this recommended to me after getting my skin analysed, it's very nice as a cleanser but I feel like there are others out there that do the same thing with a low pH and are way cheaper.

So soft and makes my skin glow after

I had a bottle of this sitting around my house for ages and never really thought to use it as I already had a heap of skin care products that I never use/used once. On a trip to London I had a facial done in Dermalogica, and notices that my skin was absolutely gorgeous afterwards (like, totally glowing, plump and hydrated and calm!). I received a sample of this and one day decided to use this as a...

Read More

Refreshing

This is such a great cleanser, its cooling effect on the skin is so lovely. I used it both as a cleanser and a mask and absolutely loved it

Very happy

I'm falling in love with dermalogica! Love this cleanser. Have only been using for a week or two and can already see a improvement in my skin. My skin can get a bit red after showering and before applying my moisturiser. But I have noticed the redness has gone! My skin feels a lot softer as well. It is gentle and feels very calming when applied. i use this cleanser in conjunction with dermalogica ...

Read More

Great for sensitive skin!

I used this cleanser when my skin was blemish prone and highly sensitive. It still cleaned my skin but was very gentle. Would highly recommend for anyone with sensitive skin!

Saving grace for sensitive skin

This is a really beautiful and effective cleanser if you have sensitive or blemish prone skin. It is really gentle but still effective, and unlike many other cleansers for sensitive skin, this one actually removes makeup and leaves your feeling squeaky clean without being tight.

Feels incredable

I am living for this. Feels like silk when I am washing my face. It's such a nice feeling. My face always feels so fresh after using this !

I've used many cleansers, but this COMES OUT ON TOP

Over the years, I've used a ridiculous amount of cleansers from different brands, both high end and drug store. This is by far the only one that is consistent and actually calms my skin as it claims. I have super sensitive skin which reacts really quickly to the environment. This cleanser definitely showed my skin who's boss.

I highly recommend this

I really love how gentle this is on my skin. Leaves it feeling deeply cleaned without any irritation to my skin. The formula is one of a kind. I will repurchase the big bottle! It's like cleaning my face with silk

great for sensitive skin, smells nice

I've always used the essential cleansing solution but recently converted to the ultracalming. My skin is dry and sensitive. I'm half way through the bottle and so far so good it hasn't irritated it yet. I find it doesn't clean as well as the essential cleanser though and it is more of a gel and cream together.

One of my all time favourites

This would have to be one of the best cleansers I have tried! I use this morning and night and works great with my Clarisonic

Good for sensitive skin

This is a pretty good cleanser for sensitive that makes your skin feel a lot less red and irritated. It doesn't feel like it reeeally cleans the skin though, so I usually use a different cleanser before using this one just to make sure all the nasty stuff is off my face before going to bed. :)

So far, so good

Got this for my boyfriend who has bad seborrheic dermatitis on his face and scalp (obvious this is just for the face). He's tried so many things targeted for sensitive skin and all seem to make his flare ups worse, but this has been great so far, redness has calmed down drastically on his flared up areas.

wonderful

A wonderful gentle cleanser. I purchased this for myself even though I don't have very sensitive and irritated skin and have enjoyed it as my daily cleanser. I have since switched to the special cleansing gel as I don't require quite a gentle cleanser. However, I gifted this product to a friend of mine who has very red, irritated and sensitive skin and she absolutely loves it and it works very wel...

Read More

Excellent cleanser

I always come back to this cleanser as it is just the best. After going through a period of about 6 months with terrible acne and breakouts then using this range twice a day, my face has come a long way - almost all acne has cleared and I rarely get new pimples. This seems to be the only brand that does not cause or worsen my breakouts. Please do not go past it! It's changed my life and hopefully ...

Read More

My Everyday Cleanser

This is what I use on a twice-daily basic for my sensitive skin. It provides thorough cleaning and is gentle on my skin. I also use this cleanser along with my Clairisonic a few times a week.

Love it

Love how Dermalogica UltraCalming Cleanser feels! Quick, easy and hydrating enough to not make me oily.

Has definitely helped prevent breakouts. I absolutely love it!

Wonderful cleanser

I have sensitive skin and this cleanser leaves my skin feeling hydrated. I use it at night only to make it stretch a little further.

nourished.

i truly love this product. the results leave my skin feeling nourished and hydrated. thank you!