Dermalogica Rapid Reveal Peel 10 x 3ml
Skin Concern:
Dull, dry or dehydrated skin
First signs of ageing
Pigmentation, uneven skin tone
Skin Type:
Dry
Normal to dry
Normal to oily
Oily
Questions & Answers
(No Questions Yet)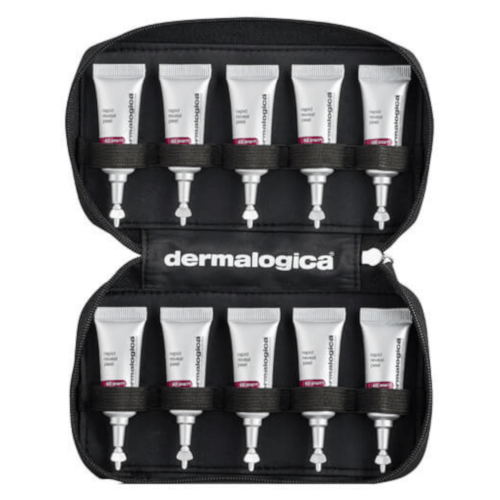 Dermalogica Rapid Reveal Peel
Get an expert to answer your question about this product!
Ask a Question
81% recommend this product
Most Helpful Positive
Such a lovely product
Left my skin feeling beautiful
Most Helpful Criticism
It's okay
Used this a few times. It's okay, it tingles, skin feels clean and smooth afterwards. I just don't think it's quite a "peel", doesn't look/feel like it's strong enough to have that effect.
Helped with signs of aging on my forehead

Have enjoyed testing this product out using samples I have received over time, you do see instant results and I found particularly on my trouble areas (mainly forehead and around mouth) skin looked tighter and smoother. You really do need to stick to once a week to maintain results though

It's okay

Used this a few times. It's okay, it tingles, skin feels clean and smooth afterwards. I just don't think it's quite a "peel", doesn't look/feel like it's strong enough to have that effect.

Such a lovely product

Left my skin feeling beautiful

one of the best peels

one of the most impressive at home peels ive ever tried, instant results without too much time and effort. very happy!

Immediate results

I was skeptical of other reviews that claimed immediate results with this peel. At my beautician, the chemical peels take a few days to show their results, so I thought this must be a bit of overly positive thinking.

It's not.

I have terrible skin - dry in some bits, oily in others, and rosacea to add to the mix. I got a sample of this peel and gave it a go. As soon as I had washed it off and popped some moisturiser on, I could feel how much smoother my skin felt, and it definitely wasn't just the moisturiser doing it. I'm hoping some of my clogged up pores get unclogged through regular use of this peel. I loved the sample so much I just bought this kit.

Love it!

It really works to make skin soft and smooth. There is a slight cool/tingly feeling when you first apply but it is very refreshing. A bit of product soaks in upon removal of the rest, your face will already be notably softer

Like a visit to my beautician

Absolutely love this product, the results are undeniable. My skin was noticeably softer, smoother and more supple, and I had several people comment how good my skin looked. Would absolutely recommend!


Okayish.....

I have managed to get 6 samples of this and have given it a good test. I like it, works well enough but I am not in love with it.. Will give the full product a sample in the middle of winter when my skin is on struggle street

A great at-home peel option!

I tried Dermalogica's Rapid Reveal Peel close to when it was first released. I remember the hype around this product being very real! I believe it was Dermalogica's first at-home peeling product. The vial that the individual peel comes in is perfect for one use. I found it dispersed exactly the right amount of product for the face and décolletage region. When using this, it really felt like any other peel I've used before – tingly, but not overwhelmingly so. I would say to avoid a product like this if you have overly sensitive skin though, as I feel it could be a little overly irritating. When taking the product off, I used a cold water soaked cloth and my face felt instantly relieved of the tingly feeling. I will say that I saw instant results with this product, my skin felt super smooth straight afterwards and it looked so much less dull. I really enjoyed trying this product and I would definitely consider repurchasing it as I feel it's really the ultimate skin boosting product. The only downside to this product is that it's quiet pricey and there are comparable products at lower price points currently available on the market that I would gravitate towards first, purely for that fact.. e.g. from The Ordinary. But all in all, if you're a fan of Dermalogica products and like the idea of a do-it-yourself at home peel, then this one's for you!

amazing

This product contains Lactic acid, fruit enzymes, rice bran extract and many other skin loving ingredients. I love doing chemical peels at home, it's great to use to reveal the fresh new skin underneath helping with fine lines, discoloration etc. I applied it after cleansing at night and could feel a slight tingling sensation which means it's working. After my skin looked more refined and less irritated from my rosacea. I will continue use and hopefully get more benefits. So far a great product.

Great product

I have mature skin which still gets clogged and oily down the middle so exfoliating is important for me. This is so good! Leaves my skin really smooth and glowing. I only leave it on about 4 minutes and there's a little warmth and tingling but not too uncomfortable. Highly recommend!

Amazing

I love this product and recommend it to everyone. Has improved my skin significantly

Another excellent Dermalogica product

I started using this 10 weeks ago and it has made a huge difference to my skin. My skin looks clear, bright and refreshed. This is a product that I would certainly repurchase and always have on hand.
It has a watery, gel like consistency that you apply and leave on for 3 to 7 minutes before washing off. It is very easy and convenient to use. You can apply it and then continue with other duties until it's time to wash it off.
I use this twice a week and my skin is absolutely luminous. A must have...

Glowing from inside out!

Absolutely love this product, did 3 treatments first then weekly, by the 3rd treatment my skin was soooo smooth and the glow was amazing. Would definitely recommend for those who are kickstarting a good skin routine.

Say hello to radiant and soft skin

It was my first time using a strong at-home peel when I received two as samples.

I use each one twice over the course of 6 weeks since I did not want to overdo it. I must say, my skin was able to handle the small doses and the next morning I have baby soft skin. Makeup glided on effortlessly and I even enjoyed being sans makeup :))

Excellent Product

I used this product weekly over 3 months and loved the results - this is my second purchase. My skin was noticeably softer, smoother and more supple, and I had several people comment how good my skin looked. Would absolutely recommend!

Nope

I don't understand what Dermalogica's obsession is with adding lemon peel oil and menthyl derivatives to everything. Whether it's a peel, a cleanser, a serum, a toner... it doesn't matter - same old, same old. I received a sample of this (like I received a sample of their super-duper new vitamin C serum) and was underwhelmed. There are better (and cheaper) peels out there, and there is a ridiculous amount of packaging with this product. For an acid peel (which tends to last 12 months or so), this is completely unnecessary.

A New Product

I received a sample to try. I currently use Dermologica's 50+ Sport Suncreen and it is the best natural sunscreen I have tried and so was very happy to try another of their products.

The product is very easy to apply to the face (gel-like) and it doesn't take long for the skin to heat up and feel the tingling sensation. I left on for about 3 minutes and rinsed off with cold water. For me personally, I didn't like the tingling and heat, as it reminds me of having an allergic reaction and was a bit nervous that my face would be all red after the treatment. My skin was fine and there was no allergic reaction and my skin felt clean and smooth afterwards. I'm a bit wary of the extra tingling and heat, and will stick to my organic exfoliator instead. A new experience which wasn't for me, but I'm sure others out there will like the product.