Dermalogica Clearing Skin Wash 250ml 250ml
Is this for you?
Dermalogica Clearing Skin Wash is a non-irritating, naturally-foaming cleanser and is the perfect start to around-the-clock control of breakouts, comedones and excess surface oils.
Frequently bought with
Please wait while we find a match
Questions & Answers
(1 Question)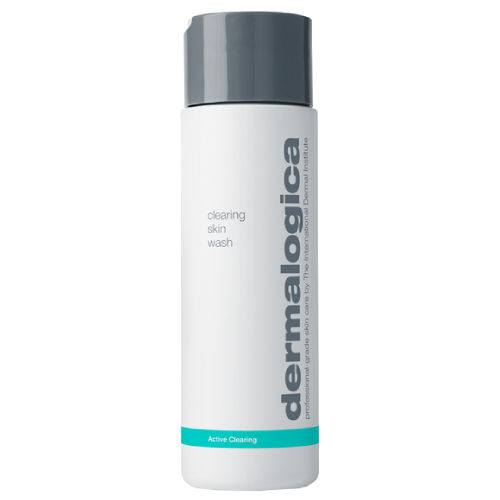 Dermalogica Clearing Skin Wash 250ml
Get an expert to answer your question about this product!
92% recommend this product
Most Helpful Positive
great for breakouts
helped my skin after a few random breakouts on my cheek
Most Helpful Criticism
Drying but does work for pimples
With acne prone, but dry skin, I couldn't use this cleanser twice a day, it was too drying. I used a real small amount, I still use it for my back and shoulders to prevent breakouts after exercise, however I no longer use it on my face.
great for breakouts

helped my skin after a few random breakouts on my cheek

Squeaky clean without the irritation

I love this cleanser. My skin feels so refreshed and clean after using it, without any of those nasty tightness or irritation.

Dermalogica Clearing Skin Wash

I've used this for about 8 months now, very gentle on the skin but actually takes away excess oil and sebum, I used with dermalogica multi toner (very refreshing) and micro exfoliant now ppl tell me that my face is glowing

Feeling fresh

I like this cleanser.
It makes me feel very fresh however it does leave the skin feeling a little dry. I'll take dry over breakouts! But I think I might try something else next time. Not opposed to coming back to this product though as I have a pretty thick moisturiser to follow it up with and it feels good after moisturising.


Leaves your skin feeling so clean

I've used this product before but hadn't for some time. I noticed that it had been rebranded so I decided to give it another try as I've been having a breakout recently. Wow I'm so impressed. The smell is great and it leaves your skin feeling so clean without feeling tight or dry.

Best daily cleanser

I love dermalogica, their products are such high quality and this cleanser is no exception. I only have normal breakouts, but using this medibac cleanser everyday keeps my skin clear and tight and I couldn't live without it! Highly recommend!

Perfect

Great for adult acne, I find you do need to use another cleaners as well as this as it can be quite drying if you use it everyday! Worth it to help adult acne

so good

Very surprised at how soft my skin felt after! I love to use this before bed.

Fresh and clean

I love this cleanser. My skin feels so refreshed and clean after using it.

Drying but does work for pimples

With acne prone, but dry skin, I couldn't use this cleanser twice a day, it was too drying. I used a real small amount, I still use it for my back and shoulders to prevent breakouts after exercise, however I no longer use it on my face.

Works

This absolutely helped clear hormonal breakouts, I like to have it on hand for times when my skin is more congested and breaking out. Quite strong so I like to have a gentle cleanser as well for rotation.

Only great for acne skins!

Be careful not to over use this cleanser! It does a great job for clearing the skin but is very strong so you definitely need a second cleanser (special cleansing gel usually) to use on opposite days! Has a really cool menthol smell/feel!

Amazing

Love this face wash. It's been so good to help fight off my nasty adult acne and doesn't over-dry or cause any discomfort. Absolutely worth a try!

Best cleanser ever!

I have tried just about every cleanser aimed at congested skin out there and nothing has made such a difference to my hormonal breakouts and oil build up as the Medibac range. It is expensive, but worth every penny and since you only need a pea sized amount to get a good lather up, the bottle lasts a while.

Good cleanser

This is a good cleanser for oily and acne prone skin. I can't say it worked miracles for my skin (only the help of a dermatologist could do that), but it certainly helped to keep it clean, oil-free and calm.

Great cleanser!

I've always had horrible skin and have recently changed to this as my daily cleanser! After a few weeks of using it I have noticed my skin is finally clearing up. It leaves my face feeling clean and fresh!

Great

Works miracles! I'm using in since 2009 and nearly for a decade! I have not had pimples since

Holy Grail

Absolutely love this cleanser, I had recently broken out really bad and got acne for the first time ever due to a product that I should've chucked out. Mind you, my cleanser before I bought this just finished and had already been bined. I came to adorebeauty searching for an acne cleanser and was looking at specifically this brand. I had already used the special gel cleanser from this line and lov...

Read More

alright

didn't see any results right away. only have used a few times

Best thing to happen to my skin

I tried so many products to get my hormonal acne to calm down. Nothing made much of a difference, but since I found the medibac products (and changed my birth control) my skin has improved ten fold. I might get one or two little bumps if I'm super stressed out at work now, but 99% of the time my skin is clear, less oily and less sensitive. You only need a tiny amount of product to get a good lathe...

Read More

My favourite cleanser

My dermatologist referred me to this product years ago, and to this day its the only one that keeps my skin totally clear. LOVE IT

Love it!

I have combination skin with cystic acne and scaring. I've used this cleaner for a year and a half and love it!! It doesn't dry out my skin, improved my skin texture and reduced the occurrence and severity of my acne plus has a really nice subtle natural smell of eucalyptus and tea tree.It makes my skin feel fresh and clean.

Improving skin quality

I bought the small bottle of this to have when I travel. I like the clearing qualities in this cleanser as usually when I'm away I wear a lot of makeup and don't eat very well and my skin doesn't like me for it so this is a great cleanser for keeping away those pesky pimples and clearing them up quickly.

My one and only!

I've always had troubled skin and the second I fell pregnant and had to stop getting regular chemical peels my skin hit a self confidence destroying all time low! I try to keep my skin care routine as natural as possible but having used Dermalogica products in the past I decided to give this a go! It's an absolute god sent! I use with a high quality serum and haven't found it drying at all! Cleare...

Read More

Great effective product

This is a great cleanser I find for clearing those deep pores, however I do find if used to frequently can dry out your skin. Still love it when I have break outs though

Fast results to reduce size and redness

I have some troublesome body acne which is made worse in the warmer months due to sweat. Within 5 days of using this every time I shower, I noticed that the spots had dried up, reduced in size and become much less red. Im hopeful with longer use that this will help get rid of it all together. Great product

CLEAN SKIN

I used this product for a few week as my skin had a terrible breakout, after using for a few days my skin started to clear, after a few weeks i was getting little to no breakouts. i love this product however after my breakouts cleared i changed to using the special cleansing gel as i found it became a bit too drying for my skin as i had no more pimples to dry out. if you do use, use a good moistur...

Read More

Great cleanser for problematic skin

I have acne prone sensitive skin, and I found this cleanser did not irritate it. This product has truly been great in helping to clear my skin.I use this cleanser every night and find it to be gentle and effective. I would highly recommend this product to others who have problematic skin!


great for breakouts

This product will dry out your skin, but god the effects of it are amazing! Id recommend using 3 times a week most along side with a moisturising cleanser just so your skin doesn't dry out too much. I love the smell and the feeling it leaves your skin after each wash. Definitely would recommend for oily skin prone to breakouts - would not recommend if you do not get big breakouts as it would just ...

Read More

Good for oily skin

I gave this to my house mate as they have oily skin. After using this a week their skin actually looks like it's less oily.

Excellent for oily or acne prone skin

I used this daily when I was in uni and it was excellent for my then oily and acne prone skin - nothing was as effective for me. Now a few years later my skin has calmed down (a bit) and I use this occasionally if I have a breakout and it really helps. It definitely does what it claims to do and I would recommend it to anyone with oily/ acne prone skin, or to be used occasionally on breakouts by a...

Read More

Lifesaver In a Bottle

Dermalogica know what they're doing when it comes to acne elimination. I have normal/combination skin and had a bad time with cystic acne for two years (went off birth control for the first time in 9 years and BAM adult acne). I used this wash once I found how good it was, it worked to calm my skin and helped clear the congested and clogged follicles.

I will still keep this product i...

Read More

Favourite cleanser for oily, acne prone skin

I've tried so many cleansers for oily and acne prone skin and this one comes out my favourite! It's a winner in my book. Have recommended it to my sister, who also has oily skin and she too has seen great improvement. Will definitely be buying another bottle. Plus the mini versions for travelling.

Great for breakouts and congestion

I love this cleanser for when my skin is hormonal, acne prone or congested. It eliminates any further breakouts or if I use it in time, my skin clears completely!

However, as someone with combination skin this is not something that I would use every day as it can be quite drying if you don't have an excess amount of oil on your skin.

Good but drying

This product seemed to help my skin spots but, unfortunately was super drying. I would definitely recommend this product to anyone wanting to help with bad skin but defs need a super hydrating moisturiser. All round the product is good but I probably won't purchase again

Love it!

I'm a huge fan of the Dermalogica skin care range and have been using it for the last 20 years. It has made a huge difference with the appearance of my skin and my spotting has definitely decreased.
I purchased this face wash recently after many years of using the Clay cleanser. This is definitely way better than the Clay cleanser as it thoroughly cleanses the skin and helps remove make up ...

Read More

BUY THIS PRODUCT

HOLY BLOODY HECK I NEVER DO REVIEWS BUT MY SKIN LOOKS LIKE A BABY JESUS MIRACLE IF YOU HAVE PROBLEM PRONE SKIN I HIGHLY RECOMMEND (ps also using dermalogica toner and precleanse as well)

No new spots!

I'm so glad I finally got this stuff cause everything else I've been using so far has done nothing for me! I've always had super oily skin and little pimples all over my face since puberty and they haven't left me since. If I clean my skin too much it dries out so I look like a crocodile so it's nice to finally have a product with no harsh chemicals, smells lovely, no scratchy beads and actually w...

Read More

Great cleanser!

I originally bought this as part of the MediBac starter pack and liked it so much I've since bought a few full sized bottles.

It's a nice foamy cleanser and isn't too drying to the face. I had some issues with adult acne and this really helped with clearing it up and didn't irritate my skin.

Effective and non irritating

Have been using this product now for 6 weeks and am starting to see results. The best thing about it is that it does not cause any redness, drying or irritation (and i have very sensitive skin!) I am using it with the overnight clearing gel and breakout control and I have noticed my skin is generally clearer and less congested. However, it's no miracle worker and I still do get breakouts.

Love this range

I have had bad skin for years. This range would have to be the best I've ever used, especially as an adult who still gets acne. It keeps my skin nice and clear. And the wash lasts me ages because you don't have to use very much each time.