Dermalogica Daily Superfoliant 57g
Frequently bought with
Please wait while we find a match
Questions & Answers
(1 Question)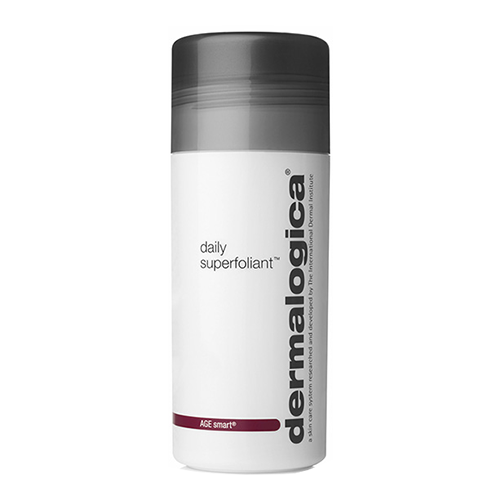 Dermalogica Daily Superfoliant
Get an expert to answer your question about this product!
Ask a Product Question
94% recommend this product
Most Helpful Positive
Really awesome
Great for oily skin! Wonderful product and this brand never fails me!
Most Helpful Criticism
The Original is Better
I've used both the Daily Microfoliant and Superfoliant and while both products are similar, you get essentially the same results with lower price point and more product with the Microfoliant.

The texture of this product is grittier, not as refined as the Microfoliant and doesn't seem to have the same oomph when it comes to exfoliating dry/dead skin.

They say the proof of the pudding is in the eating. I purchased a full size of the Microfoliant but would never consider buying the Superfoliant (have been given many sample sachets). This is a case of the original being the best.
Really awesome

Great for oily skin! Wonderful product and this brand never fails me!

Amazing exfoliant

I love to use this as a second cleanse at night. Really buffs away dead skin and my skin is much brighter and smoother. This has also helped with my oily skin

Love this!

Super gentle for every day and have helped clear up my combination oily skin over the last few months of using!

So good

I'm really surprised by how much I love this. It's really gentle and I've noticed a real reduction in blackheads and little pimples and impurities. It leaves your skin feeling so soft after using, it's been made such an improvement for me.

Loving it

I swapped from the Microfoliant and am loving how it makes my skin feel. The bottle will last ages as you only need a tiny bit. Ordering from Adore Beauty is so easy and the quick delivery and free samples are the best!

Love it

I've been using this product for a while now. I find that a little bit goes a long way. I love it

Pretty good

Yeah not too bad... I prefer scrubs and more abrasive defoliants but this still left my skin feeling nice and smooth.

Love this product

I use this on a daily basis, I upgraded from the microfoliant when this was released. This is better for my congested skin and I certainly can use it every day with no problems. I love the way it cleans my skin and gives an additional clean at the end of every day. It's an expensive product, so it may not be worth it for everyone, but it does go a long way and I find it's worth it for me!

Works great on Combination Skin!

I've been using the daily superfoliant exfoliant for the last two weeks and have had no irritation. It has worked well on my combination skin. My skin does not feel tight or dry after cleansing. My breakouts have reduced which was my main concern. I definitely recommend this product and will continue using it.

The Original is Better

I've used both the Daily Microfoliant and Superfoliant and while both products are similar, you get essentially the same results with lower price point and more product with the Microfoliant.

The texture of this product is grittier, not as refined as the Microfoliant and doesn't seem to have the same oomph when it comes to exfoliating dry/dead skin.

They say the proof of the pudding is in the eating. I purchased a full size of the Microfoliant but would never consider buying the Superfoliant (have been given many sample sachets). This is a case of the original being the best.

Leaves my skin feeling soft and smooth

I've been using this product for several months as my morning exfoliator and it has made such a huge difference to my skin. It's not rough because of the powder to foam makeup, but leaves my skin feeling smooth and decongested.

I have found that it's definitely more effective if you take a bit more time while you're cleansing than just a quick cleanse.

Good exfoliator

I personally prefer the superexfoliator than the normal one. Even though it claims it can be used daily, I find my skin can get a bit sensitive when I used it daily, and I can see my skin becomes smoother after each use.

One of my faves

This is by far my favourite Dermalogica product. If you use it everyday, it makes your skin feel baby soft. I like to keep it on after I scrub for about 5 minutes then rinse. I just put it on after washing my face in the shower and rinse it off a few minutes later. I've realised that it works the best if you do use it everyday. I don't like the smell though, but it's worth it for such an awesome product

Wow

I received this as a sample and wow! It leaves my skin sooo soft and it's not too harsh

Top exfoliant

This is probably my favourite exfoliant on the market. It is stronger than the every day exfoliant so I generally use it once or twice per week. It leaves my skin extremely smooth, refreshed and ready to use concentrated moisturisers after; that go on extremely easily, evenly and smoothly.

Better skin

I have very oily skin and this is one of my favourite exfoliants. Lasts me a whole year and more and it leaves me with super clean, radiant and smooth skin.

Beautiful exfoliant

I'm onto my second bottle, I find you really only need to use about a quarter of a teaspoon. The first bottle lasted about a year so it's actually pretty good value. I use this once or twice a week as it's quite strong, but leaves my skin so clean and smooth.

Like it

Has more abrasive beads than its microfoliant counterpart so may not be so good for sensitive skin. Still a nice product that I use daily. Good clean without drying the skin

Love it

I received a sample in my previous order, after I used it I went and ordered it. It leaves my skin so smooth, takes the oily ness out of my skin which I have always suffered with. I've also used it on my partner aswell and he was surprised by its magic too. I wouldn't be buying anything else but this from now on.

awesome scrub!

so refreshing and makes my skin look and feel smooth and radiant every time

Excellent product

I received this product as a sample and purchased it straight away. My skin feels so smooth and revitalized. I'm not fussed on the price, you get what you pay for. Highly recommended.

Amazing

awesome scrub ! Leaves my skin so smooth and radiant, it's very fine and gentle, not too harsh to use everyday and no harsh chemicals

Its ok

I personally think I like the regular Daisy Microfoliant better. I dont feel like this ones makes your skin feel any better....

Gentle but OH so effective

I love this product! Very gentle on the skin, but leaves it feeling so clean and soft! I have oily skin and use this when my face starts looking dull and it's amazing!


Amazing Product!

I love this product, I ordered it after my chemical exfoliators were making my skin hypersensitive. This is a physical exfoliator which is gentle enough to not cause sensitivity, yet strong enough to leave my skin feeling smooth. I ran out and haven't used for a month or two and it is definitely noticeable!
Will keep reordering!

Great

I've gone through 3 containers of Superfoliant now and I cannot get enough of it. It has good active ingredients but is still gentle enough to use every day, and keeps my skin so beautiful, clear and bright.

Great

I'm so glad I found this product and that it works wonders on my breakouts while I sleep! The next morning the redness and inflammation is reduced and I wake up not feeling so much like a pimply teenager

Easy!

Love this product! Leaves my skin feeling brighter and so soft. I think it's great value for money considering the results. I quite like that you can leave it on longer for more intense results. I like this product
I use this product about 4 times a week. It is easy to use. I use it in the shower and leaves my face feeling so soft and clean. It doesn't dry your skin out like other exfoliantes

Daily ritual

When I moved into my 30s I changed from the dermalogica daily to the superfoliant. Baby smooth, no irritant.

Love it

Pricey, But Worth It

There's no getting away from the price with this one, but Dermalogica really know how to make products that work. I started using the Superfoliant every other day, even though it says daily is fine, and by using it a few times a week, it lasted me almost 6 months!
I haven't purchased it again just yet because of the price, but I am definitely missing it in my routine. It does such a great job at exfoliating very gently but effectively. My skin felt so fresh and smooth and glowy after a couple of weeks of using it, and even those pesky little Milia bumps just disappeared after a few applications.

Highly recommend, but I do wish they'd make a half size or something to give us a more affordable option.

Brilliant

I use this product daily in the shower. There has never been any other product that cleans my skin so well and keeps blackheads and pimples at bay. My skin is combination and prone to breakout around the chin area. I have never had any concerns since using this product daily and my skin feels so smooth afterwards that my serums and moisturisers glide on and soak in. I love this product!

Great

Love this product , especially for city skin. Great for breakouts too. Be sure to leave it on for a few extra minutes.



Not as good as it's predecessor Dermalogica Daily Microfoliant

Having used Dermalogica's Daily Microfoliant for years and finding it gentle but very effective, I was disappointed with Daily Superfoliant. With the included AHA, I expected superior results but honestly it didn't exfoliate as well as Daily Microfoliant. I wouldn't re purchase or recommend this one but I highly recommend Daily Microfoliant for all skin types including sensitive. By the way I'm a qualified Beauty Therapist.

Excellent exfoliant

This exfoliant is brilliant. It exfoliates extremely well. Your skin feels very smooth afterwards.

Gentle everyday exfoliant

I was recommended to use this by my beauty therapist after getting slot of pigmentation and dull skin from pregnancy. This product has been amazing. It is gentle but so effective I can see a big difference in the brightness and overall texture of my skin. I have received a lot of complements on my skin which is always a bonus!

Gentle, but very effective!

I love this product! Very gentle on the skin, but leaves it feeling so clean and soft! I have oily skin and use this when my face starts looking dull and it's amazing!

Not bad just not really for me

I really liked how this worked on my skin for the most part, it definitely helped the more normal areas of my face be a little less dull and tired looking. However it did irritate my more sensitive area around my mouth and despite really needing a scrub the skin underneath really didn't like the product and stung until I removed it, I think it would be better if you avoided any known sensitive areas but it definitely does as advertised on the more normal areas.

Works for me

Simple to use - just a few drops of water activates the powder into a foamy paste. Easy to apply and leaves the skin smooth and clean without any feeling of dryness. I have used both Daily Superfoliant and Daily Microfoliant but find the superfoliant gentler on my sensitive skin.

My skin feels amazing thanks to the daily superfoliant!

This product makes my skin feel renewed and puts vitality and glow back into my skin. My skin feels amazing every time I use this product. Not to harsh. LOVE

Great!

Great scrub for my T-Zone, had to be more gentle on cheeks. Skin felt renewed and not stripped. Liked how I could moderate the texture of the exfoliating paste.

Very gentle on the skin

Great exfoliant, I don't find it irritates my skin at all. I find it very similar to the daily microfoliant, I think you need one or the other, not both.

Love it

Skin type: Dry/combination

I was unsure about this but I've come to love it, I use it every 3 days and it really leaves me smooth and soft. Will repurchase.

Why don't more people talk about this?!

One of the most underrated dermalogica products ever! This product is AMAZING! I suffer from oily acne prone skin with a lot of texture, with frequent use my skin has been less textured and I get way fewer breakouts. Not to mention if you use this before you put your foundation on.. WOW it goes on like a DREAM! So smooth, foundation doesnt get clogged into my pores. Only bad thing is the actual bottle hole size, sometimes when you go to pour this out you get waaaaay more than what you bargained for and it is very hard to put back into the bottle

Love it!

This scrub is the only scrub I'll buy as it makes my face feel amazing! My face have never been more clear. Would recommend to anyone and everyone 1000% love!

Great

Wow this product is great. My T zone is really oily, along with enlarged pores. This product cleaned out my pores well, yet it is also quite gentle on my sensitive skin.

Does the job

Wasn't sure about this at first as I had never used a powder exfoliant and found it awkward to create the paste, however it did exfoliant my skin well leaving it clean and fresh.

Excellent cleanser - great to smooth and unclog dull skin

I really loved this scrub and the fact it's gentle enough to use everyday but still feels like it's cleaning and unclogging everything as you use it. My skill always felt much smoother after using it and I noticed a big difference in the amount of blackheads on my nose and cheeks. The only downside is that the powdered form can be quite messy (especially given it's dark colour!) and you have to make sure the bottle stays nice and dry in the shower. Otherwise, excellent!

great product

a great scrub for blackheads, clogged pores and just overall dull skin.

Wish it wasn't powder

This is a nice product, it does a good job at exfoliating and makes my skin feel smooth. I just wish it was in a cream formula and not a powder as I'm not a fan of having to mix my own product

Love this Product

This is a great product, not nice to smell or use but the ends results are great. Smooth, clean and clear skin. I would highly recommend and will use again.

Squeaky clean skin

I like this daily Superfoliant, got this as a free gift in a small bottle and I like it. My skin felt squeaky clean without drying out after using it. It is a charcoal based with little grit like products which helps you to clean the dead skin cells. I didn't find it harsh in my combination skin like other scrubs so it is good for the daily use.

yuck

This one is too harsh for my skin. It is a dark grey powder that you mix with water and use as a scrub. Looks like cement, feels gritty.

Super indeed!

Using the daily exfoliant, I thought that was it. Until i had a chance to try this one, and man, did it blow me away! Being gentle and using only a small amount, it literally scrubs away my little lumps and bumps, and over 3 days, my chin whiteheads were gone! Really awesome stuff. Definitely try it!

SO SMOOTH

This leaves your skin SO SMOOTH. I definitely had to work out how to apply it without making a mess but once you get the hang of it, this is a must.

Can see a dramatic improvement

After a few uses able to see a dramatic improvement.

i love this product!

I don't believe there is anything quite like it on the market.. this has become a staple in my skin care routine. Really fine exfoliator safe to use each day! I am in love! My skin feels amazing afterwards!!!!

Left me super smooth

Got this as a sample, and all i can say is that it's amazing! I have very blemish prone skin, and have tried numerous products on my face. This product left my face feeling so super smooth, and didn't cause any more breakouts. Definitely a must have!

Amazing!

I had been waiting until my Daily Microfoliant ran out to be able to try this. I wondered if I would like it as much as the microfoliant, and I am very happy I made the switch. I think this product does a better job of exfoliating and my skins stays soft and smooth longer so I don't feel like I have to use it daily. I can't say for certain it doesn't also have to do with the fact I also started using the new vitamin C boost serum at the same time, but overall I'm very happy since I started switching over to the Smart Aging line. This is definitely a product I will continue to use regularly.

Gentle yet effective

This product is why is i have love/hate relationship with testers! I love that I can't believe how gentle yet effective this daily exfoliant is! It buffers away so gently that you'll wonder if it's really doing anything until you feel and see your skin and wow. I Hate the idea my tester will run out soon as i will adding this to my routine permanently!

Great gentle but effective exfoliant!

This product is great for every day use. I've been using for only 1-2 weeks and already my skin feels smoother and more clear! I love using this before applying makeup for the day, it buffs away any texture without being too harsh and causing redness. Only slight downside is it's a little more difficult to use in the shower as you don't want water to get in but would definitely repurchase.

Amazing resurfacing product

This product is amazing at smoothing the skins surface and removing impurities and blackheads. Wouldn't recommend daily use for sensitive skin as it can be over-drying and harsh.

Very Good

I like this product because it is great at physically exfoliating away texture and blackheads to reveal smoothers brighter skin. I think this is a risky product to use in the shower because once water gets inside the packaging it is hard to dispense the product. So best used outside of shower at sink. I love the value of the product and how much you get for what you pay because the bottle lasts a long time.

Fabulous product

I have mature skin and have been using the agesmart daily superfoliant for a couple of weeks now.
My skin already feels cleaner, smoother and looks brighter . I can most certainly recommend this product.

Charcoal - the newest craze

Excellent exfoliator and can be used daily without being too harsh on the skin. Exfoliates the skin better than other products (like scrubs) and lasts a long time.

Amazing!

Have really noticed a reduction in pore size and my skin is much smoother and radiant. Will never stop using this product!

awesome!

I received a sample of this, and it was the first Dermalogica product I had ever tried. It absolutely won me over and I had to try the daily microfoliant which I loved even more! makes my skin so smooth, I find the superfoliant a little more drying though which I think is great if you have oily skin but for me the daily microfoliant is my number one exfoliant ! :)

love it

I love this, I've found that other scrubs/exfoliants are too harsh and I can sometimes overdo it so this one is perfect for me and is the only one I will use now

Worth trying!

Currently using a sample I have of this, I can definitely say it's a very good facial scrub! It has a strange smell but makes my skin GLOW

Wonderful

I can't decide which one I love more, the superfoliant or the daily microfoliant!
both have left my skin so incredibly soft, with such a glow. They are such a treat to use and you really feel as though you've been pampered after using them. I am very happy with both of these products and am tempted to purchase both!

so impressed

I am blown away with this scrub, it's just so gentle and it has made my skin feel much clearer since using it, very happy with this item.

So happy

One of the best products ever. Has cleared my skin and made it so smooth, WOW definitely recommend you try this!

My skin is glowing!

This is my absolute favourite Dermalogica product. I have used this product every day for a week and my blackheads have disappeared. My pores look visibly smaller and my skin is so smooth. The gentle exfoliation is perfect to use day and night. I LOVE IT!

Brillient

I absloutly love this stuff for daily use! I have sensitive skin so I found other exfoliaters were really harsh on my skin but this is so gentle but still removes dead skin and leaves my face feeling so smooth!

AMAZING!

I got this as a sample from a previous order with Adore, and I am so glad that I did! I have oily skin and large pores in some areas and this fixes these problems with ease! Totally worth every cent!!!

Lovely skin

I bought this for the first time a month ago and I can not believe how quickly it has reduced by pore congestion and make my skin soft and glowing. I had previously been a big fan of the Daily Microfoliant by Dermalogica but this is definitely my new favourite!
Only down fall is the big opening for the pouring spout as it is easy to pour too much product out.

Amazing !

I have this and the daily Microfoliant and can honestly say they are the best exfoliants I have ever had ! This leaves my skin feeling clean and polished and so unbelievably smooth ! I definitely recommend everyone tries this and the daily Microfoliant ! I love how gentle they are yet how smooth and glowing my skin feels after using them, (:

Lifesaver!

I have oily/combination skin with blackheads and scarring. I got this as a sample and ended up repurchasing as I noticed such a huge difference with my skin! It is so much smoother and I have noticed a visible reduction in the blackheads. People have commenting about how glowy my skin is which is amazing!

I love it

I just started using this so I am still up to my first bottle. I was using the every day microfoliant previously. Once I got over the fact that it's a powder that you mix I am enjoying it. One bonus is it's great to travel with cause it doesn't leak. After 2 weeks of every day use my skin is glowing a bit more. I was worried that it would get cloggy as I use it in the shower but what is in the bottle stays dry. I think I'm converted.

Love this!

I got this as a sample and loved using it, will repurchase. Not too abrasive with really fine particles. A bit messy to use but worth putting up with it as it makes my face feel so smooth!

First Dermalogica purchase and certainly not the last!

I was recommended this product by a help Adore product specialist to treat my pesky and stubborn blackheads. I saw immediate results after one use and could not be more impressed! I have now been using it for about a week and can see constant improvement. I use it with a facial cleansing device instead of my hands as I find it works the product in more.

Just as good if not better than the Microfoliant

Again, I have been blessed with such a beautiful product. I currently have the Microfoliant, but I will be purchasing a Superfoliant as well to mix it up, so my skin doesn't get used to the products. I tried this in a sample and am now going to buy the full size. It is a must have in any skin care regime. The only thing I could pick out about it is that the Microfoliant left my skin feeling a lot smoother than this one did, however they are both exceptional and work better than any other physical exfoliant I've tried.

Super smooth skin

Having older skin, I thought I would try this instead of the Daily Microfoliant, and it had been recommended by a Dermalogica consultant.

Very easy to use - you only need a small amount in wet hands to form a paste, which you then rub gently over your face. You don't need to scrub. II use before I shower in the morning and wash off in the shower. I haven't seen a reduction in texture or pores or anything too dramatic, but your face just feels better.


I personally don't see any difference between the Daily Super and Daily Micro, - both seem equally as good.

You will find that your makeup applies so much better after use.

The downside of this product is the cost but I would still repurchase as I love the way my skin feels afterwards.

The best

Absolutely love this product. I have normal skin and my mai concern is aging. I use it daily and I can always tell any days I skip it, it's so fine but so effective. I use it right down to my décolletage. Can't recommend enough!

brilliant product

I have sensitive skin and this has made the world off defference. Not only have i lost texture but my make up applys so much better. Would highly recomend

HOLY GRAIL

I got this as a sample originally and it CHANGED MY FACE! i threw out all my other products and had to purchace this instantly, so soothing and leaves your skin feeling soft and supple!

Nice

Nice relatively gentle scrub. Cleans the skin up nicely but not sure it deserves 'super' in its title.

AMAZING. A MUST HAVE!

The Dermalogica Superfoliant is a new favorite product within my routine. Unlike a lot of exfoliators, it is strong enough to remove all the nasties from your skin, yet gentle enough to use every day. After only a few uses i noticed an improvement with my skin texture. I find that when I use this product, the other products in my skincare routine seem to work better. To use this, you wet your hands, pour the powder in and mix to make a paste, then apply it in circular motions to your face. It can get quite messy so I recommend using this over the sink or in the shower! I have always used the Daily Microfoliant, but decided to pick this up instead to see if there was much of a difference and I am so glad I did! The charcoal ingredient has helped heal active acne and has prevented any new breakouts from becoming angry and inflamed

WHAT is this witchcraft!?

Received this as a sample, one use and instantly obsessed. Had to purchase immediately. My skin has never felt so clean, it really does feel refined, my pores are smaller I swear! You only need a tiny amount and it feels amazingly gentle. Totally in love.

Must-have in my beauty routine!!!

I first tried this in a sample and instantly fell in love! My skin has never been so clear and fresh. I have light, combination skin and get lots of little blackheads and the occasional pimple. The daily superfoliant refines my skin so my pores are minimised (less blackheads) and it looks radiant and clear! It's so easy to use (just be careful not to waste it - you really do only need 1/2 teaspoon. I also love that you can control the texture of the superfoliant by how much water you add. I have incorporated this into my routine 2-3 times a week. I also use a liquid glycolic exfoliant once a week and a good quality moisturiser. My skin has never felt so good!

Great product!

I purchased this after reading many great reviews on it and as İ do use the Dermalogica range in my daily cleansing routine, I thought I should definitely give it a go. İt didn't disappoint! My skin feels very clean and fresh after each cleanse and it absolutely is very gentle enough to use everyday. I will definitely be adding this to my favourite product list.

Most amazing beauty product I have owned

I had severe acne skin for 2 years and am left with scars still. When I started using this product it immediately lightened my skin and reduced the redness and even the scaring! After every use my skin feels so fresh, clean and free of any bad oils or dirt. It is definitely my go to holy grail product!

Loooooovveeee this!

This is my HG! After using this, I have noticed my skin is softer, and smoother, and my pores are noticeably smaller. Since using this I feel like my skinstitute glycolic scrub is too harsh. I alternate using asap gentle cleanser and superfoliant.

Gentle but effective

This exfoliator left my face feeling super fresh and clean, after using it for just a few days I already noticed an improvement in my skin, looking smoother and brighter. It really is gentle enough to be used daily, its formula buffs in easily without any discomfort or grittiness. Would definitely recommend this product!

The best!

I've used the Dermalogica Daily Microfoliant for probably the last 5 years (1-2 times weekly as I have sensitive skin) and will continue to do so in conjunction with the Superfoliant. I am so impressed with this product as last year I noticed some light pigmentation occurring on the top of my cheeks so I started using Aspect Pigment Punch which has done a great job but there was still some visible. After using the Superfoliant just twice (from a sample, now ordered a full bottle!) that pigmentation is now gone completely and my pores have never looked better! This product is so gentle and there is absolutely no irritation after I've used it, no redness or stinging sensation. My skin is so smooth and clear without having to 'scrub' away at my skin as I apply it with the same pressure I use with my cleanser. If you feel like you need an extra boost to your exfoliation routine or you just like trying new products/been wanting to try a Dermalogica product, start with this you won't regret it!

Gently provides a smoothe complexion

Says targeted to Norm to Mature Skins or Sun damaged skins.
Claims Fights chemical and environmental pollutants

This powdered exfoliant contains charcoal,natural AHAs Niacinamide and is very similar to the daily microfolient in that you add a small amount of water and mixes in the palm of your hand to produce a very fine lather with tiny exfoliating beads.

It leaves my skin feeling so smooth and refreshingly clean not at all dry.
I think it would last for ages as you only need to shake a 5cent piece size of powder.

I will be reducing the use of my glycolic scrubs as this powder feels more gentle
and is certainly providing the same result. .