Cleansing and toning are two of the most important steps in a skincare routine. The experts at Dermalogica offer a range of effective products for all different skin types and skincare concerns.
Dermalogica has developed a vast range of facial cleansers, all of which are soap-free and pH-balanced to ensure the skin's natural moisture barrier is protected. Dermalogica promotes a two-step system, the double cleanse, for the ultimate clean complexion. Start with PreCleanse, a powerful but gentle cleansing oil, to dissolve and melt away skin-clogging makeup, sunscreen, sebum, and impurities. Then follow with a Dermalogica cleanser for your skin type to penetrate further for an even deeper cleanse.
Dermalogica also offers a selection of skin toners that boost hydration and tackle skincare concerns head-on. To be used after cleansing and topped up throughout the day, the brand's selection of mists help refresh and rehydrate your skin all day long.
Who should use cleansers?
Cleansers are not just for removing makeup. These essential products also work to remove impurities that build up on your skin throughout the day and night. A good cleanser is a crucial part of any skincare routine. If you do not wash your face regularly, bacteria and dead skin cells can build up. If you want clear, healthy skin, you will want to cleanse thoroughly twice a day.
Dermalogica understands that if the most effective face-washing routine is the double cleanse. The first step removes surface-level impurities and products such as makeup and sunscreen. The second cleanser goes deeper into the pores for a thorough cleanse.
What are face toners used for?
Toner, which is often skipped in a skincare routine, can deliver vast benefits. Dependent on your skin type and concerns, toners can serve as an additional treatment. Different formulations can hydrate dry complexions, protect sensitive skin, and keep oils at bay on acne-prone skin.
Dermalogica offers a range of toning mists that can be applied after cleansing and topped up throughout the day for a skin pick-me-up. Simply spritz directly onto the face to feel instant skin toner benefits.
Which Dermalogica cleansers and toners are best for oily skin?
Dermalogica Dermal Clay Cleanser is a deep-cleansing, non-foaming clay face wash for oily skin. Enriched with a blend of Kaolin Clay, Green Clay, and extracts of Sambucus, Ivy, and Lemon, this cleanser helps remove excess oils for a more balanced complexion. Cucumber and Sage soothe the skin.
Dermalogica Breakout Clearing All Over Toner is the best toner for oily skin, as it helps control and rebalance sebum levels whilst banishing breakouts on the face and body. This blend of botanicals and plant extracts also help to cool and revive irritated skin.
Which Dermalogica cleansers and toners are best for acne?
For acne-prone skin, Dermalogica Clearing Skin Wash from the mediBac range works wonderfully. This naturally foaming acne face wash uses Salicylic Acid to clear congested skin. Botanicals calm aggravated skin and protect it from further breakouts.
Dermalogica Breakout Clearing All Over Toner rebalances the skin to control sebum levels and soothe breakouts, making it perfect from acne prone skin.
Which Dermalogica cleansers and toners are best for dry skin?
Cleansers can be drying to skin. If you have dry skin already, it is important to use a cleanser with a deeply nourishing and hydrating formulation. Dermalogica Essential Cleansing Solution has a rich, emollient texture and helps to lift impurities whilst maintaining skin's moisture levels. Skin is left feeling soft, clean, and supple.
Dry skin toners are designed to deliver an instant moisture surge to the skin, both after cleansing and throughout the day. Dermalogica Multi-Active Toner hydrates and refreshes skin, and enhances the penetration of your moisturiser.
Which Dermalogica cleansers and toners are best for sensitive skin?
UltraCalming Cleanser from Dermalogica is part of the UltraCalming range developed with sensitive skin in mind. This gentle non-foaming cleanser helps to soothe redness and strengthen the skin's protective barrier whilst effortlessly melting away impurities.
For sensitive skin, Dermalogica UltraCalming Mist is the perfect choice of toner. It helps to calm redness and irritation whilst building protection against environmental aggressors during flare-ups. Enriched with Oats and Botanicals, this toner also minimises the discomfort and soreness of irritated skin.
Which Dermalogica cleansers and toners are best for ageing skin?
Dermalogica Skin Resurfacing Cleanser not only delivers a deep cleanse to rid skin of impurities. This anti-ageing cleanser also helps to resurface the skin and accelerate cell turnover, so it is perfect for those with mature or ageing skin.
Ensure your skin is protected from ageing environmental aggressors throughout the day with Dermalogica Antioxidant Hydramist. This powerful toner is enriched with Antioxidants to build your skin's defence throughout the day. A welcome surge of hydration minimises dehydration lines on ageing skin.
Buy now pay later with Afterpay.
Showing 20 products of 20.
---
Recent reviews on Cleansers & Toners products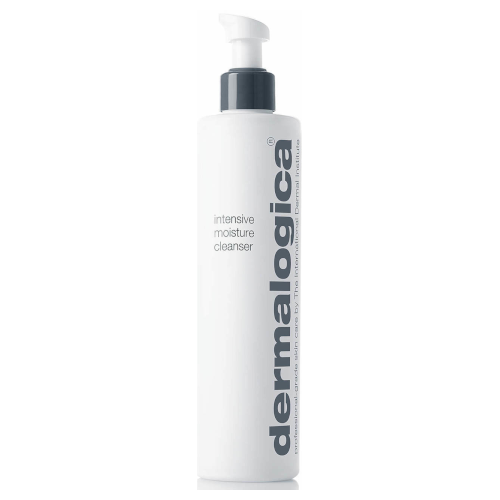 Dermalogica
Dermalogica Intensive Moisture Cleanser 295ml
$95.00
$85.50
Best Cleanser!
LOVE LOVE LOVE! I've used heaps of different cleansers for my dry and irritable skin. I was recommended this at Pure Indulgence instead of the gel dermalogica cleanser and this has been a game changer! I'll never use anything else and the giant bottle lasts forever! Buy IT if you're tossing it up.
What people are looking for the most