Cosmedix Purity Clean Exfoliating Cleanser 150ml
4 instalments of $18.50
Or 4 instalments of $18.50 with
LEARN MORE
4 instalments of $18.50
Or 4 instalments of $18.50 with
LEARN MORE
Official Stockist
Is this for you?
Cosmedix Purity Clean Exfoliating Cleanser is a stimulating, concentrated exfoliating cleanser suitable for all skin types. Utilising chirally correct L-Lactic Acid – a natural moisturizing, exfoliating factor – to gently and effectively restore epidermal regularity, and soften the skin.
Cosmeceuticals
Cruelty Free
Artificial Fragrance Free
Skin Concern:
Acne, breakouts and blackheads
Frequently bought with
Please wait while we find a match
Questions & Answers
(1 Question)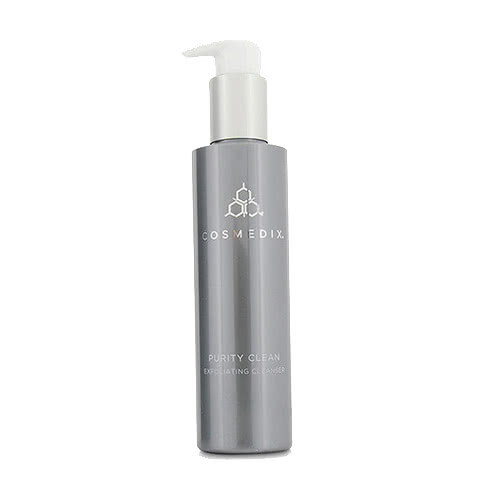 Cosmedix Purity Clean Exfoliating Cleanser
Get an expert to answer your question about this product!
Cosmedix Purity Clean Exfoliating Cleanser Reviews
92% recommend this product
Most Helpful Positive
great
great cleanser that Cleanses and unclogs pores
Most Helpful Criticism
Not as good as I expected
After battling with deep cystic breakouts for a few years I decided I need to move from a mid range cleanser to something more expensive so tried this. While I think it generally maintained my skin and kept it relatively clear, it wasn't life changing and I still occasionally got deep breakouts. I decided to try something with glycolic acid instead and have actually had far better results with Pixi's glow mud cleanser, which isn't cheap but is less expensive than this.
This just didn't work that well for my skin unfortunately.
worth the money

Great Product! I used this cleanser many years ago, I stopped using it because of the price but nothing compares! in the last year I have started using it again and my skin loves me for it!
The packaging is okay, the pump does get stuck and i've found that my last 3 purchases there has been a split in the white part of the pump but i still continue to purchase as it is 100% worth the money!...

Read More

I'm not mad

It's a decent size for the price, it's non drying on my skin which is dry with hormonal breakouts. Do shake before use and make sure all make up is properly taken off with a oil based cleanser or cloth or what ever you use. I tend to leave it on for 2-5 minutes in the shower each night as like a mini treatment.

great

great cleanser that Cleanses and unclogs pores

Love the smell, new packaging isn't as easy to pump

I really like how this product leaves my skin feeling, clean and fresh (gets rid of blackhead bumps).
The old packaging, while not as premium looking was more effective. I find the pump on this really annoying, you do need to pull the pump back up because of the thick texture of the product, which is difficult one handed in the shower. Because of this, I've smashed two bottles and have had ...

Read More

Pretty Good but Probably Won't Re-Purchase

This leaves my skin feeling really clean, and I liked the fact that it seemed to have a gentle exfoliating effect - in contrast to heavy exfoliants which can be irritating on my sensitive skin. My skin type is dry, and I think this cleanser was fine for that as well because it didn't leave me with that tight feeling afterwards. The reasons why I probably won't repurchase is because I've decided to...

Read More

Okay

I used this when my skin was super break out prone and it didn't make me breakout which is always good but also didn't work any miracles either. Not worth the hefty price tag in my opinion.

Not like a normal exfoliating cleanser but highly effective

I used to think an 'exfoliant' had to be a scrub. This is not like that; it's a gentle exfoliant and my skins feels really clean after using it. I would also recommend a scrub to use once a week to get rid of dead skin.

Nice deep clean!

This gives such a nice and refreshing deep clean, but it does not over dry my oily, acne prone skin. I like to use this as a peel also after a big day or week and it really helps with my congestion. I use this in congestion with the Cosmedix Clarify Salicylic Acid Foaming Cleanser. Must have!!

Best cleanser

So effective yet not stripping on the skin! Really cleanses the skin and creates a smoothing effect on your skin, also noticed so much decongestion out of my pores after only 3 uses! Wondeful

Best cleanser

So effective yet not stripping on the skin! Really cleanses the skin and creates a smoothing effect on your skin, also noticed so much decongestion out of my pores after only 3 uses! Wondeful

Great size and price

This seems a bit pricey for a cleanser but let me tell you its also a large bottle 150ml. It will last a long time and I absolutely love it. Its not harsh on the skin and my skin doesn't feel tight after using it. Clears dirt and leaves skin very soft .

Great

Love the smell. Bought this for a second time. My skin is breaking out a bit more this time but I think it's purging. Great smell

In love with this cleanser

This cleanser has worked well for my dry skin that has a occasional hormonal breakouts on the chin . It contains 5% lactic acid which helps to exfoliate and hydrate the skin without stripping your natural barrier. It has green colour which makes nighttime skincare routine so much more fun, oh and that peppermint smell it's absolutely divine!

Not as good as I expected

After battling with deep cystic breakouts for a few years I decided I need to move from a mid range cleanser to something more expensive so tried this. While I think it generally maintained my skin and kept it relatively clear, it wasn't life changing and I still occasionally got deep breakouts. I decided to try something with glycolic acid instead and have actually had far better results with Pix...

Read More

Good cleanser

This is a good cleanser for oily skin, not too harsh and it smells nice. I'm not sure if it provides enough exfoliation on its own. I tend to use something stronger once a week.

My husband actually uses this!

I bought this for my husband who hates using skincare and he actually likes it! He enjoys the peppermint scent. It contains Lactic acid which is a gentle exfoliator, making it less harsh than other cleansers for oily skin. I also love that Cosmedix does not test on animals. Great brand overall.

Worth the price

I love using this cleanser. I always feel so fresh afterward, it looks ceanand it lasts for ages. My last one was purchased in early November and it lasted until late May. Its worth it!

Too Strong

I used this a few times and found it to be too strong. Possibly it could be used once a week without too much trouble however it really stressed out my sensitive skin so I did not persist with it. I liked how it smelled minty fresh.

Amazing for combination skin/hormonal acne

I love this product! I gave bought a few times now for my combination/hormone acne skin and it is great. I use it at night and then also use it as a mask once per week! I have found that it can be drying when used morning and night in areas where my skin is less blemished so have moved to night time use only.

Great product!

I love this product, I use it as both a day and night cleanser. I don't find it too harsh for my skin and felt I could see results quick quickly after using it.

Great cleanser for oily skin, perfectly fine with twice daily use

I have been using this for 4 months and love it. My skin is oily and congested but sometimes throws in some random dry patches for fun.

After using this morning and night for 4 months, it definitely improves the texture of my skin and it has played very nicely with the serums I use. It has a nice, subtle smell, cleans without drying out and a little bit goes a very long way. Will def...

Read More

worth the price tag

I love being able to introduce an acid into my cleanser, and being lactic acid it doesn't dry the skin out or cause it to feel tight. gentle enough to use everyday. would definitely repurchase.

Loving it so far!

I've only been using this for a few weeks, I switched from medik8 because I just didn't think it was strong enough for me. Loving this cleanser so far, it can also be used as a mask. I put it on at the start of my shower and wash it off at the end. It leaves a nice fresh tingly feeling on my skin, and hasn't irritated my sensitive skin. Best cleanser I've tried! I don't believe a cleanser alone c...

Read More

Best I've found

Does such a good job and will stick with it!

Super gentle for congested skin

I use this as a 2nd cleanse in the evening. It is super gentle on my dry & rosacea prone skin. I love that you can use it as a cleanser or as a mask. It leaves my skin feeling clean (not squeaky) and clarified.

Good and not drying

If you're looking for a foaming cleanser, this is not the product for you. I found this product cleaned the skin quite well and wasn't drying. I tend to only use this at night, or twice a day whenever I get a few acne spots pop up.

Cleanser and mask in one - amazing value

I have used this cleanser on and off for many years. I particularly like that I can use it both as a cleanser, and a mask on dry skin which is great. It's an amazing exfoliant cleanser particularly for problematic skin.

Love this product but use as needed

I do love this product for controlling my break outs, however I have found that I only need to cleanse with it at night, as cleansing with it twice a day was too stripping for my skin.

Great for congested skin

I use this morning and night with my foreo and love it. It's not harsh on skin, yet it's effective enough that you feel like your skin is properly cleaned.
Smell is peppermint-y which is nice and fresh.

Great multi tasker

This cleanser helped dramatically reduce my redness and breakouts. It is gentle for my sensitive skin but it still feels so refreshing! A must for any skin type. I also love that you can use it as a mask!

Best Cleanser

This is by far the best cleanser I have used for my adult acne prone skin. It feels soo nice on my face. It doesn't strip the skin but yet gives me a really deep cleanse. I have wasted soo much money on expensive cleansers, but this cleanser is a really good investment. I have been using this for over a year now and I will not use anything else!!! Tip: don't damp ur face too much while cleansing w...

Read More

Love!

I've gradually been adding new Cosmedix products to my skin care routine and love this cleanser. It gets all make up off. I love using the oil cleanser and follow with this for days that I'm wearing make up, love it. It also doubles as a face mask if you leave it on dry clean skin, which I really loved!

Unbeatable cleanser for combination/oily skin!

I'm 29 and had cystic acne in my teens, and was dragged around to every dermatologist in my small town (there were 2) to have it treated. Everything from Phisohex to being marked for Roaccutane. Now nearing 30, I'm much more in control of my changing skin which after having a good skincare routine has changed my complexion from oily to normal-oily, with only a few acne scars. The Purity Cleanser f...

Read More

Love it

My absolute favourite cleanser. Excellent exfoliating cleanser that doesn't leave the skin dry.

Great non -drying cleanser for those with combination skin

I've got combination skin and am beginning to deal with the first signs of ageing, and this product works really well for those skin concerns. I find it doesn't dry out my skin despite containing active ingredients which assist with any little breakouts. I use this cleanser in the evenings after I've used the Cosmedix oil cleanser.

Hands down BEST ever cleanser for oily/acne prone skin

I naturally have oily skin type, and am very acne prone with sensitivity. This was recommended by a friend who is a dermal therapist. It improved my skin SO much, minimised amount of breakouts and texture within about 1-2 months of using. I have pretty sensitive skin too, and this didn't cause any tingling or burning that products so often do which is amazing. I feel like it is the best cleanser I...

Read More

Can't go without

I got recommended this cleanser as part of my regime given to me by the girls at Melanie Grant. I love the peppermint smell, the texture and how clean it leaves my skin feeling. I also like to leave it on as a mask for extra exfoliation. I use it every night and can't go without it. Highly recommend.

Get rid of zits with this great cleanser

I use this on alternate nights as my second cleanse to keep zits and blackheads at bay. If I get congestion on my nose or a spot, I concentrate on that area and leave it on for a bit longer. But it's a bit drying so don't overdo it on dryer areas if your face eg cheeks and neck.

Excellent effective cleanser

I have combination/oily skin, and use this in the evening as a 2nd cleanse after a cleansing oil to remove my makeup.
My skin loves it, feels and looks clean without being tight or dry, and I swear it has helped with my visible pores on my nose. I love it so much I've bought my boyfriend one and insisted he use it.

Love It

After having used this cleanser once or twice daily for a week I have noticed a huge improvement in my skin. Not only does my skin feel completely clean, but the texture of my skin has improved drastically. As someone who has used more abrasive exfoliants in the past, I was hesitant as to whether something so gentle would work, but I have been pleasantly surprised. I will be keeping this cleanser ...

Read More

Go-To cleansers for Minty Freshness

I have used this cleanser on and off for many years. I particularly like it during the summer, and in winter I could recommend only using this at night-time rather than AM+PM if your skin is quite sensitive/dry.

I use this after the cosmedix purity oil cleanser.

Perfect Cleanser

This cleanser helped dramatically reduce my redness and breakouts. It is gentle for my sensitive skin but it still feels so refreshing! A must for any skin type.

Perfect For A Deep Cleanse

I use this product as my second cleanser at night time to really clean my skin deeply and remove any excess or leftover dirt and makeup that my first cleanser has missed. It smells nice, a tiny bit really goes a long way so a bottle lasts me forever and it doesn't leave my dry skin feeling stripped. Leaves my skin feeling super soft.

Holy Grail!

I have very sensitive skin and I'm prone to hormonal break outs, this is the only cleanser I have used that has not irritated my skin but managed my breakouts and oil control at the same time!

Gets rid of oil and left over makeup residue effectively without stripping off the skin

By far this is probably the most effective yet gentle facial cleanser that I have used. I am almost finished with my 10th bottle and honestly can't switch to any other cleanser without going through major breakouts and irritation.
It's a little pricey but worth every cent.

super good

Removes make up extremely well, I was quite impressed! Another great product from the line.

Love the smell

I love this cleanser. It is a little expensive, but I love the peppermint smell and it works great. One bottle lasts a long time too.

Gentle but so effective

I love this cleanser because it feels fresh while also gently exfoliating. I notice when I haven't been using it regularly as my skin feels dull.

The best cleanser on the market

I've been using this cleanser for years. It is by far the best cleanser on the market. I double cleanse, oil then this cleanser. It removes all make up really well, thoroughly cleanses the skin but does not dry it out. It is a non abrasive exfoliating cleanser that can be used twice a day without drying your skin out. Highly recommend!!

Mixed feelings about this

I loved the product when I first purchased it however it can make my skin feel dry after use. It lathers well and only requires a small amount of product to cover the face and neck. It's a decent product but I'm not sure I would buy it again.

Love this

Great brand and really wonderful product. I love it and use it all the time!

Cleans all traces of make up off!

Love this cleanser, it has a nice tingle to it, almost a pepermint scent to it. love it, foams up beautifully and doubles as a mask! run on skin and leave for 5-10 minutes and then wash off for a deeper cleam!

Soft skin

I have been using this for a week now and definitely seen an improvement in my skin. My skin is much softer and my breakouts have cleared.

It's great!

Great cleanser and gets all the days dirt and oil off my skin. I really really love it!

No improvement in skin condition

I purchased this after seeing Victoria Beckham posting pics of her daily skincare routine on Instagram which included this product. I have combination skin with hormonal acne and ongoing congestion around the chin and jawline. I used this morning and night after cleansing for 2 months and was disappointed that I saw no improvement in the congestion and blackheads. It has a fresh minty scent which ...

Read More

Cosmedix Purity Clean Exfoliating Cleanser

It strips the gunk and residue off of your face from the day but doesn't dry out your skin whilst doing it. It is very hydrating actually and the consistency makes you feel like your squeaky clean.

Nice but expensive

I like this it feels extremely cleansing but can be drying if used too often. I wish it wasn't so expensive

Will make you love Lactic Acid again.

I've previously had harsh and drying effects from using other Lactic Acid cleansers, However, this is the real deal, it's gentle on my very dry and often reactive skin, yet still active enough that I notice results with prolonged usage.

I would suggest if your skin is dry or sensitive, that do the two-step process: using the Cosmedix Purity Solution Deep Cleansing Oil, then this. The...

Read More

Worth the investment

Great product! Helps with congestion
I like to put the cleanser on my dry skin for a couple of minutes like a mask and then wet my hands to start washing my face for an extra tingles exfoliation

good product

This is a very gentle exfoliating cleanser. it leaves the skin fresh and thoroughly cleaned. It has a a peppermint smell and has a cooling effect on the skin.

Great for oily/acne prone skin

This cleanser leaves skin feeling super fresh and clean. It lasts a really long time, so I think its worth the price. I've loved using it, but I'm still having a trouble with my skin, so I don't want to label it as a miracle product. However I would buy again to use as a simple every day cleanse

Awesome

gets to clean the skin from my excess oil but i dont see the exfoliant aspect of it, makes my skin feel super soft though, highly recommend

Holy grail of cleansers

I have very sensitive skin and I'm prone to hormonal break outs, this is the only cleanser I have used that has not irritated my skin but managed my breakouts and oil control at the same time!

I made the switch 2 years ago and won't change now :)

Excellent and effective cleanser

This gentle exfoliating cleanser leaves the skin fresh and thoroughly cleaned. It has a a peppermint aroma and has a cooling effect on the skin.

excellent

This is such a good face wash!!! it makes my skin feel so clean and soft, it definitely gets all the dirt out and even helps clear my acne I love this so much

Great cleanser for breakouts.

I tend to only use this only once a day, in the evenings before my heavier serums etc. It's significantly reduced my breakouts/congestion and a little goes a long way, which I think makes the price more reasonable. I can smell the peppermint and tea tree in this and something else that's quite metallic and not so nice, but it's not off putting enough to stop me purchasing again.

Really good!

Nice and refreshing. Makes my skin feel clean without making it dry!

Amazing

Amazing cleanser that makes my skin super fresh

great product

i am absolutely obsessed with this range!I have pretty oily skin that can be sensitive at times. Would definitely recommend to anyone with a similar skin type! Cleans my face super well without leaving it feeling tight.

Game Changer

After trying all the top brand cleansers, I have finally found the one! Only 1 pump needed and leaves my skin feeling fresh, my pores happy, and my complexion bright. I've stopped wearing makeup to work because my skin is now so smooth and clear.

Love it

I have been using this cleanser for years now and occasionally I'll try something different but I always comeback to this one, gets your skin really clean, love it!

The best cleanser

This really is the best cleanser. Use with a Clarisonic to really boost results. Also recently read this is Victoria Beckham's favourite!

Brilliant Deep Clean

One of my favourite cleansers. I am over 40 yet still do have skin prone to congestion and breakouts yet also concerned with ageing. This cleanser removes makeup, excess oils and seems to clean much deeper than any I have tried yet leaves skin feeling lovely not stripped bare yet still super fresh and clean! I think this is great for anyone that wants tighter pores, more glow, smoother and definit...

Read More

Great cleanser

I got recommended this cleanser, decided to give it a go and I've never looked back. I've used it for over 2 years now.

Great cleanser

This was recommended to me by my facialist. I have acne prone skin and ever since using this cleanser it has kept my pimples at bay. My skin doesn't feel stripped of its natural oils after using it and it has a lovely peppermint scent. It hasn't improved my blackhead situation however I don't think anything will. I only use it once a day to avoid causing any sensitivities. This is my 3rd bottle no...

Read More

Changed my life

This cleanser literally changed my life. I was constantly getting huge, angry, cystic acne around my chin, and all I wanted to do was squeeze & pick to try and get rid of it. I was so self conscious about it, and wouldn't want to leave the house. I knew that squeezing & picking made it worse, but it was a relief to get rid of those ugly white heads.
The first day I used this cleanser, I coul...

Read More

Fantastic!

OMG! This cleanser is amazing. My skin feels fantastic, blackheads banished.

I think it's probably too strong for me to use twice a day. I tend to use in the evenings and have tried the mask option for a
Super cleanse. Cannot recommend enough!

Obsessed

A friend recommended me this product and I've been using it in conjunction with Purity Solution and they've been a congested X breakout skin match made in heaven!

LOVE LOVE

A nurse recommended this product for me and recommended using it in conjunction with Purity Solution and they've been a congested X breakout skin match made in heaven!

Excellent Cleanser

I have been using this cleanser for over a year now and I love it! I generally use it in the evenings with my Clarisonic. I have oily skin, which can get quite congested and I find this thoroughly cleans my skin. My skin feels really soft after using this cleanser. It's really important to me that Cosmedix products are free from parabens, mineral oil, petrolatum, PEGs, sodium lauryl sulfate, hydro...

Read More

My favourite cleanser so far

I have normal to oily skin, depending on the time of the year and find this great as my PM cleanser at the end of the day, and it manage my hormonal acne at that time of the month. It also works well as a superficial peel if you leave it on for 10 minutes or as a spot treatment due to the concentration of lactic acid. Highly recommend this product if it's within your budget.

Great night cleanser

I was recommended this product by my facials to use nightly as a second cleanse as part of a double cleanse routine. So far I have found it to be fantastic. It leaves a thoroughly clean feeling and the peppermint smell is great. I personally think it would be too much to use twice a day, but it has been perfect for a nightly cleanse before serums/moisturising.

Buy it now!

This is the best cleanser I have ever used! It cleans your skin better then anything I have used before. It has not only cleared a lot of my blackheads but has reduced the redness in my trouble areas. This cleanser will save your skin!

Bright beautiful skin

I have switched back to this product after using a couple of other cleansers (this was recommended to me a year ago after having clean + brilliant laser treatment on my face) and my skin was noticeably smoother, brighter and balanced within one day of using it. I will be using this for a long time to come! Highly recommend

Its good

Skin type: Oily/combination

I really enjoyed this face wash, its cleared up my skin and I will continue to use.

Best face wash

Been using this product the last four years. Good for deep cleaning and get rid of makeup

Pretty Good

A great cleanser that seems to strip away dead skin cells, and leave a nice bright complexion. You do have to be careful to not overdo it with exfoliation though

A must have cleanser - good for dry skin that still needs exfoliation

I have sandpaper dry skin and this cleanser keeps me hydrated while also exfoliating. I notice a difference in my skin texture when I don't use it. It's gentle enough exfoliation for dry skin but really works well to remove dead skin and build up. Would 100% recommend.

Go to cleanser

I love this cleanser and I consider myself to be a skin care snob. The active ingredients are just right not too overpowering but not under active either. The peppermint scent is delicious I will Definitely will purchase again!

Be careful not to overuse

First impression of this product is that it leaves your face feeling lovely and fresh and you feel like it's really getting into the troubled areas for a deep clean. Only problem is I was told to use it twice daily which I think is just too much! It really dried my skin out and in turn I started to get big blind pimples that just couldn't penetrate the skins surface. I now just use it every second...

Read More

Minty fresh

I have combination skin with congestion in my nose & chin, and was looking for something stronger than my Ultraceuticals Gel.

This product smells lovely, and doesn't strip your skin. Your skin feels clean and fresh afterwards.

This product is definitely lifting the dead skin cells, but I've noticed dry patches of skin, an so far, it hasn't assisted in the congestion, but...

Read More

Love it

I've used this product for a little while now and I love it.
I can have quite sensitive skin and have reactions to some harsh products but this leaves my skin feeling really clean without any negative effects. Last time I ran out and used another cleanser for a while I noticed my skin started to feel quite gritty and congested so I couldn't wait to get back to using this. I especially love t...

Read More

Best cleaners I've used

I love this cleaner! I have problematic skin and this cleanser was recommended to me and it worked so well without drying out my skin. It is a little too expensive but if you are desperate to clear up your skin, this will work. If it was slightly cheaper I would absolutely recommend it to everyone.

Not worth the price tag unfortunately.

I tried this cleanser and it worked well enough, but didn't really make a lot of difference to my skin compared to cheaper cleansers. The minty smell and fresh feeling was nice, but overall not really worth the price tag.

Really good, highly recommended!

I have used gentle cleansers for a long time and always felt there was something missing. Using this has solved that issue its a really good, thorough, high-quality cleanser and does not overdry the skin

Love this product but its expensive

I have been using this toner for 2 months and have noticed an improvement in the texture and tone of my skin.

I find especially in the cooler months my skin becomes dry and flaky but have not experienced any flakiness and compared to other toners I have used I am very happy with this product and will continue to use.

Like most skincare products, you need to use multiple p...

Read More

A great cleanser for combination or oily skin

I love this cleanser and don't think I could ever get sick of using it. It's designed for combination/oily skin and gives a really deep cleanse but it is definitely not stripping. It's a gel formula which foams only slightly, and it feels really high quality on the skin. If you've used cheap cleansers compared to high-end cleansers you'll know what I mean by that. The skin never feels tight and...

Read More

Awesome for double cleansing

I use this nightly as part of my double cleansing routine. I've been using it for about 2 years. I cleanse first with the purity solution then follow with the exfoliating cleanser.
I know scent is subjective, but I love the peppermint smell. It's so relaxing.
I find this double cleanse routine at night really cleans my skin so the sunscreen and make up doesn't clog my pores. My skin...

Read More

Okay... but expensive

For an expensive cleanser, i had high hopes, and its fine, it feels nice and refreshing and does clean my skin, however, i have had better results with other cleansers particularly with regards to my cystic acne on my chin

Great cleanser but not sold on the scent

I've been using this cleanser and I am loving it but the scent is different as I normally use the rx clean from there elite range which I bought from my regular facial lady, but as they were closed over the Christmas period and I conviently ran out I thought I'd give this one a go.
Seems to make no difference between the two apart from the scent. Works amazingly to clean my oily skin and kee...

Read More