Cosmedix Purity Clean Exfoliating Cleanser 150ml
Skin Concern:
Acne, breakouts and blackheads
Questions & Answers
(No Questions Yet)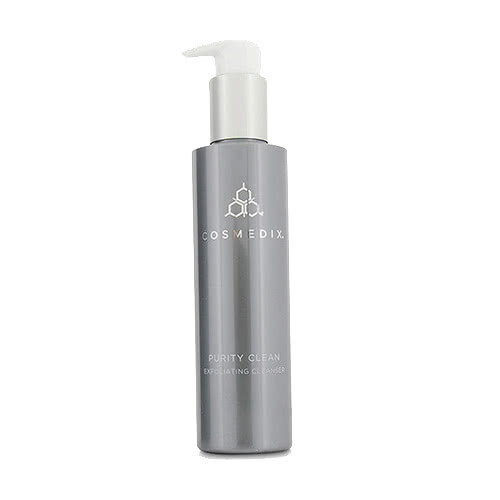 Cosmedix Purity Clean Exfoliating Cleanser
Get an expert to answer your question about this product!
Ask a Question
91% recommend this product
Most Helpful Positive
Amazing
Amazing cleanser that makes my skin super fresh
Most Helpful Criticism
Be careful not to overuse
First impression of this product is that it leaves your face feeling lovely and fresh and you feel like it's really getting into the troubled areas for a deep clean. Only problem is I was told to use it twice daily which I think is just too much! It really dried my skin out and in turn I started to get big blind pimples that just couldn't penetrate the skins surface. I now just use it every second day on my back and chest and as a spot treatment on my face.
Amazing

Amazing cleanser that makes my skin super fresh

great product

i am absolutely obsessed with this range!I have pretty oily skin that can be sensitive at times. Would definitely recommend to anyone with a similar skin type! Cleans my face super well without leaving it feeling tight.

Game Changer

After trying all the top brand cleansers, I have finally found the one! Only 1 pump needed and leaves my skin feeling fresh, my pores happy, and my complexion bright. I've stopped wearing makeup to work because my skin is now so smooth and clear.

Love it

I have been using this cleanser for years now and occasionally I'll try something different but I always comeback to this one, gets your skin really clean, love it!

The best cleanser

This really is the best cleanser. Use with a Clarisonic to really boost results. Also recently read this is Victoria Beckham's favourite!

Brilliant Deep Clean

One of my favourite cleansers. I am over 40 yet still do have skin prone to congestion and breakouts yet also concerned with ageing. This cleanser removes makeup, excess oils and seems to clean much deeper than any I have tried yet leaves skin feeling lovely not stripped bare yet still super fresh and clean! I think this is great for anyone that wants tighter pores, more glow, smoother and definitely less congestion and less pimples if followed with the oil free moisturiser its perfection and if you need a little more moisture go for something more nourishing! 10/10 product. Love it!

Great cleanser

I got recommended this cleanser, decided to give it a go and I've never looked back. I've used it for over 2 years now.

Great cleanser

This was recommended to me by my facialist. I have acne prone skin and ever since using this cleanser it has kept my pimples at bay. My skin doesn't feel stripped of its natural oils after using it and it has a lovely peppermint scent. It hasn't improved my blackhead situation however I don't think anything will. I only use it once a day to avoid causing any sensitivities. This is my 3rd bottle now and will continue to repurchase.

Changed my life

This cleanser literally changed my life. I was constantly getting huge, angry, cystic acne around my chin, and all I wanted to do was squeeze & pick to try and get rid of it. I was so self conscious about it, and wouldn't want to leave the house. I knew that squeezing & picking made it worse, but it was a relief to get rid of those ugly white heads.
The first day I used this cleanser, I could feel it working, and since that day (almost 2 years ago now), my skin has been clear! I started off twice a day while my skin was quite bad, but am now back to once a day, sometimes once every 2 days. It also lasts so long because you only need to use the tiniest bit. Honestly a life saver, and a life changed.

Fantastic!

OMG! This cleanser is amazing. My skin feels fantastic, blackheads banished.

I think it's probably too strong for me to use twice a day. I tend to use in the evenings and have tried the mask option for a
Super cleanse. Cannot recommend enough!

Obsessed

A friend recommended me this product and I've been using it in conjunction with Purity Solution and they've been a congested X breakout skin match made in heaven!

LOVE LOVE

A nurse recommended this product for me and recommended using it in conjunction with Purity Solution and they've been a congested X breakout skin match made in heaven!

Excellent Cleanser

I have been using this cleanser for over a year now and I love it! I generally use it in the evenings with my Clarisonic. I have oily skin, which can get quite congested and I find this thoroughly cleans my skin. My skin feels really soft after using this cleanser. It's really important to me that Cosmedix products are free from parabens, mineral oil, petrolatum, PEGs, sodium lauryl sulfate, hydroquinone, glycolic acid and artificial dyes and fragrances. This is a product where I can tell it is working and the ingredients are doing their job - for me this is worth the money!
I would definitely recommend.

My favourite cleanser so far

I have normal to oily skin, depending on the time of the year and find this great as my PM cleanser at the end of the day, and it manage my hormonal acne at that time of the month. It also works well as a superficial peel if you leave it on for 10 minutes or as a spot treatment due to the concentration of lactic acid. Highly recommend this product if it's within your budget.

Great night cleanser

I was recommended this product by my facials to use nightly as a second cleanse as part of a double cleanse routine. So far I have found it to be fantastic. It leaves a thoroughly clean feeling and the peppermint smell is great. I personally think it would be too much to use twice a day, but it has been perfect for a nightly cleanse before serums/moisturising.

Buy it now!

This is the best cleanser I have ever used! It cleans your skin better then anything I have used before. It has not only cleared a lot of my blackheads but has reduced the redness in my trouble areas. This cleanser will save your skin!

Bright beautiful skin

I have switched back to this product after using a couple of other cleansers (this was recommended to me a year ago after having clean + brilliant laser treatment on my face) and my skin was noticeably smoother, brighter and balanced within one day of using it. I will be using this for a long time to come! Highly recommend

Its good

Skin type: Oily/combination

I really enjoyed this face wash, its cleared up my skin and I will continue to use.

Best face wash

Been using this product the last four years. Good for deep cleaning and get rid of makeup

Pretty Good

A great cleanser that seems to strip away dead skin cells, and leave a nice bright complexion. You do have to be careful to not overdo it with exfoliation though

A must have cleanser - good for dry skin that still needs exfoliation

I have sandpaper dry skin and this cleanser keeps me hydrated while also exfoliating. I notice a difference in my skin texture when I don't use it. It's gentle enough exfoliation for dry skin but really works well to remove dead skin and build up. Would 100% recommend.

Go to cleanser

I love this cleanser and I consider myself to be a skin care snob. The active ingredients are just right not too overpowering but not under active either. The peppermint scent is delicious I will Definitely will purchase again!

Be careful not to overuse

First impression of this product is that it leaves your face feeling lovely and fresh and you feel like it's really getting into the troubled areas for a deep clean. Only problem is I was told to use it twice daily which I think is just too much! It really dried my skin out and in turn I started to get big blind pimples that just couldn't penetrate the skins surface. I now just use it every second day on my back and chest and as a spot treatment on my face.

Minty fresh

I have combination skin with congestion in my nose & chin, and was looking for something stronger than my Ultraceuticals Gel.

This product smells lovely, and doesn't strip your skin. Your skin feels clean and fresh afterwards.

This product is definitely lifting the dead skin cells, but I've noticed dry patches of skin, an so far, it hasn't assisted in the congestion, but I will persevere & maybe try it as a mask (applied on dry skin and left for 10 mins).

Love it

I've used this product for a little while now and I love it.
I can have quite sensitive skin and have reactions to some harsh products but this leaves my skin feeling really clean without any negative effects. Last time I ran out and used another cleanser for a while I noticed my skin started to feel quite gritty and congested so I couldn't wait to get back to using this. I especially love the minty freshness in the morning.

Best cleaners I've used

I love this cleaner! I have problematic skin and this cleanser was recommended to me and it worked so well without drying out my skin. It is a little too expensive but if you are desperate to clear up your skin, this will work. If it was slightly cheaper I would absolutely recommend it to everyone.

Not worth the price tag unfortunately.

I tried this cleanser and it worked well enough, but didn't really make a lot of difference to my skin compared to cheaper cleansers. The minty smell and fresh feeling was nice, but overall not really worth the price tag.

Really good, highly recommended!

I have used gentle cleansers for a long time and always felt there was something missing. Using this has solved that issue its a really good, thorough, high-quality cleanser and does not overdry the skin

Love this product but its expensive

I have been using this toner for 2 months and have noticed an improvement in the texture and tone of my skin.

I find especially in the cooler months my skin becomes dry and flaky but have not experienced any flakiness and compared to other toners I have used I am very happy with this product and will continue to use.

Like most skincare products, you need to use multiple products and allow time for your skin to adapt to the regime.


A great cleanser for combination or oily skin

I love this cleanser and don't think I could ever get sick of using it. It's designed for combination/oily skin and gives a really deep cleanse but it is definitely not stripping. It's a gel formula which foams only slightly, and it feels really high quality on the skin. If you've used cheap cleansers compared to high-end cleansers you'll know what I mean by that. The skin never feels tight and dry after cleansing - just really soft and smooth and clean.

Purity Clean has a peppermint and tea tree smell. It smells very fresh. It's a green gel and it comes in a nice pump bottle which is sturdy, looks lovely, and is easy to use. I use about two pumps at a time and it probably lasts about three months being used every night (I use a different cleanser in the morning). It is okay at taking makeup off but I'd recommend using a cleansing oil like Cosmedix Purity Solution first, and then use this to clean your bare skin. I also wouldn't use this on the eyes because it's minty and would probably sting.

Purity Clean has some lactic acid in it so it gently exfoliates with each use. If you want a slightly deeper exfoliation you can apply it onto clean dry skin and leave for 5-10 mins like a mask before massaging with damp fingers and washing off. Also, if you have really oily skin with a lot of build up, you can buy a packet of gauze from the chemist and use a square of gauze to really work the cleanser in for a minute.

It's a solid cleanser and I just cannot imagine anyone with oily/combo skin not liking this.

Awesome for double cleansing

I use this nightly as part of my double cleansing routine. I've been using it for about 2 years. I cleanse first with the purity solution then follow with the exfoliating cleanser.
I know scent is subjective, but I love the peppermint smell. It's so relaxing.
I find this double cleanse routine at night really cleans my skin so the sunscreen and make up doesn't clog my pores. My skin is fresh, soft and hydrated.
I don't plan on ever changing this routine. It's perfect for my skin

Okay... but expensive

For an expensive cleanser, i had high hopes, and its fine, it feels nice and refreshing and does clean my skin, however, i have had better results with other cleansers particularly with regards to my cystic acne on my chin

Great cleanser but not sold on the scent

I've been using this cleanser and I am loving it but the scent is different as I normally use the rx clean from there elite range which I bought from my regular facial lady, but as they were closed over the Christmas period and I conviently ran out I thought I'd give this one a go.
Seems to make no difference between the two apart from the scent. Works amazingly to clean my oily skin and keep it in good condition between beauty appointments.

High Hopes

I had high hopes for this cleanser and sadly it did not live up to what I thought it would be. It's not terrible, it's a nice cleanser and my skin does feel smoother however I haven't seen any improvements in my congested/acne prone skin ( I also use the purity clean toner with it). I really wanted to like it as I have heard great things about the brand, however for me it just isn't worth the money when I was getting better results and more settled skin with the Dermalogica Special Cleansing Gel.

A really great gentle exfoliater

I have used this cleanser for a few weeks now, and can visibly see the difference its made to my very dry flakey problem areas. Its gentle enough that is hasn't disturbed my sensitive skin, but its clearly exfoliating away the dead skin cellls, leaving softer skin.