Cosmedix Emulsion Intense Hydrator 30g
Skin Concern:
Dull, dry or dehydrated skin
Frequently bought with
Please wait while we find a match
Questions & Answers
(3 Questions)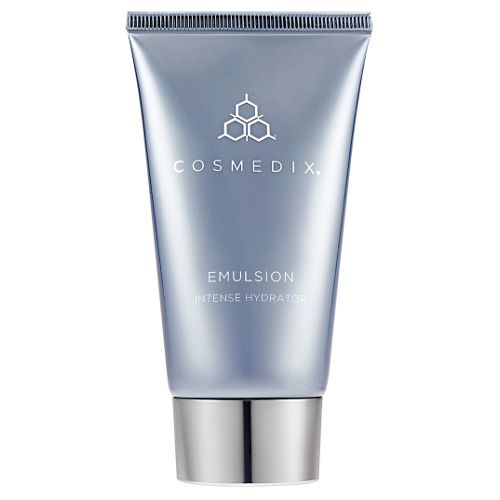 Cosmedix Emulsion Intense Hydrator
Get an expert to answer your question about this product!
Ask a Product Question
93% recommend this product
Most Helpful Positive
Love love love this moisturiser
Definitely a superior moisturiser. It plumps up skin leaving it super soft.
Love love love this moisturiser

Definitely a superior moisturiser. It plumps up skin leaving it super soft.

Cosmedix Emulsion Intense Hydrator

A lovely light and soothing cream. My combo skin easily becomes irritated and red and i've found this to be wonderfully calming. It's light but not too light, so you get plenty of hydration. This is a perfect option for the summer months.

LOVE this!

I recently bought a sample pack of Cosmedix products and bought the full size Emulsion as soon as I ran out. This has a lovely scent and makes my skin so plump and dewy.

My acne has cleared up and I have my confidence back.

Love this moisturiser

This moisturiser is my favourite Cosmedix product. It just has so much impact on the skin. I am 64 and have pretty good skin, but when I use this I feel l have had a deep moisturising mask treatment.

Good Night Moisturiser

I'm using this as a night moisturizer only because it doesn't contain any SPF. It does come out purple and a small dollop gives a decent spread on the face. My face feels hydrated afterwards like it says and it feels nice and smooth in the morning. It gives this fresh feeling with nice clear skin. When I cleanse in the morning, I know I'm cleansing off the moisturizer so it does last the night plus a morning exercise session.

Beautiful moisturiser

I love this moisturiser. I have tried a broad range of products in my time at various price points. This one compares with the $300 one I was using before this. I have rosacea and this helps to calm and soothe the redness. I'm transitioning to the Cosmedix brand as I feel this is the best value for money.

Very hydrating moisturiser

Cosmedix Emulsion Intense Hydrator says what it does. Intense hydration for sure. I found using this as a day moisturiser to be too thick, however at night it delivered an intense hydration to my skin. I was a bit shiny after application, but knew that my skin was loving it and would drink it up in no time. It comes out purple, however dries clear. It is a good night moisturiser if you have dry skin and you wake up plump. If I was having a home day and not wearing makeup I definitely use this moisturiser. Love love love the intense hydration.

Very hydrating

This is very hydrating and always makes my skin look super soft

Hydrating

Expensive but definitely worth it for dry skin! Was recommended to me by my beautician and continue to repurchase. Quite a thick consistency so prefer to use at night but wake up with calm and dewy skin

Ultimate hydrator

As soon as this lush emulsion hits your skin, you glow. It's beyond unbelievable. My skin is left soft and dewy. I use it in the mornings after I apply my vitamin b and c serums

Nice hydrating lotion

I have oily/combination skin and find this light enough, but intensely hydrating. You need a small amount and it immediately "wakes up'" your complexion. I received this as a sample and am keen to try more from the brand

Amazing

Skin type: Oily/combination

This is a fantastic everyday moisturizer, its lightweight, hydrating, and non greasy. Will repurchase.

Great for the winter months

I tend to get quite dry skin in winter and this has been great for the colder months. A little goes a long way as well. I found it a bit too rich heading into summer but will be back on this again next winter.

Amazing - but best for night

I really love this moisturiser for night use. It's very thick and creamy but not oily - if that makes sense. I can still feel it on my skin in the morning, which I like; it sits on top of my skin like a protective film so that I wake up with my skin feeling very hydrated. I think of it as being sort of like a sleep mask. I did try it a couple of times for daytime but found it tended to pill up once I layered sunscreen and primer and foundation over it, so I keep it just for night time. I also used it after laser treatment and found it very soothing and repairing as well.

Not overly impressed

I wasn't impressed by this product, especially for the price. It sat on my face and it didn't absorb, when I woke up the next morning I could still feel sticky residue on my face. I persisted with 3/4 of the bottle but didn't see results or feel like my skin was any more hydrated.

I wouldn't buy it again.


Soaks in straight away

This is the only moisturiser I have ever used that actually goes into your skin without feeling oily. I have to stop my daughters from stealing it.