Cosmedix Benefit Clean Gentle Cleanser 150ml
Is this for you?
Cosmedix Benefit Clean Gentle Cleanser is a safe and gentle cleanser that is suitable for all skin types. Perfect even for sensitive and hypersensitive skin. Removes makeup and dirt, and may be used for post-operative or post-peel skincare.
Cosmeceuticals
Cruelty Free
Artificial Fragrance Free
Sulphate Free
Skin Concern:
Dull, dry or dehydrated skin
Skin Type:
Normal to dry

Normal to oily
Frequently bought with
Please wait while we find a match
Questions & Answers
(2 Questions)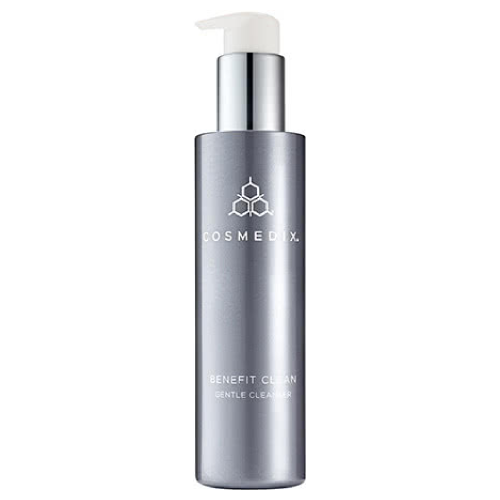 Cosmedix Benefit Clean Gentle Cleanser
Get an expert to answer your question about this product!
84% recommend this product
Most Helpful Positive
Great product
Love using this product, leaves my skin feeling clean and soft without making it dry. Love it
Most Helpful Criticism
NICE BUT PRICEY
This cleanser was lovely and I really. loved the peppermint smell.

My skin felt clean and fresh and I found it worked great with my sensitive skin.

I most likely wouldn't purchase again as I didn't find it worth the expensive price tag,
Amazing gentle cleanser

You don't need much! Great size bottle. Texture is like a clear almost gel. Love it because it doesn't strip my skin, I have very dry itchy and dehydrated skin and needed something gentle and effective of removing any left over make up.

Great product

Love using this product, leaves my skin feeling clean and soft without making it dry. Love it

Beautiful and gentle

I really love this cleanser, its so nice to use. It removes traces of... anything and is not drying. It gives you that clean feeling without the tightness. Has definitely helped look after my acne prone skin. I wont say it clears my skin over night but thats not my point for using it. I switched over to cosmesuitcals to give my skin a chance at being healthy and help my skin clear over time. Im only halfway through my bottle and its been 6 weeks. It lasts forever.

Happy with results

I've been using Aspect Purastat 5 cleanser for years now although after running out I felt like my skin needed a change up. I used a different cleanser for a couple of weeks in between which made my adult hormone acne flare up again. I've been using this cleanser for about a week & the active blemishes are starting to disappear. It's very gentle & doesn't dry out my sensitive dehydrated skin. Doesn't foam up as much as the Purastat which I'm slowly getting used to but I'm very happy with the way it leaves my skin.

Great cleanser

Put onto this cleanser by my skin specialist. It's so gentle on my skin, really feels clean after and removes makeup so well!! A great product to start with if your wanting to try cosmetic as gentle for all skin types

Go-to cleanser

I've gone through several bottle of this cleanser. It feels great on my skin and a little bit goes a long way. I use the Aspect Micellar water to take my makeup off pre-shower and this does the job in getting the remnants off.

Gentle soothing cleanser

This cleanser is very gentle and perfect for mature skin. Although expensive it only requires a small amount to gain a beneficial result. I have mature skin and benefit clean suits me perfectly.

good

It is very hydrating as it penetrates deeply into the skin and leaves a lovely scent afterwards, I love using this during winter as it stops my skin from appearing flaky!

Cosmedix Benefit Clean Gentle Cleanser

This is the best acne cleanser I've used for this skin type and trust me I've tried A LOT. The consistency is foaming which is also hard to find in an acne cleanser.

Exactly - A Gentle clean

I was recommended this product as I am currently having a series of laser appointments to treat my Melasma. This cleanser is just what it says - gentle. It leaves your skin feeling clean but not dry. It doesn't lather like most cleansers, but leaves my skin feeling more clean than other brands. The only negative is that It doesn't remove eye makeup

It is what it says it is - a Gentle Cleanser

Love this product. After using other Gentle cleansers, this one has really proven to be gentle and have no nasty ingredients. My skin is feeling so soft and clear in comparison to when I was using other "gentle cleansers". I double cleanse to get a deep clean without compromising my barrier or having to feel the need to pick up an exfoliant. I find that with the cleanser on the first cleanse you don't get much foaminess/bubbles (again in comparison to other gentle cleansers that foam straight away) but I love that, because you are really knowing when all your makeup,oils and dirt has been removed when it does start to lightly foam up.

High quality effective gentle cleanser

Benefit clean was first used in a Cosmedix anti aging trial kit. It was so amazing! Softens skin, improves skin tone greatly. Definitely recommend!!

Gentle

I really like this cleanser, it cleanses without drying you out. As the other reviews mentioned you only need a tiny bit of product so the bottle should last quite a while. Will most likely repurchase.

Good general cleanser

Benefit was the first cleanser I tried from this brand. If you have ordinary skin with no real skin concerns this cleanser is a winner. One pump goes a long way and for this reason it lasts a very long time. It gets rid of all your stubborn eye makeup and does not sting your eyes. I have purchased two bottles of this cleanser and was happy with every pump. It's the best cleanser I've used at getting rid of makeup. However, I did find that when I wasn't using HA in my skincare this stripped my face and I felt a bit tight after cleansing. Nonetheless, this is a good general cleanser and definitely recommend.

A little goes a long way

I bought this cleanser after a clinician recommended it, but was hesitant about the price. Turns out it lasts forever because only a teeny tiny bit is needed to deeply and gently cleanse skin. Effective and non-irritating.

Beautiful gentle cleanser

Lovely smooth texture, does exactly as the product describes - gently cleans skin! The bottle goes a long way, only two pumps needed per clean. Not stripping but really does effectively clean skin. Perfect for sensitive skin types.

Gentle

This is very gentle indeed! Feels great on my skin

NICE BUT PRICEY

This cleanser was lovely and I really. loved the peppermint smell.

My skin felt clean and fresh and I found it worked great with my sensitive skin.

I most likely wouldn't purchase again as I didn't find it worth the expensive price tag,

My skin did not like

I don't think ill be purchasing this again.. it made my skin react and break out into pimples.. I do have quite sensitive skin .. I think ill stick with Dermalogica

Deep clean that smells like a green candy cane!

This cleanser gives a deep clean with a exfoliator.
It really helped clear up my skin and allow my serums to be absorbed into my skin.
I have less oily skin, patches of dehyration so i just use twice to 3x per week.
What i love is the smell of peppermint candy canes! Yum!

Wonderful everyday cleanser

This cleanser leaves you feeling like you have properly cleaned your skin of any impurities whilst not being drying. I use this to double cleanse both in the morning and at night, and it leaves my skin feeling clear. I have sensitive skin and it is one of the only cleansers I have found that doesn't breakout my skin. Highly recommend to anyone with sensitive skin for a cleanser that actually works!

Good cleanser non drying

Most cleansers in me make me feel dry afterwards this one is great it gets you squeaky clean without the dry feeling! And it lasts for ever one little pea size amount twice a day means I only need to stock up 2-3 times a year!

Worth every penny!

I have dry sometimes sensitive skin and I'm no stranger to professional treatments.
This Cosmedix Cleanser is just wonderful!
I tend to alternate frequently between Cleansers depending on how my complexion is feeling and this one is always effective in delivering results! :) :)
You really don't need much, one pump or so and the bottle will last you so long! :) Yes it is a tad pricey but an effective and worthy investment! 10/10

Nice but pricey

Skin type: Oily/combination

I really enjoyed this cleanser, works well as a first step in makeup removal and doesn't irritate but for a gentle cleaner its quite expensive..

Fresh and Clean

I have the most sensitive skin and this cleanser is like a dream. Freshens and cleans my skin, making it feel soft. It's designed for sensitivity so it's very gentle - not harsh at all. I never feel like it's stripping my skin away.

meh

This is quite pricey considering it is only a cleanser and i use twice a day.

A gentle and effective cleanser

I've used this cleanser for a few months now and it just never seems to run out! Two pumps goes a long way (which is great considering the price is on the high end) and my skin has improved after using this twice daily, having made the switch from a cheaper drugstore cleanser.

Gentle Cleanser

Good gentle cleanser, especially as I have barrier impaired skin however it does foam a lot considering it is a gentle cleanser. One pump goes a long way.

Effective

This is the never ending bottle of cleanser - one pump does the job and it lasts for months. I have dry sensitive rosacea prone skin and this does not irritate it, but it does leave it feeling a touch dry, particularly in winter. Once the bottle is finished, I think I'll move on to something else.


Best cleanser

It can be hard to find the right cleanser, but after this was recommended to me I won't use anything else. I find that by using this every night in the shower is enough to remove makeup and keep my (oily) skin clear and clean. It is a little pricey but it works.

Meh

Benefit Clean is meant to be a good cleanser for dry, sensitive or barrier-impaired skin but I just don't think it's anywhere close to being the best cleanser on the market for this. First off, it's a gel and it turns quite foamy - even more foamy than Purity Clean which is Cosmedix's offering for oily skin. I also find that my skin feels quite stripped after using Benefit Clean.
It contains (I think) grapefruit extract, which gives it a nice smell. But I wonder how it would go for super-sensitive skin.
If you are looking for a cleanser with no exfoliating ingredients but still foams up nicely, I guess you could give this a go. But for me there are other better ones.

Dream Product # 2

I use this in combination of the Purity Solution Deep Cleansing Oil as step 2 of my cleansing routine. Both these products are a dream. First step (oil) removes every make up with ease and this ensure any traces of make up and/or oil are cleansed thoroughly. Winning combination, winning products!

Fabulous cleanser

I have been using this cleanser for years, its reallly gentle but effective. My skin never feels dry after using it and it really does "take the day off". Highly recommend it.