Clinique City Block Sheer SPF 25 40ml
Is this for you?
Clinique City Block Sheer SPF 25 for Day skin Types. Moisture-rich formula diminishes the look of undereye circles, shadows, puffs and fine lines-immediately and over time. Helps protect natural collagen production. De-puffs with soothing botanicals. Even strengthens skin's moisture barrier against common irritants.
Artificial Fragrance Free
Sulphate Free
Skin Concern:
First signs of ageing

Pigmentation, uneven skin tone

Wrinkles and loss of firmness
Skin Type:
Dry

Normal to dry

Normal to oily

Oily
Frequently bought with
Please wait while we find a match
Questions & Answers
(1 Question)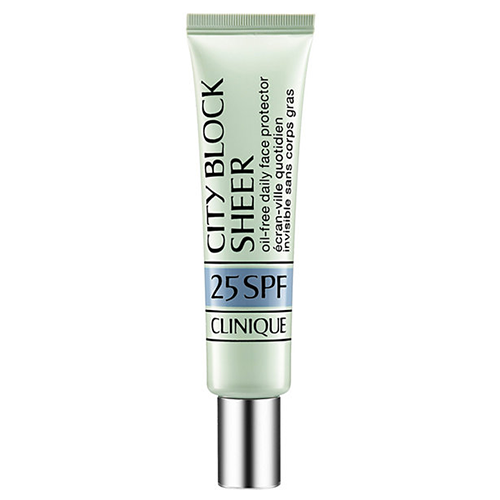 Clinique City Block Sheer SPF 25
Get an expert to answer your question about this product!
76% recommend this product
Most Helpful Positive
Amazing primer
I use as a primer sometimes and it's AMAZING
Most Helpful Criticism
didn't work well with my make up
in my opinion its quite expensive considering its size. it was recommended to use it like a primer but it didn't mix well with my beyond perfecting foundation so I only use this now by it self when im having a no make up day.
Great for under foundation

I use this as a primer or by its self for my daily SPF protection. I find it does an amazing job

didn't work well with my make up

in my opinion its quite expensive considering its size. it was recommended to use it like a primer but it didn't mix well with my beyond perfecting foundation so I only use this now by it self when im having a no make up day.

Eh... not for me

This is a nice product, however I am so picky with SPF products. It does the job and have a slight colour to it which is okay but goes away once rubbed into the skin. I do not love the smell and the texture on the skin is not my favourite. However, I am super picky and hate any scent of SPF!

Nice formula

The formula to this is really nice in the sense it feels beautiful on, not heavy, sticky or greasy. The only thing I don't like is that is washes my olive skin out a bit as it has a bit of a white cast affect, so when I wear this, I put mineral powder over the top to put some colour back in my face. Other than that, it's nice but not my favourite spf I've tried

What happened to my BFF Super City Block 30+

Sorry can't comment on this particular product. I've only ever bought the above. Now I have to catch the bus into town to check and make sure you can still get the above. If this product were the above my comment would be yes it is def a great product. I'm 44 and I've been using Super City Block since I was about 37 -and people still think I look 37!

Amazing primer

I use as a primer sometimes and it's AMAZING

Great

Nice tint, and color correction sits well under makeup too

EXCELLENT!

I have been using the Clinique City Block for twenty five years. I couldn't live without it and use it underneath my makeup everyday. It has a slight tint to it, which I like as it evens out any redness on my skin. I don't need to use another sunblock on my face as it contains Zinc. One of the best products on the market without a doubt.

Great sunscreen

I have been using this sunscreen for almost 2 years now. Gives good daily protection and the colour just adds a slight tint to my skin. Can get a little greasy sometimes but doesnt cause breakouts. Works fantastic as a primer under makeup with the added SPF protection! Will continue to buy :)

Good daily physical sunscreen

This has been my daily sunscreen for years. Has a lovely texture with a very slight tint and a matte finish. I have sensitive skin and react to most chemical sunscreens so this product is great for me as it is a physical sunscreen but not too heavy. As it's only a low SPF, it's not good if you plan on spending any significant amount of time in the sun but is a perfect daily base level of protect...

Read More

Overrated 'classic'

This didn't quite work for me - too much like a paste and the SPF is too low (25 only). I like the tint to offset any whiteness from the zinc but I found it hard to spread easily and feels thick like a paste even though it's labelled sheer. Wouldn't recommend for the price point and performance.


Shield

Good protective shield against environmental damage

Great product

Great product - I quite like how it leaves my skin, however the tint is a little too dark for my very pale skin (definitely at first anyway!). Absorbs quite easily - just make sure you rub it in properly everywhere!

Great Daily SPF

Great daily SPF with a slight tint so no white cast. Can be a little greasy but nothing that a mattifying powder over the top couldn't fix. Had no issues with scent or breakouts whilst using it and found a tube lasts a far while. A great all rounder for anyone looking for decent daily SPF.

Coverage and protection

This sunscreen has a tint to offset any white cast that would be caused by the zinc in it. As it is tinted I haven't bothered putting any foundation on top of it, and I find it does offer enough coverage for me (a concealer could be used on any spots). I have combination skin and this has not caused me to breakout and feels comfortable - with the added benefit of a bit of colour and coverage to pe...

Read More

Excellent sunscreen with sheer tint

This is my daily sunscreen and has been for over 3 years. The sheer tint is enough coverage for my daytime look but may be too sheer for some. However it still makes an excellent sunscreen. I love this product and recommend it to others - I've even got my dad using it. I have normal to dry skin which is prone to hormonal acne. I apply translucent powder afterwards and have no excess shine all day....

Read More

Holy grail!

My skin is sensitive towards chemical sunscreen, so this City Block Sheer SPF25 is a godsend because it is a physical sunscreen. Works well under makeup and doesn't feel greasy. Will purchase again and again

Be aware that Clinique has another sunscreen, Super City Block SPF30+, which does contain chemical sunscreen octinoxate.

Excellent

All hail City Block! I prefer the SPF 40 for my super sun-sensitive skin, even though it has a thicker, chalkier texture - but the SPF 25 is good for winter, when I still need sun protection that doesn't break me out. I buy a couple of tubes of both the thicker SPF40 and the sheer SPF25 every year and they keep me covered. These are probably the only sunscreens that don't block my pores or give me...

Read More