Clinique Chubby Stick Sculpting Contour
Is this for you?
Creamy contouring stick creates the illusion of depth; makes areas appear to recede. Long-wearing, oil-free.
Artificial Fragrance Free
Sulphate Free
Frequently bought with
Please wait while we find a match
Questions & Answers
(1 Question)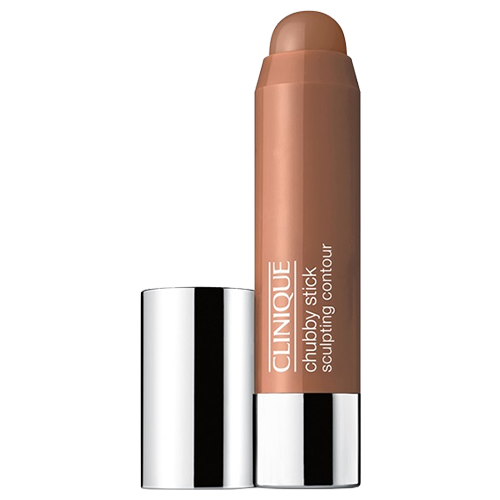 Clinique Chubby Stick Sculpting Contour
Get an expert to answer your question about this product!
91% recommend this product
Most Helpful Positive
Good
This is a good contour stick, very easy and quick to use. Very creamy and easy to blend in
Most Helpful Criticism
good but not great
I have bought it first time. I quite like the product. It is easy to contour my face with blender and brush too. Love this product. It gives the perfect contoured face.
Good

This is a good contour stick, very easy and quick to use. Very creamy and easy to blend in

Smooth and creamy

Such a smooth and creamy contour stick that is super natural looking! Definitely a holy grail!

Nice

Nice little contour stick for on the go. Natural finish and easy to apply

Great but too dark for me

I wish they came in a lighter shade, as it is so easy to use just not too dark to be natural looking on me

not a fan

i love the colour of this but the consistency is very dry and hard to blend out, tends to disturb makeup underneath

Turns a Contour novice into a pro!

I always struggled with contouring and getting it right. This product changed everything! I don't know how it's possible but this shade works whether I'm tanned, super pasty or green (well that's just a guess but I'm tipping it would!). So creamy, super easy to blend. Wow!

Not that great

It blends nicely but not pigmented enough.


Super creamy

Although I do prefer using a powder contour, such a product can become a bit of a hassle especially when I don't have much time in the morning. On days like these im glad stick contours were a thing since they are so easy to use without needing a brush since they work perfectly fine with bare hands. The for formula is super creamy however I do wish they made a shade that is a little more grey toned since I feel such shades provide a more natural looking contour.

Blends really well

Blends really well, nice natural colour, doesn't smudge or melt off during the day

Love

I really do love this product! easy to blend, great colour

Good

One of my favourite contour sticks. Blends very easily and can build up quickly

blends so nicely

product blends like a dream and looks so flawless on the skins. perfect for medium skintones and isnt too orangey. defs recommend setting with powder bronzer if you have oily skin

Awesome

great product! one of my fav contour, i find it blends out easily and doesnt move my makeup underneath

Good

As someone who does not like to wear foundation but still wants to look bronzed, I use this and find that it gives me enough colour to make me feel presentable. However, when wearing a full face of makeup, I find it to be less effective as the colour does not look as rich or as concentrated on top of a dark foundation. On it's own it's good, not so much with other makeup.

YAS GURL

So I bought this Clinique Chubby Stick Sculpting Contour after I saw a few girls use it on their makeup tutorials on youtube (Shani Grimmond and Sammy Robisnon)
and they were like ' so easy to use can't live without this'
so I thought this may be good to use for a contouring beginner.
I absolutely love it and now I wouldn't be able to go without it!
Blends like a dream and is soooo easy to use

good but not great

I have bought it first time. I quite like the product. It is easy to contour my face with blender and brush too. Love this product. It gives the perfect contoured face.

Cheek

Nothing could be faster or easier. Powder blush now seems stone-age. It is almost gone by the end of 9 hours without a setting spray, but UD's de-slick setting spray helps extend it (and make all my makeup look better). It's such a cinch to apply, though, that I don't consider it a big deal if it needs to be reapplied after work and before going out for the evening.

Go to contour stick

This is my go to contour cream. Comes out so soft and blendable. It always lasts a long time, I've had mine for 2 years and I still have heaps of product & it's stated moist.

NATURAL CONTOUR

This product is SO easy to use and blend out.
I love the packaging as its really easy for travelling.
It does give a natural colour, a bit on the warmer side as opposed to a cooler tone.
Would buy again.

Great for bronzing

Colour is a tad warm, perhaps more of a bronzer colour. I would love to see Clinique create a cooler shade for a true contour. The formula is so so easy to blend out (I use a stippling brush). The packaging makes it super easy to apply and portable (great for travel)

Easy

So easy to use it's effortless

So Easy

If you have ever wanted to venture into using cream contour and are too scared this is the way to go. So easy to use and blends out beautifully. Looks very natural and it's very hard to go wrong, if you feel you have put on too much it blends out like a dream. Great for beginners.

Lovely and subtle

I have a medium skin tone (on the lighter side of medium) but while this contour stick is significantly darker than my skin it seems to almost disappear when I blend it in. Nonetheless, really easy to apply and a good blendable consistency.


Contour (the not so scary kind)

I love this bronzer! the cream texture gives such a natural and gentle sculpt to the face, and it is so easy to blend, especially for beginners who often struggle with cream products. Definitely worth it for a natural bronzed look.


Easy

Super easy way to contour my face and it's very pigmented

Great

Super bendable stick contour. Looks really nice and sits well over foundation. Also great for nose contouring, I love that it is a cream product - which means it is easy to blend out if I go a bit too heavy handed.

An easy way to contour!

This is a great product that makes contouring easy! The colour is perfect and the product blends easily and lasts well.

Love

I love this it's so pigmented and the shade is perfect for light to medium skin tone

Very Bronzing

I'm not that experienced in using bronzer so when I first applied this product, I might have applied too much as my face went orangey quite quickly. Just use caution when applying and build up as you go. I have olive skin so I think the complexion is not too bad for me.

blends easily

I really like this but agree that it is too orange for contour! It creates a beautiful bronzed look though, so you just have to figure out how to use it for your skin.

Super blendable

I have a medium skin tone (on the lighter side of medium) but while this contour stick is significantly darker than my skin it seems to almost disappear when I blend it in. Nonetheless, really easy to apply and a good blendable consistency. Note - quite warm toned, probably not best for cool skin tones.

good formula but colour too warm for contour

I like the formula of this product but it is wayyy to orange for contour... it might work on darker skin tones but I honestly think the orangey undertone of the product is just unsuitable for contouring. It can definitely be used as a cream bronzer so not a total fail of a product and blends out easily, jut not sure why they call it 'sculpting contour'!

Very blendable

This is a GREAT contour product. Additionally, it is a bit warm for a contour, but the formula is amazing and extremely blendable. I have had this stick for almost a year and it still hasn't run out and I use this product all the time.

More of a bronzer

This is so easy to use and blendable, however, the colour is so warm! I can't get a contoured effect with this, but it is fantastic as a cream bronzer.

Radiant, gleaming finish

This product is great for a definite shimmery look. It's super easy to apply and has a lovely sheen. Great for those nights out under the lights!

Makes contouring a breeze

A nifty way to add a little definition to your face. The colour is perfect for my olive skin tone and the product is easily blended into the skin.

Such a good product

I am obsessed with this product!! All the chubby sticks from clinique are so good. The formula is so creamy and easy to blend and although it looks intense when you first apply it it blends out beautifully and adds such a nice contour or bronze to the face. Love this for a natural look even without foundation.

Amazing

I love this bronzer! the cream texture gives such a natural and gentle sculpt to the face, and it is so easy to blend, especially for beginners who often struggle with cream products. Definitely worth it for a natural bronzed look.

Winner

I love this chubby stick product. It is so easy to use and comes in so many shades so its easy to find the right match. Its creamy texture glides onto your skin comfortably and is also easy to blend. I use it for definition and also sometimes to just touch up my makeup at the end of the day. Fits perfectly inside your handbag. Would reccomend

Fave Contour stick!

I absolutely adore this product. The shade may seem very dark upon first application but the product is extremely smooth and blends so seamlessly with a beauty blender. You can create a summer glow look very easily, with such little product as it is so pigmented! Will last you a very long time.

Great product!

I love this contour stick! I prefer cream contours to powders and I like that it's really easy to use. Would definitely recommend

Easy product for contouring

Love to contour my face using this chubby stick. Colour is great for my light skin tone and it blends really well

Love!

Love this product, super creamy and buildable. Has a lovely bronze colour with no shimmers and glitter, for the price i thought the product would be a bit bigger.

Must have for on the go

I love a product in a stick form - and this is not an exception! Love the shade, no shimmer which means easy to use with any make up look, and so easy to apply. I have fair skin and this blends beautifully.

I love this!

This is one of my favourite bronzers/contours. It gives such a natural bronze look as it has no shimmer in it. It's also super easy to blend and doesn't look muddy on my skin at all. It's an absolute must have in my makeup bag and I will definitely be repurchasing it. I would highly recommend it to all with fair/medium skin tones.

So easy to blend

These sticks make contouring a breeze. Easy to blend and build up to desired intensity. I can achieve a sculpted look or blend out really well for a subtle bronze. A must try!

Great product

I opt to use the chubby stick as a contour compared to powder. It helps achieve a glowy natural look, where as the powders can appear too cakey. Will be purchasing this product again

Love a good Contour

I am not a fan of cream /stick contour products but I LOVE this one by Clinique. It is super easy to blend which is why I reach for it daily, it lasts long and does a great job at contouring - for me I find that it does better at bronzing as the colour comes off more warm on my skin tone.
Wished that they did come out in more shades to cater to more different skin tones.

The Model Magic Stick!

I absolutely love this chubby stick.
It's extremely easy to use and blends well into the skin.
A little product goes a long way too.
It honestly takes me from no structure or definition to refined chiseled jaws with just one sweep! Love!

Love

This was the first chubby stick I purchased and it is safe to say I feel in love. It is super creamy, easy to blend and the perfect shade. Highly recommend