Clinique Beyond Perfecting Foundation and Concealer
Frequently bought with
Please wait while we find a match
Questions & Answers
(No Questions Yet)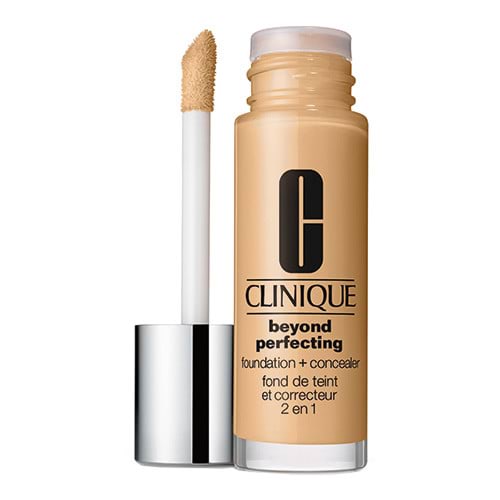 Clinique Beyond Perfecting Foundation and Concealer
Get an expert to answer your question about this product!
Ask a Question
76% recommend this product
Most Helpful Positive
Awesome
great coverage, easy blendability and awesome shade range, perfect for oily skin aswell
Most Helpful Criticism
Lovely but...
This foundation is lovely in regards to coverage, wear and finish however i just cannot understand that a major brand like Clinique can have such a poor shade range. Love but the shades for light skin tones
Lovely but...

This foundation is lovely in regards to coverage, wear and finish however i just cannot understand that a major brand like Clinique can have such a poor shade range. Love but the shades for light skin tones

Awesome

great coverage, easy blendability and awesome shade range, perfect for oily skin aswell

Not great shade range

The coverage was what I liked and I found it easy to work with and blend out however I can't seem to find a shade that matches me perfectly

Beautiful finish but

This has a beautiful soft finish and doesn't break out my sensitive combo skin however i struggled to find a shade that actually fits me perfectly as all the shades are too dark or wrong undertone for my skintone

Great if you have dry skin

A lot of moisture in this foundation which is great for my dry skin

LOVE IT

I am obsessed with this foundation! The coverage is stunning and the formula is amazing! It is so buildable so perfect for a natural look and full glam. It acts as a moisturizer, it hydrates the skin so well and leaves your face looking so flawless. And like the packaging says, a little goes such a long way so it lasts for so long! Definitely recommend

Good coverage

This is a really good full coverage concealer. I love the bug wand on it, makes applying easier

full coverage

so full coverage and covers redness and acne scaring, spots etc. definitely needs to be set down if you have oily skin but lasts all day otherwise. gives you such a flawless base and doesnt look cakey

Full Coverage, Looooong Lasting!

If you're after a full coverage and long lasting foundation, Clinique Beyond Perfecting Foundation and Concealer is the one for you.
Can have work 9-5pm and still look flawless with this foundation!

Only negative, it took me a few trials to find the right colour (especially if you're on the paler side- aka ME). Sesame is the perfect colour for me (with some fake tan on!).

Good coverage

This is a great foundation that covers my acne scars but I cannot find my exact shade and have to mix two different shades. It lasts all day and looks amazing.

Awesome

love the formula, so easy to blend out and a little goes a long way, covers all my imperfections nicely

Amazing

This concealer is great it covers everything perfectly but doesn't look cakey at all and it's so easy to blend!!

Amazing

This is my favourite foundation. Provides very high coverage and I love the applicator. Makes it easy to apply and easy to blend out. I wish they created light shades tho

AMAZING

this covers all my blemishes and is absolutely perfect coverage i love it so much

not bad

great coverage, but still can't seem to have a light enough shade

AMAZING

love this! covers all my blemishes and doesn't make me break out after using it

So good

Such a good concealer, so light weight feeling, but the perfect coverage! gets rid of all the dark circles, and so blendable

full coverage

this is a heavy duty and full coverage concealer that conceals away all my wrinkles and dark circles. blending this is so easy and it stays on for the entire day.

great coverage

a good foundation with great coverage, but becomes oily during the day. the finish is dewy and natural. all in all a gorgeous foundation for a low key day but probably not suitable for clubbing etc where you will be moving around a lot

Favourite foundation

I love this it gives the perfect amount of coverage without looking cakey. Can wear for any occasion love it!!!

Natural skin

This stuff is beautiful if you want a more natural looking skin. For me it wasn't cakey and had beautiful buildable coverage. Not something I'd wear out to party and sweat in for hours but great for everyday medium coverage. Gives a nice dewy look

great foundation

I love this foundation but i cannot find any match for my skin tone. it is just too bad. but if you cannot find match, you should give it a try.

Nice but heavy

Very heavy texture for QLD humidity but is perfect for winter as it's non drying and not cakey. I have sensitive skin and this did not inflame even in the heat.

Really nice finish

This foundation provides such a beautiful full coverage finish on the skin! I have predominantly oily skin and I find it doesn't get too oily throughout the day, however I do have dry dermatitis patches that flare and this foundation can dry them out and stick to the patches and make them really flakey, but I have struggled to find a foundation that wears well on my oily skin and doesn't do this on my dermatitis patch. Really beautiful coverage with a natural skin like finish, whilst being full coverage. Will continue to repurchase!

Love it

Great as it's so versatile and I have found a shade that matches me perfectly!

Super disappointing

I have oily combination skin and I was super excited to give this product a try. After 20 minutes application my skin begin to oil up really bad. Probably the worst I've ever seen, I even used a powder to set. I wore it to work the following day and before I even left my car I could see it separating and noticed the foundation had moved. I was very disappointed. I went back to my estee Lauder that extra $10 is worth the security.

The reviews are all true!

I thought this was going to be super overhyped! Turns out it was all true. I absolutely loveeeee this and don't know what I'd do without it. I use it like everyday and it just looks stunning!

Excellent foundation

I love this foundation. Gives excellent coverage and lasts really well. I have quite dry skin and don't find it leaving me looking flaky or settling into creases. Would recommend.

Great foundation

Great foundation that is very versatile. You can wear it thin for the day and then build it thicker as required. Great for a Concealer as well where needed. I really like the applicator which is handy when using as a Concealer

Wanted to love it!

I heard sooo many amazing things about this foundation so decided to give it a try. The colours were amazing and I found a perfect match, however after wearing it for a few hours it made me look so oily/shiny & it began to separate quite badly. I tried different setting powders to see if that helped, but to no avail. It just doesn't like my skin (oily/combination). Worth a shot if you have dry skin as it's a beautiful foundation.

Best Concealer

Have used this for 5 years and has always been my go to for concealer and light foundation. Worth every cent, glides on perfectly and stays in the place,

Great

Great concealer and I love that it doubles as a foundation

Nice foundation but i cannot find a match

i like this foundation as it lasts long on my skin and did not dry out my skin either. but the undertone for the lighter skin shade is just weird and lean too pinky tone for me.

what you need and want

high coverage long lasting foundation with such a great shade range! I recommend this to sooo many of my friends!

BEST. FOUNDATION. EVER

I have been using this product for a while now and came here to buy a second bottle! This stuff is amazing! It's full coverage, great for dry skin, and gives me the most perfect, glowing skin - even on my worst days! It also matches my fake tan perfectly and feels really light on my face! Would definitely reccomend

great

it lives up to its reputation! Its great and full coverage

High coverage and long lasting!

This was one of the only foundations I've bought that have lived up to the hype! It's super long lasting and the coverage is fantastic. The foundation blends out well and makes the rest of my makeup look fabulous. I love it.

Acne Friendly

Long lasting and great coverage. matched my skin well and would buy again. didn't make my skin oily after long periods of time either. I used with the clinque powder and it was a really nice match.


Great

This is a full coverage foundation. It goes on nicely and looks great on my skin. Very happy with this purchase

lasts all day

I've been using MAC Pro Longwear foundation for a long time but after hearing the hype about this foundation I decided to give it a go. The longevity of the foundation lives up to it's reputation. I think I'll be repurchasing after I finish this bottle, seems like it might be my new favourite!

Oily Skin Saviour

Awesome full coverage foundation. This foundation is great for oily skin it's matte and super long lasting.

really nice

this feels super nice on the skin! very buildable!!!!!!!!!!!!!!!!!

Great coverage

I have combo skin and i find a lot of foundations crack, this does not. It has great coverage and i find it really easy and quick to blend out. The colours are quite dark but i found adore's foundation colour chooser to be super accurate. As i get oily in the T zone, i will have to powder maybe once or twice throughout the day but I'm yet to find a foundation where i don't have to.

Long lasting and great coverage

Long lasting and great coverage. matched my skin well and would buy again. didn't make my skin oily after long periods of time either. I used with the clinque powder and it was a really nice match.

Full coverage even in summer

This is a full coverage foundation that's fantastic in covering acne blemish marks and other hyperpigmentation spots without the need for a second concealer. It really holds up against this scorching Aussie summer which has me sweating bullets, something I very much appreciate in a foundation.

Cakey

This looked good on my skin for about an hour then caked and stuck to certain parts of my skin and not others. Looked cheap and separated so easy. Not a fan.

High coverage and bendable

I am a MAC NW30 and I got the CN 58 shade as a concealer for my acne scars (if you want an under eye highlight, go for a lighter shade). I keep this in my bag at work for touch ups or if im going out after. I blend it out just using my finger, even though normally i need a sponge. This concealer is high in coverage and you only need to apply a couple of drops to each side of your face. I also like that it does not become patchy or streaky while blending.

Awesome

Awesome full coverage foundation. This foundation is great for oily skin it's matte and super long lasting

Full coverage

This is a full coverage foundation great for oily skin without making you look too matte.

good for mature skin

great for mature skin, however I have found it sometimes settles in the creases in you are a bit dry do make sure to moisturise well if you want it to perform at its best.

Not as good as other long lasting foundations

This is a nice foundation however it doesn't compare to estee lauder double wear for wear time. looks great of the skin but perhaps an event only foundation and not for long work days.

Not very long lasting

My holy grail foundation is Estee Lauder double wear as I have oily combo skin. This foundation really struggled and did not hold up well at all, my t zone can get quite oily as the day goes on, this foundation separated around my nose and made me look really patchy. I think I will just stick to my trusted DW.

Awesome

awesome foundation wish there were lighter shades in it though

disappointing

love this foundation so much, so it makes it disappointing when there isn't a light enough shade despite what it appears to be online

Creases and thick

My skin is dry so it tends to stick to the dry flakes and get really thick looking :\ Not a fan and also ceases!

Very oily/patchy

Not sure if this was my skin which is normal to dry but this foundation makes me incredibly oily. It also becomes patchy after a few hours

Great quality.

Amazing quality and feel on the face. Easy to spread, and great full coverage. It is also very buildable, so if you only want a little bit on it still looks great, or can add more for work or a night out. Great colour selection. I have oily skin and large pores, it helps cover the pores and keeps the oil away during the day.

Best Foundation Yet!

A little of this goes a long way, which is awesome as I barely need any for casual days and find it easy to build when I want full coverage. Speaking of coverage, it doesn't get better than this!
Longevity is fantastic, it lasts all day and night and easily washes off. It doesn't break me out nor does it catch in dry spots or creases. Very lightweight and comfy :) will never be without this. I use this after moisturising with Clinique Hydra Jelly and applying The Ordinary High Fluidity Primer and my skin looks like it's glowing...even on the days when I'm tired or have a few spots. Can't recommend highly enough!

Not Great

For the price I paid I would not expect the lid to leak everywhere. I would never buy this product again very disappointing

Amazing!!

I absolutely love this foundation, it is such a full coverage foundation but without being cakey. It melts into your skin and gives you a nice glow while being matte also. I would highly recommend this to my friends. I love the applicator also, it is so easy to apply and the foundation blends out so evenly. Im in love!

Too thick

I did a lot of research before purchasing this foundation and it's definitely not my favourite. Very thick and more like a concealer than a foundation. However when I use it as a concealer under my eyes, it creases even when I use a silicone primer underneath. It's great as a concealer everywhere else and I only use it now if I'm going out and not as an everyday foundation.

Not for me

I am a huge fan of Estee Lauder DW and have used that for over 5 years now. I thought I would try this for something different, however I was not impressed. It did not have the lasting power of DW and the finish was not as seamless either.
I have gone back to DW and I think I will stick with that for now.

Nice foundation

This is a nice medium to full coverage foundation. I have combination to an oily t zone (humid climate) and this does still leave me a tad shiny by the end of the day which is why I'm eating 4 stars but its a nice foundation with good coverage.

Not the best for dry and sensitive skin

I used this foundation for a few months and wasn't happy with the results. It just looked cakey and dried my skin out even more. Also didn't blend well with my other makeup.
The only positive that I found is that the coverage is really good.
Would probably be better suited for oily skin types.

It's okay but a bit thick

It is thick, so has been useful for any heavy breakout days but I tend not to use this as much as other foundations in my makeup cupboard.

Too thick and heavy.

I bought this because of the cutest big dome foot applicator, once applied it is EXTREMELY thick and dries quickly so you dont have that much time. The thickness is the type of thickness that is FELT on the skin....and that just aint nice for an Aussie in the heat. No thankyou, was not my favourite

My new favourite foundation

I've been using Clarins Everlasting foundation for a while now and have recently been combining other foundations as I think it was becoming a little flat . This was one I had been combining and decided to use on its own in the neutra tone . I was pleasantly surprised and will stick with it for now . Also love the applicator sand and the fact it's a concealer as well and doesn't feel to heavy on my skin at all

Favourite!

This is my go to foundation. As someone who is has acne prone skin this foundation is a life saver, it always conceals my problem areas and lasts all day! The coverage is amazing and it doesn't feel heavy at all even with a setting powder on top! The color range is great too!

Average

Yes it is full coverage, but there are definitely higher coverage foundations out there. This gave me a nice finish but I found that it was quite creamy and didn't last all day for me. Im also turned off by the unhygienic applicator.

Full coverage

This is a really good full coverage foundation. Applies like a dream and isnt heavy and cakey at all.

Too heavy for me

I didn't love this foundation. I found it far too heavy and felt that it started to go slightly dry. I think it's best used as a concealer.

New favourite full coverage

Blends like a dream, love the applicator. Has great full coverage but doesn't feel heavy on the face.

Super smooth

Such a beautiful foundation, this product is amazing for people with combination skin, dry and normal, I work as a makeup artist and my clients always ask me what foundation I'm wearing and if I can use it on them as it makes my skin look super smooth and not cakey when used properly. Long wearing if set with setting powder or powder foundation, works amazingly with a flat top foundation brush or sponge :)

Nice foundation but not for my skin type

I have oily/combination skin and this foundation is great for the coverage and dries down really quickly but after a couple of hours I can see it starting to become patchy. It doesn't serperate like other foundations do on my oily skin but I don't think I'd repurchase

Oxidizes too much!

The finish of this foundation is nice and not too cakey. However, I'm pale and the lightest shade is great when it's first applied but after a little while, I find it oxidizes too much and almost looks orange.

Really good

I have combination/oily skin and this foundation suits my skin very well. It is a more full coverage foundation, which is what I like. It provides coverage for a really long time and still looks as good as when i applied it at the end of the day. I also love that this doesn't break me out at all. Overall recommend.

Not a big fan

Its a full coverage foundation but it feels a bit too heavy on my skin and oxidises quite a bit.

Full

This is a great product if you are looking for a thick, full coverage foundation that will last all day. Probably a little too heavy for every day use, but is great for special occasions. I usually wear my everyday foundation and then add some of this around my eyes and any areas with blemishes. Applicator makes it easy to use in small amounts. Very thick texture though so use sparingly.

Love it

I really like this foundation. It's light weight with great coverage and is easy to blend. They don't have a 100% shade match for me which looses a star but a great foundation overall

It's okay

Pretty good foundation but I don't really think you can use it as a concealer. I mostly use concealer under my eyes in which case I always use a shade that is lighter than my foundation. The foundation is full coverage but not my favourite to be honest. Probably wont purchase again

Not great

I initially really liked this foundation as it is very full coverage, however it oxidised a lot and turned very orange. It is also quite thick and can feel heavy on the skin.

Great product

I find that it does exactly what it claims, however, it is slightly pricey. I would still recommend this for concealing under eye circles as it does a great job.

Not a fav

I regretted buying this. It's way to thick and looks bad on my skin. It does oxidise and just doesn't blend well for me

Made me ORANGE!

I didn't like this foundation at all!
My girlfriend recommended it to me, she has a lot lighter skin than me, unfortunately they couldn't match my skin color 100%, but the texture was nice so I thought ill give it ago.
The color I got was extremely yellow/orange based so i ended up looking like a oompa loom pa!

The foundation lasted 2 uses before I had to bin it! Even my husband was commenting on the coloring.. now that's saying something!


Amazing

Great full coverage foundation which stays put all day. It doesn't irritate my sensitive skin or cause breakouts. Love this product.

handy applicator

Handy applicator, foundation sticks and stays all day, goes on nicely and doesn't oxidise. Love!

Full coverage

Really great for full coverage foundation. glides on and stays on nicely. However I prefer to use CC creams and tinted moisturisers so found it a little to 'thick' for me but compared to other brands it still felt nice on.

So versatile

I have combination skin and this works really well as a more full coverage foundation for me. I love that it doubles as a concealer and a foundation, making it really versatile and something that I can carry with me everywhere. I also really like the applicator, it's non messy and goes on really well. Overall this is a really good foundation and I highly recommend it.

2 in 1

Very nice 2 in 1 product. This applies very easily and builds up nicely.

It doesn't look too heavy even if it is full coverage.

Great foundation

Overall, this foundation/concealer is great. Definitely full coverage, build able, light and breathable. I found by the end of the day it was a little cakey in areas like my smile lines but overall really good. Although i don't love the applicator- a pump would work much better.

Great coverage - perfect foundation for work to evening

I purchased this foundation hoping that it would do the works - foundation and cover my blemishes. I have some redness on my skin and I also am prone to a few breakouts and have sensitve skin. This foundation worked perfectly, and it lasted all day and into the evening. It didn't feel too heavy either, which some do feel like. I also like the concealer applicator. Made it easy to apply. Would recommend.


Lasting coverage

This foundation has become my favourite! It endured quite a lot today. the coverage was flawless! Lasted all day and looked like I had just applied it! Other foundations I've used in the past have melted away with my sweat but not this one. Feels light and not sticky when applied. Covers blemishes. Blends well with my beauty blender. I like slightly fuller coverage so i had to apply a bit more to get that. But on casual days I don't need to apply much. I'm very happy with this product and will be buying again!

Better as a concealer than a foundation

I bought this foundation to use as both foundation and concealer. While it provides great coverage, I find it a little hard to apply to a full face given that the brush is more suited to concealing than putting on a full face of foundation, I ended up having to dot it on and spread with my fingers. I would probably purchase again, but for use as just a concealer.

Great

I'm just finishing a sample of this and I'm really enjoying it. I will be buying full size next. A great winter foundation with very heavy coverage (even covered a recent black eye of mine!). I have dry skin and it's done okay with morning moisturizing + primer.
Only thing to note, as per the other reviews it runs really dark. I wear alabaster in other Clinique foundations but Breeze in this foundation.

Beautiful foundation

I highly recommend this foundation to those of oily AND dry skin.
Finish: It has a very nice, semi matte finish but isn't drying. It also doesn't get oily after hours of wear. I got the colour Honey and it's a beautiful shade.
Coverage: Is defs medium-full coverage, my favorite way to apply this foundation is with a sponge :)

Good product

This is the ultimate coverage foundation for anyone who likes full coverage but I found the shades to run darker on my skin and unfortunately did make me look a little cakey. A little goes a long way!

Did not like this foundation

I did not like this foundation and ended up throwing it away. It was probably because my skin is quite sensitive and dry which did not work well. I found it made my skin irritated & did not sit well.

Dual purpose

I have used this product for both a foundation and concealer and it works wonders as both. Doesn't get cakey or create lines on the skin. Flawless effect on the skin

Amazing!!

First fuller coverage foundation I've ever tried always gone for very sheer but wanted to try a matte so gave this a go and I love it! Ended up wearing it first time after having had an allergic reaction to a face cream so wanted to cover that up for an event not only did it totally cover everyone commented on how good my skin looked!!

Great coverage

This foundation really gives me a full coverage yet feels really light on skin.
Great as a full foundation or just spots as concealer.