Clean Reserve Six Piece Reserve Travel Spray Layering Collection 6 x 5ml
Official Stockist
FLAMMABLE

This item is flammable therefore postage is restricted to Standard Post within Australia
Frequently bought with
Please wait while we find a match
Questions & Answers
(No Questions Yet)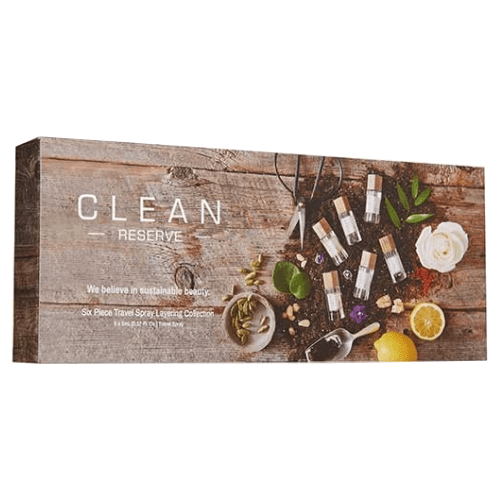 Clean Reserve Six Piece Reserve Travel Spray Layering Collection
Get an expert to answer your question about this product!
Ask a Question
94% recommend this product
Most Helpful Positive
Lovely
I take one everywhere I go!
Not overpowering scents, just subtle and lovely
Great for travelling

These Clean Reserve mini fragrances are perfect for travelling. It is great as you can mix them together to create your personal scent.

Lovely

I take one everywhere I go!
Not overpowering scents, just subtle and lovely

Awesome

This set is great for sampling the different perfumes, and they are all so beautiful.

Loved it!

Love travel sized sets to test things out. Warm Cotton was recommended for me to try and figured i just buy multiple little ones to try. Usually not into musky like scents but fell in love with these.

Loving Rain and just bought the big 100mL one to replace my sample size.

Its great you can mix and match them to make your own cocktail scent, its so fun.

I do wish the Skin one was also included in this set.

fresh scents

I received this as a gift and it's a really nice collection that you can have fun and layer with. I find most of the scents to be quite fresh

My All time fave

My All time fave perfume! I'm obsessed with the Rain scent! It has a beautiful sweet floral scent and I always get complements when wearing it. It's a nice size bottle and inexpensive. The scent lasts a long time.

Fresh scents, great for travel

A good introduction to Clean Reserve scents. All 6 scents are quite refreshing and long-lasting, without being overpowering. Great for traveling, with secure lids. A little pricey given the amount of ml, but if you use these every so often then they will last quite a while

Great to get the set

This is the best way to try this range and get travel friendly items at the same time. Each scent is clean and fresh

Amazing and fresh

LOVE these scents. Fresh and clean and light, lovely for day wear.

Yes yes yes

Just gorgeous. When will you get the " clean original" fragrance and deodorant. It's stocked overseas. Just gorgeous. Blonde rose is also good and sandal.

Great way to try new scents

When I first received this, I wasn't completely sure how many of the scents I liked. However, I've grown to really love some of the, and I'm sure everyone would find at least a few they like.

My top two are Rain and Warm Cotton (I didn't expect to like this one so much, but I actually love it).

Citron Fig is also super nice and I'm disappointed there's no full size available.

I don't mind Sueded Oud or Sel Santal but I don't reach for them as much.

I don't like Blonde Rose at all and expected it to be one of my favourites. I've tried to like it but just don't.

Overall, a great way to sample the scents and some of them do layer really well.

Lovely set of scents

A lovely collection of scents which smell great on their own or layered together. Great for throwing in your purse to refresh during the day. Great brand and makes for a nice gift.

Not for me

Purchased the discovery box as the scents sounded like fragrances I would normally buy, unfortunately they didn't smell great on my my skin and the scent didn't last on me either. But it's good that you can purchase discovery box as everyone's skin reacts differently to fragrance.

Pure Scents

I love the scents individually and mixed. They are like their name clean fragrances. They are in a handy travel size and the packaging is appealing and sustainable. The only down side is the smell doesn't last long.

Beautiful scents

Lovely set, perfect for your purse when you're on the go and great for discovering which scent is your favourite so you can purchase in a larger quantity. Big fan of this brand and this sampler doesn't disappoint

Smell amazing

They smell amazing and are the bottles are a good size for travelling.

Love the range

I love the range of scents the only downside is the price but definately worth the lovely smell!