Clarisonic Replacement Brush Head - Deep Pore Cleansing 1 brush head
4 instalments of $8.75
Or 4 instalments of $8.75 with
LEARN MORE
4 instalments of $8.75
Or 4 instalments of $8.75 with
LEARN MORE
Official Stockist
"Don't know a good thing til it's gone"
Check out these alternatives...
We're fetching some products you may like...
Is this for you?
A deep cleaning brush head for the Clarisonic Skincare System.
Skin Concern:
Acne, breakouts and blackheads
Skin Type:
Dry

Normal to dry

Normal to oily

Oily
Frequently bought with
Please wait while we find a match
Questions & Answers
(3 Questions)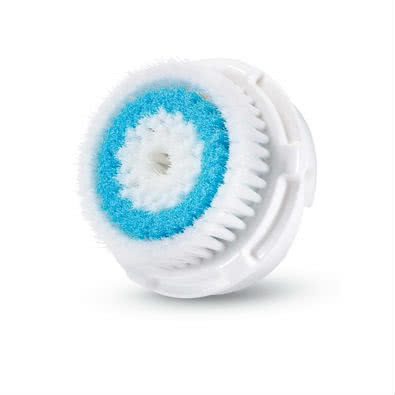 Clarisonic Replacement Brush Head - Deep Pore Cleansing
Get an expert to answer your question about this product!
97% recommend this product
Most Helpful Positive
Cleanse
This brush helps to deeply cleanse and exfoliate my skin.
Cleanse

This brush helps to deeply cleanse and exfoliate my skin.

Favorite Clarisonic Brush of All

This is my fav out of all the brushes. Really leaves my face feeling clean and exfoliated.

Love it!

I love this brush! I have large pores on my cheeks and this helps my acne breakouts so much! It makes my skin so smooth! Definitely a must try for people with acne-prone skin. I would say it works even better than the acne brush head

My Face feels Clean

I have been using Clarisonic for over 10 years. The "Deep Pore Cleansing" Brush Head is brilliant it gives my face a deep clean while still leaving it feeling soft.

Fresh clean face every time

I use this with my Clarisonic aria every morning and night with a cleansing lotion, I have normal to oily skin, and with this it has reduced my breakouts significantly. It also cleans my skin so well I feel that the products I use on my face afterwards work even better. Would recommend for those with oily sensitive skin who also want to get the most out of their other facial products.

Excellent clean

This brush is quite firm but not irritative and gives such a great clean. I think it has made a big difference to my skin in only two weeks with daily use, especially to congested areas like nose and chin. Big fan of this.

Great

Gives such a great deep clean.

Favourite clarisonic brush head

Love that this brush head gets deep in my pores without irritating my skin, my skin feels so clean afterwards without feeling tight or raw. I have sensetive oily skin and I wouldn't be without my clarisonic, and this brush head is my ultimate fave after trying most of them.

Nice cleansing brush head

Works really well for me and I like to use it with a foaming cleanser. Doesn't feel too harsh on my skin and makes my face nice and smooth. Would recommend

Good product

I feel like you'll either love or hate this. Probably not for sensitive skin but it's really nice for rough skin

Glowing skin

I love my Clarisonic, I use it every other day to really work in my cleanser and buff my skin. It really makes your skin glow. Using it every other day means I don't over exfoliate my skin either! Highly recommend!

Best Clarisonic brush-head

In my experience this has been the most effective brush head for my skin. I have acne-prone skin and this brush works wonders. It really cleanses more effectively.

A must have

My pores look fantastic. I could never wash my face with my hands now.. this makes me feel like I'm getting a proper clean!

Must have staple

I use the Deep Pore Cleansing as part of my daily routine and it my must have staple. It keeps my skin looking and feeling great

Very good

ever since I started using this brush head my skins texture has improved significantly

Works absolute wonders

Since using the deep pore cleansing brush head my skins texture has improved tenfold along with the overall look and health of my skin. I will definitely be purchasing again!

I've bought this three times

I can not go without this facial brush! This brush is amazing it gives my skin a great clean! I love it! Highly recommended

Great brush head

I m 45 with fair, oily skin that is very sensitive and this works well for me. Highly recommend it

Works nicely

This helped to clean my skin, giving it a polished look at the end.

good job

I use this in conjunction with the double cleanse method with my second cleanser. First I cleanse with oil to remove my makeup, then I use a gel cleanser on my clarisonic to remove all the dirt that could clog my pores. It does a really good job of thoroughly cleansing my skin and leaves no traces of makeup or dirt behind.

Love it

Since using Clarisonic my skins has cleared up so much. I cleanse my makeup off before I use it, and you can see the makeup and dirt that did not come out with a normal wash.

good for non sensitive skin.

great for deep cleaning but it was a little too harsh on my sensitive skin

Great brush

I can not live without Clarisonic and this Brush is good enough for me to feel clean all over.

Fast

It came within the time it was mentioned on the tracking system. Also Adore Beauty delivered my product with a timtam so it made me smile :)

must for wash routine

I absolutely love this brush head as I feel more refreshed after a clean. After use all the dead skin has been exfoliated and i'm left with a nice glow. This is great for when I'm feeling like I need a deeper clean. This is a must product for me.

Clarisonics are dreamy

My Clarisonic is such a great tool, i have seen great improvement in my skin and complexion since buying. This brush head is reliable, gentle and effective! But to be honest i don't notice any difference between the different brush heads.

Clarisonic is the best investment you can make for your skin!

I have been using Clarisonic for many years now. It is the best investment I have made for my skin as the results are instantaneous. It is like a facial every time I wash my face. My serum and moisturiser absorbs and works better as a result. Worth the investment.

Essential for oily acne prone skin

I toggle between the sensitive brush and this deep pore brush. I find this deep pore brush good for really cleaning my very oily skin at the end of the day. I use it every day, but it is much firmer that the sensitive brush so I am careful to be gentle and not press to hard when cleaning my skin. Its important not to use an exfoliating cleaner but a gentle cleaner with this brush, otherwise it cou...

Read More

Love it!

I have dry, sensitive skin, and this has been so much better for me than the radiance brush head. I use it once a day and haven't had any issues with feeling too dry, but my skin is super smooth and soft.

Deep clean

This is really excellent as clearing your pores and preventing break outs

Effective yet gentle

This brush is great as it definitely provide deep cleansing and leaves the skin feel very clean and fresh, yet it's still gentle on the skin.

very harsh

I think this brush head is far too harsh on my sensitive skin. I had breakouts and dry patches because this brush overcleansed my skin (even using a gentle hand). I think this might be good for people who have extremely oily skin to cleanse dirt and oil.

The best my skin has felt

Deep cleaning brush that gets rid of make up and cleans out pores like nothing I have ever used before. Also the best thing to use pre make up application and it smooths the skin out for better application.

Best

I have problematic skin and this is a great help with the Clarisonic pore face wash. It's gives a throw clean. Must give Clarisonic a go.

Great Product

I have used the Clarisonic Deep Pore Brush Head for a number of years and am always pleased with the result. I would recommend the brushes to anyone.

Great

I have a secret - I honestly can't tell the difference between this, the regular and the radiance brush heads. I suspect that it might be a cynical marketing ploy, prompting us to think we need more than one brush head for different purposes.

Anyway. All are great. Clarisonic definitely improves my skin texture and manages breakouts well. My skin feels much cleaner than after using m...

Read More

The best brush head

I only use this brush head with my clarisonic. Some people may think it's too harsh, but I use it every day and my skin has never been better. I highly recommend this.

Great brush head for oily skin

This is my favourite clarisonic brush head. It really does deep cleanse my pores and although it initially made me break out a bit more, after a couple of weeks or so my skin was left really clean and my pores actually looked smaller. It might not be suitable for more sensitive skin though.

Great for a clean skin feel

My skin is sensitive, this brush head is great for my skin type, skin is left feeling clean and fresh!

great cleanse and exfoliation

even though I have dry skin I find this is great cleansing brush which is not too harsh for my skin

Clarrisonic brushead pore

I am so happy with the way this brushead cleans my skin, my skin feels fantastic

So clean!

This is my favourite head so far for my Clarisonic. I have an oily T zone and it really helps clean up my pores when I use it, roughly 2-3 times a week. I'm a heavy makeup wearer so this really helps cleanse my skin.

Great to use a few times a week!

I like to use this once or twice a week to really thoroughly exfoliate my skin. The other days I normally use the radiance brush head. This brush really unclogs my pores and my skin feels so refreshed after using it! It is just a bit too heavy to use every day.

Great cleaning and value

This is a great brush head for the clarisonic! Perfect for clearing out blackheads and oil. It is super soft and makes my skin feel SUPER clean. Works really well with my cleanser and exfoliator!

I would definitely recommend and I will repurchase when mine needs replacing

Pores squeaky clean!

I have oily combination skin and my T zone can get really oily, this brush is great for deep pore cleansing. I find it too harsh for daily use on my sensitive skin, so I use it 2-3 times a week at night. My skin feels really refreshed afterwards. The pores on my nose have also reduced in size.

So good!

I have combination skin and purchased this for a deep cleanse of my skin. I use it 2-3 times a week as an exfoliator and it's so good! I really notice that my skin is clearer and blemish free after using this. This does exactly what it says and i would for sure recommend it!

Great quality

Great brush head for the Clarisonic. It makes my skin feel so cleansed and fresh. I've had my clarisonic for like 5 years now and haven't had any issues with it. I use it morning and night to cleanse and take makeup off. I know it might seem expensive but it's such good product and completely transforms the way you can cleanse your face!

Gives a great clean

This is a really nice head for the clarisonic. It makes my skin feel so clean and fresh

Love it!

Love this brush head! So good and easy to use

I wont ever use any other brush heads

Absolutely love this brush head, I suffer with large pores which I feel like were so visible to everyone but I have been using this in conjunction with the clarisonic cleanser and I have never had clearer skin!!

A lot for a brush head but worth it

I've been using a Clarisonic for years and can testify it makes the biggest difference in my face cleansing routine. Everytime my brush head is due for a replacement, it still "hurts" as it seems so expensive for a plastic brush head but hey I just need to suck it up... it's worth it.

Great way to exfoliate

I love my clarisonic and I wanted to find a head for it to use instead of an exfoliant. This brush head does the job perfectly. I use it two to three times a week. It works perfectly to ensure I am not taking off too much skin.
Love it

Gets into your pores

I feel like this really gets all the dirt and grime out of my skin and just allows for all of my skincare products to really sink in

Great for a deep clean

This is perfect for giving my skin a deep clean but I definitely wouldn't use this as my everyday brush as it's pretty intense! once a week before a facemask seems to work very well, great brush :)

a very thorough clean

makes your skin feel so clean and is perfect for using before you use a face mask :)

Perfect for a deep clean!

This brush head is perfect for a really deep clean! You can always feel the difference after using this brush head. Skin instantly feels smoother and softer as it works to physically exfoliate at the same time. I always notice a difference after using this brush compared to using my Foreo. I have fairly resilient skin so it may not be best suited for those with more sensitive skin.

Bit too robust

As I've got combination skin with an oily t-zone that is prone to clog at every given opportunity, I thought the Deep Pore Cleansing brush head was the obvious choice for me. However, I find it a bit too full-on for other parts of my face (especially the cheek area), so I've gone back to using the sensitive brush head. For people who have oilier and tougher skin than me, this would be perfect.

Gets your face squeaky clean!

I have normal skin that can be dehydrated with enlarged pores and experience occasional breakouts. I choose this brush head above the other Clarisonic heads (I've also tried the Cashmere, Sensitive and Normal head) for the deepest clean since I do have large pores and find my skin has improved and feels cleaner since using this brushhead. overall I think my skin texture has improved as well (less ...

Read More

loving it

I have not been using this for long but i am loving it so far. i use it once or twice a week to just give my skin a good clean. it doesn't irritate or break my skin out

YES, YES & YES!

I have been using this new attachment for several weeks now and alternate my other head. My skin pores have been so much smaller and my face fells fabulous.

Love

I alternate between this brush head and the original and my skin feels and looks amazing

Favourite brush head

Perfect for my oily, congested skin. You can really feel it cleaning deeper down. Not too rough and doesn't irritate my skin.

Love this brush!

Definitely firmer than the regular brush head but isn't too rough or drying. Don't expect the cleanser to foam as much with this brush head but it really does a wonderful job cleaning my face. I would definitely recommend it for people who's skin concerns are dull skin/acne rather than fine lines or age spots

expensive!!

I love my clarisonic and I have no choice but to buy replacement heads... bit wish it is cheaper.

Skin feels even better

I used to use the Clarisonic Acne Head Brush and recently switched to the Deep Pore one to try it out. Loving it so far, my skin condition improved after two days!!

Great clean

I thought the sensitive head was doing a great job, but I'm loving the extra clean this one gives. My skin feels even better!

Clean & exfoliate

Compared with the other heads I have (sensitive & delicate) the Deep Cleansing brush head is slightly firmer but still soft enough so it doesn't feel scratchy on your skin. The blue bristles are a bit firmer than the white ones. Good if your skin has built up a tolerance to the Clarisonic brushes or you want a scrubbier clean.