Christophe Robin Volumising Conditioner 250ml
Hair Concern:
Colour protection
Fine or limp hair
Hair Curl Type:
Curly
Straight
Very curly/African/Caribbean
Wavy
Frequently bought with
Please wait while we find a match
Questions & Answers
(No Questions Yet)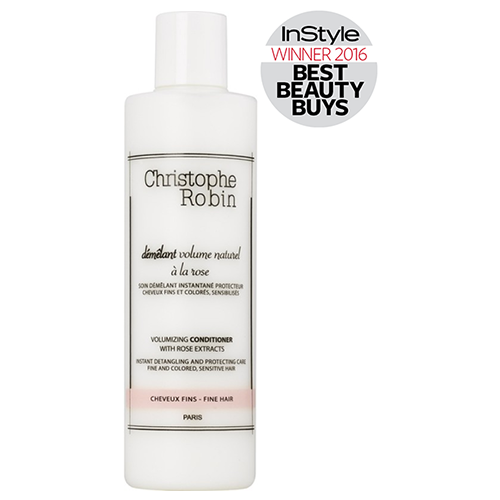 Christophe Robin Volumising Conditioner
Get an expert to answer your question about this product!
Ask a Question
95% recommend this product
Most Helpful Positive
I like this product
It makes my hair soft and smooth. The smell is really good.
I like this product

It makes my hair soft and smooth. The smell is really good.

Love, love, love this shampoo and conditioner!!

I bought this Christophe Robin Volumising Shampoo and Conditioner after reading the reviews, which were overall impressive. I will definitely keep buying both products! The rose fragrance is so gorgeous - and actually lasts for a while after washing - it's so nice catching a waft of roses a day or two after having washed my hair! My hair is fine and prone to oily roots and dry ends - this conditioner is lovely and light yet delivers the right amount of moisture without making my hair oily after 24 hours or so, as I usually find with other brands. For me, it's a bit on the pricey side, but I don't mind spending the money on an excellent product that actually delivers! I also find that it lasts quite well as I don't need to use much each wash to have it be effective. Totally recommend this product!

Christophe Robin Volumising Conditioner

This is an amazing volumizing conditioner. Though pricey, a little goes a long way. I use it every day and have barely put a dent in it. I have never had much volume to my thin, fine hair until I used this. A noticeable difference with the first use even without styling products. It feels thick and heavy when applying, but rinses out easily.

Perfect for fine hair and great scent

I first bought this (and the corresponding volumising paste) a year or two ago and I have never looked back. I have tried a ton of products before and after and with the exception of Oribe, nothing compares (I switch between this and Oribe). I have fine hair and this has been the best shampoo/conditioner yet. It has an amazing scent too. 100% worth the price. I think it is best to pair with the paste rather than the shampoo.

best

After getting my perm, my hair has been lacking volume, very dry on the ends and oily at the scalp. I've been trying out a fair few different conditioners in the last two months to help try smooth and make my hair a bit softer. This has been my favourite conditioner so far

Great

I am obsessed with the scent. It made my hair soft and volumized

Light but effective conditioner

I have very oily but fine straight hair that's colour treated. I tend to have issues with conditioner making my hair extremely oily, however this product is quite light. It hydrates the ends of fine colour treated hair well without causing excessive oiliness. However it's not as hydrating as a hair mask designed for hydration, it's hydration may be a bit light for naturally dry hair.

Nice product

This has been a good conditioner. I've been using it for a few months. It's nice and light while still making my hair feel soft and it does smell amazing. I like that my hair is silkier and easy to brush but doesn't make it feel weighed down like a lot of conditioners do to my hair.

Beautiful conditioner

So much to love about this product. It smells really good - a light rose scent that lingers in your hair. I do find it to be volumising, especially when used in combination with the shampoo. I do struggle with the price point, but it's such a gorgeous product to use.If you have very dry hair, you may not find it moisturizing enough.

Lovely scent

Great conditioner - smells amazing and makes my hair feel like silk!

Beautiful Smell

I liked this product but did not love it. It has a lovely rose scent and it does offer light moisturisation which is great for fine hair. I would have preferred it to be more hydrating.

Definitely give you the volume

The smell is so nice. It hydrates your hair and doesnt weight your hair down. But I need some detangling spray after.

Increase volume without sacrificing softness

I have tried so many volumising conditioners, and thought I'd sworn off all of them as they always seemed to leave my hair feeling dry, rough and completely unmanageable. Until I received a sample of this.
I bought the full size product as soon as the sample ran out. It's that good.
Hair remains so super soft, I can run a comb through after washing, and hair actually has more volume! Not to mention the BEAUTIFUL rose scent, like real roses too. Just so stunning. My hair has never looked so good

Beautiful smell

The smell is beautiful, but I don't really see how it's any better than other volumising conditioners. I had the same results using the Christophe Robin volumising paste with another brand of conditioner. This hasn't made much difference to my hair. But god damn it smells good! Very different.

Smells Devine

I love this. Makes my hair feel silky smooth, also has a long lasting beautiful fragrance

Amazing

The rose smell is to die for!! My hair is extremely damaged and this conditioner made it so soft and luscious!! Really recommend

The best

The rose scent of this conditioner is divine. I love it so much. I just wish it came in a body wash!!! It makes my hair so soft and shiny, whilst not compromising on volume. 100% recommend to all.

AMAZING!

I have very dry and damaged hair because of year of getting it professionally bleacher (platinum blonde) and I apply a small amount of this conditioner to my hair post shower along with a hair serum and wrap it in a satin scarf. My hair is so soft and shiny and has less breakage since starting to use this conditioner.

Smells delicious

I use only a minimal amount of this product on the ends of my hair after shampooing and it works well. It leaves the hair feeling silky and smooth and smells amazing too.

Conditioning

I use this with the volumising paste and they work well together. The paste makes my hair feel a little dried out and this conditioner really brings the moisture back.
I use a little blob and massage it into my ends and it lathers up which was unusual. But it makes my hair soft and smooth.
I feel like the paste works more as a volumiser, I'm not sure how this would volumise on it's own.
The rose scent is nice and light.
It is quite expensive though, I think a cheaper conditioner would work just as well.

Nice and light

I can't get enough of this conditioner, it's nice and light not heavy at all. I only use a small amount on my long hair, I even use a little on my daughter. Does not weigh the hair down at all. The scent is beautiful as well.

Can't Live Without

I've been using Christophe Rose Volume range for the past 9 months and can't find a better alternative for my fine, coloured hair. Love the vintage rose smell, texture and it helps detangle my hair easily in the shower. I find you need to add lots of water to get the most out of the formula.