Bioderma Sensibio H2O Micelle Solution 250ml 250ml
Is this for you?
Bioderma Sensibio H2O Solution Micellar Cleanser 250ml is a very gentle fragrance-free micellaire solution that cleanses impurities and removes make-up while respecting the skin's natural balance.
Frequently bought with
Please wait while we find a match
Questions & Answers
(3 Questions)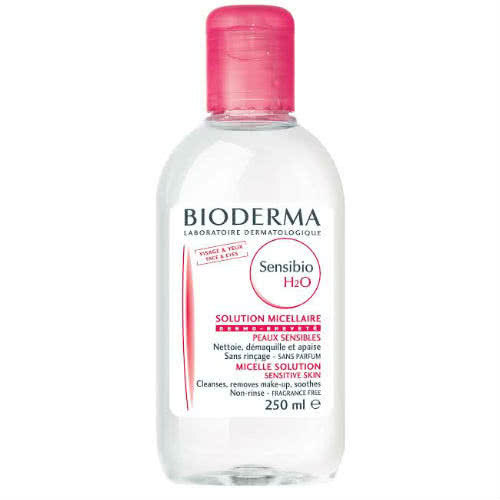 Bioderma Sensibio H2O Micelle Solution 250ml
Get an expert to answer your question about this product!
96% recommend this product
Most Helpful Positive
actually works
one of the best removers ive ever had
Most Helpful Criticism
Brilliant Product
Great product, gold standard in micellar waters. However, this size bottle is not good value. I recommend purchasing the other bottles. Unless, of course, money is no object and this size bottle is convenient. Haha
actually works

one of the best removers ive ever had

Must Have product

This is something everyone should have in their bathroom, so useful for so many different things. I use mine especially to clean makeup brushes and even used it to clean my AirPods (thanks for the tip from Hannah on the podcast hah).

bioderma

micellar water that doesn't irritate my eyes or burn them but still removes the makeup. impressive

The best!

I make sure I am never without this! Cleans off makeup and grime so easily and perfectly preps for cleansing!

Love this!

I love that it removes makeup well and one bottle can last quite a long time! It is harder to remove mascara though so I use it before washing my face with another gel cleanser.

Travel sized perfection

LOVE this product ... If you are travelling, or have not tried the product before, I recommend starting off on this as it is a smaller size. Wipes off all your make up in a flash - spectacular!

Wonderful!

I started using this product all the time after receiving a sample a few years ago, it is so good!

I use it to remove make up before using a cleanser. I also use it without following up with my cleansing routine on the very rare occasion that I'm too tired to wash my face. I wouldn't recommend doing so all the time but a once off is fine.

New favourite

I've been using the LRP reactive skin micellar water for years, however recently I felt the need to branch out to a different brand and I'm glad I did. Instead of washing my face in the morning I just use a cotton pad and soak it with this product and gently wipe my face clean. This formula is very hydrating and non-drying. It doesn't sting my eyes either. I think this will be my new micellar wate...

Read More

Should've tried sooner

Lives up to to the cult status. Feels just like water and easily removes makeup. Wish it was a little cheaper as I use it up quickly but will definitely still repurchase.

Excellent Micellar

This is a nice micellar and does a great job at removing makeup up, including eye makeup without leaving the skin feeling sticky.

I would recommend it to my friends, even with the pricier price point, although I would suggest the 500ml as it lasts forever and is only a few dollars more.


Easy and quick

it removes the makeup very easily and relatively quickly than other methods of makeup removal. it is great for removing waterproof makeup too.

Amazing

This takes off my makeup really well and is super gentle on my acne prone skin

Works well

Makes me feel so refreshed, I love using this at night before I sleep makes me feel clean, which is really important to me as I dislike the feeling of oiliness on the skin, this works well

Great

This takes off my makeup really well and leaves my skin feeling clean

Best makeup remover for removing heavy makeup

Best makeup remover for removing heavy makeup, it gets every single trace of makeup off my face, it's pretty amazing. You only need to use a tiny bit too, so a bottle lasts for ages.

cleanest skin afterward

this is sooo good at removing all makeup and dirt from the skin and the bottle lasts ages. I use this nearly every day and my skin feels sooo clean afterwards.

Very gentle

I have been using this for just over a month. It gently removes makeup but is not going to help you too much with some long-wear products. I always cleanse after but I have no gripes about this very highly rated product. Highly recommend!

one of the best products ive ever brought

I cannot recommend this product enough! it takes my makeup off so easily each night and doesn't irritate my sensitive skin

Great for sensitive skin

I use this after using a makeup remover wipe. It gets rid of the last traces of makeup and does not irritate my skin. A good dupe is Garnier Micellar water.

Brilliant Product

Great product, gold standard in micellar waters. However, this size bottle is not good value. I recommend purchasing the other bottles. Unless, of course, money is no object and this size bottle is convenient. Haha

Incredible for sensitive skin

This is my favourite micelle water as it doesn't break me out or make my skin irritated. I love how effective it is at taking off my mascara, which can be super stubborn at times.

Great

This takes off my makeup really well and I have very oily and sensitive skin. Third buy

Convenient and effective but I still need to rinse

I prefer to use this on a cotton pad instead of using makeup remover wipes. I went for about 9 months using this without rinsing before I realised that not rinsing it off was the cause of my irritated eyelids. I still use it because its convenient and effective, except now I rinse it. This does a good job of removing my eye makeup, including mascara and liquid lipstick.

Fantastic

Works really well at removing oils and makeup from surface of the skin. Skin feels clean and soft afterwards. No need for water

Great if your skin is feeling oily

I love this cleansing water, so fresh and natural feeking , and works super fast too, no more excuses ever for not taking off your makeup at night now.

Bioderma Sensibio H2O Micelle Solution

I love this product sooo much!!! I'm the type who doesn't wash my face during nighttime because of my sensitive eyes so I've always been considering makeup removers that don't require rinsing. I use this product to remove my makeup and followed by a toner. I didn't have breakouts so far, so I believe it's effective in cleaning my face.

So much better than Garnier

First Micelliar water that I actually like, does not leave any residue unlike other brands, no scent, non greasy on application and works great to remove a full face of makeup including heavy eye makeup.
Also good as a quick cleanse on the go or when you cant be bothered to do a full cleanse.
will repurchase

Great product for sensitive skin and eyes

works well very happy great will re purchase without a doubt one of my favs

The best makeup remover!

Hands down the best makeup remover. I love the small version as it's easy to travel with.

Wow- amazing for hypersensitive rosacea skin!

This product has been a life saver on my hypersensitive rosacea skin! I have noticed less redness and irritation after switching to this from my other brand micellar water.

Fantastic

You really can't beat this stuff. Removes make up so easily and leaves your skin soft and clean. It's so gentle on your skin, especially around your eyes if they're super sensitive. I have a huge one at home and a small for my handbag just to refresh during the day!

gentle but remove makeups thoroughly

Very gentle cleanser. I have very sensitive skin and easy to be red, but this cleansing water never irritates my skin, calm my skin after removing makeup.

CALMING and SOOTHING

I struggle to find a soft makeup remover that does the job without making my skin red. I've been using this product for years. Anything french just sounds beautiful but this truly is worth the money you're paying. If you have sensitive skin or prone to blackheads then I highly recommend giving this product a go.

Great Cleanser

This is a great product. My skin loves it and so does my purse. Great value for such quality.

nothing compares

I keep coming back to this micellar water, ive tried many other brands but nothing works as well as this one

Best!!

Other micellar waters are incomparable - this is something else. My skin loves it!!

Everyday essential

My everyday essential, can't live without it !

good

This is definitely slightly more expensive, but worth it for the great quality! I feel like I have new skin!

incredible

Such a must have for those with problematic skin! Very hydrating and it doesn't leave my skin feeling tight!

Game changer!

Really wish I had discovered this product sooner as I was always struggling trying to get rid of makeup after a night out. This solves everything!! It is so gentle and light on my skin and it always feels so refreshed afterwards. I highly highly recommend this product!


all time fav

all-time favorite when I have my fake eyelashes on for the month. so mild but so clean. and no stretchy skin afterward.

Great product

Love this product. I have seen a big improvement in my skin sinve I bean using this around 3 months ago. I use it after cleansing with a jojoba oil based cleanser and find it really gets my skin squeaky clean but is still extremely gentle

Good but not great

Cleans face without makeup on.

Soft and Clean

This product is great for taking off any heavy makeup. I will use this pre-cleanse it makes my skin feel soft and clean. Love it!

Effective!

Very effective product in removing makeup effortlessly. Takes off my mascara quite easily, with a cotton pad. My skin is left feeling so refreshed, calm and clean. I did not irritate my skin which was good!

Best cleanser ever!

I adore this cleanser. It's gentle and doesn't irritate or dry out your skin. It's effective at removing eye make-up and also foundation. A fabulous product!

A good second cleanse

I use this after cleansing if I feel like my skin needs a little more. It's a great basic but doesn't deserve the hype. I really like it for tidying up my lipstick with a cotton bud to create a strong line.

It does what it says and does it well

I will always and forever stock this in my very limited skincare collection.

It is simple, non-irritating, and it takes off even the heaviest makeup (not that I wear a lot) without tugging at skin. Only a small amount is needed, and you need to follow this up with a second cleanser, but this has replaced my need to ever touch a face wipe again, and is a lot better for my sensitive skin.

Read More

Effective make up remover

It is gentle on the skin and quick and easy to use. It serves as a great first cleanser. I am not sure whether I will repurchase this thought since it can be quite drying on the skin.

It does remove everything!

I love using this product a night out. It takes all my make-up off, even after I think there is no more left to come off! Saves me from wiping my face too hard with make up wipes. Great amount for the price.

Gentle & Effective

This product gently removes eye-makeup & foundation with ease. After use my face always feels super clean, refreshed & hydrated.

Great fore eye makeup

Great for removing eye makeup and leaves skin soft without feeling greasy

Really Good

It's a good product for gently removing makeup. Not too expensive either and lasts forever!


Doed what it promisses

Easy to use and 3 x 1 product. Cleans, removes make up and tone your skin. It is not my favourte toner but It works well when you dont want t carry a lot of different products.

Good

I love this product. Removes my makeup really well. My face feels clean and hydrated after using it

Great for mornings in a rush

I use this in the morning when I am not having a shower for a quick cleanse. You can see what has come off your face on the cotton pad to know it is leaving your face clean. It is also an effective makeup remover.

The best

I love this micellar water, I've been using this for several months now and I can not go back to another micellar water. I've used other brands for years and no other can compare to this one. It removes most of my makeup with ease. Most nights I use this when I'm feeling to lazy to cleanse my face and so far my skin hasn't broken out (whereas previously it did with other micellar water). This one ...

Read More

Worth the hype!

I never was one to believe in the micellar water fad but this product is amazing and really holds true to its claim. It is very gentle, calming and does not irritate my sensitive skin. I use it to remove my eye makeup and I have recently been using this as my morning cleanser on days I am late to get ready and it works a treat. I love how minimal it is and that it is a multi purpose product.

Calming

Doesn't dry out my skin - I can even use this to remove makeup and tone as well!

love

I found an improvement in my skin's texture after regular use. It is very hydrating as it penetrates deeply into the skin and leaves a lovely scent afterwards

Perfect

I use this product to get my make up off. It cleans my face without it feeling stripped & doesn't irritate my eyes. Its also great to travel with.

Best for removing makeup

I received this as a sample. This stuff is amazing for removing any traces of makeup and the only stuff that removes my waterproof mascara.

Best micellar water I've ever used

This is a really good product which effectively removes all traces of makeup. I sometimes don't like doing my whole skincare cleansing routine and this is great for when I'm feeling a bit lazy or when I just want to take my makeup off. No issues with applying my other skincare afterwards.

Great

Love this product! Removes makeup so easily and actually takes it all off. I have very sensitive skin and it doesn't affect me at all. Highly recommend :)

Easy to use

Bioderma's micellar water is definitely a staple in my routine, after a long night I can always trust that this will remove my makeup without leaving much residue so that I can just crawl in bed and wake up with no eyeliner smudges everywhere.

Great makeup remover

Love this product to remove makeup before cleansing. Easy to use and it lasts for ages. I use with gauze pads.

Favourite of the Bioderma Micellar Water

I love this micellar water. It's the best of their variety of micellar water for sensitive skin, and it doesn't dry you out. A nice way to remove makeup without having to scrub your face.

great for sensitive skin

i have dry sensitive skin and this does not irritate it in any way! it does not give me pimples either. all up it gives me a smooth and glowy face

Goodbye Tap water

I use this instead of using tap water. It's the first thing that hits my face now! Love it. Cleanses my face well before I use my cleanser. Great product.

Great cleanser

I'm late to this water craze but have tried the garnier one and was impressed. I tried the Bioderma one as a sample and have to say it was much better than garnier.
It magically removes makeup in a swipe and your face feels completely residue free after.
I'm a total convert. This is now a staple.

Not the best remover, but the price is ok

I usually apply it to three or four cotton pads and remove my makeups. Half of the times I would have to use other remover product, for example cleansing wipes, as there would be residue. One good point is that it is very gentle, even sensitive skin could try. This is not the best remover but the price is ok.

Great

This is the best makeup remover/toner for sensitive skin I have ever used. One swipe, and the makeup is gone.
It is also soothing for aggravated skin and very moisturising.

Amazing

Have been using this product for over 5 years and I still love it. It's the only thing I use to take off my makeup. It never irritates my skin and I can't even remember how many bottles I've gone through. Holy grail status for sure.

It works like a charm

Very good micelle water unlike some.other product out there. This make my skin feel fresh after use and remove most of the make up. Suitable for my sensitive skin. Definitely recommend.

G.O.A.T

This micellar is the Greatest Of All Time!!

It works at removing makeup really well without leaving your skin feeling pulled or dry. Also great for my sensitive skin and gentle on eyes! 10 out of 10 - would recommend

I should have purchased it earlier

My sister have been using Bioderma H2O for years and always been suggesting me to use it cause we both have combination skin.

Purchased it few weeks ago and cannot stop using it; light weight and clear feeling after; definitely recommend it and will be my forever H2O in my skin routine.


Removes Zinc!

I wear zinc sun cream everyday, this removes all of it at the end of the day so I can cleanse my skin properly before bed. I love the easy use pump too!

basic but effective

Does what it says without irritating my sensitive skin and very very sensitive eyes. Basic product, but I'm never without it.

Must Have Makeup Remover

I work in the beauty industry and have had the opportunity to work backstage at a few fashion shows now, and I have never seen a pro makeup artist without this on their station which is what really sold me that this is the best there is. It removes makeup so quickly and effectively without stripping the skin at all, meaning your skincare can sink in better. I trust this over any other micellar wat...

Read More

Worth the money

This is my favourite micellar water, it leaves the skin feeling completely fresh unlike other micellar water. it is worth the price over other cheaper products. I love this size for travel

Great product

This is such a great miceller water for removing makeup, refreshing the skin and getting stubborn makeup off. Such a cult product and lives up to the hype.

Magic Micellar Water!

Love this Micellar water! It gently removes my makeup and leaves my skin feeling clean and fresh! Highly recommend :)

Removes leftover makeup easily!

I received a promotional bottle of this and love it! Even after washing my face, this product removes any excess makeup and tinted sunscreen that I missed (eg around my hairline, on my neck). Would definitely buy the full sized bottle.

Works a treat

I received a sample of this and was pleasantly surprised. It actually takes off your mascara, and without all the rubbing. Will definitely be purchasing

Love this water

This is such a great formula to take off makeup with. The 250ml is much better for travel too.

My one and only favourite cleanser

I LOOOVE this cleanser! It is so light, so gentle, yet it does an EXCELLENT job at cleansing. I had always hated taking my makeup off for the unpleasant feeling of splashing tons of oily/full-of-chemical-smell remover onto my sensitive skin.

Now it feels like i am taking my makeup off with pure water! I am probably on my 5th bottle now, and I recommend this to all my friends and famil...

Read More

Love it!

Love this product!
Easily removes make up, sunscreen and general dirt before I oil cleanse for extra cleaning! Does not irritate my skin or leave it feeling dry afterwards.
Very easy to use and would definitely buy again.

Gentle and works great!

Awesome micellar water that removes my makeup and leaves my skin refreshed!

Alright

This is pretty good micellar water. A bit pricey but still works good

Okay

Good, but not worth it for the price when there are others on the market

Pricey but good

I really love this but it is a little bit pricey. I have used other brands ( Glow Lab ) that are pretty on par with this and cheaper. However if money aint no thang.. This is for you

Love this product

I am in love with this product. I use to remove all makeup and grime before showering. It's not harsh on my sensitive skin but removes everything easily. A little pricier than other supermarket brands but far superior. By far the best micellar water I've used and would highly recommend.

Love this!

This is the best micellar water I have used. It removes every bit of makeup. I've repurchased several times, will totally recommend.

The BEST

This is by far the best micellar water i have ever used! It removes makeup so well and easily without irritating my sensitive skin. It is also quite affordable and doesn't have any harsh or harmful ingredients which is great. Highly Recommend and this size is also great value for money.

Good micelle water

I found micelle water very useful and this product is a great one. It is not harsh on skin and my skin (combination skin) feels ok after using it. I would recommend that you rinse it off if your skin is sensitive or dry.

Good gentle make-up remover

This is great for removing makeup, and definitely doesn't sting my eyes like other make-up removers I've tried. Although often I have to go back a second time to fully remove all my mascara, and can find it still remains when I'm cleansing my face. Not drying or irritating at all.

Great unless you're really sensitive

I was really eager to try this because of the impressive ingredients list- particularly the inclusion of fructooligosaccharides, which is rare in such a basic product. However, while it does an impressive job of removing makeup, I found that my very sensitive skin would feel uncomfortable and sting a bit whenever I used this. I should note that I have truly reactive skin though (I swapped to using...

Read More

Travel size

This is a perfect travel size make up remover. It's great for on the go and my go to.

Best makeup remover!!

This on a cotton pad can remove even the most stubborn waterproof makeup!

Best makeup remover!!

This on a cotton pad can remove even the most stubborn waterproof makeup!