Benefit They're Real! Lengthening Mascara 8.5g
Frequently bought with
Please wait while we find a match
Questions & Answers
(1 Question)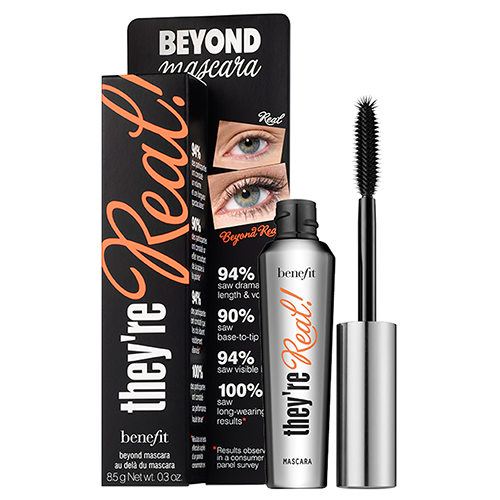 Benefit They're Real! Lengthening Mascara
Get an expert to answer your question about this product!
Ask a Product Question
82% recommend this product
Most Helpful Positive
MVP
This is the mascara I judge all mascaras on, the best and the original
Most Helpful Criticism
Lengthening
Definitely lengthens lashes, liked this product but found it a little clumpy at times, got this as a freebie. My teenage daughters loved it as she has short eyelashes and she thinks it is great
Lengthening

Definitely lengthens lashes, liked this product but found it a little clumpy at times, got this as a freebie. My teenage daughters loved it as she has short eyelashes and she thinks it is great

MVP

This is the mascara I judge all mascaras on, the best and the original

I am in love with this mascara ❤️

This is the best mascara I have ever used in my life. It really lengthens and thickens my lashes without all the terrible clumping. This product does exactly what its meant to. Highly recommend this product to all !

My go-to mascara

I've been using Benefit They're Real mascara for a couple of years now and I love it! It's my go-to mascara, I love the brush and I definitely think it lengthens and highlights my lashes. It does clump if you put it on to thick though - so if you keep this in mind when applying, you'll be fine.

High expectations weren't met

I really wanted to like this after it's cult status but I can't say it's a favourite for me. The brush is good but I get clumps when I go thick. At the end of my day I have smudging underneath my bottom eyelashes even when I only wear it on the top.

My New Fav

This is an amazing mascara and makes your lashes look so naturally long but it does take a bit of effort to come off at the end of the night.


Great Mascara But Hard To Get Off!

I received a sample of Benefit They're Real Mascara from Adore Beauty (thank you!), and it's a great little work horse! Easy to apply and instant lashes, this product has only one downfall - it's such a mess to get off! It's OK if you use a dedicated eye make up remover, but if you don't tend to use those products, then expect panda eyes after using a regular cleanser. Apart from that - the mascara is great!!

Stays all day!

I have ordered this mascara back to back for years. It's a little difficult to use the first few uses as it is a little too 'wet', but then after the first week, it gets easier and easier to apply. It never dries out, it never clumps. It lasts all day without giving me 'panda eyes', or without having chunks fall onto my face. I have quite oily eyelids, but once it's set - it's set. I remove using my Philosophy purity cleanser, no need to use cotton pads and make-up remover.

My favourite

I've been in love with this mascara for years. Makes my lashes look thicker and i've never had a trouble with clumping.

all time favourite

I've tried a lot of mascaras and this is the best and the one i always come back too adds volume and length to lashes while keeping them separate and no clumping

Awesome

i have short as lashes, i considered getting extensions until i found this product which does the job for a quater of the price, great wet formula that doesnt dry out, highly recommend

Awesome

i have rather short lashes and this really curls them up while lengthning them. it doesnt clump my lashes and is a nice consistency

Love it so much

This mascara makes my lashes so long and black! It doesn't clump at all and looks absolutely amazing

Best I've found

I had been loyal to a particular brand for about a decade before finding this Benefit mascara - and now I'm 100% converted. Amazing length and separation without clumping. Easy to use the brush on both upper and lower lashes. I make sure the brush hasn't got much mascara left on it when coating my lower lashes otherwise they look too long!! Definitely a worthwhile purchase.

Great Mascara!

Definitely made my lashes look longer and fuller, though I find it is difficult to remove... it is definitely long lasting though ! :)

Favourite mascara

Best mascara out for adding volume and length with no clumping or fibres that get in your eyes. It's been my staple mascara for years now and any time I have branched out and tried a new mascara I've always come back to this as nothing has compared yet.

Love Love Love

I love this Mascara, Lengthening and thickening. Since first using this I have not bought any other Mascara - complete convert.

Amazing length, no clumpy bits

This is my favourite mascara, it really does make you look like you're wearing false lashes! It lengthens without giving you that thick and chunky 'spiders legs' effect! For an extra neat effect I go over it with a clean mascara wand before it drys and separate the lashes and smooth out the mascara. But the wand it comes with does a great job on its own too.

Best mascara!

Love, love, love this mascara! I have repurchased many times and will never use anything else. I use this product everyday. You can build up this mascara, depending if you want a more natural or dramatic look. It holds the lashes all day and never flakes off. Just make sure you have good eye makeup remover to remove it.

Definitely lengthens

This is an amazing mascara and makes your lashes look so naturally long but it does take a bit of effort to come off at the end of the night.

The Best

I got a sample of this with an order and I can't even begin to explain how amazing this mascara is, I have it in brown and black and I often receive compliments on it, I even get asked if I have eyelash extensions. It's the best mascara I have ever used and love it.

excellent

love this so much!!! makes my lashes so long and curled, don't even need to use a eyelash curler! so nice and light on my lashes and gives them a full volume effect!

Love this!!

I've been using this mascara for over a year now! The brush is thin which I find helpful with application and it really costs and separates every lash. My lashes have never looked longer!

hard to remove

i like the look it gives, but it is hard to remove at the end of the day

Smudging

Got epic smudging, and had to use powerful makeup remover to get it all off from under my eyes. Bad gal is better.

Great Mascara

This was the very first Benefit Mascara I tried and I was not disappointed! That was a while ago now but from time to time I come back to it. It's extremely long wearing so make sure you invest in a great makeup remover or you may have panda eyes the next morning!

Excellent lengthening look

I do love the length that this mascara adds, its really excellent for making the lashes look so long and defined. The only thing is for the first few uses I almost find this product a bit too wet and can smudge easily when applying. Wouldn't recommend if you're looking to add volume, as this really separates the lashes rather than added fullness.

So hard to wash off....

It doesn't do a bad job of making lashes look great but it's not worth all the hard work to remove. Makes my sensitive eyes regret the application for week. Better products out there, that are far easier to remove.

Better ones for much less a price

It's alright but I can buy cheaper ones that work better.

Lashtastic!

As someone that has always had false eyelashes I struggled to find something that gave me fullness without my lashes looking clogged! This is easy to apply with a great brush I highly reccomend this product!

holy grail

This made my lashes look super thick. Would definitely use this if you get a little time to do a sultry look. I bought this together with the benefit roller lash mascara and I definitely saw the difference between them. I use this on days when I'm not in a hurry as I have to use a curler before applying this! Worth the price you get. Good price and good quality!

Love

I love this mascara. I do have another by benefit that I prefer slightly more but this one is still amazing and I have gone through countless tubes.

The best mascara on the market

This mascara lengthens and separates lashes perfectly. Lasts all day and truly does look like you have a strip of long fake lashes on!

Good product

Benefit makes good products. However, I wish they stop the animal testing and adopt more natural ingredients in their products.
I received this mascara as a sample gift. It's good, does not smudge or clot and it holds well.

10/10

I have naturally long eye lashes and consider myself very lucky to have this asset. I have used an array of different brands and types of mascara over the years but this is by far the best I've ever used! I do not bother with any other mascara anymore because there is no competition

Great mascara

I love this mascara. Some people are saying they found it clumpy but I've bought multiple tubes and never found it to be. My eyelashes are naturally long and dark and this highlighted that. I find all mascaras, even waterproof ones smudge on me, and this does that the least.

The best of the best

My friend recommended this product to me a couple of years ago, I am so in love with it! There was a stage I had to go back to a cheaper one, and it was so not as good. Now I've finally gone back, its long lasting, adds length and volume, after a big night out you might get a little smudge under your eyes. Will keep purchasing this one! On a night out I pair this with the Benefit They're Real Tinted Lash Primer.

Left with itchy eyelids

Received this as a sample, made my short lashes slightly longer. Applied mascara was a little clumpy and lashes had to be brushed and separated. Had mascara on for four hours before started tingling and left me with itchy eyelids. I have very sensitive lids, needless to say this product won't be for me. I do use their brow product though which is amazing.

Disappointed after the hype

Tried this product after reading lots of positive reviews. It was clumpy, didn't lengthen and left a black residue when I tried to remove it. Expensive and not for me.

Unsure what all the fuss is about

This mascara does add length, but not worth the money. Find it also is hard to get off unless you have eye make up remover.

Good but not great

Makes my lashes long but that's it. I've used other mascaras that add length and volume better.

Longer lashes in an instant

I received this as a deluxe gift with purchase and love what this does to my lash extension damaged lashes. They instantly appear almost doubled in length and the mascara is super black which I love. Highly recommend!

Can't Dupe It

I've used this product for about 3 years now and love it. Every now and then I try what I think might be a cheaper dupe. I don't think one exists. I love how it thickens and lengthens my lashes without ever clumping it flaking.

Lovely mascara

As I have very sensitive eyes I found this mascara to be very gentle on my eyes. It also makes my lashes look so much longer and fuller. And is long lasting another lovely product by benefit.

Amazing Mascara, Goodbye Falsies!

Perfect mascara for instantly adding length and volume! The brush makes application super easy and I love that it stays in place all day without smudging or flaking!

makes my lashes look long

huge fan of this mascara it makes my lashes look so long and dense. it is long lasting too which is a bonus for me.

Excellent Mascara

I have been using this mascara for years, I have very sensitive eyes and find it hard to find a mascara that doesn't make my eyes water or burn. This never clumps, or irritates or flakes off of my eyelashes and makes them look incredible and lush. Definitely would recommend!

Nice volume!

I really like this mascara as the volume it provides is great! However my absolute favourite is the Roller Lash from Benefit but this is a close second :)

Quite nice

I liked this mascara although it is best for night time makeup

Dramatic Look

I love how this mascara was not clumpy at all and gave a gorgeous dramatic look for me.

Love the brush

I love that this brush combs out any clumps. Not a game changer on its own, prefer to use with another volumising mascara. I'd buy it again.

Adds length

This mascara isn't anything to be blown away by, and for the price you should be. I really enjoy this mascara as a bottom lash mascara because it didn't really add much to my top lashes - I couldnt justify throwing it away. You'd be better off with the maybeline collosal mascara!

All time favourite mascara

Bought this a few years ago and loved it so much I have never tried another mascara since. Makes my lashes look insanely long and doesn't clump together.

Black and long lashes

This is a fantastic mascara. It doesn't rub off and stays truly black all day. The only downside is that it is difficult to remove so puts you off wearing it everyday. I did buy the Benefit eye makeup remover which does the job.

Unfortunately I am not a lover of Benefit They're Real Mascara

I read all the reviews about this mascara but unfortunately I can not rave about it like others. I have very short lashes and yes it makes them longer. But I feel its way too gluggy and extremely hard to remove even with the appropriate remover. So no I am not a convert and will revert back to my other mascaras.

Love it!

I love this mascara, stays on all day and does not clump. Makes my eyelashes look amazing...

Amazing mascara - lives up to the hype!

Love this mascara! Goes on great, not clumpy at all, thickens lashes but also lengthens, they almost do look not real! Now my go-to going-out mascara, absolutely one of the best ever. Oh and comes off so easily, bonus.

Extremely long lashes!

I read the reviews for this product and thought I would give it a go (as I had just run out of my old faithful brand). This mascara is excellent - I have long thin eyelashes naturally and this worked to thicken and slightly lengthen them. My friend who has short lashes found that she could use it not to add too much thickness and significantly increase the length of her lashes. The brush is great, the tip allows you to separate and move the lashes.
Important to note is that you should occasionally wipe off the brush and the top of the mascara bottle(?!) to make sure that the brush doesn't hold clumpy bits of mascara. Also worth having a decent make-up remover. I've not found it as difficult as some reviewers, but I find it takes a couple of washes with the cleanser to remove all of it. Worth it for lashes that last all day and mascara that doesn't smudge or 'crumble' and leave little bits of black on your face!
I have recommended to all my friends!

Very impressed

I love this mascara. I don't use it every day as it is quite hard to remove and I wonder what damage that might be doing to my lashes but on weekends and special events I whip it out. I have very long eyelashes already but they are very light and this mascara darkens and lengthens my lashes so they really stand out.

Not bad but can't say I love this!

Not a bad mascara but it did not work for me! It was just 'average' and getting it off was horrible. I prefer tubular mascara that removes easily with water, so perhaps I am a little biased. I just didn't think this was very special and it didn't do anything extraordinary to make it worth the effort!

Does what it promises but...

Definitely makes lashes look longer and thicker with awesome staying power but it's hard to remove. Must try the remover product. I have oily skin and I find it flakes a little after 4-6 hours thereby starting panda eyes but it wipes away easily.

Best Mascara I have tried!!

Finally gave into all the hype when my last mascara ran out and I'm glad I gave it a try :)
This is by far my favourite mascara and I recommend it to every single person!!
It provides volume without the clump, consistency is easy to apply and the brush does an excellent job of getting to all of my lashes including the small ones near the corners. I have blonde eye lashes so rely on mascara to make my eyes pop and this product does the trick!!
My partner also commented on my new lashes shortly after purchasing the product, they almost look as good as his lol! (Why are so many guys blessed with beautiful lashes?!)
HIGHLY RECOMMEND: To buy the Benefit They're Real Remover aswell, although this product isn't waterproof it seriously sticks on!! My face cleansers would normally remove any traces of non-waterproof mascara without any trouble but this mascara is stubborn, after going through my Bobbi Brown Eye Makeup Remover like water I found out Benefit have a remover in a gel form which lasts forever and does a great job in removing this mascara immediately!! So yep if your taking the plunge, put the remover in your adore beauty cart too ;)

Favourite Mascara

I have tried so many mascaras and having heard and read so much about Benefit's mascara i had to try. And I wasn't disappointed - its sooooo good. Goes on so nicely, not too thick or thin. You can build it up without it going clumpy. And it gives you the best lashes - long and full.
The best part, the tiny little bristles on the end so you can reach all those fine lashes on the bottom and in the corners.
Will never look back! LOVE!!

Clumps be gone!

I always thought there was not much difference in terms of mascaras. Ha. I'd been using a cheap mascara for quite some time and was happy-ish with it: the price was right and it did a decent enough job. Only problem: my lashes would clump together weirdly making it look like a dodgy false lash application.

I was given this Benefit mascara as a gift and realised that lash clumping wasn't a fault of my lashes! Every application with this mascara is perfect. Love

The mascara for everyone

This mascara is seriously great for noticeable lashes. The brush is excellent for catching the smaller lashes towards inner corner of your eyes and coated lashes are extra black, thick, luscious and lengthened. I get a lot of compliments when wearing this. This is my go-to mascara but shame it is very expensive :(

"Are those your natural lashes?"

At least once a week I am asked if 'They're Real?'
People are constantly amazed that my natural lashes are so long and it's all thanks to this mascara. I have tried so many mascaras on the market and They're Real is hands down the best. It does not go clumpy or flake off, it separates and lengthens each individual lash giving a long and natural look. I have recommended this product to so many people and they have all loved it. This product will leave you so happy and you will no longer need to buy false lashes.

Best mascara on the market!

I had stopped wearing mascara because I found that it was always giving me 'panda eyes' after a few hours. I also found that, as a contact lens wearer, my eyes would often start stinging as a result of the products I was using.
However, since I stumbled across the Benefit They're Real mascara (as a freebie item a few years ago), I haven't bought another brand! It makes my lashes appear much, much longer, does not cause any irritation or cause those dreaded panda eyes! People always ask me if I am wearing fake eyelashes when I wear it and it seems I'm not the only one who loves this brand, as all my work mates wear it as well. I highly recommend this product!

lashes for days!

Cannot believe how well these products work. Was really sceptical of using a lash primer but I was pleasantly surprised. The primer and mascara combined gave me the longest natural lashes. Never gets clumpy or too thick. I recommend no more than two coats of each. It's easy to get off and feels light. Obsessed with my lashes now!

BEST MASCRARA EVAAA, HUNTY

I love this Mascara, I purchased one at Sephora a while ago and I still use it (I know, I know I probably should change it by now) which I will. I have other Benefit mascara's but I like to use this one when I can not be bothered wearing fake lashes. I have super small lashes and this really enhances them, which is awesome! Highly recommend.

People have actually asked if my eyelashes are real when I wear this!

I love this mascara. You can wear a small amount, or build for a more dramatic effect. They are really good for lengthening and defining lashes, but if you want volume you'll need to do a few coats.

Decent mascara but nothing special!

I bought the brown colour of this mascara and while it was good and didn't smudge, it wasn't anything to rave about. The mascara didn't clump but didn't provide too much volume. Wouldn't repurchase for the price.

Not a big fan of the formula!

I wanted a mascara that made me look like I had those lush fake eyelash extensions on. But alas, this didn't do it for me. It has awesome reviews so I bought it believing it'd do the trick. My problem with it was the mainly the formula. The mascara would be super smudgy and just seemed to never dry. It wasn't the best at seperating my lashes either but I will say it's the best when it comes to colour. My lashes have never been so dark. It's a pity about the consistency though.Not sure what the difference is between the roller and this one (formula wise) but I much preferred the Benefit Roller Mascara.

Great

I am obsessed with this mascara will never use anything else.

My favorite!

I am in love with this mascara! It's one I use everyday! Makes my lower lashes incredably long. I highly recommend this to everyone.

Can't be beaten!

This is the perfect mascara. It makes my lashes appear so much fuller, I can hardly believe it. I usually have problems with mascaras causing irritation to my eyes including redness and itchiness - I have never experienced this with Benefit They're Real! I no longer find myself reaching for false lashes when going out as this mascara gives me all the lift I need. You need this in your makeup bag.

It's better than I expected

I was blown away by this mascara/eyelash primer. Reading the reviews I was a bit apprehensive as I've never found mascaras to live up to their own hype about their ability to make lashes look long. But believe me when I say that this product does what it says! First go and I literally gasped "Like ok, $20 well spent". Although the actually liquid used in a dark brown and not black it still gives almost an allusion that you're wearing mascara- i have more than once left the house without applying mascara over the top, tricking myself, that's how great a job it does. Not only that but it doesn't clump any of the lashes together and really applies so easily. If you want to give your lashes a more glam look easy as, just apply any drugstore mascara and bam! you're left with glamorous lashes that everyone will envy. Definitely a new addition to my makeup collection!

Not worth the price

I'm quite sad about this mascara. I bought the mini for $21 because I wanted to make sure I liked it before buying the full size. Unfortunately, it's just not worth the money. It clumps my eyelashes together, dries slowly (so if I blink it gets all over my eyelids), and it doesnt do anymore than mascaras half the price do. I wont be repurchasing since Ive had better results from cheaper brands :/

Not clumpy

As I'm in my 60's my lashes are weak & sparse. I love the brush- it separates the lashes well. Theyr'e real! is easy to remove at night. Sometimes it flakes off a bit- that's the only fault I can find.

Great

Love this mascara! Goes on great, not clumpy at all, thickens lashes but also lengthens, they almost do look not real!

Tried this one as a sample - fantastic mascara - great brush

This is a fantastic mascara, the black is very black, and goes on great with the brush. Awesome for day to day. Keeps your lashes popping! Highly recommended.

The mascara that does what it says

This is THE ULTIMATE mascara. I have tiny, fair almost colourless, sparse 'J" shape lashes, so virtually straight and without mascara you cannot detect I have eyelashes. I have tried so many brands without success. I have been using Stila mascara which was the only mascara that could really grab my lashes due to brush head, and although black was often thick and clumpy. BUT this mascara goes on smoothly and separates the lashes so evenly, no clumping and really making an eye statement. Perfect lash control and an exaggerated improvement over Stila. And washes off easily, no fuss. This mascara is stay put for the day. No touch up needed, but if you felt the need, would easily allow a retouch without clumps forming or dragging multiple lashes together and looking like spider legs. I have never found a mascara like it. I hooked for life. Buy this because it will transform your face and beauty routine.

No panda eyes

I have smaller eyes and oily lids and everytime I use mascara or the wrong eyeliner it ends up all over the bottom of my eyes.

This (and estee lauder) mascara are the only ones that does not give me panda eyes half way through the day. The brush is unique with shorter bristles so it does take a few times to coat all the lashes, but once on it does not budge. Even when I accidentally rub my eyes it does not smudge everywhere. Just make sure you use a good eye makeup remover at the end of the day.

Didn't live up to the hype for me

I like this mascara but I found it didn't achieve what I was expecting, and was SO hard to get off! Still gave good definition though but I think there are heaps out there for cheaper.

Perfect for a Natural Day Look!

I have been trying Benefit's various mascaras and this one is my ultimate favourite for a classy day look. I wear minimal makeup during the day, and I can't rate this enough. I have very long lashes naturally, though they are thin and fair - this mascara defines them without overdoing it, and they actually do look so real that I don't appear to even be wearing any! The colour is perfect, the formula is creamy and smooth, the brush makes for an easy application, and most of all they make my blue eyes absolutely pop without looking fake in any way! Love love love.

Lash Defining

One of my favourite daily mascaras, the plastic bristles help comb through each of my lashes and has great curl holding power for my short asian lashes. It stays put during the day and comes off easily enough with a oil cleanser. I enjoy getting the mini size of the mascara because I never finish it before its due to be thrown away and because the the larger size is a bit dear.

Meh

Not sure what the hype is around this mascara. I purchased this after hearing rave reviews everywhere. I have fairly dark lashes that just need some length and volume. I bought this expecting something amazing after all the hype but I was very disappointed. It doesn't give much volume or length at all. Will not be repurchasing as there are many better options on the market at a fraction of the cost of this one.

Have been using for years!

I love benefit! Personally, I'm a little weird and I always use two mascaras (yes, together). But this has long been one my favorites for my bottom coat. Great product!

1 star less than real rating as benefit is not cruelty free :(

I don't care for high end mascaras, they do the same job as my current mascara (essence cosmetics lash princess- a cruelty free drugstore brand!), but i tried this to follow the hype of my friends. It is a great mascara, not amazing but still GREAT, and really is great at separating lashes also.

Best mascara!

I love this mascara! It lengthens, adds volume and separates my lashes. It makes my eyes pop! It's applies evenly and It's long wearing - it doesn't run or leave marks under my eyes during the day.

Keep coming back to this

I use this product every day. I have switched away but always come back. I do wish it made your lashes 'plumper' or 'thicker' but I do like the less over done look it gives you.

A classic

Was reminded of how good this mascara was when I received a mini version with my last Adore order. Divides and lengthens eyelashes like no other. My only criticism - it does give a bit of panda eye after a long day. Not all top dollar mascaras do this. It's also quite hard to wash off and I generally need to use make up remover and cleanser to tackle it. For this reason I save it as my special occasion mascara. Sad to read the review below re Benefit not being cruelty free. For that reason I won't be purchasing a full size mascara. Do better Benefit!

Super lengthening

People ask if I'm wearing false lashes when I wear this! My lashes look longer than I thought could be possible wearing a mascara alone, but it's not particularly thickening. It also glides on so smoothly, lovely product!

Good mascara

I have this mascara and think it does the trick. It's not my go-to, but it works well on people who have longer lashes.

Ok Mascara.

Goes on easy and looks great. Very hard and thick to get off.

Awesome product

Great size for travelling. Really good mascara doesn't clump the lashes. Bold effect. Great value.

Great mascara

For such a small tube it lasts a while! Highly recommend.. great for travelling!

Love this mascara!

This mascara is perfect! It separates my lashes and makes them look fuller and fluffy. Love this!

Lengthening and defining

I got the mini version of this and I wish I bought the full size-this mascara is awesome! Goes on so smoothly and the brush does a great job at separating and volumizing lashes. Buildable for a bolder look. This is a great mascara for daily use, or a not too overdone look for work. Highly recommend!

I wanted to love it

I have decent length already but I am looking for a lot of volume and separation from my mascara. After reading so many glowing reviews about Benefit They're Real!, I was very much looking forward to trying it. Unfortunately, I was a tad disappointed. Don't get me wrong, this is a good mascara and does what it promises...but it didn't wow me as much as I had hoped... Maybe my expectations were just too high. To be honest, I think you can get a mascara just as good from the drug store so I'm not sure whether I'd recommend spending on this one. Still, a lot of people swear by it so it could just be me.

Great for lengthening and slight volume

Excellent mascara for length and definition, it also volumises a bit by making your lashes look thicker and blacker but if you're after a really volumising mascara that thickens lashes with extra fibres then there are better ones out there for that purpose. This dries out a bit quickly and a bit expensive so I took off one star.