Benefit Roller Lash Curling Mascara 8.5g
Is this for you?
Set that curl in place with Benefit's roller for lashes! Benefit Roller Lash Mascara lifts, separates and curls your lashes - with hold for a whopping 12 hours.
Frequently bought with
Please wait while we find a match
Questions & Answers
(1 Question)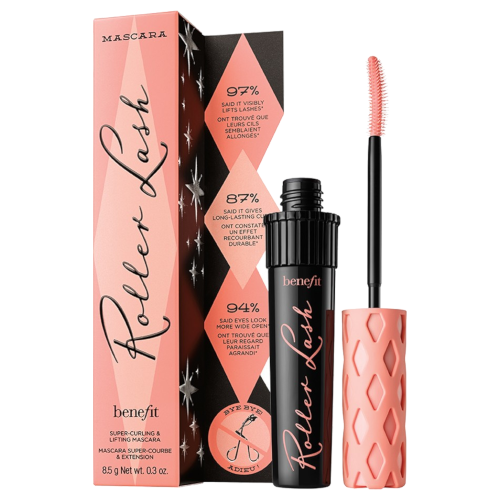 Benefit Roller Lash Curling Mascara
Get an expert to answer your question about this product!
87% recommend this product
Most Helpful Positive
Love
I love this mascara. It separates lashes nicely and is black. Brush is amazing at grabbing l
Most Helpful Criticism
It's good but doesn't curl
This mascara is great if you want volume and length but it doesn't curl at all and if my lashes are already curled, it makes them fall because it is so heavy!

I do like the mascara if I use it lightly after curling, but don't rely on it curling your lashes!
Love

I love this mascara. It separates lashes nicely and is black. Brush is amazing at grabbing l

Great

This is one of my favourite mascaras. My lashes look lengthened, volumised and curled

False lash look

I love this mascara, it is one of my faves! I always get asked if I'm wearing false lashes with this mascara! Not clumpy at all which I love.

Okay...

Really like this mascara on but find it can give me panda eyes by the end of the day in the office - maybe not an every day product. Going to try a tubing mascara as an alternative..

Great mascara

Separates and curls the lashes, and an all-round great mascara.

Favourite!

Great mascara that's super long-lasting and always clump free! Easy to apply and looks amazing

Non-clumpy mascara that lengthens

This mascara applies really well, with the brush not leaving any big clumps. It makes my lashes look longer and product doesn't seem to fall throughout the day. Long-lasting!

Must have

Best mascara I've Ever used hands down.
I can't use a lot of the ones with a brush. I get clumps and it looks yuck.
I was. Yet to find a comb mascara that gave me the look of nice long dark lashes and when a friend recommended it to me, I never looked back.
Try it!!! You will love it

Holy grail mascara

This is my holy grail mascara.

It holds the curl, doesn't flake or smear and looks great all day.

I have never had a mascara hold the curl like this one.
I've purchased two tubes of it as I love it so much.

I'm gotten several months usage out of one tube with no signs of it drying out.
Highly recommend.

Love it

Roller lash is so amazing. I love how long my lashes look and it gives me such an awesome boost of confidence!!

Better than most

I'll be sticking with this mascara for a while. Doesn't smudge, doesn't get all over my eyelid while applying, doesn't rip my eyelashes off when removing, nice dark and full look without any clumping. Onto a winner here!

CURLS AND LENGHTENS

I had purchased this mascara in a tester tube, after the first use, i was buying the bigger product. It's fantastic. Curls and lengthens. In saying this, there isn't many mascaras I don't like however this is above and beyond all the ones iv tried.

Great!

Such a good mascara, a little pricey but works amazing especially if the product has been sitting for a couple days/weeks after opening. I find it works better a little more dry

Love this mascara!

Perfect! BUT it does run/smudge eventually with me as my eyes are very watery - so I need to stick to waterproof versions only

Gets each and every one of my lashes

Gets each and every one of my eyelashes and doesn't dry out

Holy grail mascara

I have pretty long lashes but they are dead straight. I find it hard to wear mascara's that aren't waterproof and still can hold a curl. This does exactly that! Holds a curl and perks up your lashes until you wash it off.

Targets all your lashes - even the hard to reach ones

Thin comb wand gets all your lashes, even the inner and outer corner eyelashes. The curved wand brush also curls your lashes alot easier.

Don't even need a eyelash curler!

This mascara is fantastic! I have very short and straight eyelashes so it's hard to find a mascara that allows them to lengthen and stay curled. However, dollar lash does just that! This mascara curls my lashes and I don't even need to touch a eyelash curler! It lengthens them, makes my black and just gives them a stunning look without leaving them clumpy! Definitely recommend!!

Amazing

Makes your lashes SO long and curled and very natural. Doesn't make lashes clumpy, it separates them nicely and gives a lovely fluttery lash look

Nice Mascara

I didn't think I would like this mascara much, as I've disliked other mascaras from this brand. but this one isn't too bad. I'm not a huge fan of the silicone brush, but once you get used to it, it works well.. I don't find that it curls the way its marketed, but it does a better job with my short lashes than i expected.

amazing stuff

i find the mascara last a really long time so a mini is defintely the way to go! i also love how it really seperates my short lashes and makes them look full and curled up

lush lashes

this mascara is AMAZING! it makes my lashes super long and is not clumpy at all. i highly recommend

AMAZING

I love this mascara. The mini is perfect for travel and in my bag! doesn't clump and makes my lashes super long

Awesome

my go-to everyday mascara lift and great to colour my blonde lashes black

Great everyday mascara

Absolutely love this mascara! It does an incredible job at lengthening & defining every lash with very minimal effort. It also holds a curl & doesn't flake or smudge throughout the day.

Great Mascara

This gives great volume and thickness and doesn't flake during the day

So good!

I've got naturally long lashes so this is the perfect product for me to add just a slight curl. Doesn't run and stays on all day for me.

My favourite

Roller lash is my favourite mascara. I like benefits mascaras all round but this one works absolutely amazing in defining, lengthening and separation. I don't need false lashes when I use this.

for everyday use

Bought this mascara because it was recommended to me by a friend. The formula is just right, not too thick or liquidy which made it so easy to use. It made my lashes look thick and long and did hold up the curl. I only give it 4 stars cause it doesn't last all day and smudges coz I have a monolid. I only use it during the day if I'm only out for a couple of hours.

Lengthen and curl my lashes

I love this mascara as it lengthens my small lashes, hold the curl and seperate them as well. BUT, it smudge on me which is devastating. I really need them to come out with the waterproof version!

Lengthens!

A true black that lengthens well, adds volume and great curl but did become a little clumpy with time a bit faster than most do.

Made my lashes look great

I have quite curly lashes already but wanted to try this out and I liked how it didn't clump my lashes and made them look longer.

One of my favourites!

This is hands down such a good mascara - especially if you've got eyelashes on the shorter side! It really does help!

Not for people with oily lids

Skip this if you have oily lids! It smudged within the first hour of wear, and was completely gone by the end of the day. I thought I couldn't give up on this mascara so easily because of all the good reviews and more importantly, the price. so I had to give it another go. This time round, I dabbed on a good amount of powder on my lids to make sure that they were completely oil-free before applying the mascara. Much to my disappointment, it still gave me panda eyes after hours of wear. Big no-no to this mascara.

I love this mascara, pity about time.

When I first use this mascara I'm head over heels in love with my lashes. I'm legit checking dem babies out in the mirror for like 10 mins. Unfortunately, I couldn't rate this 5 stars. Because even though they look amazing they just don't simply hold up for the length I want them to. Mid-day my lashes are dark but not curled. For the morning though I'm obsessed! It's not irritating to my eyes and I bought it because my friends rave about it. IN the end, it does what it says, for half a day.

It's good but doesn't curl

This mascara is great if you want volume and length but it doesn't curl at all and if my lashes are already curled, it makes them fall because it is so heavy!

I do like the mascara if I use it lightly after curling, but don't rely on it curling your lashes!

Great!!!

This is my go to mascara for everyday wear. I have been wearing it for years. It separates every lash and lengthens perfectly. although i dont think this mascara is 'waterproof' it stays on and does not smudge when I go swimming or in the shower. Does need a little extra eye make up remover to take off. Will be repurchasing this over and over and over!

Quick and Easy Marscara!

I love this product because it is very easy to use and it saves time because I don't have to use an eyelash curler beforehand.

I love the way it makes my eyelashes look!

Good everyday mascara

At first I wasn't really a fan of this mascara, something about the shape of the wand meant that I kept catching my eye with it, which would them make my eye water and cause the mascara to run. This was clearly user error and now that I have got the hang of it, it has become my every day work mascara. This stuff stays put all day, despite not being waterproof, but is nice and easy to remove at the end of the day. This mascara makes my lashes look nice, but it doesn't give crazy length or volume, it's definitely a more understated look. I find that my Lancome Doll Eyes gives me way better length than this. I would recommend this if you're after a good day-wear mascara.

Shante you stay!

Yes, this one will be staying in my makeup kit. This is my everyday go-to. I love it! I find this one makes my lashes look 'full' and natural whereas the "they're real" is better for length. Both are great products but I like this one during the day. Everyone needs this Mascara!

Defined lashes

This mascara defines and lengthens my lashes really well. It holds the curl quite well.
It doesn't volumise as well as I'd hoped, but my lashes are pretty sparse and short.
It lasts all day with no smudging or flaking, and although my eyes tend to water a lot, this doesn't run, which is pretty impressive for non waterproof mascara.
And at the end of the day I can remove it easily with my usual makeup remover.
The narrow wand is great at catching all the lashes, especially the tiny ones in my inner corners.

Who needs fake lashes when you have Roller Lash?

The brand Benefit just keeps on giving! This Mascara is out of this world! I don't even use fake lashes anymore. It lengthens but also lifts your lashes up way more than any other brands I have tried such as Napoleon, Maybelline, Rimmel etc. It comes off easily with cleanser and doesn't run during the day. I am onto my second bottle :) If you want the perfect mascara... this is it!

My fave mascara ever

I have tried so many mascaras over the years and this one is just amazing. It really curls your lashes and makes them look so long! The brush is amazing and easy to use. There is absolutely no smudging either!! Best mascara I have ever tried!

Best Thing I've Put On My Lashes

I have longish eyelashes, but they are very blonde and have absolutely no natural curl to them. For years I have curled my eyelashes before applying mascara, and they'd still be flat by the end of the day/night. I no longer have to curl my lashes - this mascara adds length, volume and curl that lasts til I take it off! I've not had any dramas with it transferring onto my lids or under eye area either. It can be a little stubborn to take off, but definitely worth it.

Really impressed!

For years I have tried so many different mascaras, from cheaper brands to more expensive ones. Benefit Roller Lash is the first Benefit mascara I've tried and I am pleased to report that I am very happy with the results!
This mascara really makes my eyes pop! I've even had people notice. I usually go for a thicker/fuller style of brush but was pleasantly surprised at how well this brush works. It really does curl and grab every single lash. It also does a great job of defining and adding length. By the end of the day my lashes still hold a curl and I don't have panda eyes. It gives a nice natural look without clumping. Roller Lash has definitely impressed me - I will be re-purchasing again soon!

Best Mascara I've ever tried!

No need for an eyelash curler anymore, minimal clumps, super long and curled eyelashes. The brush is amazing too. Has far exceeded my expectations. Definitely recommend, have never found a mascara like it!

Major disappointment

I wanted to like this so much. I was recommended this by one of the Adore Beauty staff when I asked for a smudgeproof mascara that would hold up against my oily lids. I like the packaging and I love the way it makes my lashes look. It gives fantastic length and curl. Unfortunately, it also gives me massive panda eyes after a couple of hours. I keep trying it in the hope that I can make it work, and it just keeps smudging. For $40, I would have expected a little more longevity than your average drugstore mascara, and this does not deliver. A total waste of money for me I'm afraid.

I never thought I would love another...

I'm a big fan of They're Real mascara. So much so, that I never thought I'd EVER love another mascara as much as I love They're Real. It was perfection in a silver bottle to me.

However, I've now betrayed my one true love. I love these mascaras both equally, but for different reasons.

RollerLash gives me amazing length (I look like I'm wearing falsies!) and ridiculous curl. They're Real gives me the fullness and ultra dark sultry eyelashes of my dreams. When I layer them, it's DIVINE.

If you're a big time They're Real fan, I'd definitely suggest giving this a go. It's a fantastic edition to the Benefit mascara team.

Melissa (Adore Beauty Staff)

I love They're Real! and didn't think it could possibly be improved...until Roller Lash came along. It gives my eyelashes a perfect curl (staying in place all day), as well as elongating and separating them beautifully. I don't know what benefit cosmetics put into their mascara, but whatever that secret ingredient is, it WORKS.

They're real is better!

I was so excited to try this mascara - read all the reviews and was really keen for it to arrive for me to try it out..... Well I wasn't impressed at all! I feel that they're real mascara is way better - provides length, curl and thickness. With this one I couldn't even get my lashes to go as long or as thick - it had a little bit of a curl but nothing that I was expecting after all of the reviews! I wish I stuck with my ole fav! Won't be repurchasing.

Didn't love Benefit's They're Real? This is for you!

I know a lot of people feel this way, but when the hype around They're Real! convinced me to give it a go, I was pretty underwhelmed. So consider this review somewhat of a comparison of They're Real vs. Rollerlash!

First off though - honestly there's nothing wrong with They're Real, just that my lashes are somewhat short, straight, and I prefer them to look really defined, curled and fluttery.

Rollerlash is really easy to apply, and it's also really easy to apply to your lower lashes as well (I normally use 2 separate mascaras when I want to do both lower and upper!). The wear is really, really long, and it seems to be much easier to remove than They're Real.

If you're using They're Real but want something more soft and fluttery for effortless-looking makeup, this is the way to go!

I like the way my lashes look using this, if you concentrate the mascara on the outer lashes you get a really pretty cat-eye effect (it looks like you aren't even trying, AND it's so easy!)

Benefit is known for their mascaras for a reason! This helps me achieve the look I really love. I would disagree that you don't need a lash curler using this mascara - nothing can really replace a good curler.

Pros:
- Fluttery, lengthened, volumised lashes
- Doesn't clump
- for a Benefit mascara, really easy to remove
- lasts ages

Cons:
- you still need a curler! But you knew that nothing could replace that
- if you want lots of drama, I'd still recommend They're Real over this :)

Not my favourite

I got this as a sample when getting my brows done at benefit. I don't like the brush i prefer a soft brush to make my lashes more fluffy. This does add length if thats what your after but doesn't give that fluffy full look easily.


Works well

I found that this mascara tended to geynon my kids easily.
My lashes are quite short and fine and this makes them natural and a little longer. No issues with it coming off during the day either or flaking!

wow

i borrowed a friends version of this and oh my god, i have never been so impressed with a decent priced mascara. makes my lashes SOOO LONGGG. Doesn't clump, separates them so nicley i always get so many compliments when i wear this

Pretty good, but not perfect

This mascara has some really good points, but there's a few things I don't like about it too.

Pros:
*Lasts a long time before getting gluggy
*Lengthens nicely
*Looks good if I curl my lashes
*Doesn't smear or smudge
*The mini is good value if you are like me and find you never use full tubes of mascara up before they get gluggy
*Doesn't clump

Cons:
*My eyes start stinging if I don't take my makeup off right after work
*Doesn't really curl or thicken my lashes
*Takes a little while to dry, so you can't sneeze when you apply it

So while I like it quite a lot, I feel like there might be something out there which ticks every box. I might repurchase it, but I might try something else first.

My All Time Fav Mascara!

My absolute favourite mascara! Gives me great curl that lasts all day without flaking. Also gives me good volume and length without clumping up or looking too heavy. Love this!

Yes yes yes!

Really liked this mascara and especially because of the wand. Makes my lashes long, holds them up nicely and lasts long. Even after my whole body massage I looked decent. If I have to say something "bad" I would say it was hard to remove around my eyes with the facewash I have, so next time I'll use cottonpads!

Need!!

I have quite long eyelashes, but tend to find by the end of the day I have little to no mascara on them. I applied this mascara at 7am and took it off at 9.30pm I could not believe how plump, thick and curled my eyelashes stayed! Seriously impressed. Benefit You Rule <3

Not for me

I found this very clumping and heavy feeling. I just couldn't wait to get home to wash this off, made my eyes feel terrible.

I will recommend they're real mascara

Great curl

Love the lift and length this mascara gave me and it wasn't heavy on my lashes

Great

Great for lengthing and really separating the lashes. Gives a great effect.

Love it

This mascara was exactly what I was after - lengthens and defines beautifully, leaving a natural look, and not so much thickening and volumising. It also feels lightweight. This is now my go-to mascara <3

my favourite mascara - better than badgal

my eyelashes are naturally stubbornly straight and even after using an eyelash curler, most mascaras don't hold the curl for more than like, ten minutes, EXCEPT roller lash. my eyelashes stay curled literally all day, i don't find that it smudges at all and the black is very black without it being too thick or goopy. i recommend this to everyone i know in real life.

James Charles' holy grail

Y'all know James Charles loves this and so do I. Does exactly what it says it does, and definitely gives a Roller-Lash effect. Love it. If you have stubborn straight lashes, take this one.

Holy Grail of Mascaras

This is hands down my favourite mascara of all time! I have continued to repurchase it throughout the years and love the effect it has on my lashes. It never clumps, flakes or smudges and lengthens and curls the lashes in the most dreamy way possible! It is also easier to remove than most of the other Benefit mascaras.

My fav

I got this product as a sample and it was the best sample I have even gotten. I love this product so much it makes my lashes look so long and full and makes my eyes pop. get on it girls it is AMAZING!!!

Great mascara

Makes my lashes so inky black and stand out. And lengthens my lashes and holds their curl without making them look clumpy.

Great purchase

Absolutely love this product its amazing

Holy Grail Mascara

The perfect, holy grail mascara. Is a staple in my make up bag. Coats your lashes perfectly without clumping or transferring.

Good but not the best

Lovely mascara with lengthening effects and definitely adds a bit of curl if you remember to use your eyelash curler. HOWEVER my only con about this mascara is that if I don't use a curler and just apply the mascara on the eyelashes as is, at the end of the day the mascara ends up underneath my eyes and I look like I have bags. This may be because the formula isn't super dry? But then again, it doesn't cause much fall out which is a plus too. Great product, but I won't repurchase.

Amazing

This is the best mascara ever!! Makes my eyelashes look so great

Amazing volume and curl

This mascara gives amazing volume and curl and is easily buildable from daytime look to full glam. I find the benefit mascaras start to dry out after 2 months though so this little mini is perfect. I rotate between this and the mini Bad Girl BANG and get the same usage as a full tube before it goes bad.
Great money saver!

Love it

This mascara is amazing at giving you a voluminous false lash effect with out all the effort. With just one coat my lashes were curled and really popped. I hate using an eyelash curler and this is just so easy I'll be sticking with it. I do have very thick dark lashes naturally but no other mascara has given me the false lash effect like this one does.

An Amazing Mascara

I bought this mascara for a friend, earlier this year, and she has not stopped talking about, she says that she loves the wand because it has so many little bristles that separate all her lashes and define them so much

AH - MAZING

I was recommended this mascara by a friend. Myself personally can only use a comb style mascara over a brush. my lashes with this mascara look like ive had eyelash extensions !!! i cannot fault this! you dont need to keep applying over and over. just one application a WOOOLLLAAAA amazing lashes.
i bought the mini to try and ill be buying the big version over and over and maybe even 1 as a spare.

Sticky and drying!

There is quite alot of hype about this mascara but I found it to be very drying, my lashes felt like vinyl and clumped frequently. Removing this mascara was very irritating to my eyes, and it was hard to remove. Not my favourite!

Awesome Mascara

Applies really nicely on the lashes and makes my lashes look super long and thick!

Good mascara

I've never had a miss with benefit mascaras. I don't really think this one does much for curling my lashes but it is a really good formula.

Awesome

provides my lashes with curl, length and volume, highly recommend for people with short lashes

Looooooove

The brush curls my lashes really well and the mascara isn't too thick so it doesn't look clumpy at all. The mascara is so good that I've had people asking if I'm wearing lash extensions! Unlike other mascara's i've tried, this mascara does not smudge at all!
Although the price is on the higher end ,the mini-size does last quite awhile. I recommend this mascara for sure :)

Dried out too quickly!

This didn't really work for my straight lashes. The mascara dried out after just a few weeks and barely any product came off the wand. It didn't really help with curling my lashes but it was great at separating them! I've heard great things about this mascara from other people so many I just received a dud!

its good, not great

great for a natural look. doesnt do much though. not an extreme mascara . would be good for work or a natural look. i use this on my bottom lashes and better than sex on my top lashes

Amazing mascara

This mascara is a total game changer for me. It provides my lashes with SO much length and call. You will definitely not be disappointed.

YES YES YES YES

THIS IS MY FAVORITE MASCARA EVER! Length length length

Really curls your lashes

This mascara does an incredible job at curling your lashes. It's very black and is easier to come off than the they're real one.

Amazing mascara!

5 stars for sure for roller lash! Seperates lashes so easily, doesnt leave them clumpy at all & the wand on this is a game changer for me. Love most benefit products in general but roller lash is def a favourite. I feel like it would easily cater to most people's needs as its easily built up with a second coat for the extra oomf but can also give a nice natural look with one coat. Worth the money, lasts and is great quality!

Mascara game changer

I can't remember if I reviewed this mascara already, but even if I have it deserves another one!

Benefit, in my opinion, have been a game changer in the world of mascara. First with They're Real, and now with Roller Lash. I prefer Roller Lash as it is easier to remove and does provide lift to the lashes as well. My lashes are straight, average thickness, and just slightly longer than average length, and they look like borderline extensions with 2-3 coats of this. One coat provides a pretty, fluttery open-eyed look. I have recommended it to many people who have asked me about my lashes, and purchased as gifts. Love that you can get it in travel size as well. I have repurchased many times, and it's going to take a bloody miracle mascara for me to switch to another! (I have tried many many expensive and cheaper mascaras). Please continue making this forever.

Love the applicator

Great mascara for crazy volume and length

Best I've ever used

This mascara is sooo good. The applicator is great and seperate/coats my lashes evenly. It adds so much length and volume and it lasts all day without getting clumpy or smudging. Cannot recommend enough!

Favourite ever

Best mascara ever! Wouldn't touch anything else

Favourite mascara

This is my absolute favourite mascara ever. Benefit do great mascaras all round I find but this one is simply amazing. Really creates definition, length and makes my lashes just look great.

love

love the formula, great for keeping heavy straight lashes curled and doesnt smudge

Love the wand

I have very straight lashes that point down and I normally have to curl them and use waterproof mascara to hold them in place. This gives my lashes a natural curl and the formula is lightweight. The wand makes it easier to spread lashes and coat them evenly. Does transfer a little onto lids and lower lash line

Great

Adds volume to lashes! Easy brush for application and easy to remove

Love this

easy to apply, doesn't smudge and lasts forever.

AMAZING!

This is now my holy grail mascara! I've tried so many. I have long lashes and like them to look more defined and wispy, this is perfect! Helps me fill in the gaps of some of my lashes as well. It can have a little bit of flecking off but that's usually because I'm touching my eyes constantly from getting hairs or fluff in them. 10/10 would recommend.

Best mascara EvER!

The length this mascara provided is out of this world! I looooove it! The brush is awesome for applying this product and I find my lashes look good all day! Absolute favourite Benefit product - will continue to buy over and over again (also, it's great that Adore stocks both the mini and regular sizes as the mini one is great to have in my handbag or when going away).

Amazing except one thing

This mascara makes the biggest difference to my natural lashes that I have seen from any mascara. It lengthens, thickens without making them spidery or clumpy, adds curl and renders my false lashes useless BUT by the end of the day I end up with the black marks on my eyelids like the mascara has transferred.

I will mention that I have very oily skin and eyelids - so this may be holy grail for people with regular or dry skin types, but I can't rely on this mascara for events or long-wear because every time I end up with the dreaded black marks :(

amazing mascara

amazing formula and it makes my eye lashes look so long and dense. cannot recommend it enough .

the best!

i have really short and tiny eyelashes and this wand allows me to get it all without being too clumpy!