Benefit BADGal Bang Volumising Mascara 8.5g 8.5g
Questions & Answers
(No Questions Yet)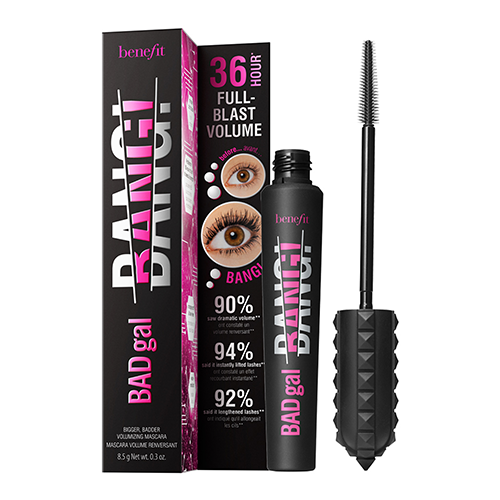 Benefit BADGal Bang Volumising Mascara 8.5g
Get an expert to answer your question about this product!
Ask a Question
73% recommend this product
Most Helpful Positive
AMAZING LONG LASHES
One of the best macaras ive ever used - makes my lashes long and not clumpy
Most Helpful Criticism
Big lashes
At first this makes my lashes look seriously wow! Big, curled, almost false lash look. But, unfortunately it smudges on me. I have quite oily skin though.
AMAZING LONG LASHES

One of the best macaras ive ever used - makes my lashes long and not clumpy

Big lashes

At first this makes my lashes look seriously wow! Big, curled, almost false lash look. But, unfortunately it smudges on me. I have quite oily skin though.

favourite mascara !

this is the best mascara ever. I love the brush, its super easy to get into the corner of my laser and the mascara doesn't flake or melt throughout the day

LOVE

ve tried this product once and i love it so much!

Best high end mascara

Absolutely love this mascara, I always get compliments on my lashes when I wear it. Lengthens like crazy. Worth the money!

Good mascara

I get nice definition in my lashes when I use this. It separates and lengthens my lashes quite well. Easy to remove with no serious scrubbing required.

Nice but Not My Favourite Mascara

I think this mascara is a little tricky to apply if you want to avoid a clumpy look. Wiping the excess product off of the wand is key! However it is a nice mascara which definitely packs-a-punch on the lashes.

The BEST

I was a little sceptical buying this mascara because it sounds too good to be true, but I'm so glad that I bought it! This is my new holy grail make up product. I'm fair skinned so I have blond eye lashes and they're pretty thin/sparse but when I wear this mascara you can't even tell! It looks like I have naturally long lashes and just opens my eyes up perfectly. Will 100% be repurchasing!

Great too

Another great benefit product! Doesn't disappoint

Fantastic

I use this as a finishing mascara. I have my favourite Chantecaille one, then this as the last layer. It gives a black drama and pushes my lashes up and 'sets' them!

Great size

massive mascara ever. it is a great size for the price and goes long way. it give length to the eyelashes however for the thickness i have to use another mascara.

HG for fabulous lashes

I've finally found THE ONE after years of trying every next generation mascara, this is it. I start with Benefit's They're Real lash primer and the results with BadGal are unsurpassed, voluminous and long beautiful lashes. It lasts, doesn't smudge and I've binned the falsies, I couldn't ask for more.

Turns short straight lashes to long curly ones!

This mascara turns my super short and straight lashes to thick and long lashes. It hold the curl in all day and, best of all, doesn't give me panda eyes by the end of the day!

Not the best.

Bought this twice, first time it was great, second time either I got a faulty product but it was clumpy and too much mascara was left on the brush each time. This is not a product I use daily... Nor would I recommend it roller lash is better.

Lengthening mascara

Beautiful lengthening mascara, the wand looks like it wont do much, but I just dip the wand in and wipe the excess off (this avoids that thick clumpy look everyone has mentioned) and then apply one coat and let it dry, then another for a bit more volume (the first coat gives you great length) The price is a bit expensive for what it is, but the reality is that if you are after a good quality mascara, then spend that bit more on it, if you use it for 3 months its only $14.33 per month, which I would rather pay than buy a cheaper one more frequently.

Longer but thin lashes

Great non clumping mascara, but doesn't add weight just length.

really good mascara

I have small uncurled lashes and hooded eyes and this mascara gives me really nice dark curled lashes

LOVE

This is so good at opening the eyes! I use the roller lash first and then this and it's absolutely amazing!!

Not impressed

Love this brand so far. But not happy with this product. It leaves my lashes clumpy and sticking together. I much prefer the other mascara with the pink case/lid.

a new favourite

Applies well and easily on eyelashes, lengthens without making them clumpy, does transfer a bit when wet, but wears well throughout the day/

Best eyelash mascara ever

Super black super dramatic effect gives length and volume

Unpopular opinion

I tried to like this since theres so much hype but it makes my eyelashes clump together. Thought it was a bad batch but I bought a sample product and had the same problem :(

UNFORTUNATELY FAULTY PRODUCT

UNFORTUNATELY THE MASCARA WAND HAD NO BRUSH ATTACHED.
I WAS VERY MUCH LOOKING FORWARD TO TRYING IT AS THE PRODUCT DESCRIPTION WAS IDEAL.
HOWEVER, AFTER CHATTING WITH ADORE WHO WERE SO HELPFUL THE PRODUCT HAS BEEN EXCHANGED FOR ANOTHER PRODUCT.
EFFICIENT SERVICE BY ADORE AND RETURNS, STORE CREDITS AND REFUNDS DEFINITELY NOT A PROBLEM.
WHAT A GREAT SERVICE.
KUDOS ADORE BEAUTY.

Big YES!

My eyelashes haven't looked this good since extensions, my eyelashes stay lifted all day and still look flawless after an 8 hour day at work.

Fav

This is my favourite mascara, best I've ever used. Super lengthening without clumping or looking fake and nicely volumising.

Loving it

Loving the new mascara I purchased. It separates my lashes nicely while extending them to feel like they are longer!

very good

love this product. my lashes look very long and pretty!

Disappointed

This product is fine. However, it clumps my lashes together, I have to be VERY careful of transference, so EVERY TIME I apply it, i have to get a tissue to wipe some off my lashes so it doesnt go all over my face, then use a clean spooly to un-clump my lashes. NOT worth money.

Works really good

Gives great length to my lashes and they look so full. I recommend.

OMG

Amazing. I received a sample and used it randomly. I did layer it with another mascara just because I always use two. And This is honestly my new favourite. Buying the full size ASAP.

I don't have straight lashes, they're somewhat thick and long, but I wouldn't ever go without mascara. I can't say how they'd go on someone with short or sparse lashes.

Flakey

This mascara initially looks good when applying - makes my lashes thicker and longer. Unfortunately I notice throughout the day there are little tiny black flakes fallen onto my cheeks. I have tried using less mascara but hasn't made a difference. Won't repurchase.

Best mascara

Love this mascara! It is volunising as well as lengrthning and gives the perfect separation for lashes! I have naturally long lashes, but this makes my lashes look amazing, almost like they are extensions or false lashes. Would definitely recommend!

good

This is a good mascara. It's really good for separating my lashes

Excellent

Brush is super easy to use and gives me heaps of volume, I have this and the little baby version for my handbag does a great job of really lifting from the last line

Really stays put!

This mascara stays on like nothing else would. It really increases the volume and length of your eyelashes noticeably. You won't ever have to worry about panda eyes with this mascara.

Amazing

This mascara makes my lashes look so long and thick! I'm amazed at how good this product is!

Stunning

Really great mascara, I really love the wand on this and feel like the volume I get is justttt incredible. Obviously it's a big price tag but if you can afford it I definitely reccomend giving it a go!

game changer

Asked my friend if I could try her BADgal mascara. Loved it so much that I ordered it the very next day!! don't need to apply much depending on the occasion

Worth every cent!

I have tried a lot of mascaras but this one is magic! It makes you look like you're wearing false lashes as it thickens and lengthens. My favourite mascara.

Love

This is one of the greatest mascaras of all time to creating major definition.

The best

I recently purchased this and WOW! The best mascara I've ever tried (and I've tried hundreds)! I have short fine lashes and other mascaras were either too thick or the brushes too big. This glides on beautifully and makes my lashes look long and lovely. I've wasted so much money on mascaras over the years but now I've found my product.

Nice product with dramatic length

I was given this product as a gift and told that the effect would be bold and dramatic. I definitely think this is true and you only need the tiniest bit on the brush to avoid clumping which happens very easily. The length is very dramatic and the effect is bold. Good for nights out.

Good

I use this mascara as a second coat finishing layer. Really black ... love it

Great Mascara

I am a fan of "they're real" so decided to give this one a go. It wears very well and gives my lashes great volume. Another great mascara by Benefit.

Better than other Benefit mascara products

I have been using the They're Real! mascara for a long time now and found that while it is good it does tend to clump my eyelashes together after the bottle has been used a while. This was part of a gift set and I've found it to be an improvement in terms of giving a more natural look with the same volume. I have naturally long lashes so I tend to prefer something that enhances these subtly rather than going for a full mascara fest that looks obvious, so this is a good fit. I'd recommend it.

AMAZING mascara!

Absolutely love this mascara! It lengthens and gives so much volume!!

Yessss girl!

I received a deluxe sample of this super popular mascara and all I can say is YESSSSSSSSSSSS GIRL!
Delivers as promised! BANG! :)
It is easy to apply which is always a plus if you are in a hurry and delivers longer lashes instantly!
The only reason I gave it 4 stars instead of 5 stars is it did smudge a little.... with that said I do use 2x coats of mascara to give my lashes a more 'intense look' :)
Definitely a party season essential :)


Bad, Gal, Bang = Buy, This, Now.

Ummmmm.... wow. I've been a Too Faced Better Than Sex mascara girl for as long as I can remember but decided to give this a try after I watched my fav beauty bloggers fly overseas for the product launch. It is like instant eyelash extensions!! So lightweight and effective. Goodbye better than sex, hello bad gal bang!!!

Amazing lengthening mascara

This mascara is a very light gel texture with an incredibly thin and flexible wand so you can easily bring the gel from roots to tip. As you bring it from the base of the lashes to the ends of the lashes it builds a lot of volume and length and creates an effect that looks like lash extensions. The only reason i didnt give 5 stars is because it is not beginner friendly and the mascara does transfer to the eyelids easily, it is easy to clean up but that will be something some people find difficult in the application. You do need to play with the mascara a few times to figure out how it best works for your lashes. Ive been using a sample for a couple weeks now and i just purchased two of the half sizes, one for me and one for my MUA kit. This mascara LASTS for ages on the lashes, once it is on, it stays put. The 36hr wear claims are LEGIT!!

New favourite mascara

I was really impressed with this mascara, I don't normally gravitate towards volume mascaras as I have small eyes and find the applicators to be very large and messy! However, this volume mascara has a tiny wand that coats the lashes from root to tip, and then beyond! I really loved how this mascara provided volume by thickening each lash as appose to clumping multiple together. The colour of the mascara is a true black, and there was little transfer through the day! Overall very happy with this mascara, and will definitely be sticking with it!

Love love love

With hooded eyes I'm always looking for my holy grail of mascara, I'm an addict who buys a new one every 2-3 weeks but after trying this I think I've found what I'm looking for! Lengthening, not clumpy, easy to apply without getting it all over my eyelids and looks like I have extensions when I have it on - I can't ask for more and I'll definitely be a repeat purchaser!

Best mascara!

Best mascara I have ever used! As someone who has just given up lash extensions, I was looking for something that made my lashes look amazing without them and this is it! This mascara is light weight and provides so much extra length. Honestly worth all the hype, new holy grail product!

Best Mascara Ever

I have very short straight eyelashes and have tried so many different mascaras and none have lived up to the hype. This does, it's amazing! I actually look like I have lashes, it does transfer easily onto the eyelid whilst drying but easy enough to clean. Love it.

Amazing!

I've never been a mascara type of girl, mainly because I have such tiny short lashes and I usually have extensions or just use glue on lashes. After watching so many YouTube videos of the Badgal mascara, I was totally amazed!! I NEEDED to try it for myself. I purchased the smaller size (Incase I didn't really like it, plus it's pretty expensive for the full size). I must say, it's lived up to the hype!! I did have my doubts as my lashes are so short, but after using the mascara you could actually see there was a difference. I would buy this again as I can now use it on a daily basis

Statement piece!

I've always used Benefit's Roller Lash but I was given this as a free gift with my last order (thank you Adore Beauty hehe). I really like this, it's great for creating a real statement lash. My lashes were thicker and longer than when I use Roller Lash, I looked like a was wearing false eyelashes - so great for a night look, no clumps, and stayed completely waterproof. I still prefer Roller Lash for a more subtle day look, but will definitely purchase a full size Badgal Bang when I run out as I love the thick full lashes it gives me.

I'm in love

My favourite Mascara was always LÓreal False Lash Telescopic but have since changed to cruelty free products. I read a lot of great things about Too Faced Better Than Sex Mascara and purchased this to give it a try.I would say it is Ok but was not as good as the L'Oreal one. Anyhow I received with my Adore Beauty order a sample of the Benefit BADGal BANG Mascara and absolutely love it. Gives length, volume and all without clumping, it's just gorgeous. Would highly recommend this product.

Not sure about the hype

This mascara was "meh". It made my lashes super black and gave them a bit of length, but I have had the same effect with drugstore mascaras. Wouldn't commit to this purchase again.

Benefit BADgal BANG Mascara

Omg this product is bloody amazing!
I have tried many mascaras before and this one is off the charts!
I've been contemplating getting eyelash extensions but always been a little bit unsure of it.
Then I bought this Mascara off Adore Beauty and OMG! My lashes have never been so long! I'm not even joking!
Definately highly recommend this product to anyone who wants super long lashes.
Even better part is, one dip and you can do both sets of eyelashes! AMAZING STUFF! Kudos to whoever invented it xx you've one me over forever

BADGal BANG mascara is da bomb!

I was very sceptical indeed before buying this mascara. It's wand is rubber (YUK) and it's super bendy ( DOUBLE YUK ), but I gotta tell ya I have been very very wrong being too judgy pre mascara purchase.
BANG me Benefit BANG me! This mascara is THE BEST !!
From the first swipe of the weird wand I knew I was going to fall in love with this product and I've fallen deep. I've had 3 compliments on my lashes already today and it's only 5pm and my first day wearing it.
My lashes are so long and full and there has been zero transfer onto my lids which is a rare occurrence.
I bought the small size to be safe but will definitely get the full size version from now on.

The best Mascara I've ever used!

To say this Mascara is amazing is not doing it justice! It's seriously so good! My eyelashes are almost touching my eye brows! I think this will be my new go to must have beauty product!

Amazing!

This is definitely my go to mascara! I have black, short lashes and the mascaras I've tried often don't give that extra length, volume and thickness that BADgal BANG does. For those looking for a bold falsie look, Benefit definitely outdoes itself with this one. The wand is a good size for easy application and it doesn't clump my lashes together. I only get a little bit of product under my eyes after a long hot day but overall it stays put really well. It is also incredibly easy to take off with makeup remover. I Definitely recommend this mascara, it does not disappoint!

Fantastic!

Personally, I have never found a mascara that doesn't smudge under my eyes and I couldn't believe it when I put this on, it dried and didn't move! I am so happy a mascara came out that wasn't clumpy but also gave me black long lashes that lasted all day. Will definitely be buying this again!

Completely worth the hype

I've used the odd Benefits product when I've gone overseas,so I was interested when I saw this hyped as a must have product everywhere. All I can say is WORTH THE HYPE. I've got very blonde eyelashes, and they're not particularly long, and this gives really great volume and length. It's not clumpy, and has staying power. I never write reviews usually, or make recommendations, but I even recommended this to a beauty group I'm part of.

Blown away

I could not believe how good this mascara was. It's like eye lash extensions in a tube. Would highly recommend for anyone wanting a false lash effect. The product was easy to apply, easy to remove and did not transfer. Hands down, the best mascara I have used, EVER!

My new favourite mascara

My search for a mascara that gives me beautiful long lashes is finally over! I have short lashes, and after trying so many mascaras that promised and then failed to deliver length and volume I had just about resigned myself to stumpy lashes for life. BADgal bang gives the appearance of full, longer lashes after just 1 coat! I love the applicator, I find it grabs each lash better that the average mascara wand, and doesn't clump my lashes together. Its easy to remove too, I just use cleanser in the shower and it's gone, no surprise panda eyes in the morning.

Love It!

Benefit weren't joking when they said this mascara was buildable without clumping! This is my new favourite everyday mascara - nice and black, good volume, a bit of length and it doesn't flake off throughout the day.

The only thing to note is that if you like a bit of mascara on your lower lashes like me, this is probably too black and volumising for that, but otherwise I have nothing bad to say about this mascara!

Got any BLACKER!

I love big, bold and standout lashes with the sticky glue and fake lashes.. not to mention your eyelids sticking together ;). I believe Benefit Cosmetics want to achieve a standout product range that defines perfection and delivers what it sets out to achieve. I am extremely happy with product.

Love it!

I got the mini version because I'm very fussy with mascaras. This one is a new favourite. It lengthens my lashes and makes them look alot fuller. It doesn't flake off or smudge and comes off easily. I have sensitive eyes and this one has been great!

Beautifully black, long, and voluminous lashes!!!

I had heard a lot of positive reviews about this mascara within the beauty world, so when I tried it I had very high expectations. This has to be one of the best mascaras I have tried in recent times - it's super black, adds length and volume easily, and most importantly does not transfer throughout the day. Maybe not suitable for people who like a very natural, subtle look because it definitely adds drama, but I will definitely be re-purchasing this mascara!

Life changing!!

WOW! Just wow!!
This mascara is the bomb.com! Amazing formula, very volumising and lengthening! Coats lashes beautifully and makes them very black! Seperates lashes and makes your lashes look full.
Highly recommend! Also when I bought this product I got a mini sample version of it and gave it to my friend to try and she's in love aswell! We both think it's the best mascara we've ever used. 10/10 would recommend! Thanks adore beauty xxxx

Stunning Results!

I am a mascara addict. I am super fussy. I will spend on mascara. I was a bit sceptical about this product fearing that it might be all hype but the hype is valid. This mascara is a winner because: a) It is easy to apply and build for lashes with a degree of definition AND amazing length; b) It doesn't slide down my face in the day due to my annoying watery eyes! c) It gives an amazing wide-eyed, wide-awake doll look even though I have had minimum sleep. d) It costs a bit less than my all time favourite YSL mascara and pretty much matches the quality. What is not to love?! Well, one teeny, tiny thing... I am a mascara addict who is lazy and this mascara takes a little more effort to remove than my favourite. However, that's more of a flaw with me than the product! I would definitely recommend purchasing this one. I will be again and again.

Nailed it!

Benefit absolutely nailed this mascara. After having eyelash extensions for 5 years I reluctantly decided it was time to have a break. My self esteem took a nose dive when I saw how bare my eyes looked without my extensions. I'd heard amazing things about this mascara and desperately jumped online to order it. I was a bit sceptical about whether it would be better than other mascaras so I only purchased the mini. I was blown away by how much longer, darker and fuller it makes my lashes. I didn't think I would feel confident again without my extensions but this mascara has totally turned that around for me. I will definitely repurchase and I highly recommend it to others looking to boost their lashes.

Lengthens and doesn't smudge

This mascara does lengthen, seperates, feels lightweight, is super black and it doesn't smudge. However, I don't find it to be very volumising, and I prefer the they're real mascara and roller lash over this.

The best product

Amazing mascara this is my far my favourite to use i only got the mini to try so I will definitely buy the bigger one too.

Not too bad!

I do like this mascara, it gave me length and blackened my lashes nicely. The only thing I didn't like was that it didn't seperate my lashes as well as other mascaras I've used; it was a little clumpy. I had to use another mascara on top to seperate my lashes the way I like them. Overall this is a good product.

AMAZING

this mascara replaced my holy grail i had been using for 6 years! It is so lengthening and volumising and it doesn't smudge under my eyes which was a big issue for every single other mascara i have previously tired. You need to give this a go for sure and the travel size lets you do that without the commitment

Yeah nah

I had such high hopes for this mascara after seeing all the hype but have sadly been disappointed. The formula is super thick and clumps lashes together. It takes a good few tries to get them nice and even (be sure to remove extra product off the wand). Also I noticed flaking towards the end of the day and doesn't hold up all my lashes like it should. Also don't use this if you have sensitive eyes. I shall be sticking to they're real - it's the best!

YES YES YES

Very impressed with this mascara, for me it lives up to the hype and has easily become one of my favourite mascaras. It did take me about 3 times until I liked it, but thats simply just getting used to the formula (it is bit wet at first) and how to make it work for you (same as any product) but Benefit have done it again with another holy grail product!

INCREDIBLE !!!

This product is beyond their 'They're real' mascara. Its at least 5 x better. Longer and thicker lashes. Perfect applicator that separates the lashes individually (now i can reach my bottom lashes without it getting messy!). Would recommend buying 100%

Worth the hype!

I was hesitant to buy this because I thought the mascara I was already using was doing a good enough job and thought "Why do I need a mascara of this price?"
I caved and bought it and WOW!! Honestly doubles the length of my lashes, doesn't make my lashes clump together but still adds so much volume.
Hand on heart, best mascara I have ever used. So many people have been commenting on the length of my lashes when I wear it, that's how I know it's good!!

great pigment

this mascara is good for getting solid black over all of your lashes, unfortunately it doesn't hold my curl after i use my eyelash curler. Its also takes quite a bit of brushing and combing out do get the lashes to stop sticking together.

New holy grail mascara!

This is my new holy grail mascara! So much pigment, lightweight and stays on all day without flaking or wearing off! I also use Roller Lash which I love, but Badgal Bang just has a little more 'oomph'. Best to use a lighter hand the first time you try it :)

Believe the hype!

This has replaced my loreal 4D architect mascara as my holy grail! I love big bold dark lashes and this mascara does that for me! Never clumps and it separates my lashes beautifully. I've had so many compliments since wearing this mascara with people asking me if I've been wearing falsies to work! Will definitely be repurchasing.

Love it

I've used Benefit Mascaras for years now and They're Real was my holy grail, that was until i received a sample of BADGal Bang.
I will be buying the full size!

So damn good!

Got this as a sample, but now I'm converted. I was using a Chanel mascara that would fall out everywhere but this is so much better! Gives great looking lashes with minimal fall out, definitely give this a go!

LOVE

Have always used they're real mascara, and thought i'd try this one - this is my new holy grail! makes my eyelashes super long and thick!

My new fave

I have really straight and sparse (but long) lashes, so a mascara that can volumise, hold curl plus lengthen and separate is hard to find. This is it. BADGal BANG! is the best mascara I've tried in a long time that does all of those things. I always reach for this one when I'm heading out as it gives them falsie-level volume and length. Highly recommend.

Yassss Benefit!

BENEFIT STRIKES AGAIN! Add extremes length and coats your lashes with the darkest of black pigment. This mascara will give you the appearances of false lashes.

Best new mascara I've tried in a while

This mascara does not lie. It separates and lengthens without clumping AND it does not smudge. My lashes looked thicker and longer but not clumpy. Love BADGal BANG.

Falsies?

This is the best volumising mascara. Lashes are bold and separated. The brush is easy to maneuver and the product is smooth.

LOVE, LOVE, LOVE THIS MASCARA

I LOVE THIS MASCARA!
I love a big bold eye look and this mascara gave me big, voluminous, black lashes that lasted all day without flaking or smudging.
Cannot rave about this mascara enough.
Did I mention that I love it?

Length & Volume

This mascara does almost everything it says it will. Upon application, my lashes looked extra long and full like I was wearing false lashes. The mascara doesn't clump, even after a few brushes onto the lash.The only reason I can't give BADGal BANG 5 stars is because it gives me so much lift that my eyelashes touch my lids and leaves me with smudges above my eyes, meaning I need to arm myself with wipes for touch ups when wearing it. Aside from that, it gets 4 out of 5 from me!

Like but not love

I've tried all of Benefits mascara and not sure if this is my favourite... I found that WAY too much comes out on the brush, which is easily remedied. With other mascaras I would normally let a layer dry but adding more / topping up later in the day - definitely don't do that with this though - you need to put on as much as you like in one go, otherwise it clumps and looks horrible. Once I got the hang of that though, looks great, nice length and definition

Absolute yes!

Benefit have proven themselves as legendary Mascara makers with the new BADGal Bang. This mascara perfectly lengthens my lashes with no clumping and no smudging. Honestly I still can't decide which Benefit mascara is my favorite as they are all SO GOOD. However BadGal Bang is a strong contender. Love it!

the best!

Nothing compares to this mascara. I get awesome volume and length from this. The brush helps separate my lashes really well as it is such a great slim shape making it easy to get into the inner corners as well as the bottom lashes without making a mess. Non irritating and long lasting :)

Best mascara

I purchased the little bottle to try and i love it. This is the best mascara i have ever used, it really does what it says. I have tried many mascaras and this is great. A bit time consuming to apply, is the only negative. I love the thin brush too. I just purchased the big bottle.

lovely bambi lashs

I think this is benefits best mascara yet, delivers every promise.
Long, thick, defined and lasts all day

do your self a favour give it a go :)

Awesome mascara!

Awwsome Benefit mascara - I love this mascara as it lengthens and gives volume to my eyelashes! Long-lasting as well :)

Flakey

I have always been a Benefit mascara lover and was hopeful that this would replace my favourite Roller Lash! But I was disappointed to find that it consistently flakes during the day! Don't get me wrong, I love the overall effect- amazing volume and length- but it just doesn't wear well during the day.

Best Mascara

Hands down the BEST mascara I have ever used! Makes my lashes look so long and thick. It doesn't cause any smudging or flaking and I find I don't need to touch up through out the day. I've been recommending this to all my friends and family. I absolutely love it!!