Avène Sunscreen Emulsion Face SPF50+ 50ml
Frequently bought with
Please wait while we find a match
Questions & Answers
(No Questions Yet)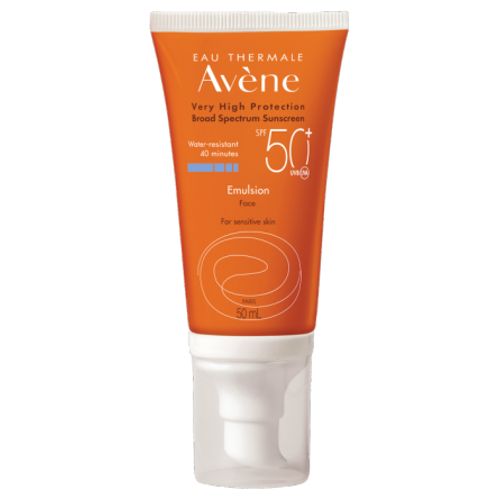 Avène Sunscreen Emulsion Face SPF50+
Get an expert to answer your question about this product!
Ask a Question
78% recommend this product
Most Helpful Positive
Good
I love the sunscreen. Doesn't feel too greasy and very hydrating
Most Helpful Criticism
Not my favorite sunscreen
Being a person of colour (light-medium brown), finding a sunscreen that doesn't make me look like a ghost or very sick is a big factor, however, this sunscreen does and doesn't do that. As soon as I put it on there is a clear white cast (even after working it in), though as it settles in it does fade away to some degree. For me, I do find it a bit greasy after a day of wearing it, but initially, it is quite fine. I love that the pump is at the bottom rather than the top, makes sure that you get every ounce of product. I'll keep using it until I find one better.
Good

I love the sunscreen. Doesn't feel too greasy and very hydrating

Great for sensitiive skin

I like this product as it doesn't irritate my skin. I move on to physical sunscreen but if you don't mind chemical sunscreen, this is a good one to have.

Avène Sunscreen Emulsion Face

Been trying so many sunscreens from a Korean brand to drugstore brands. This one gives you a glow skin but white like tone up. So instantly skin looks great even without foundation. And of course its can be a good make up base too. Sits very well under makeup. And very moisturizing. Im combination oily but its work well to me. ❤️ Definitely will repurchase.

Ok

This is a good sunscreen and even though I have fair skin, I find that i have to rub it in very well for the cast to disappear but this is a good base under my makeup

My go-to everyday sunscreen

I have normal/combination skin, pretty fair skin.
I have used this sunscreen every day since December, after my serum and eye cream, under my makeup or as is.
It comes kind of white-ish on your skin first, as other users described it, but it does go away. I think it is a very good base under powder as well.
However, I think it is not really watery like an emulsion. The word is a bit exaggerated here. it is still creamy and need to massage your face a little to let the product penetrate. But that's not a problem for me. My boyfriend prefers a lighter texture for example.
I never use a sunscreen under SPF 50, to prevent dark spots and wrinkles. Overall, this Avene sunscreen never let me down!

Didn't work for me

I was disappointed. Normally I have great success with the Avene products. However this left my face sensitised. Not sure if it was the added fragrance in it - either way I couldn't continue to use it. Good texture though.

Fav Chemical SPF

Loving this sunscreen! Perfectly lightweight for wearing under makeup - it doesn't irritate or clog up my skin which is a huge plus. When you first apply it I find it does have that typical white glow that a lot of sunscreens give but after 5 minutes or so it seems to soak in and look more natural.


Not my favorite sunscreen

Being a person of colour (light-medium brown), finding a sunscreen that doesn't make me look like a ghost or very sick is a big factor, however, this sunscreen does and doesn't do that. As soon as I put it on there is a clear white cast (even after working it in), though as it settles in it does fade away to some degree. For me, I do find it a bit greasy after a day of wearing it, but initially, it is quite fine. I love that the pump is at the bottom rather than the top, makes sure that you get every ounce of product. I'll keep using it until I find one better.

Not keen

I found this too thick to use under makeup. Very thick for chemical sunscreen

Great

Best drugstore sunscreen to wear alone or under make up. It does have a white cast but it doesn't last long before it soaks in. I'm on my 3rd tube. Not greasy but also not drying for dryer skins. Very happy with this product. I particularly love the pump tube packaging.

Good protection

This lotion has good sun protection and is not irritating. The formulation is a little watery, being an emulsion, but spreads nicely and sits under makeup well.

thick texture

Feels a bit thick like it's clogging my pores, but my skin tends to be quite sensitive. It does sink in eventually, but it feels more like a traditional sunscreen than others I've tried.

Favourite chemical sunscreen

I love this stuff. Doesn't leave a white cast if you work it in properly, it's lightweight and not overly expensive. I've since moved to a physical sunscreen, however if I choose to wear a chemical one for whatever reason, it's this one! Highly recommend

Too thick to layer under makeup

This feels like any other zinc based thick face sunscreen, just a little smoother. Good for a day without makeup though! Smells good. Still wouldn't recommend, conclusion: too thick and feels cloggy.

Will buy again!!

I really liked this SPF, I find it suitable to wear under make up. It doesn't leave my skin greasy. I will re purchase for sure.

Great for the handbag

A great long lasting non oily sun screen with a PUMP! great for the handbag.

Nice

Like this product, wasn't greasy, little thick but most sunscreens are and didn't irritate my sensitive skin.

Great sunscreen for senstive skin

Loving this sunscreen! Perfectly lightweight for wearing under makeup - it doesn't irritate or clog up my skin which is a huge plus. When you first apply it I find it does have that typical white glow that a lot of sunscreens give but after 5 minutes or so it seems to soak in and look more natural.

Not convinced

I find the product a little too thick for my skin, requires rubbing in which leaves my skin looking a little red and greasy.

Going to keep trying to use it but not convinced its the right product for me.

Not great but not bad

I love Avene products but this isn't a favourite. It's okay but takes awhile to dry before I can apply makeup. It's good for a makeup free day though.

Not convinced this is the best for sensitive skin

This felt lovely on initial application but after i started to sweat i felt a stinging sensation on my face, i have very fair and sensitive skin so im not sure this is the best for extreme sensitivities.

Thick yet protective

I know this product works however still working out whether to put on before or after beauty products to assist blending it into skin as it is thick and I feel I have to rub it in quite a bit. Not a smooth consistency like a moisturiser when rubbed in so I usually apply moisturiser after it to leave my skin softer without the sunscreen residue feeling

It's OK

I have darker skin and unfortunately it leaves a white/purple cast on your face no matter how much you blend in. However, it doesn't cause any breakouts and feels soft on the skin.

Smelly and sticky

After trying the face and body version I bought this one hoping it would be better. It suffers from the same problems. It's very strongly perfumed and even with powder on top left my skin feeling sticky and tacky. Terrible.

Best face sunscreen

Wonderful product — not greasy or thick! Perfect for everyday use and acts as a nice primer to makeup too without drying skin.

Awesome

So far it's great. It feels light on the face and as I have sensitive skin I have to be careful most sunscreen face products make me super oily in the T zone and I end up with pimples this brand has been great for me and best of all no ultra shiny flashback in photos. It's a win win from me. Bring in summer!

So convenient

I keep this in my bag, and apply when out for a walk, off to the beach, or anytime appreciating the sunshine. It's gentle on my face, and feels subtle while providing coverage that is total. It'll happily travel with me during Summer.

AVÈNE SUNSCREEN EMULSION FACE SPF50+

Best drugstore sunscreen to wear alone or under make up. It does have a white cast but it doesn't last long before it soaks in. I'm on my 3rd tube. Not greasy but also not drying for dryer skins. Very happy with this product. I particularly love the pump tube packaging.

Perfect make-up base

I'm Asian in my 40's with combination skin. I get really oily on my t-zone. Most sunscreen I have purchased will sit well on my skin after an hour or so and would become very shiny and grossly oily from then on. I thought of giving this product a go as my cousin swears by this brand. Now I have been using it for three weeks running. It feels very light on my skin, gets absorbed quite well and the best thing for me is that it doesn't cake when I put on my foundation and powder. I am so pleased! Highly recommended!

Great sunscreen ever

The best sunscreen I have ever used after testing several products ... contains the best ingredients and go very well under makeup no white cast not greasy ...

Best sunscreen

Best sunscreen for dry and/or sensitive skin. It sits well under make up and I don't break out from using it.

Great everyday sunscreen

This is a great everyday sunscreen especially if you have sensitive skin or are prone to breakouts! Its non-greasy and sits well under makeup! Would buy again

good

great sunscreen for sensitive skin, no breakouts

Great sunscreen

Very good facial sunscreen. Has a great texture that's not too thick and doesn't make skin feel too oily or clog pores.

Nice product

This sunscreen is great used under makeup. It runs in easily and does not leave the skin greasy or white looking! Nice product!

Amazing product

I was looking for something with high protection for daily use, suitable for oily skin and with light finish at a reasonable price. This product got me everything. It is great for my oily skin and for using with make up. It is not thick or greasy. It also don't leave your skin white.

Handy bag companion

This is great to have in your handbag, no leak pump and cap in a handbag friendly size. The product itself is great for reapplying sunscreen to my face and arms during the day - it spreads nicely and absorbs quickly without too much white cast. Smells nice and subtle - a bit like baby powder. Best of all, even though it has a bit of fragrance it doesn't irritate my very sensitive skin. I don't like this under make up though, I use it on bare face beach or travel days.

Favourite affordable sunscreen

This sunscreen goes so well under make up. It doesn't look oily or greasy and it soaks into the skin well. I love it!

Disappointing and irritating

I love avene products usually and had high hopes for this. I have sensitive skin and eyes and also need something that wears well under makeup. I found this sunscreen quite irritating unfortunately and had to remove it after a few hours. I also didnt like the texture!

Lightweight

Great face sunscreen for everyday wear. Doesnt feel greasy and doesnt feel sticky!

Lightweight on the skin

I bought this product after finishing my old sunscreen and wanted a cheaper alternative to what I had been using. This sunscreen soaks into the skin nicely and doesn't leave your skin feeling or looking oily. It's great under make up and love that it's SPF50+. Will keep using this!

Average

For some reason this didn't give me enough protection! I apply this 30 mins before I go out yet my skin still gets red from the sun! And it's winter where I live!

Pros:
- Pump dispenser.
- Unscented.

Cons:
- Does not offer sufficient protection.
- Hard to blend.
- When I first apply it it doesn't leave a white cast, but later on they start to appear!

Great sun protection

As a pale girl myself, I'm always looking for a spf50+ sunscreen that performs well under the sun but also on the skincare side of things in terms of texture. I love the formula of this sunscreen as it's specifically made for the face and it has the perfect texture that blends into the skin well whilst providing that sun protection coverage. It doesn't leave a white cast on the skin and absorbs well, leaving barely a feeling of residue on the skin.

Perfect for my skin type

I used to hate the thought of wearing sunscreen because I just thought of a greasy mess but since trying this one I am now wearing it everyday and it has helped protect my skin from the sun really well so far, I love that it's good for sensitive skin and breakout prone skin , I've had no problems with it so far and am happy I've tried it

Really great!

I have breakout prone and sensitive skin and I love this sunscreen. It protects me really well against the sun and it's like wearing nothing on my face! It is so lightweight i hardly notice it at all. Most importantly it doesn't break me out! Definitely recommend!!!

Awesome

I am SO GLAD that some of the French brands' sunscreens are finally available in Australia. I understand that we need our SPFs to withstand the Australian sun and everything, but the thick, gluggy sunscreens available here act as a total disincentive to use sunscreen at all. Even the "non-oily" ones designed for the face end up being thick and greasy and leave a white cast. I can't put those sunscreens anywhere near my face without ending up covered in blackheads and blocked pores. Not every sunscreen is headed for the beach! Some of us just want day-to-day protection while going about our business. Both this and La Roche Posay's range of sunscreens are great and non-greasy, and I'm so happy I can buy them here now!

Amazing sunscreen!

I purchased this when Avene first released it and I'm now on my second tube! It is a lightweight and non-greasy sunscreen. It doesn't break me out or feel heavy like other sunscreens do! It sits really well under makeup and actually acts like a primer for it.

Light weight - nothing to complain about

This physical/chemical sunscreen is cosmetically elegant. It's fairly lightweight considering it contains physical sunscreen. I can easily apply it under my makeup. It's fragrance free which is a plus for me. Might not be the best I have tried but would still recommend this one.

great for sensitive skin

My favourite of all the sunscreens I tried this summer. I have extremely pale, sensitive skin that reacts to most sunscreens and this is one of the few that I have not reacted to. It has a pretty light texture for a 50+ but still slightly greasy.

Great for pale, non sensitive skin types.

My skin is medium/tan toned and this sunscreen left me with a film of greyish white across my face (like a pale mask). It was easily covered up by foundation or a tan powder so it wasn't my biggest issue. It was the fragrance (like a baby powder scent) that made my face break out in pimple type bumps. If my skin wasn't so sensitive, I would have been ok with it.

Best I've ever had

I usually hate wearing sunscreen I have super sensitive red skin but this has been so dreamy to wear all day long. I use with a moisturiser as I have very dry skin and it gives a nice non oily dewy look. Love love love this product!

I feel protected without feeling greasy!

I love love love this product - spreads easy, has a light feel, hygienic container and it's SPF 50, so I feel really protected.

Must try!

I apply SPF everyday so I need something that doesn't have too much scent to it and keeps me moisturised as well as protected and this product is amazing for that! I love the smell and it doesn't feel too heavy on my skin and wears well under makeup. I don't find that it makes me skin any oilier or dry and it just keeps me well covered throughout the day. When I am in the sun for long periods of time I do make sure that I top up throughout the day to ensure I get the best results from this product. :-)