Avène Cleanance Gel 200ml
Skin Concern:
Acne, breakouts and blackheads
Oiliness and shine
Sensitivity and redness
Skin Type:
Normal to dry
Normal to oily
Oily
Questions & Answers
(No Questions Yet)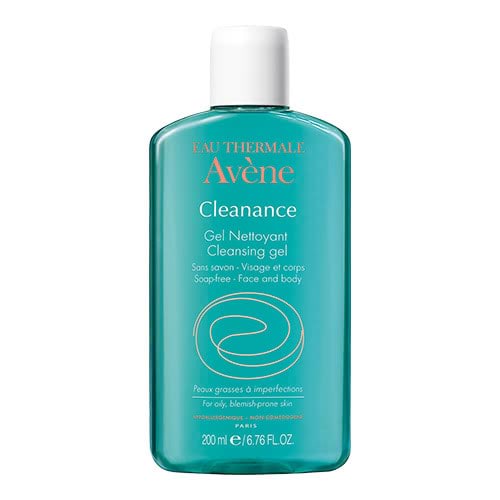 Avène Cleanance Gel
Get an expert to answer your question about this product!
Ask a Question
93% recommend this product
Most Helpful Positive
Great
This cleanser left my skin really smooth, made skin very dewy
Most Helpful Criticism
Alright but nothing outstanding
Cleanses the face well, takes all make-up off but that's all. You may find cheaper options.
Alright but nothing outstanding

Cleanses the face well, takes all make-up off but that's all. You may find cheaper options.

Great product

Removes all make up and oils. A little goes a long way! You seriously only need the tiniest bit to clean your face and neck. Great product, will last ages!

Great

This cleanser left my skin really smooth, made skin very dewy

A real good cleanser.

After receiving a small sample of this from Priceline, I was intrigued to use this cleansing gel as I have never used anything from the Avene skincare line other then their iconic thermal water spray.

I must say, this is a good cleanser. It removed all the build ups of oil and dirt from my skin. I know this as when I followed up with a toner, there was no visible excess oils or dirt that came off, which is a rarity for me and my oily/combo skin. I don't find that this cleanser left my skin feeling stripped either. I like the fact this product is soap free and hypoallergenic too, along with the fact that it didn't break me out whatsoever.

Onto what I don't like about this product... The scent. It smells like an actual bar of soap which really puts me off if I'm honest. It just really hinders me when I use this product, even to the point where I start questioning if it really is soap free.

Either way, this product works. I personally wouldn't repurchase this in a hurry as I can't get past the odd soap scent, but if scent is not a factor that bothers you I would try this product if you're looking for a trusty cleanser to clean excess oils, dirt and impurities.

Great Deep Cleanse

I have fair, sensitive skin and this is really gentle while providing a deep clean. I have noticed my texture evening out since using this product.

Good for sensitive skin

Love this cleansing gel! So gentle and mild on sensitive skin, but still gets the dirt off. My face feels quite hydrated after use, not dehydrated like with other cleansers.

Good for daily use & cleansing

I have combination skin and been using this product for 3 months now. you only need a small drop and it forms a good foam to apply all over the face. A light application cleanses the face. It does clears, cleanses and refreshes as it claims. It feel a bit like anti bacterial formula and mild smell makes it for a good daily face wash. I generally apply moisturizer straight after for it to not dry my skin.

Drying

Personally I found this really drying for my skin. Face felt very tight after. I was also not a fan of the scent.

Absolute Holy Grail

I cannot recommend this cleanser enough if you have combination oily or break out prone skin! I have tried so many cleansers and this one out does all of them. Leaves my face feeling so so clean but with absolutely no dry feeling to the point where you could easily forget your moisturiser because your skin already feels so perfectly balanced.

This cleanser is the reason that my redness prone and blemish prone skin looks glowing without makeup. I constantly get complimented on how even my skin is, and I put it all down to this.

MUST HAVE.

great product to fall back on

i change cleansers quite routinely - constantly using a different brand and experimenting, but i always go back to this whenever my skin gets irritated, or i just need something that i know i can rely on and not break out my skin.

holy grail!

I have this and am currently using with my husband, we both love it! it definitely helps clear all the junk off of your face and keeps your skin looking crispy clean (fully matte) however if you happen to use this product too often, at least more than once a day you will start to have drier skin.

I would still recommend for sure, just use a very small amount, gradually.

Idol for oily skin but non dryness

I have sensitive skin but I still can use the cleanser. It can absolutely clean the skin even just very small amount.

A nice cleanser

Removes makeup well and cleans the skin, however very similar to a lot of products on the market. Its ok but doesn't stand out.

Goes a long way

I got this for half price once which is the only reason I tried it out and I was pleasantly surprised. The gel foams up and goes a very long way so this bottle lasted me quite a few months. It cleans the skin nicely and does not leave a residue and I like the scent. I have found another facewash that suits my oily skin better but I would recommend this one, it is a solid product.

Amazing

I have trouble finding a good gel cleanser as I have sensitive skin, this stuff is incredible! My skin feels so clean and soft afterwards without feeling dry.

Really good

This is a really good gel. Leaves my face feeling so smooth. Also good to help remove makeup

Wow'd me

I wasn't expecting too much when I got this but it has quickly become my favourite shower product. I use it for both face and body, and it makes my skin feel ultra clean without feeling stripped, and not many products do that for me. It clears any breakouts I may have and leaves skin feeling soft and supple. The scent it soft and refreshing. Can't fault anything about the formula, except I would maybe have changed the packaging into a pump or flip top, as you have to twist the lid which can become a pain when your hands are wet and slippery. Love this cleansing gel!!

Lovely cleansing gel

Nice face and body cleanser with a great freshening scent. Lathers up well both for facial cleanse and body wash. I have oily combo skin on my face and this is a gentle yet effective deep cleanser. Also works great with my Clarisonic.

AVÈNE CLEANANCE GEL

Great cleanser for the price and ingredients! Cleansing was a dream as it foams and really removes dirt and debris, I always remove my makeup prior to cleansing to get best results. Works great with my Clarisonic too. Not drying at all but still made my skin feel clean, fresh and soft, pleasant scent and for combo/oily skin types.

Great cleanser for oily skin types

I love this for double cleansing, after my nightly oil-cleanse. It gets rid of everything - every bit of makeup, dirt, or oil - left over after a long day at work. It has helped me keep my combo/oily skin free of acne, however, it does occasionally make my skin feel a bit tight and dry. Therefore, I'd recommend this to those who have combo or oily skin only. If you have dry or sensitive skin, this might not work as well for you, as it does contain quite a bit of fragrance. I do like this in general, and will continue to use it since it doesn't bother me too much.

Gentle Cleanser

This is a star gentle cleanser, I have oily/combination skin and it works perfectly as a morning cleanser, not too strong or drying! However, it would need to be used as part of a double cleanse to remove makeup as it is very gentle.

LOVELY light cleanser

This product is great for those looking for a basic every day cleanser.
While I do like this product, unfortunately it isn't right for me seeing as I wear a fair bit of make up and cleansing with this doesn't remove everything.
For those days where I wear little/no make up I'll reach for this product without a doubt.
It lathers nicely as I use a cleansing puff and cleanses the skin without stripping it and leaving it feeling dry.
Oiliness on my skin is reduced slightly, but not enough to make a huge difference. I quite like this, seeing as I know my skin won't attempt to overcompensate on oils.
My skin feels clear, smooth and calmed. It has the standard Avene scent and I believe that it's quite economical if you buy it in a pack or on special.
A little goes a long way and the product won't irritate most skins!

gentle cleanser

great, non drying cleanser thats super gentle and effective

Bit too drying

I have oily skin but it was a bit too drying for me. My skin felt tight afterwards and I broke out a few days after .

Holy Grail Cleanser

I am onto my second bottle of this cleanser, and have got three friends onto it to... I have sensitive skin and on top of that recently developed an allergy to Sodium Laurel Sulfate. Many SLS free cleansers I tried are creamy or milky or just don't give you that 'squeaky clean' feeling that SLS has made us all so accustomed to. UNTIL Avene Cleanance, it's SLS free but it works just like a normal cleanser, it foams, it has a delicious fresh smell, a little goes a long way and it leaves you feeling perfectly clean. I double this with an oil cleanser to remove makeup/sunscreen but I doubt I actually need that step as this cleanser is so effective. I've been using it on my whole body and the dermatitis I'd developed is gone, and my skin is perfectly soft and clean. Love, love, love it!

Skin staple!

This is the best cleanser I've used. It gives a clean feeling without stripping the skin, but doesn't leave any residue. A little goes a long way and I've found it's done wonders for hormonal pimples and oiliness.

Average

Cleanses my skin and isnt too drying but definitley is not a wow product. Does what it needs to but is very basic.

It does what it needs to

Look, it cleans your skin, but it's not going to perform miracles. My skin is about as clear as it can be, but this cleanser certainly hasn't completely rid me of acne and there's nothing this it can do for scarring, so it simply does what it needs to.

Affordable

A little goes a long way. This cleanser leaves the skin feeling clean, hydrated and super soft. Helps to control my excess oil production. Definitely will be repurchasing this product.

Decent product

This is a nice cleanser. I like the consistently and it leaves my skin feeling nice and clean. It's nothing special though and you can find other cleansers on the market that do the same job for half the price. I do like it but wouldn't rebuy it.

Does its job

I got this cleanser because it says it's for acne prone skin. It's a nice cleanser and does a nice job. I haven't noticed any difference in my acne but I will continue to use this. Probably won't repurchase though as it's a little pricey for a cleanser

OK, not the best

Look this does the job, there's no denying it cleans your face. I used this RELIGIOUSLY when I live in the city, but now I'm back living on the beach I don't really need it. It was good for awhile, until my skin grew immune to it and starting panicking and breaking out. I had worse acne then when I did when I started it but it was so highly recommended I had to persevere... I reccomend this product if you are busy, sit in aircon a lot, travel a lot or have random breakouts but not as a long term solution.

Clean, no redness and will last ages

Used this for a couple of weeks and was fairly impressed. I have combination skin so this was probably a bit overkill as it was a bit drying in some of parts and I have switched since. However if you have oily skin I think this would work a treat. I used it with Clinique Sonic brush and you just need a little bit. Will last a long time so it is well worth it price/size wise.

Great for oily skin

This cleanser is great for those with oily acne-prone skin. Works quite well at controlling oil, but does have a bit of a scent to it, which doesnt bother most people, but it used to make me sneeze whilst using it (think it was a combination of this and the foamy-ness). I pushed past this though as I really liked this product on my skin.

great for sensitive skin

a great simple cleanser if you have sensitive skin, it feels very gentle and doesn't dry you out :)

Gentle everyday cleanser

I bought this cleanser when I had an allergic reacting to some skincare and had a damaged moisture barrier and it saved my acne-prone skin. It is gentle enough to cleanse even the most compromised or sensitive skin and is my go-to on days I'm not wearing makeup. You only need the tiniest amount so a bottle lasts you such a long time.

Excellent

I have used this for the past ten years and keep coming back to it. Its perfect for dry and sensitive skin!!

So nice!

I have sensitive skin that gets very irritated with cleansers and this is one of my favourites! It is so gentle and makes my skin so clear! It gets rid of all the makeup and dirt from the day leaving my skin so soft and blemish free. I really do recommend this!

Does the job

This is a great cleanser, one of the only cleansers that doesn't dry out your skin completely. I like the jelly texure, although this this targeted at oily skin users it works for my combo skin.

Clean, clear skin

Avene Cleanance Gel is a great product that clears and cleans.

It calmed by break-outs and cleans exceptionally well.

Great for troublesome skin

This product is non comedogenic and was recommended to me by a staff member of adore beauty, It is very gentle and doesn't clog my pores. My acne breakouts have subsided. I would recommend a good moisturizer to be used in conjunction however as the formula is quite drying.

great for oily skin

when I was getting a lot more breakouts and producing a lot of excess oil, I did love this. as I've gotten older my skin has gotten drier and I just can't use this anymore. except maybe in the summer months. definitely suited to younger oily skin types, just a little drying for me now.

Pretty good

This is a pretty good, basic foaming cleanser. Yes, it's full of sulphates; and yes, it can smell a bit like detergent, but it's otherwise a decent cleanser for oily or combo skin. It's feels pretty gentle when you use it, but it can be a bit drying over time as well - so I switched over to something else once the summer ended and my oily summer skin turned back into combo autumn skin!

Great cleanser, a little drying

The cleanser is great for oily acne prone skin, or skin suffering from current breakouts. I have used this cleanser on and off over the last 5 years, and I keep coming back to it when my skin is severely breaking out.

It does a great job of stripping back the oils on my face and leaving it feeling fresh and cleansed. I only use this once a day, at night, and only every second day.

I've taken off one star because it is a little harsh, and if I use it on consecutive days my skin can feel a little too stripped and overly cleansed.

My number 1 skincare product

This is by far my favourite skincare product of all. I think all great skin start with a good cleanser and this is my go to. It completely cleans make up off, it's non drying and it keeps any breakouts away. It also helps a lot with oily skin. By far the best facial cleanser