Aveda Damage Remedy Intensive Restructuring Treatment 150ml
Frequently bought with
Please wait while we find a match
Questions & Answers
(No Questions Yet)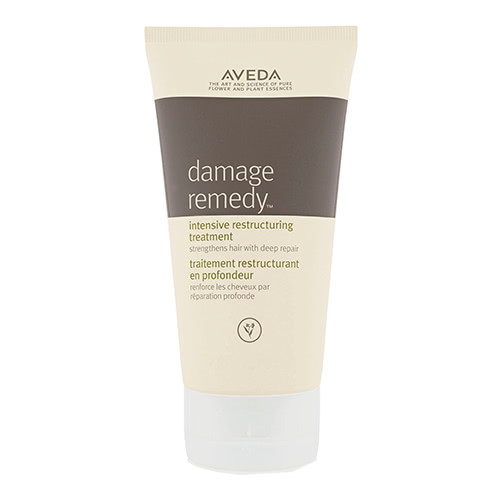 Aveda Damage Remedy Intensive Restructuring Treatment 150ml
Get an expert to answer your question about this product!
Ask a Question
89% recommend this product
Most Helpful Positive
Obsessed!
Great for dry, damaged hair, replenishes and seals in moisture!
Most Helpful Criticism
Soft but not great
I have dry bleached damaged hair.
I was expecting for something better for the price. Some people swear by this but I didn't notice the difference.
Obsessed!

Great for dry, damaged hair, replenishes and seals in moisture!

Beautiful hair treatment

I am a big fan of the aveda hair range. All natural, no nasty ingredients or fake fragrances which are bad for your health, and they actually work! This treatment leaves my bleached blonde hair soft and manageable without weighing it down. I have fine hair.

My go to treatment

I have bleached, frizzy hair and this treatment is one of the few products that actually soften and tame the frizz. My hair is silkier and shinier. The only negative is the price!

Would not buy again

I really wanted this product to be a game changer, but it didn't really give me any visible results. Sure a bit of a softer feel to my hair but that's about it

Intensive moisture

I love this brand and this kit is super cute and truly works wonders for my dry and frizzy hair. My locks feel strengthened, nourished and highly moisturised, and what's more, it has a lovely subtle scent. My go-to for brand for all things hair-related.

Treatment

Love this product leaves my dry damaged hair lovely and soft without any frizz .

Great treatment

I've used this in conjunction with the shampoo and conditioner in the range and has been a treatment I have repurchased. My hair always feels really soft and hydrated (I have bleached dry hair) and I'm always happy with how it feels after using. Due to its price point, I use it once or twice a month and rotate it through with my Olaplex range.

Soft but not great

I have dry bleached damaged hair.
I was expecting for something better for the price. Some people swear by this but I didn't notice the difference.

Great

I have fine, curly, frizz prone hair which has quite a bit of damage. Tried this for a while but found that while it did seem to help the overall condition of my hair it somehow messed up the curls and they we're less defined and kind of flattened.
I would love something that treated the damage without messing up my curl pattern but it seems a lot of treatments are just too heavy or have protein in them, which my hair can react to badly.

Makes my hair fill really healthy

I use this whenever my hair is feeling flat and dry. It just gives it more shine. You don't need to use much. Well priced for how well it works.

Great for dry, damaged hair

I have really thin hair and struggle to find products that moisturise without being too heavy. I have been using this as a condition for my dry, damaged hair and have been loving the results. I find it moisturises without making my hair too heavy and 'floppy.' My hair seems so much healthier since using this product!

Yes and Yes, it does for what it says

I really like this and I do recommend to anyone who have got dry hair. I am glad I bought it

Best summer conditioner!

I love this conditioner and have used it every summer for the last 4 years. During summer I swim most weekends so hair can dry out in the salt water and chlorine. This conditioner gives hair the extra moisture it needs to stay shiny and healthy. Smells is great and the product itself is a great consistency so a small amount goes a long way! Love it!

AVEDA DAMAGE REMEDY INTENSIVE RESTRUCTURING TREATMENT

I LOVE this product. On my third tube. It's amazing. I have baby fine bleach highlights through 1/2 of my hair and then almost solid beach towards the end, which I'm growing out, and it manages to make even the bleached lot feel soft and manageable. LOVE LOVE LOVE it. I put it on damp hair, wrap my head in a microfibre hair towel and sleep in it. In the morning I jump in the shower wash it out and am left with gorgeous locks.

Such a nice cruelty free option

I have a sensitive scalp so don't like going to the hairdresser, as they're always so rough when they style my hair after a treatment, so the fact you can get a salon quality product and do it at home is a major plus in my books.
Smells divine and lasts months and months, even if you use twice a week.
I find towards the end of the bottle my hair starts to feel limp and it works less effectively, but this is still the best treatment I have used that is cruelty free, which I love.

Fantastic weekly treatment

This is a great treatment for damaged hair and leaves it soft and silky. It is expensive but you only need a small amount.

great treatment for damaged hair

great treatment with keratin that fixes dry damaged hair

10/10

Received a large sample as a gwp from adore beauty and never looked back, I loved it so much I asked for it as a Christmas present. The ends of my hair are left over from the last balayage I had and we went a bit far, pretty much turned my hair to hay but since using this it's a soft and shiny as the rest of my untouched head!

Better than Olaplex 3!

I have bleached blonde hair and was struggling to grow it past my shoulders until I discovered this product. I initially used this product in place of conditioner, especially if I was planning to use the GHD or curling iron to style my hair. Recommend this treatment to anyone with dry, damaged or dull hair. It is amazing!