Aspect Pigment Punch 30ml
Skin Concern:
Pigmentation, uneven skin tone
Skin Type:
Dry
Normal to dry
Normal to oily
Oily
Questions & Answers
(10 Questions)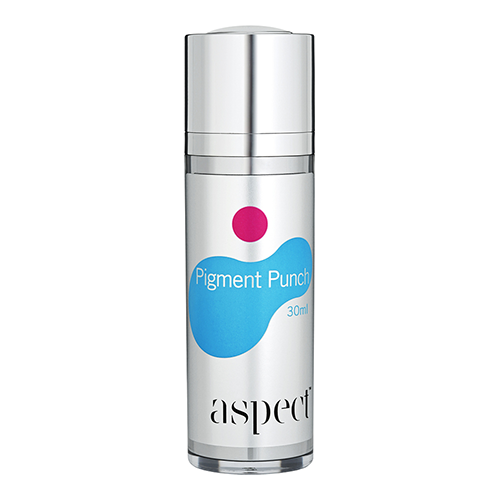 Aspect Pigment Punch
Get an expert to answer your question about this product!
Ask a Question
76% recommend this product
Most Helpful Positive
Great vitamin C
I feel like this is a gentler option to retinol, no irritation which is great.
Most Helpful Criticism
Good but not excellent
I have dry/sensitive skin and some pigmentation from sun damage. I was hoping this product would help smooth out my skin tone. It's hard to tell if it has worked or not, I haven't noticed a significant change, but I will persevere until the bottle is empty!

Great vitamin C

I feel like this is a gentler option to retinol, no irritation which is great.

good

I'm on an aggressive fight against pigmentation, made worse after pregnancy number 3. I wanted to try this product mainly as a pigmentation inhibitor to stop it getting worse, but obviously hope for improvement also. So far so good. 've been using for just under two months now. Smells amazing and soaks in quickly so I can layer moisturiser/sunscreen on without waiting too long. It's not an instant fix but I never expected it to be. Will definitely keep using it.

Great for preventing further damage

I feel like this is great for preventing further pigmentation from occurring. It worked nicely on my normal to sensitive skin, I didn't react at all even though I felt it packed a punch in evening out my skin tone. Great product.

Magic!

Holy moly this stuff is MAGIC!! Have been using for a few weeks and have noticed a definite improvement in my skin tone and my pigmentation (which developed after lots of solarium use and then during pregnancy) has definitely faded. I have tried a few other things but will definitely be sticking with this little beauty and interested in trying more from this range.

result

I've been using this for just over a month and I really love the results I've been seeing. My skin is so much brighter and a lot of the pigmentation issues I was concerned with have mostly disappeared.

Genius

I was recommended so many products for a red around my nose and mouth and never had anything worked. I finally tried this product and i couldnt recommend it highly enough. It worked within 3 days and saw rapid results.

Proven results

I am 53 and developing some pigmentation around my cheekbones due to earlier sun exposure. After using this product for a few weeks I have noticed a definite difference in the texture and brightness of my skin already. The heavier areas of pigmentation are also slightly lighter and I am keen to see the results improve with regular use.


Saved my skin

This saved my skin when I fell pregnant and started getting tonnes of pregnancy pigmentation. I used this in conjunction with Aspect Exfol 15 and my skin was the best it had ever been despite my hormones being super wacky. The fact that the products are pregnancy/breastfeeding safe and yet so effective was really surprising!

Not worth the hype

I raced out and bought pigment punch after a number of celebrities sang its praises. Sadly it did nothing to keep my pigmentation at bay. I noticed it was appearing just as much as ever during summer months. However I do have fair skin that is extremely pigment prone so it may work better for those with darker or less sensitive skin. I found aspect c serum a much better product for lightening pigmentation.

Not sure

I loved the feeling of this serum and found it very hydrating. I did only use it once a day but didn't notice a huge reduction in pigmentation. Would be interesting to use over a longer period to see if it made a bigger difference.

Takes time but it works

This is a good product. I bought it after i started to experience bad pigmentation after having my children. It didnt work over night but i persisted and was patient and have seen results.

Punched my pigmentation

I've had problems with hyperpigmentation since my second pregnancy and nothing seemed to help treat it. However, this product really helped to tone it down a little and after using for a year (in conjunction with spf every day) it has slowly but surely faded.

Great for overall skin tone

I tried this after reading raving reviews from Zoe Foster Blake. I am 28 with olive skin and the beginnings of (I suspect) a lifelong battle with pigmentation! I used a bottle early this year and saw results, but tried another two products after realizing how much I would be spending on skin products if this turned into a regular product! Unfortunately- both other products did not deliver the same results as this one. I also find my skin is less congested when using this serum. I'm very happy with the results and have to say that the money is worth it!

Not a good fit for me

I have hyperpigmentation due to hormonal issues. I used this product in conjuction with other products for fading my skin issues. However, I saw no improvement.

Makes a difference

This product does what it says, my pigmentation has faded significantly; it's so quick to apply and absorbs almost immediately.
I can put this on in the morning rush and immediately follow it up with moisturiser, SPF and makeup. Perfect for those who don't have hours to spend on skin care.
Over time my pigmentation has dramatically reduced and with this on my pigmentation doesn't get worse either. Last about 2-3 months if used daily

Good but not excellent

I have dry/sensitive skin and some pigmentation from sun damage. I was hoping this product would help smooth out my skin tone. It's hard to tell if it has worked or not, I haven't noticed a significant change, but I will persevere until the bottle is empty!


Pigment Punch

I've been using Pigment Punch for a long time and I love it. My skin always looks less blotchy and even after a couple of weeks of using it. Thank you Dermience for restocking Aspect and for your super fast shipping.

Good product

Great product to even your skin tone for sure will it erase all your pigmentation highly unlikely but you sure can see improvement.

Unsure

I've used four bottles of this product but I'm not sure if it's done much in the way of removing my PIH. It makes my skin feel lovely but I'm failing to see the promised effects.

Didn't do a lot for me

I have gone through 2 bottles of this and haven't really noticed an improvement in skin tone and pigmentation. Its a bit lighter maybe and my skin is definitely a bit more balanced and smoothed out.
Not really worth the price for me but seems to work well for others and has some pretty great reviews

So far so good

This is a bit costly but a little goes a long way. I am using this to tackle melasma, following a peel to "reboot" my patchy skin. I like the smell and texture, it is light and not too greasy as my skin is very oily. I haven't noticed a dramatic difference but I do feel fresher and hope that I see results in the longer term. Will buy again.

Great product

I love this! Works for me; reduces dark spots and fades pigmentation. A bit costly.

The only product that has changed my dark skin spots

This is a truly great product. It will not make your dark spots disappear but it will fade them. It is the only product I have ever used which definitely makes a difference to skin tone. It also has a brightening effect on the rest of my skin. Highly recommended.

Makes a difference!

I was skeptical about how much of a difference a serum could make to my post-baby pigmentation but this actually helped! It's definitely not gone but there is a marked difference to my overall skin tone and my skin looks healthier and brighter. Not sure if it's worth the money but will probably give it another crack when I can afford it :)

not sure if seen results

I was so excited to buy this product as I've had a pigment issue for a few years now (I'm 31). It was so expensive but thought the great reviews justified the price. I've seen about a 8% improvement after using almost a whole bottle (3months using it twice a day)... so probably wouldn't buy again.

It works!

Adter having two babies in less than two years I had significant pigmentation especially on my cheeks. I have been using this for about 2 months now and combined with strict sun protection I really do feel that it has worked! My skin finally looks more even and the pigmentation has markedly reduced (although still present in some ares).

It has a very tacky feeling though so I recommend waiting about 10 minutes before it is absorbed by the skin before applying moisturiser/makeup etc otherwise it all becomes a hot mess!