Aspect Phytostat 9 50g
4 instalments of $23.00
Or 4 instalments of $23.00 with
LEARN MORE
4 instalments of $23.00
Or 4 instalments of $23.00 with
LEARN MORE
Official Stockist
Is this for you?
Aspect Phytostat 9 is an emollient anti-ageing treatment moisturiser ideal for dry and dehydrated skin. This 4 in 1 intense moisturiser adjusts to the specific need of your skin, restoring vital moisture and fighting visible signs of ageing. This intelligent face cream can be used on all areas of the face and neck, including around the eyes.
Cruelty Free
Artificial Fragrance Free
Skin Concern:
Dull, dry or dehydrated skin

First signs of ageing

Wrinkles and loss of firmness
Frequently bought with
Please wait while we find a match
Questions & Answers
(4 Questions)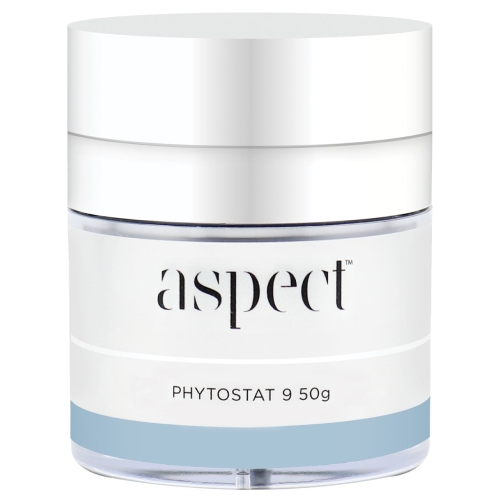 Aspect Phytostat 9
Get an expert to answer your question about this product!
Aspect Phytostat 9 Reviews
91% recommend this product
Most Helpful Positive
Hydrating goodness!
Makes my skin feel hydrated and beautiful. I use this morning and night and would definitely repurchase!
Most Helpful Criticism
Disappointed
I was so excited to try this moisturiser after hearing such great reviews on the podcast. I use a couple of other Aspect products which I am really happy with. However I really was disappointed. I hate the smell of this moisturiser which is really strong. I think the hydration is only so so. My skin doesn't have that "thirst quenched" feeling after using it. I used it on a day when my skin was quite sensitive and it really stung so I returned it.
Light weight and luxurious

Really nice moisturiser especially for the warmer months when you don't want something too heavy. It feels soo good on the skin and really sinks in. Would opt for a thicker moisturiser in the winter time personally as my skin would need a bit more help to combat dryness.

Orgasmic

This smells and feels like absolute luxury, and exactly what you want at this price for a moisturiser! While I don't know if it moisturises any more than the next one, the way it feels when you apply it is worth the price tag, I audibly groan at each application. Love, love, love.

Hydrating goodness!

Makes my skin feel hydrated and beautiful. I use this morning and night and would definitely repurchase!

THE Moisturiser for dry skin

This moisturizer is perfect! The packaging makes it mess free and hygienic to use. It smells divine and really hydrated my very dry skin. I love the potency of them ingredients and saw visible results in 2 weeks. It also doubles up as an eye cream and works wonders. If you wear it alone, it gives you that "glass-skin" look without looking too shiny or oily. Love it

On the repurchase list

Joanna from Beauty IQ the Podcast got me onto this moisturiser. I'm low maintenance - hoping if I look after my skin with good products, I can reverse ageing and not wear makeup (I'm in my 40s).
I like the weight of this moisturiser and it's a plus that you can use it morning and night. It's a great all round product.
Recommend it to all my friends.

Love this moisturiser

This is the loveliest cream, absorbs beautifully, doesn't pill with products underneath, feels very hydrating. I woke up with plump, comfortable feeling skin. Suitable for oily skin like mine.

Started breaking out

I used this for a while as I received a couple of samples and at first I thought it was really good, wasn't a fan of the smell but I got over it. After using this for about 3 weeks I started noticing I was breaking out, as soon as I noticed I stopped using it and my breakouts disappeared. It's easy to get the product out though, without having to scoop it out with your finger as there is a push do...

Read More

Love it

Lovely feel on the skin. Packaging is a bit bulkly.

Nice but the smell

I wanted to try a different moisturiser after my facelift started running low. When i buy a type of product i open the category and go to most sold. This one was top of the list. It's a nice moisturiser... but the smell is unbearable for me. Smells like a nanna or toilet spray. Maybe it just offends me because facelift smells so good.

not sure

not too sure on this one, it has anti ageing benefits which is hard to tell if it actually works, but it does leave my skin soft and hydrated

Absolute Favourite

I love this product. Highly recommend!

Cant live without

This product is amazing. It soothes my irritated skin, but also keeps its nourished and hydrated.

Hydrating

I bought this for both myself and my mum- she loved it, I havent found it has given me massive results. I use as a night cream to hydrate while i sleep- i just havent found it having much effect on my fine lines. I feel i need to layer serums under this cream to get the benefits

My new fave!

SO GOOD. I love this moisturiser for my combo/normal skin. It hydrates well but doesn't congest my skin or feel too heavy. The scent is beautiful, the texture is to die for and the packaging is awesome. I will never be without this product, i'm totally hooked.

Miracle combo

I recently moved from northern AUS to pretty much as far south as you can go. The combination of massive climate changes and a change in my pill (hormonal changes) meant my skin was very angry. I had a red angry rash all over my face and I could feel my skin was very dry. After using this and the Aspect Red-Less 21 30ml 30ml for the last week my skin has improved 100%. I have also been using a pro...

Read More

Great Design

Loved the texture and feeling that my skin is deeply hydrated. The press-and-dispensed design is so smart! Love it!

not worth the hype

This product i think is overpriced for what it is. it smells funky and caused a mild skin reaction across my face. it also had a slight burning sensation on application. the texture is thick but i did like the push applicator.

Thank You Joanna

I have decided to try out yet another favourite of Joanna's, and I'm absolutely in love with this moisturiser! I have an acne prone oily skin yet this moisturiser is PERFECT for my skin during winter! My skin has become less oily and I always wake up a brand new skin every morning.

phytostat

so thick and nourishing, perfect for those dry patches i get in winter. airless pump bottle is a bonus too

Great product

Love this moisturiser. I only gave it 4 stars instead of 5 because of the price! does hurt the bank. So only purchased on sale. Its really lightweight, hasn't caused breakouts and honestly feels like you've had a facial after applying. I really do like this! Great all rounder. The only thing i dont like is the container, i do like the pump thingy BUT it is hard to know when your running out.

not sure

not sure about the anti ageing benefits but it is hydrating

Not a fan

I was really looking forward to buying this product at first from all the recommendations I heard but I was pretty disappointed once I tried it for a couple weeks. Its really thick and doesn't go on nice a smooth. Its like using a sunscreen from the 90s on your face. Also, I had a bad reaction to this, little bumps all over my cheeks. I would not recommend for sensitive skin.

Holy grail

Always struggled with a good moisturiser. I've got combo skin and always found some either too thick or too drying.
My skin feels so even and hydrated and sits so well with make up.
Being a nurse I also LOVE the pump set up so you don't always put your fingers in the product.

Worth the price!

Great product

Everything is perfect except the scent is kinda too strong, need some time to get use to the smell. It does not make my skin becomes oily/dehydrated, but its a bit irritating when used around eyes.

The effect is very good. I like the taste. I also gave a small gift. It is very moist and feels good, not greasy. I have been using this product, the old packaging used before.

Hope to give away samples of best-selling products

Incredible

Great product. The packaging is wonderful and keeps the product super fresh. My skin looks so bouncy and healthy, I love it

Incredible

Great product. The packaging is wonderful and keeps the product super fresh. My skin looks so bouncy and healthy, I love it

A great all rounder to include in your skincare routine

I'd heard so many great reviews about the product before I had bought it so I had high expectations.
I absolutely love the texture, the way it sinks into your skin and the beautiful scent. I use it in my night time routine but occasionally will use it during the day too as it doesn't make my skin oily and sinks in really well. The only issue with this product is that you don't know when its...

Read More

Best moisturiser ever!

I purchased this product after my sister had recommended it to me. Given the price I had high expectations and luckily it totally fulfilled all expectations! It has a relatively thick consistency that immediately sinks into the skin leaving it plump and hydrated! I have relatively sensitive skin and I didn't have any issues. It's definitely worth the $ as mine has lasted me 6 months. Lastly it sme...

Read More

Didn't love it

Again, I'd heard great things about Phytostat and was so excited to try it. The container is a super fun little pump similar to the Drunk Elephant moisturiser.
Scent is lovely even though I'm trying to avoid things with fragrance at the moment.
Unfortunately for the price point I was expecting more, I have since gone back to my Ordinary Moisturising Factors. Nothing super amazing on ...

Read More

Worth it?

I received the 15g pot as a free gift and didn't really know much about the product. My skin is 36 years old and changes from combination to sensitive, dry & dehydrated. I used this as my night time moisturiser and was very happy with the results. It's not too greasy so good for my breakouts, yet gives enough hydration to my skin and the ingredients are good for my sensitive skin. Win, win. It's ...

Read More

Smells amazing

Smells amazing and is super hydrating but doesn't feel heavy on your skin!

Best free gift ever

Received the trial size as a free gift. Absolutely Love it! Not greasy at all but super hydrating.

Best free gift ever

Received the trial size as a free gift. Absolutely Love it! Not greasy at all but super hydrating.

Not bad

Not as nourishing as I need but does the job as a back up moisturiser if I need one.

Cool and calming

Love this moisturiser. A bit pricey like all aspect products but is calming and has a great clinical but not sterile smell (fresh) so smells expensive. I don't use it every night but when my skin needs extra hydration it works very well. Would recommend!

Amazing moisteriser

Have repurchased this time and time again, it feels so nice on. I have been using it morning and night it absorbs quickly and has a pleasant smell

My favourite day cream!

I have been using aspect for 2-3 years and this moisturiser is one of my favourite products. It's nourishing and hydrating, plus it doesn't clog your pores. It can also be used around the eyes which makes my morning routine super simple!

Lovely moisturiser

I was super excited to try this when I received the 15g sample a while ago because I had heard so much about it. It has a beautiful, hydrating texture that leaves you looking super glowy! It felt lovely on my oily/combo skin- not too heavy and didn't leave a noticeable residue I could feel during the day. It kept my skin plump and moisturised the entire day - also loved the packaging which helps k...

Read More

Lovely face cream

Got a deluxe sample. It's a really nice light moisturiser. Soaked into skin so quickly. Skin feels hydrating and non greasy. The scent is also lovely.

Not for me

Lovely texture and smell, very nourishing. However I believe this contributed to my breakouts, so perhaps not for acne prone skin

Very Hydrating Moisturiser

I received this as bonus sample so been trying this out in the past month. It is a good moisturiser, very hydrating - I could feel it as soon as I put it on. It doesn't cause any break outs as well, so another good point for me. Love the smell too. However, I am not sure I will be purchasing again with the price point and that it does not give any additional benefits like brightening or anti-aging...

Read More

Not as good as I thought

My beautician recommended this to me and initially, I was excited. I really liked the smell and it was absorbed relatively quickly. I liked that I could use it morning and night and she thought it would help my sensitive dry skin. Moisture wise, I think it did but it tingled every time I used it and my skin was a bit too sensitive for it.
I also found the container which measured the moistu...

Read More

A dreamy product!

LOVED this, can see why it gets raved about by the girls at Adore. I had a small sample size and ordered the full one. It just seems like the perfect all rounder moisturiser - hydrating but not greasy, soaks in really well and smells lovely. I have very sensitive eczema prone skin and had no issues which is a big win. Only downside is it's a bit to spend on a moisturiser when there are plenty of c...

Read More

Nice for all skin types

This is a very nice moisturiser for my combination skin. It would be lovely for all skin types. I love the way the cream dispenses from the jar but I have found I don't need a full pump. It does have a strong smell when you apply but it does go away quickly and it is not a bad smell. I have found it feels like my skin barrier is protected using this to lock in all my serums.

not convinced

I have heard a lot of great things about aspect so I decided to get a starter kit. Phytostat 9 is reasonable but not the greatest at quenching my dry skin. I tend to use this as a day cream and combine it with a face oil at night to boost the formula. I like the metered pump packaging as it keeps the rest of the cream sealed and fresh to prevent oxidation and stop microbe growth. I also like that ...

Read More

Cooling Sensation

How can a texture so light feel so cool and fresh on skin. I really do love this moisturiser.

It does not pull, itch, break me out nor give a burning feel

The only Con, I would make would be the scent which I did not like it much.

Other than that, with all the fruitful benefits it has enlisted this one is a keeper for sure!

Nourishing but not deeply hydrating

I found this moisturiser to be really pleasant in texture, smell (mild, not offensive), and feel. It sinks in very nicely with no residue or oily shine and I would say it's nourishing. Being a dry skin type, I don't feel t is deeply hydrating though, but better suited for day time and is great under makeup. Would repurchase as a day time only moisturiser once I find my holy grail night time option...

Read More

Best moisturiser I've ever owned

I got this first as a sample, and was like 'surely this can't be worth the price' BUT it bloody was. This is my number one moisturiser now. I have sensitive, dehydrated, acne prone skin and this is like velvet. I would say it's rich but not heavy, in that it gives my dehydrated skin moisture but doesn't cause breakouts. Actually I use this when I do have breakouts and my skin is clearer the next m...

Read More

Good but not impressed

I was provided with a sample of this product (15ml) which was great size to try, I could use it for 2-3 weeks, to be honest, I didnt find it extraordinary, I have dry skin and used it after my serums, it was nourishing but not justifies the price, other products from other pharmacy brands did the same job for me, like Cerave or Dr Lewis. It was a good try but doesn't justify the price tag.

Gorgeous and luxe

I got this in a deluxe 15ml sample size with an order a couple of months ago. It is a beautiful cream to use in the morning! It smells divine and the packaging is so luxe. My skin loved it and felt plump every day after using. You don't need more than the applicator pumps out for you, so is a good lesson in how much moisturiser you really need if you need to know!
I would love to purchase fo...

Read More

Aspect Phytostat 9

It's good for my sensitive and dry skin. I like it as it can be used on eye area as well.

Great moisturiser

I tried this in a deluxe sample size so I was able to trial it for about 2 weeks. This is just a really great moisturiser. Non irritating, non oily, good quality ingredients. I loved using it. It doesn't do anything fancy, but I prefer to have my actives in my serums anyway, so that works for me. I am currently trialling an SPF moisturiser instead so that I don't have to also put SPF on separately...

Read More

Classic

Classic everyday and night moisturizer. Can go between this and aspect Dr range and still find it does the trick! Good all rounder

Nice and bougie

Bought this after Joanna recommended it on the podcast. It didn't disappoint. A nice texture and smell that leaves your skin feeling smooth afterwards without being too wet or sticky. One downside is it does make my (usually not-sensitive) skin a little red after using but it doesn't last long, and not bad enough to put me off using it.

Light weight rich cream that smells so good - a great every day moisturiser

This is a really good everyday moisturiser that layers well over serums and provides nice hydration while not being too thick. I like it cause I can use both day and night. If I need a bit more hydration in the evening I add an oil over the top, which mixes nicely too. I've bought this twice now.

A Winter must have!

hygenic packaging was the first feature that impressed me and then the delights just kept coming, the cream feels amazing on the skin, very hydrating without being too heavy and suffocating. The scent is nice and not too much. I have normal skin which is usually pretty great being that I'm a skin therapist but this cream gave me a glow that will now be the new normal and I'm excited!

Go-to moisturiser

I apply this in the morning and night, and am obsessed! It is light-weight and super hydrating. I also love how each dispense is enough for the whole face and neck.
Only reason why I'm not giving this a 5-star is because it is quite expensive... But I still think it's worth it.

Like it, don't love it

This is a nice cream but it doesn't feel hydrating enough for me. Nothing stands out and for the price point I will probably not repurchase.

Nice night cream

A lovely and rich night cream although the floral fragrance is very strong

So lightweight yet so hydrating!

This was one of my first purchases from the podcast's recommendations and it hasn't disappointed! I've been shocked how well it hydrates and moistures, it works amazingly and it's heavy at all! Sinks in so quickly and feels so soft! The scent is soft and lovely

Disappointed

I was so excited to try this moisturiser after hearing such great reviews on the podcast. I use a couple of other Aspect products which I am really happy with. However I really was disappointed. I hate the smell of this moisturiser which is really strong. I think the hydration is only so so. My skin doesn't have that "thirst quenched" feeling after using it. I used it on a day when my skin was qui...

Read More

The search stops here!!

I NEVER write reviews, but I have to share this!! I suffer from combination skin with inflammation and rosacea flare ups from time to time and most products make my skin react. I have spent so much money on products which claim to combat all of the above but there is something in them that just don't agree with me! I found Aspect Phytostat 9 and I swear it is the ONLY moisturiser my skin adores. I...

Read More

Love

Smells Devine, really like this moisturizer. Only lost one star due to the price, very expensive.

Not sure yet.

I got this as a sample. I have read so much about it on Adore. I was so excited when it was offered as a sample. I have been using this for 2 weeks and am only 28 so I cannot comment on it's effectiveness for anti-aging. I was always hesitant to try this because I am extremely breakout prone, but the hype got me. LUCKILY, I only use this at night, and so far no breakouts or irritation! And ser...

Read More

Hydrating but burns/stings my skin!

I heard amazing things about this moisturiser on the beauty iq podcast and was excited to try it.
I really liked the texture and it's super hydrating BUT I cannot get past the strong floral smell and the fact that it burns my skin a little especially if I use this if my skin is a little bit sensitized from actives.
I think my skin is sensitive to fragrance in general and I get really ...

Read More

Good, but over priced.

When i first started trying this moisturiser, i was intrigued by the claims it adapts to your skin. Upon first application at night, when i woke up in the morning my skin felt very very very oily and like i had been sweating. With consistent use my skin actually did begin to adapt to this moisturiser and i no longer wake with that feeling rather my skin has absorbed the product and face feeling dr...

Read More

The cream was ok, however the dispenser is oddly satisfying!

Honestly, after all the hype of this product I had high expectations. It was nice to use, my favourite part of this product is the dispenser. Oddly satisfying and fun to use, and also hygienic. Every brand should take note! The cream itself was ok. I have oily to combo skin, however becomes more combo to dry in winter. I thought it was the perfect time to try this product. I didn't notice or feel ...

Read More

Absolutly Great!!!!

Loved the sample I recieved very moisturising and gentle on my sensitive skin. I will try to buy when the next time I see it reduced...........

have repurchased 3 times

This moisturizer is such a good all rounder - the texture is soft and some what light weight for the hydration you'd get - it's wonderful day and night as it works really nicely under makeup. Big fan - it's hard to say why it's so great, but i've not found any moisturiser I enjoy more.

Helped my dry skin

Love this moisturiser. Feels so good on my skin! I've been suffering super dry skin and flaking during winter. I switched from Aesop primrose facial hydrating moisturiser to this and it has definitely helped.

Bad Reaction

I received this product as a free gift from adorebeauty (yay!). I wanted to love it but I unfortunately received a burning reaction from it that mainly affected my forehead and cheekbones. Not sure why, and I'm sure this is a problem with my skin, not the product. But I think if you have areas with particularly dry/flaky skin, this may not help. My nose is my most dry area and becomes quite itchy ...

Read More

Not for me

I was very happy to receive a large 'try it' size of this cream as a GWP recently on Adore as I have always wanted to try it but couldn't justify the cost. I'm glad I held out as this product did not hydrate my skin as I had hoped. I have Combination skin with an oily t-zone and I am now considered 'Mature' at over 45 years old but as I have taken care of my skin since I was 12 years old I still ...

Read More

I'm a convert!

Received a sample, long story short this cream just about gave me a face-lift! The effect on my neck/decolletage, has been pretty extraordinary (turkey neck much reduced! YAY) and the skin on my face has greatly improved texture,feel and appearance. I'm 48 with normal to dry skin and this suits me to a tee. Lots of products that smell good give me atopic dermatitis on my neck, but not this one. I ...

Read More

Great

This is a lovely moisturiser - makes the skin quite plump, but isn't too rich which is great as I am prone to congestion. The scent is mild and pleasant.
Only downside is the cost, as you could probably achieve the same results with a more economical product.

Lived up to the hype

I'm normally not very wowed by moisturisers as they just hydrate your skin, but this moisturiser is amazing. It leaves my skin moisturised but it's not heavy. It works amazingly under make up and also doesn't pile with other skincare products when I layer my skincare. I have another back up of this ready to go!

great

great for dehydrated skin and calming formulation for sensitive skin.

Great Daily Moisturiser

I have combo skin and wear this moisturiser as a daily. I find it sits well underneath my make up (using a primer). It hydrates but doesn't make you oily. I use a different moisturiser for night time as this one isn't rich enough for a night time moisturiser- I use a richer one to really feel plump in the morning.

Lovely

This is a lovely moisturiser, rich but still pretty lightweight. It smells beautiful and sits nicely with other serums and oils. Not sure if I will repurchase.. I do really like it but I have found other, more affordable moisturisers have a very similar effect.

No good for sensitive skin

My skin is prone to becoming dry and flaky and has always been a bit sensitive. In saying that I usually don't jump the gun and buy products likes this unless I've looked up a lot of the ingredients. Unfortunately I didn't this time. If you have any issues with alcohol denate and essential oils drying you out then I wouldn't recommend. My skin was noticeably drier and more irritated after using th...

Read More

Would probably purchase

I received a promo size—which actually lasted quite a while—and loved this as a night cream. The pump dispense jar is great, you can easily control how much product comes out and no contamination from fingers. A bit pricey for me at the moment, but I would consider it in the future.

Good as a day moisturiser

This is a decent moisturiser, but it's not my fave. I received a sample and was so excited with all the rave reviews. I'm 39 and have always had oily combination skin, and at this point in life I really find at night I need a rich cream for my skin to look plump and hydrated in the morning. This doesn't quite cut it for me. However it is good during thr day on my skin, has a great dispenser and si...

Read More

Hydrating Rich Cream

I first started using this cream as a night cream, however am now using it as a day cream as well because it feels so nice on my skin and makes my skin feel instantly hydrated. The texture is thin, however it is still incredibly hydrating and leaves you with glowing skin!

Love!

You know it's good when there's this many positive reviews! This is my new night time moisturiser to finish off my routine and I love it! It goes on silky smooth and leaves my skin feeling hydrated and dewy. The smell is pleasant and the jar dispenser is easy, and great to keep the product fresh!

Hands down the best moisturizer you can buy!

Outstanding product! Highly impressed by the effectiveness of this ASPECT product! Absorbs wonderfully and has drastically improved the health of my skin! 10/10 product!

My favourite

Received this free with another order and now it's my go to night moisturizer. Lightweight and a nice scent but a little on the pricey side. Highly recommended if you're happy to pay a little extra for a good quality product.

Non greasy

I tried this after listening to the Beauty IQ podcast. I love that I can also use it as an eye cream. The packaging is super sanitary and the texture is light yet hydrating but the smell is a bit too strong for me.

Hydration

I got this product in a sample and had to purchase another full size one! This was a game changer giving my skin the perfect amount of hydration to the skin!

Aspect is incredible

I am yet to find an aspect product I don't like
The always deliver results! Love the packaging of this product, less waste and more sanitary
This hydrates and leaves skin smooth & plump bur not oily, worth the price tag.

Don't get the hype

I know people love and rave about this product but I didn't really get it. I find the scent is quite strong and it just felt like another moisturiser to me...

Love this product!

This product is fantastic. The feel of the moisturiser is just right for me. Not greasy, not sticky, it blends into your skin and leaves you feeling refreshed after. Within 10 minutes of putting it on you won't have any residue of it left, meaning it's soaked into your skin and is doing it's job. I've also read that the ingredients in this product are good for around the eye area as well. I use it...

Read More

Perfect texture

I was worried to try this product as I thought it would make my skin too oily and break me out. I used to use sheer moisture, but I was developing dry patches on my chin, around my nose and in between my eyebrows. The texture and thickness of phyto is actually perfect! It's not too thick at all it'd actually very light :) I've been loving it, using it morning and night. I don't have to use as much...

Read More

Love the smell

I tried this after listening to the podcast and now it is my go-to night moisturiser. I love the smell and the texture is nice and light for my oily skin but still feels very hydrating on the skin.

Truly amazing!

I've received this moisturizer as a sample twice (pure luck) and I have been sold from day one. I find it to be light weight, I wear it with sunscreen dialy in the morning, and it doesn't clog my acne prone skin. I had been using a more expensive brand for a few years now, but I'll be ordering this for my daily product f on now on.

Hydrating without clogging

I first decided to try Phytostat 9 after hearing great reviews, and I'm not disappointed! Initially, my skin experienced a purge when using the Aspect skincare for the first time - but I didn't just start with photostat, I started the whole new routine at once so my skin did experience a bit of shock. In hindsight, I would have started slowly starting with photostat 9 and then working my way onto ...

Read More

Just love it!

Absolutely the best moisturiser I've used. Not tacky or greasy feeling, just supple. I add a second layer during drier times. Makeup goes on so smoothly, too.

A favourite

Beautiful hydrating moisturiser, a little goes a long way. I am early 30s with combination skin and this cream soaks in and leaves my skin looking so good. Smells really nice too. Recommend highly

A favourite

Beautiful hydrating moisturiser, a little goes a long way. I am early 30s with combination skin and this cream soaks in and leaves my skin looking so good. Smells really nice too. Recommend highly

A favourite

Beautiful hydrating moisturiser, a little goes a long way. I am early 30s with combination skin and this cream soaks in and leaves my skin looking so good. Smells really nice too. Recommend highly

A favourite

Beautiful hydrating moisturiser, a little goes a long way. I am early 30s with combination skin and this cream soaks in and leaves my skin looking so good. Smells really nice too. Recommend highly