Aspect Extreme C 20 30ml
4 instalments of $33.75
Or 4 instalments of $33.75 with
LEARN MORE
4 instalments of $33.75
Or 4 instalments of $33.75 with
LEARN MORE
Official Stockist
Is this for you?
Aspect Extreme C 20 is ideal for all skin conditions, particularly sensitive and skin prone to redness. This vitamin C based serum tackles many of the signs of skin ageing, from every conceivable angle. With a unique breakthrough combination of amino peptides, stable vitamin C, cellular antioxidants, corrective botanicals and skin energizing extracts – all expertly blended into a light as air, paraben and fragrance-free serum.
Cruelty Free
Artificial Fragrance Free
Skin Concern:
First signs of ageing

Pigmentation, uneven skin tone
Skin Type:
Dry

Normal to dry

Normal to oily

Oily
Frequently bought with
Please wait while we find a match
Questions & Answers
(1 Question)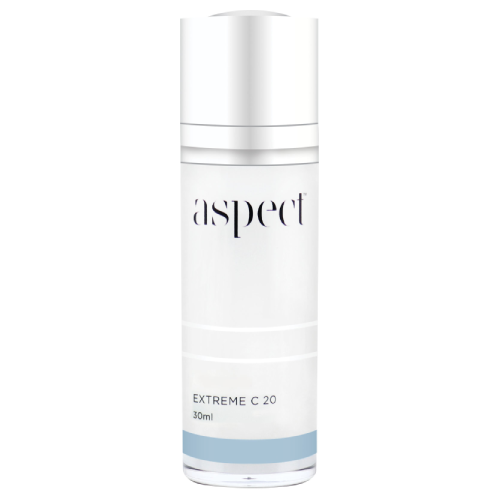 Aspect Extreme C 20
Get an expert to answer your question about this product!
Aspect Extreme C 20 Reviews
89% recommend this product
Most Helpful Positive
love!
nice texture, smell and definitely noticed the difference!
Most Helpful Criticism
Didn't do much for me
While it is a decent vitamin c I didn't see it doing much for me. I will continue the use but I have not seen much improvements with this. I have dry skin
Not bad...but not for me

unconditional vitamin c, I was looking forward to testing this product. The result for me ... "so so"... The product seems to me quite effective. I had no irritation and it's quickly absorbed and comfortable. I think it's a good care but for a simple and fast routine. On the other hand, I find the texture too thick. My day routine also includes SPF and moisturizer. I won't come back to it.

love!

nice texture, smell and definitely noticed the difference!

Didn't see any results

Been using a sample of this and haven't seen any results (acne prone, combination skin) Maybe it's not the right vit c for my skin or maybe vit c isn't right for my skin in general.

Haven't seen any results

I am a huge fan of the Aspect B serum so was excited to try this one after seeing so many good reviews! I have been using it for a while now but unfortunately haven't noticed any great results. The serum itself is a nice silky texture and I like the fresh smell but it doesn't seem to really work for me. I won't continue with it due to the price.

Light and bright

Absolutely adore the smell and feel of this vitamin C. Definitely noticed an improvement in brightness, just not sure this would be my first pick over other C's I've tried.

Results in long term

I have been using this for several months and only saw results after a few months. My skin looks brighter. However I didn't notice much improvements with my fine lines.

Not for me

I am not a fan of this product. I have normal skin, but every time I have used this product I have experienced a breakout.

Didn't do much for me

While it is a decent vitamin c I didn't see it doing much for me. I will continue the use but I have not seen much improvements with this. I have dry skin

Finally a vitamin C that works for me

Mannnn is it hard to find a vitamin C that works for your skin. Finally found one that doesn't make me break out and actually brightens my skin. Use it with the B17 every morning and I love it.

Great Product!

I've had bad experiences with vitamin C. The last one i purchased from Alphaa burnt my face and i ended up in hospital. I took the chance and purchased the Aspect Vitamin C and im glad i did! its so smoothing and feels like a berroca for your face! My beauticians use aspect and all my products are now from them. Great choice and will notice a glow within days!

Quick absorption on the skin

I got it as a sample with purchase and used it a number of times and it sat well on my skin. Didn't see any results yet but this didn't irritate my sensitive skin. It is a bit milky and light weight serum that gets absorbed in my skin in like 2 seconds. I like that about this

Brighter skin

I got few 7ml samples from AB goodiebag and I am loving it!
The texture is really smooth & goes on beautifully on the skin, quickly absorbed and make my skin looks brighter and clearer. It have a citrus smell to it and I find it quite refreshing.

Too harsh for sensitive skin

Has something in it that gives a radiant finish when applied but not sure this did much long term. Eventually had to stop using because it's too harsh for sensitive skin.

one of my favourites

Wow! Tried this as a 7ml sample when I bought an Aspect mask. I love this serum, it's so smooth and goes on easily under sunscreen/makeup. No irritation whatsoever and I feel it's effective. I also have The Ordinary vitamin C, which I find a bit grainy and a little irritating, and The Ordinary one should be applied at night. Contrast this to the Aspect, which is ok to use in the AM, leaving me fre...

Read More

Brightening

Vitamin C at its best, when a product smells like vitamin C, you know it's packed with potency. I pair this with Aspect Vitamin B and it's a combination that has cleared my skin as well as brightened it and rejuvenated it. I have very dry and flaky skin, this serum works wonders. Highly recommend

Light weight

Light weight serum. Easily absorbed. Bottle dispenser is well designed, one pump covers the face and neck.

Skin looks brighter

After using this product for a few weeks, my skin already looks brighter and clearer. The texture goes on beautifully on the skin. It does have a citrusy smell to it, however, the smell quickly goes away when applied. Huge fan of the packaging, and the fact that the nozzle can be hidden away to ensure that light does not reduce the potency of the vitamin C.

Best vit c in the market

I had been using skinceuticals for 1.5 years and noticed it creeping up in price slowly. I loved that product and it made a different to my skin overall but I couldn't help thinking it was slightly harsh on my skin. I didn't get redness but I could feel my skin reacting to it when I applied it. I read about how a vitamin c serum like this can be better for sensitive skin (I would say I temperament...

Read More

Brightening for dayss

I got this full size after using it in the try me kit. The brightening affects are AH-MAZE-ING. I have acne-prone combination skin, which isn't usually the best with VitC but, this serum has changed that. My skin is brighter and I can see my acne scars fading slowly (but surely).

I'm a fan

Love this, goes on lightly, nice smell and brightens my skin. It doesn't irritate my skin. Only thing is it's on the exy side (only reason for taking a star off) but I think it is worth it.

Amazing

I had a lot of red marks around my mouth and chin from having hormonal acne and in 2 weeks this has lightened them dramatically. Additionally my overall complexion is a lot brighter and evenly toned. Will be buying again.

Might be good with long term use

It has a nice consistency and sits well under other products. I did not notice any brightening but was kindly irritated with my skin going a little pink- no discomfort though. I'm often a bit funny with vitamin c's so that is to be expected
I know this brand puts a lot of money into research so I'm sure it would be effective with long term use

Great product

Love this product, gives a nice radiance to the skin. Will buy again.

Wow!!!

I've only used this once as I received it as a sample and wow! Already seeing a decrease in pigmentation, did have a breakout but that's typical of my skin, excited to see how this goes after continuous use!!

Beautifully bright

I use this product in the morning. It makes my skin beautifully bright and hydrated, and works well under makeup!

Brightening agent

I was recommended this product for my skin to brighten up my dark spots caused by acne and I have noticed a big difference. I also love the feeling of this product as it's cooling with a lovely orange scent. It is a bit pricy but the product has lasted me over 4 months so it's worth the price.

Excellent Vitamin C for morning

I love this serum for under the phytostat9 moisturiser. It helps to even my skin tone and improves the texture. It's gentle enough for every day use and I love it.

High quality Vitamin C

I use the Aspect range so it was natural for me to want to try the Extreme C 20 and my skin loves it. I use it during the day before my moisturizer. The texture is light and not sticky.

Light, non sticky C for the win

Have used a gift with purchase size sample of this, lasted about a month, I was really impressed! I mixed it with my Aspect B every AM and they worked together to soak in and sit so well. I haven't used many Aspect products before but really loved this combo and highly recommend. Not long enough to see results as such, but they soaked in, sat well, I would usually add a HA after a few min then UV ...

Read More

Light serum

This is a lightweight Vitamin C serum, it absorbs immediately and worked brilliantly with other products and under makeup.
There is a slight citrus scent which is non offensive.
I feel Vitamin C keeps my pigmentation from getting worse so I always like using a Vitamin C serum, and this is so easy to use.
The pump is great at dispensing the right amount in a hygienic way.

Fabulous

ive been using this for a few months now, however it didnt even take that long to see results, after the first few uses i noticed my skin was plumper, more evenly toned and just looked generally NICE. it blends well and has a nice texture and even when using along other serums of the range they never feel like you have anything on your skin. its great!

Instant glow

After my first application, I already noticed the glow and how plump my skin looked! I have been using this for over a month and it has helped reduce my acne scarring/pigmentation.

quality vitamin c

This is so nice, the texture is my fav of any vitamin c I have tried - it's almost milky. Better than Drunk Elephant which i was using prior, and is similar price point. The smell isn't offensive, either.

Vit C with nil breakouts and glowy skin

I love this Vitamin C. I use the aspect B and the C both work so well together, nil pilling and my skin is left glowing. I've had breakouts with previous Vit C, but this Vit C has caused no breakouts. The bottle last for ages and was using day and night. The price is off putting but it lasts so long and results really are evident. Love the pump bottle as you don't use too much or too little. Just ...

Read More

Love love love

Recieved a sample of this and wow! Once applied my skin is tighter and is radiant!! And the fruity smell is divine. Was using a 12% vit c product before wasn't seeing much results. Will be purchasing aspect vitc next

It works

I received this as a sample and am definitely tempted to purchase the full size. It sat on the skin well and smelled like citrus. For the little amount that I had, it did seem to fade my pigmentation slightly, so I'm sure if I was using it more regularly I'd see better results. The only thing that puts me off is the price.

Light serum

This is a lightweight serum, it applies easily and absorbs quickly.
I take 2 pumps and it covers my face and neck.
It has a chemical citrus scent, which dissipates quickly.
It keeps my skin healthy and bright, no difference to my pigmentation.
There's no redness or irritation when I use this.
I love using Vitamin C in my skincare routine and this is a great one.

Great quality serum

I received this as in a Aspect sample pack. It smells divine, feels lovely on the skin (doesn't leave a sticky or tacky feel). Two small pumps are enough to cover my face and neck. I feel this would last a long time in the full size. I have noticed some benefits - clearer skin, less breakouts and my skin seems a little brighter but would have to use for longer to see more results. Definitely recom...

Read More

Fan !

I love this vitamin C serum ... one-two pumps does cover the face and neck. I use it every morning and I can feel it is nourished and brightened.

I'm a fan

This is my favourite vitamin C serum. I love using it in the morning because it immediately brightens my skin. Over the last 4 weeks I have noticed the serum has made my skin firmer as well. I'm 35 and have oily skin, the product absorbs into my skin quickly and has never irritated me.

So brightening

This is my favorite vitamin C. It's got a beautiful lightweight consistency and soaks right in leaving my skin bright. It smells really nice too! I use this in conjunction with the Extreme B and Phytostat 9 and love it. Only downside is the packaging makes it hard to know how much is left. Got a shock when it was empty. Lasted ages though!

New favourite product!

Received a sample of this and I'm in love! Most high strength vitamin c products I've tried break me out so I was a little sceptical at first but this one is amazing! It doesn't leave any sticky residue, my skin just soaks it right up and immediately looks brighter and more alive. I think it has also faded some of my pigmentation due to too much sun exposure. I've also been receiving compliments o...

Read More

Loved, but twist top packaging fault

I've been using this alongside Aspect's B17 serum and it's really been helping my acne scarring as I come out of a year long bout of hormonal acne. It has really helped!
However, I did have issues with the silver packaging which bubbled on the twist top, so now get little silver bits on my fingers while using.
Otherwise, I recommend!

Nice lightweight

This is a nice lightweight serum which smells and feels nice. However I haven't noticed any improvement to my skins appearance from using it. I don't know if that's specific to this product or just vitamin C products in general as none I've used have made any visible difference.

Lovely vitamin c

I received this In a sample size and absolutely love. I have found that I am going to use this more than my regular vit c! It's super light and smells lovely, I also love that it also has peptides. Will be purchasing once my current one runs out!

Always a staple serum

This was the first vitamin c serum I ever used and one that I continue to keep on high rotation.

Vitamin c can be harsh for a lot of people but I've never had any issues using this one.

Always a staple serum

This was the first vitamin c serum I ever used and one that I continue to keep on high rotation.

Vitamin c can be harsh for a lot of people but I've never had any issues using this one.

YUM

Got a free sample of this which lasted an entire month, just bought the full bottle and it does exactly what it says. Super radiant and youthful looking skin!!

Brighter radiant skin every time

I am 37 and have been using this product daily for a couple of years now... It doesn't fail me ever.
I apply in the morning and instantly notice a brightening effect which really helps lift the overall appearance of my skin. It soaks in easily and a little goes a long way... the measured pump system on the bottle is great for managing the exact amount that you need to use. I apply every mo...

Read More

Citrusy serum

I got a sample of this and was super keen to try as i wanted to start introducing a vit c serum plus i had heard this was a good one. I was tossing up between aspect and asap vit c. From reading the reviews it seems Aspect was the preferred one and Asap was mentioned to be a bit sticky. You cannot fault this one. If you are deciding which brand to go with i say Go for Aspect!!! Im currently using...

Read More

hmmm not sold

Received a sample of this, unfortunately I didn't see any improvement in my skin and it caused my naturally oily skin to become even shinier (with an unpleasant tackiness).

Ok...

Vitamin C makes me breakout so this review may be bias. However, while using this product for the first time I was not aware of this fact until after I made the link. But quite seriously, this product really didn't amaze me. It did not brighten my skin in the same way the skintistut powder vit C did and it didn't fade scars either. The smell was like Electrolyte drinks which honestly I was not a f...

Read More

Effective and feels lovely!

A brilliant vitamin c serum, it smells lovely, a tiny bit goes a long way and it feels really great on. I have sensitive skin and some vitamin c serums make me react and go red/puffy but this one is nice and gentle, yet still has a decent amount of vitamin c in it as well. Definitely recommend!

Great Product and worth the investment

This is a great product, very concentrated so you only need to use a little bit everyday

Highly effective serum

This is my go-to serum each morning. I have noticed a difference in the brightness of my skin, and I love putting this on post cleanse, before my moisturizer. It smells yummy too.

Feels nice!

I received a sample of this which took me forever to end up trying! I wish I used it straight away as it was such a nice serum! I loved the smell, texture and that it was fast absorbing. It did make my skin look and feel nice and I think it's a great vitamin C for sensitive skin

The path to glowing skin

I absolutely adore this product.

I use it in combination with Aspect Vitamin B17 and the results are fantastic.

I was recommended this product by my beautician and never thought I would switch from the serum that I had used for years until I started using Extreme C 20.

I have dry skin and this product absorbs into the skin instantly providing a feeling of intense hydration.

Read More

Skin brightening!

Already a huge fan and long time user of Aspect products. I introduced this (along with Vit B and Hydrating Serum) into my morning routine and have immediately noticed complexion improvement in my skin.
I can have sensitised skin and had no reaction to this, although have been using actives for a long time so maybe my skin is already prepped for it.
Aspect products were a game changer ...

Read More

No tingling

I've used vitamin c products before that leave my skin tingling but this is lovely and gentle. Really enjoy using it with Aspect's other products.

Really nice Vit c

I received a deluxe sample of this product and I really like it! I have acne prone skin but it didn't break me out, as I know some C serums can do! It smells amazing and adds an extra layer of hydration in the morning!

Was good for my sensitive skin

I received the sample and this is the first Vit C serum I've used and I was surprised at how much my skin loved it as I have very sensitive skin. Price tag is a bit bigger than I would normally go for, however if my skin loves it this much I'm thinking about purchasing.

Holy Grail

I am blown away, it's been 1 week and my skin is not only more even complexion, but my pores are heavily minimized and many spots are healing. This serum is perfect when you mix it with the B17, something magical happens that the people at Aspect have formulated and it really restores my dry, sensitive, flaky, uneven tones skin. I am in love and it's worth every penny.

Nice

I got a 7ml sample of this. The consistency is nice and light, absorbs well and smells like orange juice. Not sure if the results are better then my Skinstitut one.

Daily essential

I love it. I pair it with the Extreme B 17 and I feel like it has really brightened my skin already (only been using it for about a week).

Nice Vitamin C serum

Received 3 samples of this in the last 12 months and was always happy to receive it - smells nice, offers some brightening, nice texture (easy to spread). Don't notice the immediate wow factor/glow of the current serum I am using/will stick with so haven't purchased full size model, but nice if you want something a bit lighter/less heavy duty, with the trade off being less oomph.

Lovely serum

I got this in the aspect starter kit, it is 15ml half the size of the full but has already lasted me so long. Only a little bit is required to do the whole face. It has a lovely feeling to it and makes my skin glow. I have noticed since using it that my acne scars have dramatically reduced, and my skin overal looks brighter

Good product

I have been using this everyday for a while now. Haven't noticed an enormous change in my skin but it makes my skin feel fresh. I might look for something with a bit more punch in future but I am enjoying it at the moment.

Noticeable skin improvement

This is a definite repurchase for me. I noticed an improvement in my skin. It definitely looked brighter. I used it with Vit B and they complimented each other

intrigued

I got the sample size of this and have been using it every morning. My skin throughout the day looks flawless, I don't wear makeup daily and I find I can tell it makes me look more radiant. Looking forward to using the whole sample and seeing the difference

Gentle vit c

This is a gentle vitamin c that caused me no irritation. However I find this not strong enough for me personally

Light and fresh

I've almost finished a 7ml sample I received of this. I used it every morning after cleansing, followed with moisturizer and then spf. The consistency is nice and light, absorbs well and smells like orange juice which is pleasant. I definitely think my skin looks brighter but I haven't noticed a huge difference with it after 3 weeks.

Light and fresh

I've almost finished a 7ml sample I received of this. I used it every morning after cleansing, followed with moisturizer and then spf. The consistency is nice and light, absorbs well and smells like orange juice which is pleasant. I definitely think my skin looks brighter but I haven't noticed a huge difference with it after 3 weeks.

Lovely

Really nice consistency (serum, non oily) & citrus smell. Only just incorporated into my AM routine after glycolic & before moisturiser, sunscreen. Skin is brighter and sun/acne pigmentation is fading.

Great serum

I have really liked this product. I use it daily with the Aspect Extreme B17. It absorbs really beautifully into the skin, has a nice citrus scent and a pump dispenser. Skin feels smooth and hydrated. Not sure though if it has reduced lines and wrinkles.

Good vc serum

Finished a 7ml sample. It smells lovely with a refreshing citrus fruit scent. Light texture and absorbed easily.

I like!

Smells super citrus-y fresh and quick drying on the skin. I really actually think it has reduced some of my fine lines!

Got the sample size which is lasting a good few weeks/months but will be buying the full-size in my next purchase for sure - which I can only imagine will last a while.

Great serum

This is a superior quality serum. My skin looked amazing when i used it. Radiant and smooth.
Big difference when I stopped .
I'm sold.

Great serum

Wow. My skin looked amazing and radiant with this product.
Ran out, used something else and saw a major difference.
I'm sold. Indefinitely.

Nice enough but better

While I found this vitamin c nice and non irritating I think my Medik8 c30 is a lot better. I found this to be very mild and didn't notice much difference

Really enjoyed my sample, can't wait to invest

I received a sample size and its a great product. It goes on easy and drys very fast. Has a nice orange scent. Leaves my skin nice and soft


Great

Got this as a sample size and absolutely loved it. It goes on easily and isn't thick. Smells amazing and I definitely noticed a difference in my skin using this.

Good

Smells lovely, good texture and non greasy.

Nice Serum

Big fan of this brand. Use this serum daily along with the Aspect B serum. Light weight serum that absorbs quickly and doesn't leave the skin feeling oily. Easy to use metered pump bottle.

Great product

I received a sample size and its a great product. It goes on easy and drys very fast. Has a nice orange scent. Leaves my skin nice and soft

Amazing

I love this product.
I use it in combination with my other skin care products, including the Aspect Phytostat 9 and my skin is more hydrated, illuminated and youthful.
It doesn't reduce fine lines though...sorry.

Lovely Serum

I received a 7mL sample of this product and it's really nice! A little product goes a long way so it would last for a very long time. It's very smooth and absorbs quickly. You can feel a slight tingle on the skin which I get with effective vitamin C serums. I would absolutely purchase the full size in the future (when I can justify the cost).

Sadly didnt work for me

I have sensitive skin but ive been wanting to try a vitamin c serum for a long time. I tried slowly working this in to my skincare routine, mixing with moisturiser and so on but it just seems to irritate my skin every time. Ive given it to my sister who says its okay but unfortunately wont suit everyone skin!

Moisturising, good for sensitive skin and smells amazing

I received a sample of this product from Adore Beauty. The little 7ml sample I received lasted for over a month and I used it everyday. I have really dry eczema/dermatitis skin that is usually really sensitive to serums and can break out in a rash. However, this didn't happen! In fact it made my face really hydrated and left a dewy glow that soaked in after a few minutes. I am reordering the full ...

Read More

Expensive, but worth it

I really love this product. My skin drinks it up, and it sits beautifully under moisturiser and makeup. I had uneven skintone after pregnancy and I've found that it has definitely started to brighten and even out my complexion.

Nice texture and feel to this serum which absorbs nicely

Received this Extreme C20 in a goody bag and find it great for sensitive to dry skin, iv found it to be the only serum to reduce redness so already a believer in this one in under a week. I'm using Thalgo silicium atm and liking the long term use so I will keep up with aspect C20 and trial it a bit longer b4 going in for the big 30ml but I do like it and it's a cure for redness as yet to find one ...

Read More

Skin brightening!

I have oily / combination skin and haven't been able to use vitamin c serum in the past - it clogs my pores and creates more oily. This however works wonders and I'm genuinely surprised at how well my skin drinks this serum up. I've been using a 7ml trial size and will definitely consider purchasing the full size.

Irritation +++

Immediate irritation that took hours to calm down. Will probably avoid aspect products all together after this.

Glowing skin

I got a sample size of this in the Aspect Starter Pack and have used it every day since. I really love everything about this vitamin C serum, the packaging is extremely hygienic and keeps the product fresh, the scent and consistency of the product is gorgeous and it just melts straight into my skin. This is a must have product in the Aspect range, I will buy the full size.

Love!

I received a sample of this product with a recent purchase and I'm surprised by how much I love it. Leaves my skin looking bright and glowy. Sits well under my moisturiser/sunscreen/makeup.

Amazing!

I was so happy to receive a sample of this in a recent order.
I was already using a vitamin C serum daily but thought I would give this a go too. I find it brightens my skin and gives it such a lovely glow. I'm definitely a fan after trying this and will be recommending it to my family and friends.

Lovely serum

This truly is a lovely serum to use, it feels nice on the skin and provides the brightening effect almost immediately

Just a great vitamin c serum

I got this as a sample size in an order and I loved it. I could genuinely immediately see the brightening effect on my skin.

Aaaaaaamazing

This is such a lovely serum! The texture is light and the scent uplifting! It gives a lovely brightening glow

Great vitamin C serum

One of my favourite vitamin C serums which applies smoothly, spreads evenly without any pilling or rolling. Was previously using the ASAP C serum however this is a far more superior product in my opinion in terms of ease of application and outcome.

Haven't been blown away

I had high hopes for this but unfortunately I haven't really been blown away by it. While easy enough to use with no irritation I found it didn't really do anything for my skin. After I finish my bottle I will go back to medik8
Filled with the usual things we know you'll love, and surprises you might not expect, it's real rewards, really simple.