Is this for you?
Aspect Extreme C 20 is ideal for all skin conditions, particularly sensitive and skin prone to redness. This vitamin C based serum tackles many of the signs of skin ageing, from every conceivable angle. With a unique breakthrough combination of amino peptides, stable vitamin C, cellular antioxidants, corrective botanicals and skin energizing extracts – all expertly blended into a light as air, paraben and fragrance-free serum.
Cruelty Free
Artificial Fragrance Free
Skin Concern:
First signs of ageing

Pigmentation, uneven skin tone
Skin Type:
Dry

Normal to dry

Normal to oily

Oily
Frequently bought with
Please wait while we find a match
Questions & Answers
(1 Question)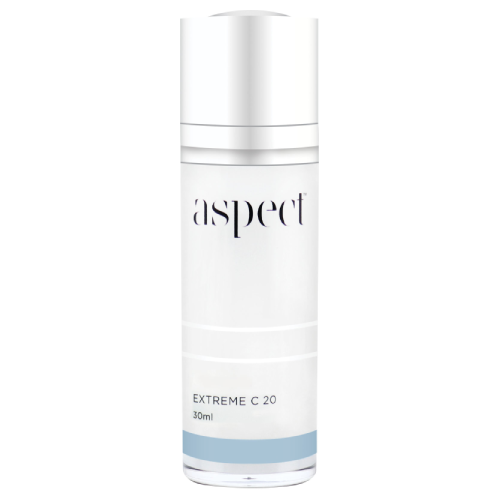 Aspect Extreme C 20
Get an expert to answer your question about this product!
93% recommend this product
Most Helpful Positive
Great C
Great serum for my sensitive skin so easy to use would recommend
Most Helpful Criticism
didn't mind
not the best vitamin c serum I've tried but it's pretty good. I've got combination skin but I don't think it'd be suited to sensitive or dry skin types
Great C

Great serum for my sensitive skin so easy to use would recommend

Great product

My skin looks much more brighter after using this. I would highly recommend.

The most effective C serum

I have tried quite a few vitamin C serum which potency ranging from. 15 to 25, Aspect Extreme C 20 is by far the most effective one as my skin started to feel very smooth and plumped just after 3 days. It is on the pricer side, but I think it's definitely worth the money. I had the bonus size of 7 ml and i am on my fifth day using it.

Extremely brightening

Made my skin glow! Definitely an investment but worth it for what it does for the skin!!

Ok on my sensitive skin

I've read reviews that this serum is not great for sensitive skin. I received a large-sized sample and I used it every couple of days. I had no issues with it and I am going to keep using it as I love the brightening effect that vitamin c can have on the skin. I think I may even purchase it. Still, have to get through the last half of the sample!

Reaction

My face has never been more inflamed in my life. My skin instantly went bright red and hot from using this

Good vitmain c serum which is worth the money

This vitamin c serum definitely made my skin look noticeably brighter, I got lots of compliments! It doesn't result in drastic skin chances like with more expensive vit c serums, however, at this price point, I am pretty happy with the product.

Great serum

I have been using this for a couple of months now and I am very happy with the results. I am not certain it has reduced my fine lines, however, it has definitely brightened my skin and has reduced the slight puffiness around my eyes.

vitamin c boost

this is like a vitamin c boost for the face, fantastic for brightening the skin

brightening but not for sensitive

great for brightening skin, it has a lot of vitamin c so if you have sensitive skin, I wouldn't recommend

didn't mind

not the best vitamin c serum I've tried but it's pretty good. I've got combination skin but I don't think it'd be suited to sensitive or dry skin types

not for sensitive skin types

bought this for my mum because she was after an anti-ageing serum. It didn't work for her sensitive skin

Perfect for dry skin

I have been using this serum for almost 2 years and it's never let me down! I use it both morning and night and it brightens my skin instantly. Highly recommend this brand and serum!!

A nice addition to my daily routine

This product was my first trial of a vitamin C product as part of my daily regime.

I used the serum in conjunction with other Aspect products, and applied it in the morning before moisturiser.

My skin definitely appeared brighter with this product. Still undecided on whether there was a marked difference with lines etc.

It absorbs quickly, has a nice texture that isn't too tacky and I like the scent.

Would more than likely buy this again.

good

I put this on everyday and it has been magic - restoring my dehydrated skin and making it supple again! Love Aspect - this is the first time I've had visible results from a product range!

Nice product!

I was given a sample of this with a recent order and I'll be purchasing the full size. It's very light weight and a little goes a long way. My skin looked fresh and clear after applying.

Healthier and brighter skin

This made my skin feel healthier, brighter and improved my skin. Would recommend.

Irritated my skin

I received a 15ml bottle as a gift with purchase recently. The first few uses were fine however I developed a rash after about my fifth use. Let the rash settle and tried the product again however it irritated my skin once more. I use many Aspect problems without issue, so won't be using this one again.

Will definitely be purchasing!

Great product I got a sample and loved it will definitely be buying the full size product!!


Lovely vit c serum

I've only been using this for 2 weeks so jury still out on improvements, however, it is a nicely textured serum with the right ingredients so I expect it will deliver. Best part, it doesn't stink like a vit c serum.

My favourite skincare product

This is easily my favourite skincare product. It makes SUCH a visible difference, I wouldn't be without it. A bottle lasts me about 3 months. My skin is brighter, fine lines disappear, and it smells lovely.

AMAZING

This is got to be the only vitamin C that I trust. It has improved my overall skin texture and I am starting to see a decrease in my scarring and furthermore when I do happen to have a nasty breakout that would usually scar, I swear that it is this serum which does not allow it to do so. This will continue to be a staple in my morning routine before their vitamin B serum. Amazing combo, brand and results!

Great Product

I received a small Vitamin C as a promo of this as was really happy with the product. Love the pump pack and the smell is nice without being overbearing. It absorbs well and quickly and is a good price point for a serum like this.

Great vitamin C

I've tried a lot of Vitamin C products and this one is really good. Fast absorbing, hydrating, and I feel glowing afterwards.

Love Aspect Extreme C

I use extreme c on my rosacea prone highly sensitive skin. I love it as it calms my redness and I don't react to it.

great

Love this serum!feels amazing on my skin,results are wonderful with tighter and smoother skin!

Best Vitamin C Serum

Ive started using this serum a couple of weeks ago and I have to say, in conjunction with Phytostat 9, Red-Less Serum & this it has worked wonders on my skin. I use this in the morning with the Retinol Brûlée every second night and I have noticed a huge difference in my skin.

Highly recommend this product range

I am in love

The Aspect Extreme C is definitely living up to the hype for me. Over the past 3 months I have really noticed a positive change in my skin since using this product (along with Aspect cleanser, moisturizer and the Exfoliat serum).

Amazing

Great product I got a sample and loved it will definitely be buying the full size product!!

Great for plumping and hydration

I feel like this has really helped keep my pigmentation at bay and it's super hydrating on my skin. I use with the B17 serum in the mornings and have had no issues with breakouts.

Tried the sample

I got a sample of this from Adore Beauty. It had a distinct orange smell and isn't overly oily or sticky. I think over time would show greater results but my sensitive skin hasn't reacted which is a good sign

The perfect starter Vitamin C

I had previously tried a much stronger Vitamin C product that broke my skin out in a rash. This however was gentle on my skin but still effective at reducing fine lines, brightening skin and evening out my skin tone! I am in my early 30s and have all the usual signs of ageing as well as some post acne marks and pregnancy pigmentation. I use this after a B5 serum in the AM a few times a week and have seen results!

Good

I put this on everyday and it has been magic - restoring my dehydrated skin and making it supple again! Love Aspect - this is the first time I've had visible results from a product range!

holy grail

I have dull, oily, dehydrated and pigmented skin and this worked wonders! It isn't sticky and works great in conjunction with my other Aspect products.

Non irritating

Vitamin c serum is a must have for any skin care regime. Finding a serum that did not cause my skin to become hyper sensitive was difficult and costly. My skin now feels firmer and looks brighter and more youthful.

Glowy skin!

Was recommended this product by my skincare specialist to help brighten up my complexion - and I love it. Easy to apply, fresh smell and I always get so many compliments about how beautiful and dewy my skin looks when I'm using it. I also tend to have sensitive skin and this product did not inflame or irritate it in anyway!

lovely

I love Aspect products. Being in my mid 50s and loving the sun in my teens and twenties I suffer from pigmentation. This product has been amazing. Will be purchasing again.

cannot live without

i grab for this serum the most in my cabinet. great smell, nice a refreshing. boosts my skin to feel plumper and smoother instantly.

Cult buy

I struggle with pigmentation and whenever I can afford it this product is my favourite Vit C, you will start to see results in a few weeks as it brightens your complexion.

Great product

This Vitamin C serum was recommended to me by my aesthetician and can highly recommend. Great for sensitive skin as it does not cause breakouts. Only downside is that it is a little pricey and there are many other alternatives on the market that are slightly cheaper. A great 'beginner serum' for those looking to include in skin care routine.

Great but can be replicated for less

I have a medium-deep skintone with some hyperpigmentation. I've used a vitamin C serum consistently to keep it under control and brighten up the complexion.
This Aspect one was the first I ever used and was recommended to me by my aesthetician at the time. It definitely works and does what it promises - no question about that. It's a very effective product.
However, when cheaper skin care options entered the market - e.g. good quality vitamin C serums for $10-25 per bottle - I thought I'd try them, fully thinking that they wouldn't be as effective as the Aspect one. It took some experimentation with a few of them but I managed to replicate the benefits of the Aspect Extreme C with two inexpensive vitamin C serums from cheaper brands, saving me quite a significant amount.
I love Aspect's cleanser and moisturiser but I've found their serums to be pretty over-priced. So I can't give it a perfect score on that basis, as you can get equally effective products for far far less now.

Good for use in skin care regime

Good brightening product for acne, skin pigmentation.


Wedding Skin

I bought this in the lead up to my wedding after reading Zoe Foster-Blake's Amazing Face (which mentions Aspect several times) and it delivered. It's a really light vitamin C that doesn't have the weird ham smell that some C's can have, is in a great oxygen-proof dispenser and really made my skin feel clearer with less spots & lighter acne scarring. I used in combination with their retinol and lactic acid and it was a winning combination.

Visible results

This c is the one that I can most see results from after I use it. I also love the packaging.

Nice

This certainly works better than some vit C serums but still isn't the best out there in my mind. With the price being so steep I would reccomend getting a kit with the sample size and seeing if it's for you first, I liked it but have just found else something I like more for my skin concerns.

Not a fan

You see I used to use this Vitamin C Serum....
And as it was the first Vitamin C Serum I had ever used I thought it was good...... Then I tried a couple of more expensive and elite Vitamin C Serum and I feel as though I wasted my money on Aspect Extreme C.
Personally I would never purchase again and I urge you to look into some more renowned brands..... With C Serums I feel that you get what you pay for.

Lightens Pigmentation

I find that most vitamin C serums don't actually lighten any of the sun spots that I have or even post acne hyper pigmentation. This serum fights both and does it well! You can really see the difference in your skin after a few weeks, if you use it every day (consistently) in the morning. Love!

Love it so much

Love this serum so much ! You can see the vitamins and smell it too (not actually the best smell but not horrible) I use it of a night and it really keeps my skin soft and clear.

Love this product

This is so refreshing to apply in the morning, my skin just absorbs it and I like the mild citrus smell. I tried cheaper options and serums and they don't compare

Tighter

Love this serum!feels amazing on my skin,results are wonderful with tighter and smoother skin!

Great non greasy vitamin C

Love this vitamin c as it doesn't give me breakouts like vitamin c oils. Great texture and easy to apply. Hoping it gives me positive results and helps me contain my pigmentation over summer

Plumped and smoothed

I am 54 and was looking for a serum that would actually do what it says and for me to see the results. It's been two weeks now and I have been using this am and pm. First serum with dramatic results for me. My jowls have plumped up and my fine lines smoothed out. I was a bit sceptical at first because I don't like using anything too strong but this is very gentle along with the other items in the range. I use two pumps am and pm. I saw amazing results on my skin.

Potent!

A great high strength C serum. Excellent for collagen production, brightness and reducing pigmentation which has been a problem for me since having botched Photo-rejuvenation sessions. I use along with my derma roller and the pigmentation has disappeared. I will be ordering this again.

Life changing

Super hydrating and removed my hyper-pigmentation. Definitely worth the price

Feels great on the skin

This is non oily and leaves my skin feeling moisturised. It does have a slightly tacky feel, so I would recommend leaving for a few minutes before putting on moisturiser.



Best vitamin c product on the market

I have tried so many vitamin c serums and this is definitely the best one. I have been using this product for a couple of years now and it helps brighten my complexion, reduced post pregnancy pigmentation and firms my face.

Amazing product

I have been using this product for about 6 weeks and I am hooked! I have been applying this to cleansed skin in the morning before my moisturiser and it gives an amazing glow and I have also noticed it has made my skin a lot brighter, tighter and plump. Great for anti ageing and overall glow. Adore beauty has the best customer service and always such fast delivery and I love that you always get free samples thrown in aswell as a Tim tam! Keep up the good work x

A product which has delivered results

I have used two bottles of this vitamin c product, and I have definitely had positive results. When I first started using it I saw a clarity and brightness in my skin, primarily my forehead within a few weeks. In the time since then I've also noted a lightening on my freckles and sunspots across my cheeks and nose. The product itself is a smooth serum texture with a slight citrus scent. It is housed in a sealed pump bottle which is good for preserving this vitamin c derivative, you can somewhat control how much is dispensed but that's not always accurate. The slight downside side is that you can't tell when you are running low on product, keeping in mind this protects the product from light. The other downside is the price, I would be keen to try other brands in the future, but it's good to know this is a trusty reliable favourite.

Excellent

None irritating, acne compatible brightening product. Others "C's" I have used in the past cause irritation and also worsen my acne. This has done the opposite whilst also helping brighten my old scarring. Absolutely love.

Liquid Gold

I got put on to this product by my beauty therapist during my course of micro, and for someone who has always struggled with adult acne and pimples my skin has come so far in the last 5 months, and i put it down to this amazing product, after i cleanse ever morning i apply my vitamin c then moisturizer then also followed by sunscreen to protect the skin even more.

The best vitamin C product there is

This is, by far, the best vitamin C product I have used.
It is far superior to Drunk Elephant and Ultraceuticals, both of which people rave about. Unlike both of those, it does not oxidise and the product stays fresh in the beautiful Aspect pump packaging. It has a subtle citrus scent, but is not overpowering.
This brightens my skin like nothing else. When it runs out I go a week wondering whether I'll replace it before my skin starts looking dull and blotchy.
Worth the price.

LOVE LOVE LOVE

I adore this serum. I use it every day. It is lightweight but effective. My foundation goes on easily over the top.

Fabulous Vitamin C product

Aspect is my favourite brand of Vitamin C. I use this serum every morning and it has made a huge difference to my skin - it leaves I glowing and fades any sunspots or dark marks. Really highly recommend this product.

Bloody brilliant!

I had my first facial three weeks ago, and the aesthetician recommended this product to tackle my skin concerns (sensitive, occasional breakouts, tired looking). I have used it every morning since and my skin has honestly never felt more supple, refined and glowing. I am the type of person who has rarely ever been comfortable leaving the house without wearing foundation, however after using this product I have now been able to do that. My skin looks fresh and alive and clear. I use it after I cleanse and tone in the morning, and follow with a moisturiser and it even gives a nice dewy look if you apply foundation after. It does seem like an expensive investment- it was for me having never spent this much on a serum before- yet when the results are this good it can be completely justified in my opinion. A+.