Aspect Exfoliating Cleanser 240ml
Skin Concern:
Dull, dry or dehydrated skin
Skin Type:
Dry
Normal to dry
Normal to oily
Oily
Questions & Answers
(No Questions Yet)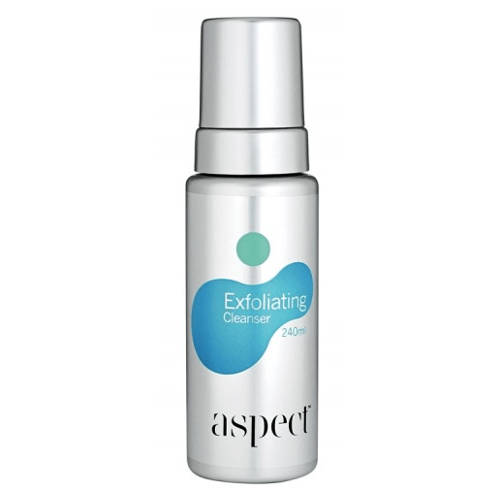 Aspect Exfoliating Cleanser
Get an expert to answer your question about this product!
Ask a Question
100% recommend this product
Most Helpful Positive
Impressive
I really enjoy how this product can be so effective whilst being gentle on the skin. Thumbs up.
Impressive

I really enjoy how this product can be so effective whilst being gentle on the skin. Thumbs up.

Aspect Exfoliating Cleanser

I started using this a month ago and love it! For the first couple of uses while my skin was getting used to it I noticed I was getting more pimples than usual but now I love it! It takes waterproof make up completely off and leaves my skin feeling fresh and clean.

ASPECT EXFOLIATING CLEANSER

I really love this cleanser. It has a really nice fresh citrus smell and makes my skin feel really good. It doesn't lather up which seemed strange at first but that's probably because it doesn't use any unnecessary chemicals (to make it 'soapy') so that makes perfect sense.

great ASPECT product

I am such a fan of Aspect and use many of their products. The exfoliating cleanser is great in the place of purostat and doesn't aggravate my skin

Stick with it

When I first tried this cleanser (I'm a big fan of Aspect's Purastat 9) I wasn't sure about the mousse-like texture. But I kept using it and eventually came to like the foaminess. I have tough, oily skin which is in pretty good shape for my age (55). I'm a big user of acids in all their forms and my skin loves them, however, I never get the tingle. I used this, followed by Alpha-H Liquid Gold, followed by a retinol cream, and after a couple of days of this regime, I was feeling the tingle - perhaps too much. But my skin looked and felt amazing. So I spent a couple of days using balm cleansers and soothing moisturisers and the tingle soon went away. I'm going to try alternate days and see how that goes. But overall I'm pleased with this cleanser, and like all Aspect products, I think it will last for ages.

5 stars - best exfoliating cleanser I've ever tried!

I've tried so many cleansers now that I know very well which ingredients are friend to my face, and which are foe. Normally i don't find many friends in exfoliating cleansers at all - my skin doesn't suit physical exfoliation, I can't do synthetic fragrance, and I don't do harsh cleansing agents.

This cleanser ticks all my boxes for perfect cleanser, and it ticks boxes I didn't know I had.

This cleanser leaves my skin looking really glowing the next day. No redness unlike other exfoliation, and no peeling the next day (though obviously, don't go too hard with your chemical exfoliant products afterward!). Great for congestion!

This foaming cleanser is a chemical exfoliant, so it doesn't contain gritty particles. It contains a few different exfoliators, including lactic acid and salicylic acid, as well as heaps of gentle botanicals like aloe vera, green tea and willowbark.

I wouldn't recommend this in place of a daily cleanser - its probably best for most people to use this in conjunction with something more gentle. It also doesn't replace your makeup remover - think of this as more like a treatment cleanse. I'd probably go so far as to recommend you cleanse before using this - I had great results oil cleansing before using this, letting this sit on my skin for a few minutes, before continuing my serum & moisturiser skincare routine as usual.