asap cc cream SPF15 75ml 75ml
Skin Concern:
Dull, dry or dehydrated skin
First signs of ageing
Pigmentation, uneven skin tone
Skin Type:
Dry
Normal to dry
Normal to oily
Oily
Questions & Answers
(1 Question)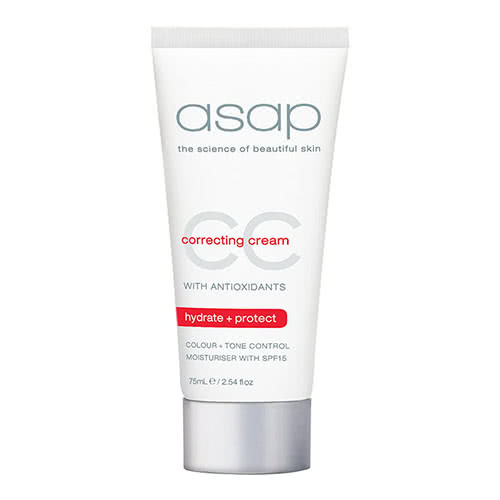 asap cc cream SPF15 75ml
Get an expert to answer your question about this product!
Ask a Question
75% recommend this product
Most Helpful Positive
Good!
I like it! Works well for me!
Most Helpful Criticism
Nice coverage, a little orange on paler skins though
I received a free sample of this and although I found it had a wonderful consistency and nice coverage, I found it a little too dark on my paler skin. I was a little bit too orange toned for pale skin in winter but I would recommend it for darker toned skin. It only has SPF15+ coverage as well, which isn't enough for me on a regular day.
Good!

I like it! Works well for me!

amazing

I've been using this product for years and it never disappoints. I've tried down grading to a cheaper brand but they never compete. I use it daily and it lasts me 6 months.


Great

This product is by far a more superior than many high end products I've previously purchased at department stores. It has a nice texture and glides onto my skin. It has enough colour and good coverage that makes my skin glow and hides sun-damage. Highly recommend.

Nice and glowing

I found this had a strange texture compared to my normal Garnier one. This one is much thicker, but it has a lovely coverage and gives a nice radiant glow. It also has great moisturising ability, so covers any dry patches.

asap cc cream SPF15

This face cream is super light yet super luxe. It glides on my skin effortlessly and smells absolutely divine.

Great

I love how this feels on my skin, it does give a radiant glow. It just did not have as much coverage as my old tinted moisturiser which is no longer produced, and it had a very slight orange tone to it, but it really does feel good on the skin and the product is real value for money.

Amazing product

Perfect for those lazy make up days, quick and easy to apply and leaves the skin looking and feeling amazing

Doesn't do much for my skin

I found this product to be underwhelming. I have had some great CC creams that smooth & illuminate the skin, but this just added a slight tint of colour and a lot of unwanted shine/greasiness. Wouldn't buy again.

Nice coverage, a little orange on paler skins though

I received a free sample of this and although I found it had a wonderful consistency and nice coverage, I found it a little too dark on my paler skin. I was a little bit too orange toned for pale skin in winter but I would recommend it for darker toned skin. It only has SPF15+ coverage as well, which isn't enough for me on a regular day.

Ok but...

I tried this cream because my go to cc cream is no longer made :( :(
I have dry fair skin which also breaks out due to hormones
To be honest the colour comes out wth an orange tinge, the texture is quite thick
I tried it again but mixed it with a moisturizer before hand then applied it on. Worked better and spread more evenly.

Great for a day outside

This is great for a day outside in the sun. Provided protection whilst making skin look better

Very impressed

I received a sample of this and was very impressed when I used it. It went on smoothly and my make up looked great on top of this product.

Best CC cream I have used.

This CC cream works wonderfully on dry skin. Adds a glow to your skin, perfect if you want light coverage and it also contains SPF.

Good light coverage and sun protection

I like this product as it provides a nice light coverage and some sun protection. I've used BB creams before which provided better coverage but this definitely provided better moisture and some light coverage. Also loved that it had SPF15 for some sun protection. I've used this as a light coverage on days when I'm not wearing any makeup/minimal makeup and also as a base before I use another tint (foundation, bb cream) which works well. I have quite pale skin so this isn't a perfect match but as the coverage is sheer it still seems to work.

Great for a day in the sun

I like this product for days where I'm exercising outdoors, having a casual day or at the beach. It doesn't make me break out and is the best BB I've used, coming from a full coverage foundation lover.

Love, but not quite holy grail status for me

This stuff is awesome and I'll probably repurchase but it's not quite my HG CC/ BB cream or tinted moisturiser. I have light olive skin (Revlon foundation in Buff is my perfect match) and this stuff is definitely too dark and warm for my skin tone. But it's sheer, so if I blend down my neck it gives me a nice healthy glow (my fiancé always comments that I look good when I wear this stuff!). It covers pretty well - I only need concealer for my hectic Eastern European dark circles. This would be a five star rating if this product had higher SPF. Also, I think some of the sunscreen actives in this irritate my eyes - if I'm not careful with application I get watery eyes while wearing this. The price per volume is good compared with other CC creams.

Grew on me!

I really like this cream which I use on busy days when I can't be bothered with a full face of foundation. At first I thought it was too sticky but it blends very nicely with a liquid foundation brush. It really does even out colour, even on dark circles, but it would be nice if there were a few colour options as this yellow-based tone would not suit all skin types and doesn't look particularly natural on my fair skin if I apply it too thickly. It's a good bonus that it has SPF though!

I always go back to this brand

My pores clog exceptionally easily, it doesn't matter if a product is non-comodegenic or not. I try other products but always come back to this. The cream is thick but never lies heavily and is a great everyday moisturiser. Well worth the money.

Amazing

Have been buying this product for a few years now, and find it to be a fantastic all rounder. The shade works perfectly for my summer and winter skin tones, and provides a nice light coverage for everyday wear also. Love that it wears nicely under foundation for days when I need a bit more coverage but still want some sun protection. Can't imagine my life without this little beauty.

Lightweight

Lightweight and gives the skin a nice glow. Provides sun protection and even out skin tone. Great product.

Colour

Long term user of this cream. I have used similar priced products, but come back to this everytime as the colour is great -not too orange, not too brown.

love this for subtle colour and glow!

I use this moisturiser on the days when Im between full makeup and no makeup. It provides a subtle colour and glow that gives you enough coverage for clearer skin but doesn't hide all of your features. While others complained about the oily texture, I didn't mind it as it made my skin look dewy.

Awesome CC cream but probably not for oily skin

This is such a great CC cream. It gives my skin a bit of colour during winter when I'm super pale and it has just the right amount of coverage for a natural look. It's quite sheer but it definitely smooths out my skin tone. I have dry skin so this cream is great for me but I think if you have oily skin, it would be too shiny/ oily as it's quite dewy. It doesn't seem to clog pores either which is a bonus.

Orange..

Doesn't clog pores and has great coverage, but is a little orange...bought a few months ago and only used once as I have fair, yellowish skin..

Great product, will definitely buy it again.

Hi, I'm a 51 year old with normal (medium tone) skin. I work shift work and don't have time (or inclination) to spend on elaborate make-up in the morning. I decided to try ASAP CC Cream SPF15 after reading some reviews.

I find the CC Cream great for a light coverup - evening out the skin tone, without appearing to be wearing makeup. I use ASAP B Super Complex and either a day moisturiser or even ASAP Moisturising Daily Defence under the CC Cream. I have used just the ASAP B Super Complex under the CC Cream, but prefer to add moisturiser as well. The trick is not to use too much CC Cream, otherwise the skin feels a little bit sticky.

Highly recommend this product. Great colour that just blends in with the skin!

Fav CC cream

Love this product, my skin breaks out easily and this is the onlc CC cream ive managed to find which doesnt clog my pores and cause break outs. I use it every single day. Doesnt feel too thick and gives a nice, light coverage

Not for me

I wanted to love this cc cream because i wanted something light enough to show my freckles, and have spf in it. While the texture and coverage was great, it was wayyy too dark for me (I'm pretty fair). I'd recommend this to someone with a medium, olive-y skin tone though

Great

I love this CC cream I wear it everyday under my foundation for a little bit more coverage as well as the sun protection. If I'm having a good skin day I use this cc cream and then the asap powder over the top for a nice light natural looking coverage.

Great overall

I love this CC cream, it has the perfect amount of tint for my light/medium skin tone, and evens out my redness, making a nice base for my mineral foundation. The only downside I have found, is the slight sunscreeny scent. It's not overly strong, but it would be fantastic if it wasn't there! I find it lasts much longer than my other BB creams, and absorbs more easily.

Cant be without this product

My fav item - cant live with out this. Great coverage and colour but still so natural. Good on my oily skin. A must in my skin routine

Meh

I found this to look shiny and a weird colour. Kinda pinky. Felt like too much on my skin, and could feel my pores filling up.

Staple

Love using this product when I don't want to apply makeup

Moisturises, evens skin tone and protects





The best!

As an avid user of all things ASAP - I decided to try this CC cream. What an awesome cream! Perfect for summer days. Has SPF 15 (perfect), moisturiser plus added tint...perfect if you don't want heavy coverage and a nice natural glow. Love it.

Nice CC cream

This CC cream gives good coverage on its own or can be worn under a mineral powder - goes well with the ASAP pure base - didn't work so well with other brands though. I like the SPF as well. Not too oily and lasts well through the day

great coverage

I have finally found the CC cream ive been looking for. covered my blotchy red areas on my face and neck and is very gentle on my skin. it is also very moisturising , i have used other brands and found them to drying for my 56 year old skin .... actually i find most of the asap products i have tried a perfect match for mature skin .

Hydrating with light coverage

I have combination skin and so I need to wear a mattifying primer underneath in the T-zone area otherwise I look oily by the afternoon. It offers nice hydration and it goes a long way but the coverage is light and I need to add concealer or mineral powder for a more finished look, otherwise it's perfect for wearing when traveling.

Dependant on skin tone

Normally I find CC creams to have umbrella "light", "medium" and "dark" because they adapt to anyone's skin tone in those categories, but this CC cream in particular had quite an orange tone. It definitely had a strong glow/ tan which I loved, but in certain lights I could see that it was an uneven, not blended coverage.
Overall, I think it works with maybe a powder over the top as well, but I probably wont buy this again. It will work for people with a naturally olive skin tone.

Just what I needed!

I love this product. I wash my face in the morning and then apply this. I am a stay at home mum and sometimes when heading out afterwards I just want a little coverage and a healthy glow. This does it so well. Soooo glad I found it x

Not a fan

I'm a huge lover of dermalogicas sheer tint but decided to try the ASAP version as Iv been liking their other products in their range. It goes on easy and feels lovely on the skin but doesn't give the skin a natural healthy glow like the dermalogica sheer tint does, which is something I absolutely love during summer.
This however would be a nice base to wear under makeup.

Love

I received this product as a sample and have just purchased a full sized tube. This product has totally replaced my foundation. I use it with a little bit of concealer under my eyes and they provide the perfect amount of coverage for my taste. Feels very nice and light on the skin which has been great for these hot days.

Not bad

Pretty good didnt dry my skin out like other brands have.The colour is very sheer so I personally would use it underneath a foundation.I used this with a mineral foundation and it looked nice.gave me an even complexion with just a hint of colour.would probably purchase again as I think the price. Is cheap for this product.

great product

Have used this for about a year. Love the feel on my face. Has a reasonable coverage but I tend to use it as a base with a mineral powder foundation for more coverage.
Good value for money as a tube lasts a long time and you don't need a lot.
Definitely would recommend.

Sheer Glow

At first I liked the packing but the bottom end ca sometimes becomes slightly clog if I haven't used it in a few days. So that wastes a little bit of product and can become messy as if I forget to clean off the bottom and my makeup table ends up dirty.

I like the scent, it smells like oranges which wakes me up in the morning.
The product is good but not amazing as I had hoped, it adds a light tint but not as much as I had hoped as 1 layer is really sheer glow. You can layer it up to gain a fuller coverage but for the moment I've been using it as a base for my mineral foundation or just by itself with concealer over my scaring and under my eyes.

I'll probably repurchase this if I can't find something better.



A great everyday tinted moisturiser

I firsts received this tinted moisturiser as a sample with purchase (thank you Adore!), and being the first ASAP product I've ever tried, this product impressed me enough to want to try the whole line.

What impressed me the most, was that I used only this tinted moisturiser with a little mineral foundation instead of foundation for about 3 days (the sample says 3 used worth, but it lasts longer than that) and after doing so, my skin felt calm, smooth, and it cleared! My skin felt hydrated and it looked healthy.

The only reason why I gave this product 4 stars is the fact that it's one colour fits all, and we know that this is impossible. Despite this, it sheer enough to fit most skin colours.

If you have already clear skin or would like to clear your skin by letting it breathe, this tinted moisturiser gives enough coverage to even skin tone and blur imperfections, it has board spectrum sunscreen (physical over chemical sunscreens which is a definite plus!), and has skin loving ingredients and antioxidants. I have combination oily skin and find that this product is the only moisturiser that doesn't cause me to go shiny.

Would def recommend! Give it a go, or maybe you'll be lucky enough to receive this as a sample in your next Adore purchase too :) I did cave and end up buying the full size though!

Erika

LOVE IT

I simply love this product - glides on, good coverage and gives a nice sheen. I tried this first from a friend and am a definite return customer.

Excellent

Love this product since it was recommended to me a little while ago. Will never buy a different brand. It is great coverage for a tinted moisturiser and I don't even use foundation anymore.

Great Tinted Moisturiser

The best tinted moisturiser I have found. Gives the skin a nice healthy glow and colour doesn't transfer onto my hands if I touch my face like other tinted moisturisers do. Nice light moisturiser for my combination skin.

LOVE THIS PRODUCT

I love the smoothness and coverage of ASAP Sheer Tint Moisturiser SPF15.

Light, bright and covers

Love this product as it feels light on my skin, brightens my complexion, covers blemishes and is a great alternative to foundation for me. I do have a slightly oily t-zone so I use a pressed powder after I apply to remove some of the shine. I would recommend if you are sick of applying foundation each day and want something not as heavy.

Great moisturiser with benefits.....

My beautician introduced me to ASAP products and I love them. This moisturiser has helped to improve my skin a great deal, and the tinting and SPF are a bonus. It's not at all greasy like sunscreen, for which it gets full marks.

Lovely to use

I love the packaging. The tube is plastic but looks metal and is super easy to use. The formulation is lovely too, just the right consistancy. Not greasy like some sunscreens and def lighter than ASAP's SPF30+ which I have also used. The compromise is that this is only SPF15+. The tint is pretty sheer and easy to blend and it smells slightly od oranges.

Fantastic product.

Fantastic product. Beautiful even coverage. I use a makeup sponge to apply and finish with a light dusting of mineral powder. With this product it looks as though you have no makeup on at all and I have had so many comments on how refreshed I look and have I just come back from holidays. I would definitely purchase this again.