asap revitalising bodyscrub 200ml 200ml
Skin Concern:
Acne, breakouts and blackheads
Dull, dry or dehydrated skin
First signs of ageing
Pigmentation, uneven skin tone
Skin Type:
Dry
Normal to dry
Normal to oily
Oily
Frequently bought with
Please wait while we find a match
Questions & Answers
(No Questions Yet)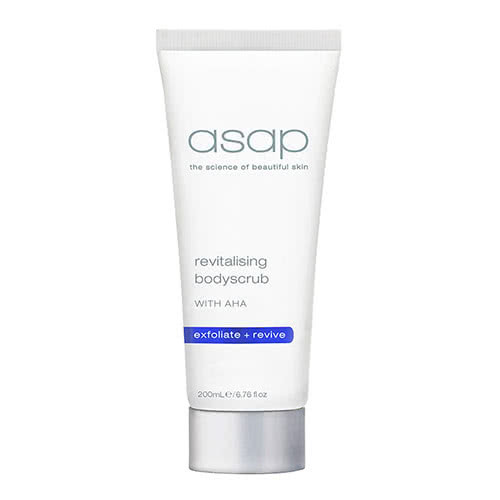 asap revitalising bodyscrub 200ml
Get an expert to answer your question about this product!
Ask a Question
100% recommend this product
Most Helpful Positive
Body Love
Love this body scrub. Not too harsh at all and does a good job removing dead skin.

Good but not quite right for me I think

Pretty gentle! I really like this, but I'm not obsessed. It's not quite as exfoliating as I like, but still lovely and ASAP is a great brand!

Body Love

Love this body scrub. Not too harsh at all and does a good job removing dead skin.


great product

The scrub is definitely slightly more expensive, but worth it for the great quality! I found an improvement in my skin's texture after regular use, my thighs and back were much smoother than usual, highly recommend!

great product

I found an improvement in my skin's texture after regular use. It's hydrating and exfoliating, therefore my skin never feels stripped after using this! I would recommend this to anyone!

good

This is my new favourite scrub. Apply to slightly damp skin and scrub away, then rinse. My skin felt so amazing, it is the best exfoliator I have ever tried. Use it on your hands and feet too, super soft skin everywhere

Everyday essentials

I use this scrub on a daily, makes you smell so good all day!!

great product

first try on ASAP body scrub and surprised it works well. my skin feel smooth instantly and hyrated at the same time.

Great body exfoliator

I love that this product contains glycolic acid! I started using this product when I developed pimples on my back and chest. It was a perfect solution and cleared but my problem when I used it especially after exercising as the sweating was causing my pimples.

gentle beautiful scrub

A scrub that it beautiful soft and effective!! heck yes! i have European thick hair and i am prone to in grown hairs so this was a great option for me. It has AHA (alpha Hydroxy Acids) to help and lift up the hair shaft from under the skin , What i love about this is how gentle and effective it is. A bonus is the smell. IT IS THE BEST SMELL. this is soft and gentle to Jojoba beads in it. The only reason i did not give this a full 5/5 stars us because i like my scrubs personally to be more abrasive. I have been using this while i have been doing laser and it feel hydrating so i feel it covers all bases. I will buy again!

Love it

Love this body scrub. Not too harsh at all and does a good job removing dead skin.

ASAP REVITALISING BODYSCRUB

This is my new favourite scrub. Apply to slightly damp skin and scrub away, then rinse. My skin felt so amazing, it is the best exfoliator I have ever tried. Use it on your hands and feet too, super soft skin everywhere.

So good!

I have overall sensitive skin and find most body scrubs and cleansers too harsh, but this is so lovely! It really gives my body a deep clean but also doesn't dry my skin out. This scrub does exactly what it says and I would really recommend it!!

Great for all over the body

A great body scrub for all over the body. Really helps to smooth out my skin.

Yay

I love this product, has cleared up my "bacne" and my "chimples" haha.

However I'm not loving the new packaging, I don't like the new "twist lid" idea, I think it's going to leak everywhere in my toiletries bag when I travel...

Great Product

Great product, excellent exfoliator, leaves skin beautiful & smooth