asap moisturising daily defence spf 50+ 100ml 100ml
Is this for you?
Protect your skin with asap's lightweight moisturising daily defence SPF 50. This SPF formula provides essential and lasting hydration while protecting against harmful UVA/UVB rays and damaging free radicals.
Cosmeceuticals
Cruelty Free
Vegan
Australian Made
Artificial Fragrance Free
Sulphate Free
Has SPF
Eye Concern:
Age Prevention

Deep Lines
Skin Concern:
Dull, dry or dehydrated skin

First signs of ageing

Pigmentation, uneven skin tone
Skin Type:
Dry

Normal to dry

Normal to oily

Oily
Frequently bought with
Please wait while we find a match
Questions & Answers
(5 Questions)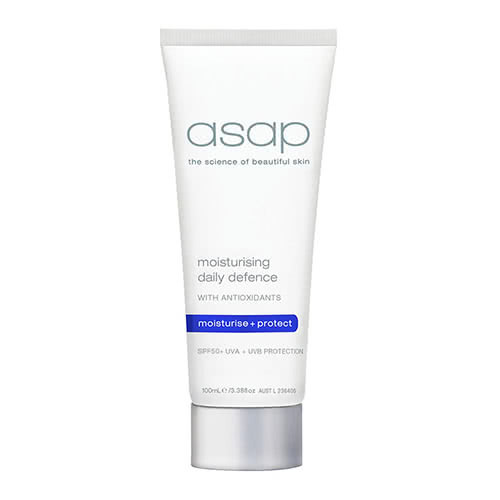 asap moisturising daily defence spf 50+ 100ml
Get an expert to answer your question about this product!
78% recommend this product
Most Helpful Positive
amazing
essential for my mornings, so moisturising and love that it is spf 50+
Most Helpful Criticism
Not my friend
I wanted to like this product because I heard great things from my facialist and friends. It worked well for about a week and then I started breaking out all over my face (I hadn't changed anything in my routine except for this sunscreen/moisturiser). I had to stop using it and then my face calmed down again. Works for some but not all.
amazing

essential for my mornings, so moisturising and love that it is spf 50+

Good

I like that this has zinc and it is a great SPF. It does not break out my skin

Best facial sunscreen

I am so in love with this sunscreen. Simple ingredients that are so good for the skin! I love that I can get some actives in with my sunscreen every day.

The feel is so perfect, not too oily and not too dry. I end up looking glowy and hydrated.

By far the best sunscreen I've ever used and I'm so glad I took the plunge. It was more than I wanted to spend but the bottle is...

Read More

Great even as an everyday primer

This has a great blur effect but it does not give coverage. It looks amazing underneath my foundation and moisturises my skin well bonus that it is a sunscreen without the sticky feeling

Dewy protected skin

light but rich I love that my skin feels hydrated but never clogged it's a great primer too. Also A+ being a physical sunscreen no need to reapply.

Really affordable high quality SPF moisturiser

Love the multi benefits of this moisturiser, with its SPF. I don't find it greasy like most SPF moisturisers. Importantly is does protect my face and at the end of the day if you're not wearing an SPF every day you really ought to check yourself!

All year round fave!

Not too heavy on the skin lasts a very long time a little goes a long way I am onto my 5th bottle! Feel hydrates all day.

It's ok

I like that this moisturiser has 50+ spf however I find that it leaves my skin kind of oily under my makeup. It's ok, but not the best suited for my skin.

Never going back

I have combination oily skin, although since using this moisturiser daily in combination with the ASAP daily facial scrub my skin is far less oily. Initially I found I put far too much on and it was getting into my eyes and stinging. My skin purged maybe 2 weeks after starting but now it is absolutely divine. I love this moisturiser, my face feels and looks incredible, my pores are ridiculously sm...

Read More

Nearly a 5 star

Love that this is an Australian made product and that it's affordable for the quantity. I used this religiously as part of my skin care routine for the last year however I have switched to a different spf protection due to this one being a bit on the thick side. It takes a while to settle in your skin so can sometimes be hard to put make up over. It also has flashback which I don't like.

daily moisturizing

This moisturizer is ok! its good because it has SPF in it and its not to thick!

Perfect sun protection

I have dry skin and do a lot of sport. This is a perfect way to moisturise, treat and protect skin all in one while I'm outdoors. I don't have to wear a sunscreen when I go running. It is a thicker cream due to the zinc but absorbs really well. It stays on for ages and really protects my skin from sun and dryness yet doesn't make my skin sweaty. Love it. Will repurchase.

Good balance

Hydrating and light weight. Doesn't make you break out or skin go oily. Can use daily too! Has spf in it too which is a bonus you don't have to add any extra

Okay

It has spf which is good but other than that I am not a fan of this moisturiser. It makes my oily skin more oily and shiny.

amazing moisturiser

an amazing moisturiser that makes my skin so soft and smooth, great for my skin, highly recommend

Love the sunscreen!

This sunscreen is quite good! SPF 50+ is perfect for living in Australia!

Nice moisturiser

I used this moisturiser and liked the smell and feel however found it made my eyes sting!
It absorbs well, did not make me breakout and is great for the SPF. I now use the asap aloe gel instead and love it.

Not sold

I heard lots of great things about this product but im not sold. I feel like its slides off my skin throughout the day and leaves me looking oily by the end of the day.

Works, but it's not for everyone

This sunscreen is probably better suited to people with normal/dry skin than those with normal/oily.

I have normal/oily and I find that this product just sits on my face & slides off throughout the day. My eyes are usually stinging by the afternoon if I've applied it in the morning (I don't apply it to the eye area, yet it gets in my eyes.)

It's a great sun protection fo...

Read More

Pretty good

I do really love the SPF and moisturising properties of this, but you really have to give it time to absorb into the skin, as it can look quite dewy when you first put it on. After a while it's fine. It doesn't flare up my sensitive skin though!

Not my favourite

I found this to be very thick and hard to work with also it made my face super shiny and just felt overall heavy on my skin.

Amazing

Use this everyday. It's non greasy do doesn't cause breakouts and works well with my dry skin !

Amazing Moisturiser & Sunscreen

I really enjoy this product for both of its purposes of protection and moisturing. I have noticed it can leave some white colouring to your face but thats only short term, it will sink in over time. Excellent product, and I love the ingredients.

Its good!

For a sunscreen and moisturiser this works well! You only need to use a little bit though as it tends to make my skin a little bit greasy sometimes as I have oily skin

Great daytime product

I bought this in a small bottle as I was looking for something that has good Hydration through the day and it was 50+ Sun protection. It does smell like sunscreen (that's really not surprising) but my skin stays nice all day, and it doesn't look greasy. I find that it is a nice base for makeup and my skin is honestly the best it's ever looked after I started using ASAP products. I've since gotten ...

Read More

A little shiny

I bought this product as a new face sunscreen. It works well as a sunscreen but I have found it a little shiny on my combination skin, especially if I use a moisturiser before it and want to put on some makeup afterwards. I have started using it instead of a moisturiser though and that seems to work well. I do still need to put a finishing powder on over my BB cream though to take away some of the...

Read More

A little shiny

I bought this product as a new face sunscreen. It works well as a sunscreen but I have found it a little shiny on my combination skin, especially if I use a moisturiser before it and want to put on some makeup afterwards. I have started using it instead of a moisturiser though and that seems to work well. I do still need to put a finishing powder on over my BB cream though to take away some of the...

Read More

Glowing

I love this! Only need to use a small amount and it covers my whole face. Its very hydrating and leaves a beautiful glow

Hydrating!

This daily sunscreen has been very moisturising and long-lasting on my skin- I am happy with it!

Great

This has great ingredients and feels good on my skin. Will buy again

Like the texture but gave me dermatitis

I got a sample of this sunscreen when I bought other products on adorebeauty, tried it and i liked it.. usually sunscreen is very greasy or very white depending on the active ingredient. This one got absorbed well and didn't leave me looking very white..
i purchased it and while i continued using it, it gave me peeled dry sensitive skin around my hairline forehead. At first I wouldnt know t...

Read More

It's not for me

I feel that ASAP products can be a little hit or miss, and this was a big miss for me. I found the texture greasy and unpleasant. My 43 year old skin, which is usually clear, broke out in blemishes. I also didn't enjoy the smell, it smelt like chemicals to me. Sorry ASAP!

great for sun protection

use this everyday. great for sun protection and moisturising. highly recommend

Won't recommend

I have sensitive, combination skin and this makes skin look really oily and greasy. Also breaks me out.

Great all rounder

I used Ella Bache for years and stepped away as it was becoming just a tad too expensive and I wasn't getting the results I once did. I have tried a few other moisturisers but this is the first I have been happy with since saying bye bye to Bache. Feels great on my skin and has the high SPF. First moisturiser I have found with SPF that doesn't feel like I'm wearing cheap supermarket sunscreen o...

Read More

Shiny mess

This made my skin look super shiny (very greasy looking) and left me with clogged pores after only too days of use. I have combination skin for reference.

Moisturising sunscreeen

This moisturising sunscreen is something I use everyday as it help to keep my skin soft while protecting me from the sun. highly recommend.

SPF Moisturiser - good work!

I've used this moisturiser-SPF product for around 4 years. I actually use it on top of my other asap moisturiser and then put makeup on top. I don't find it greasy at all. Importantly is does protect my face - I'm a redhead and have found it does the job!

Great SPF moisturiser

This moisturiser is amazing for SPF 50+ I really thought it would be super greasy but it's not. I wear this everyday on it's own and under make up and it really gives me peace of mind that my face is protected from the harsh sun in summer.

Ok

Makes my skin really oily

Ok

Makes my skin really oily

Ok

Smooth on my skin and light weight. Doesn't make my skin oily which is a huge thing for me.

Great!

I always take this with me when I'm travelling! I love using this during winter as it stops my skin from appearing flaky!

Good product, misleading ingredients

I quite like this spf, but the ingredients list says zinc oxide and doens't list the other components of chemical suncreen, so you may think it is a physical sunscreen but it isn't.

Non greasy

Bought this as an SPF/moisturiser for the morning. Often SPF breaks me out, this one hasn't been. It's lightweight and non greasy and moisturises too. Would purchase again, good price too!

Nice sunscreen!

Don't normally use sunscreen but this one is perfect. It has a nice texture and doesn't feel sticky

Great for protecting my skin

I have been using this cream for a while now, I have combination skin and find it moisturises really well without being too greasy or oily like most moisturisers with sun protection.
I would recommend this especially being 50+

Good but not for the oily

It is a really good hydrating sunscreen, but it is a bit too oily for my skin type. It didn't break me out but left my skin looking a little too dewy.

Best SPF ever

I use this sunscreen every day and I love it! Doesn't leave any white marks on your face, and also is nice and hydrating as well as protective from the sun. One tube last for ages, and I also have the small size to keep in my handbag for top ups during the day. It's such a great price too! Highly recommend.

Amazing daily moisturiser and added SPF is a major draw card

I received a sample of the daily defence in my Adore mystery bag. The moisturiser is light, hydrating and easily absorbs into the skin. My skin feels super soft after using it. The SPF is reason enough to purchase, especially coming into summer. Love that it comes in a variety of sizes for both home and on the go.

Perfect moisturiser for the summer!

Because this is a such a high SPF moisturiser it makes it perfect for those days outside or at the beach! Plus its super light weight which was perfect for my skin which has a tendency to be oily. Can easily be worn under makeup too! Only downfall is the typical sunscreen smell!

Hydrating and protecting

I was looking all over for a moisturiser with SPF50 in it, just to take one less product out of my morning routine. This moisturiser is great, super hydrating, super protective and has a nice dewy finish. Easy to apply my tinted moisturiser over - definitely has become a staple.

Great but bit of a white-cast

Love this product but did leave a bit of a white-cast on my face, also the SPF scent is pretty strong which i personally don't mind.

Great Product!

This works well for my dry skin. I have been for a good moisturiser and I found it !

My fave daytime moisturiser

I keep coming back to this as my favourite daily moisturiser. Super hydrating and sits well after my morning serums, and the SPF doesn't feel sticky.

Nice but oily

I really like this sunscreen at first, however I found the finish to be a bit oily and I could really feel it on my skin. Would be good for extra protection if I was going to go outdoors but I wouldn't use it every day under my makeup.

Not my friend

I wanted to like this product because I heard great things from my facialist and friends. It worked well for about a week and then I started breaking out all over my face (I hadn't changed anything in my routine except for this sunscreen/moisturiser). I had to stop using it and then my face calmed down again. Works for some but not all.

Great value

Great value moisturiser, the bottle will last ages, and you can use it on your face and neck. Great everyday protection, the moisuriser feels nice on the skin and will always protect you from the sun.

It is okay

This has a lovely scent but I am not a fan of scented products for my skin care. This does not leave a white residue but does make my skin oily throughout the day. I don't think I'll try this again. People with dry skin may benefit from this.

Love love love this moisturiser!

I've been using this product for a years now! I've tried many other moisturisers with SPF and have never liked how oily they sit on my skin. Though this one I love! I apply after my serums in the morning then apply my primer and foundation- my makeup sits well on my skin all day without any oily ness and it is protecting my from the sun! I've got my mum using it now!

Love this, comes out weird but feels lovely

This product comes out of the packaging like it's expired: weird and lumpy. However, it is light and smooth and doesn't make my skin look white and chalky like some SPFs. I really love this product!

Had a sample of this

Was immediately a fan! I love the high SPF, and while it's certainly not mattifying, I don't mind the dewiness - doesn't look greasy

Holy Grail!!

This moisturizer is amazing, it has a beautiful consistency and applies like a dream. My skin is left smooth without any oily residue, and completely protected from the sun thanks to the spf 50! I find it also amazing as a primer before foundation!!!! Wow!!

Changed my mind

At first I liked this product. Unfortunately it irritated an area that was recovering from an eczema flare up. Also it says that there is no fragrance, but it clearly smells like oranges. Very greasy, seems to take a long time to sink into the skin.

Favourite moustriser

I bought this because I wanted a moustriser for everyday use with SPF in it, my friend recommended it to me and I already have the ASAP cleanser so I thought I'd give this a go. It's really nice and goes on easily, a small amount goes a long way

Every day use

Love this moisturiser not only as a hydrated cream but the amazing 50+ SPF. I use it every day on my mature skin. I have also recommended to many of my friends who are also now using, it goes on and absorbs well into the skin. Perfect under makeup or alone .

Nice SPF for face

This sinks in nicely, the SPF 50 is a welcome addition to my facial skin care. Only rated 4 stars instead of 5 because it's expensive. It has a lovely light citrus scent too.

Holy grail

Such a good daytime moisturiser, the SPF factor is amazing. Doesn't make skin too oily either

Very hydrating SPF

A pretty good hydrating SPF. I found it a little too oily for my oily skin but would be good for super dry skin.

Good but maybe there's a trick to it :)

I purchased after reading reviews! Was excited to try it! First impression, very heavy and unfortunately leaves a shine on your face! I found it problematic to use as a base for make up too! But on it's own will be good for a day at the beach or just general day to day business :)

Best for the harsh Australian outdoors

I'm a Queenslander but don't want to skip on moisturising in the hotter months . I received a sample & was pleasantly surprised. It wasn't oily or crazy thick but just right with a good amount of moisture. I don't mind the SPF smell either which is only slight. Have bought the product now.

A bit oily, but nourishing

Definitely feels good for the skin and I love having the SPF, especially when I use vitamin C products. It leaves you quite shiny, but it settles in and I haven't had issues using it under makeup.

Best moisturiser

I have found my go-to moisturiser for during the day, this is perfect and makes me feel really protected even when I am not in direct sunlight.

It also makes the idea of wearing sunscreen every day a lot more simple and easy.

works well for my dry-combo skin

I love this SPF moisturiser, I was surprised it provided enough hydration for my dry-combo skin. It works really well under makeup and doesn't leave a white cast! Definitely my go-to sunscreen.

Everyday go to sunscreen

This product moisturised and protects the skin from the sun. I love using it everyday after I cleanse my skin or under my makeup. I also put it in my handbag to reapply throughout the day. It is moisturising, yet not heavy like some sunscreens. It's perfect for daily application.

Okay sunscreen

Not a bad sunscreen, it does have a thicker formula so I prefer to mix with a serum or oil.

My new essential

I love asap products. As the spring has come and I am concerned abt the sun, I've decide to buy this to protect my skin. It is a little sticky but doesn't leave the white marks on face. Ok to apply under the foundation too. I love this.

Bit thick for everyday

I found this a bit thick and more sunscreen than moisturiser to use everyday. It's great for summer when I want something that's a heavy duty sunscreen.

Stop aging

The fact that this is 50+ was the real winner for me. Perfect to stop wrinkles and first signs of ageing when you're in your 20's

Love it

This SPF goes on really nicely it doesn't feel greasy or leave a white residue. Great for acne prone and good value the 100ml tube lasts for ages, a little goes a long way!

Like a cheap sunscreen

This moisturiser and sunscreen makes my face shiny and feels like I'm using a cheap sunscreen at the beach. I definitely won't repurchase this

thick and heavy

This moisturiser was really thick and heavy to apply and sat heavy on my face. I did not enjoy the texture of it on my skin and will not be buying this in future.

Happy with it

This sunscreen came with my rejuvenate pack and I'm happy with it, it hydrates my dry skin and it goes on nicely under my foundation, and didn't irritate my skin, the only reason I don't give it 5 stars is because of the smell

Great everyday protection

I have combination skin and use a few products with active ingredients that make my skin sensitive to sunlight, so sunscreen is a must for me. I received asap moisturising daily defence as part of a recent goodie bag and I really like the fact that it has a high spf. The moisturiser blends in well and isn't too heavy on my skin, allowing me to apply make up after without feeling like my skin can't...

Read More

Perfect

This is great- and protects your skin - great with just a powered compact over the top x

Definitely protects but stings if you rub it in your eyes

I have oily skin so this sunscreen definitely left my skin feeling sticky and shiny. It's a lot better than others I've tried but I've rubbed my eyes throughout the day and it stings so much! I'll use it when I know I'll be in the sun a lot during the day and don't have to wear make up, if not I'll use a bb cream with spf instead

Part of my new regime.

I'm heading into later 50's. Fair skin. In the sun I might redden but then tan. Mild skin damage now from the days of being a sun worshiper. I've never had acne but do get some breakouts. These days mostly around chin area. Blonde/ brunette hair starting on the greying process. I find every product I like tends to get discontinued. After some experimenting I have found a new regime, T...

Read More

Everyday Use

I use this every morning before i apply my makeup - not greasy and not heavy. my skin struggles if i do not apply this every day!

Protection

This gives my skin very high protection from the sun and the ingredients are great too

Good

This is a nice moisturiser and love that it has spf but doesn't make my face greasy!

Thick and Clogs Skin

This product makes my skin look really oily/greasy, quite heavy to wear. I break out every time I use it.

Good for older skin but a little oily

I bought this for my mum and she loves it (63 year old).
I've used it before and I found it a little oily on my skin.

Great SPF and moisturiser product

Fantastic SPF coverage and I wear it daily. It is a little thicker than other SPF creams. But cream does blend in nicely and feel moisturising on face, after couple minutes of application.

Good but not great

I have been using the moisturiser for 6 months now and I don't exactly love it but I don't hate it either. It is the only moisturiser I have found that actually hydrates my oily/acne prone skin without breaking me out. I like the fact it has SPF in it but find that it can take a while to sink in to my skin and can sometimes leave me looking a little greasy/oily - a little definitely goes a long wa...

Read More

Good.

Unlike most sunscreen moisturiser that I've tried in the past this one didn't give me that really greasy look, it also made my skin feel very soft afterwards. The only downside I found to it was it sometimes looked a bit streaky which of course may be my fault. Overall I think it's a good product.

One of the best 50+ I have ever used

I use sunscreen EVERY single day so I have tried a lot and this is one of the best I have used
Needs only a couple of minutes to absorb and then makeup goes on over the top really well
Have repurchased several times
Would definitely recommend

worst spf moisturiser I've ever used!

It's super think and oily, takes forever to sink in to my skin , burns my eyes, gave me heaps of blackheads and smells like sunscreen. Really disappointed.

Nice!

Ive been using for a few months. I have dehydrated skin and number one was looking for moisturising with spf. This one gives me confidence going out into the sun.
I apply in the morning and before going out in the afternoon id reapply. I was worried it wouldnt be moisturising enough but it is great!
At first i had a couple of breakouts but i think this was due to changing products. It...

Read More

Very moisturising

Really nice and nourishing moisturiser. I have dry skin and hate thin and watery moisturisers. Sometimes if a moisturiser is too rich it makes me break out but I've been using this for a long time and no reaction. No white residue on the skin either. Love it.

Not light

To be honest, ill never know whether sunscreen products are really doing its job (i.e. protect skin from sun) because im hardly out in the sun. But when im in the office, i know whether a sunscreen product is light vs heavy, thick vs thin, etc. Not too much a fan of this after using super light korean beauty sunscreen products that dont leave any residue behind.