asap anti-ageing night cream 50ml 50ml
Is this for you?
Infused with AHAs, the asap anti-ageing night cream is designed to promote youthful looking skin by stimulating collagen, encouraging cell renewal and removing dead skin cells.
Cosmeceuticals
Cruelty Free
Vegan
Australian Made
Artificial Fragrance Free
Sulphate Free
Eye Concern:
Age Prevention

Deep Lines
Skin Concern:
Dull, dry or dehydrated skin

First signs of ageing

Wrinkles and loss of firmness
Skin Type:
Dry

Normal to dry

Normal to oily

Oily
Frequently bought with
Please wait while we find a match
Questions & Answers
(7 Questions)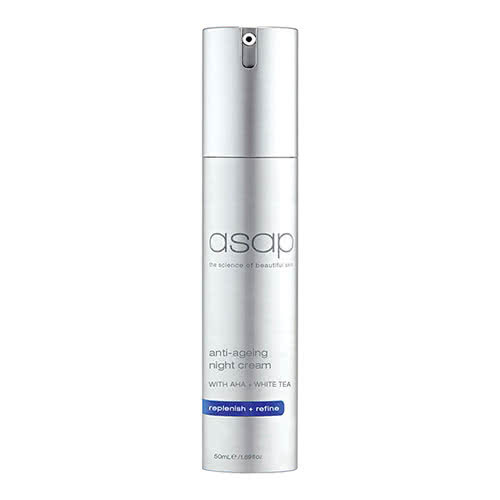 asap anti-ageing night cream 50ml
Get an expert to answer your question about this product!
91% recommend this product
Most Helpful Positive
Excellent night cream
I love this night cream, super hydrating and really great for clearing up my skin.
Most Helpful Criticism
Okay, but not great
I really wanted to love this product, it is good - but it is no show stopper. Still leaves me a little dry, although it sinks in quickly I see little of its anti ageing qualities. I really wanted to see more from this product.
Not the best on already dry skin

I use this on my combo skin and love it, but hubby doesn't like it on his dry skin

Very good

I like this night cream as it's very light and doesn't sting the skin. I feel that you need another layer of moisteriser if you have very dry skin as this might not be enough hydration.

Excellent night cream

I love this night cream, super hydrating and really great for clearing up my skin.

Love!

Love this! Wish it came in a bigger size for the price but definitely worth it as you don't need much per application

Not bad

I used one bottle and did not notice any significant changes in my skin.

Excellent for oily or congested skin

I have very oily skin and struggle to find a night cream which is not too thick and heavy and causes skin congestion. The consistency of the asap night cream is beautiful on my skin, it is nice and light and doesn't clog my pores.
It feels very nourishing - I can't comment on it's effectiveness on wrinkles as it isn't one of my skin concerns, but my skin is visibly smoother and brighter. I use this alongside the radiance serum and a hydrating mist for my night time routine.
The only very minor drawback is the scent, it has a herbal smell which I find a bit odd but it does fade away after a few minutes. Not a deal breaker. Overall, very happy with this product!

Definitely Recommend

I have dry skin, but get hormonal acne around my chin so I wanted something that soothed my skin but didn't congest it. I really like this product.
It has quite a herbally smell which I like, but if you aren't into fragrance, that's something you might want to consider

Okay, but not great

I really wanted to love this product, it is good - but it is no show stopper. Still leaves me a little dry, although it sinks in quickly I see little of its anti ageing qualities. I really wanted to see more from this product.

Old faithful!

I have used this product for many years now and it is my good to in my nightly routine. It is lightweight yet great coverage and have a lovely citrus smell.

Perfect amount of hydration after applying serums at night

This works so well as the last step of my skincare routine at night. It provides enough moisturisation and prevents any dryness. It also absorbs quickly and isn't sticky so it doesn't end up my pillow!

Light formula but very effective

I have been using this cream for two months now. It is a very light formula but is very effective in making my skin nice and hydrated. The bottle dispenses the perfect amount with one pump so no wastage (I am notorious for using too much moisturiser) I have sensitive skin and I have had no issues using this.

Good

This product has helped reduce the appearance of my fine lines and it has kept my skin hydrated and prevented dry patches. Recommend!

Brilliant product

Fantastic night cream. My skin is so smooth and clear from using this product. It goes on nice and light. I'll definitely keep using this cream.

Ultimate!

My maintenance night cream. Gives just the right amount of overnight hydration and moisturisation. Applying this on top of ASAP Radiance serum both enhances its other's amazing benefits.

Love it

I am not sure what to say about this product other than I love it, I swap this every 2nd night with my Vitamin E cream, Love the lightweight feel and it makes my skin feel rejuvenated.

Love it!

I use this with all of my other ASAP products and the whole combination just works perfectly! It's nice and lightweight! I use it every-night before bed and wakeup with fresh, bright, clean skin that feels tight and hydrated!
The product isn't really thick like others you see, but thats perfect for me!

Not the best on the market

I love asap products but I'm not all that impressed with this product.

It has a lovely citrusy scent to it but when I apply it to my skin, it seems to have a curdled like consistency which puts me off - don't know if anyone experiences this with theirs but 2 of these bottles I've purchased at different times had the same effect. It also tends to pill when applying ontop of my other serum which I dislike alot.

Though lightweight, I didn't find it really quenched my skin in terms of hydration either and didn't see any noticeable difference over some time of using it.

I won't be repurchasing this particular product from ASAP all in all, but I can attest to the fact that a lot of other products in their line are truly amazing.

My favourite night cream

I purchased this after getting a sample from AB. I can be prone to having dry skin but I have had no issues with this cream. I use it nightly and wake up with my skin feeling hydrated and ready for the day. I love that it comes in a pump so I don't overuse it. Highly recommend!

Does what it says!

I bought this because I'm in my mid 30s and concerned about fine lines and wrinkles, my skin is usually dry and my pores are starting to show, so I was hoping this cream would help, and I'm pleased to say that it did! I've been using it for a couple of months now I wake up to hydrated skin, I've seen a difference in my fine lines, and it smells nice and doesn't irritate my skin will buy again for sure

Pleased.

I bought this product after adore sent me a sample. This is a nice product to use at night after my serums, my face feels hydrated the following morning. However I wouldn't call this one of my 'holy grail' products!

Nice and lightweight

Nice, lightweight and refreshing cream. I use before bed and wakeup with fresh, Bright, tighter skin

basic night cream

have only just started using this but so far so good. I previously was using a thicker night cream but I do like the consistency of this one. It leaves my face feeling very smooth

Great night cream

I like that this night cream isn't too heavy, after I put it on I do t feel it on like my other night creams I've used. My skin feels really nice in the morning it's not spectacular but it does what it says it does. I will continue to buy it.

A favourite

Love the smell, love the feel. Look forward to the ritual of applying this every night. I have combination skin and would definitely recommend.

Love it!

I decided to try this after buying asap daily defence. I love it! Its nourishing and smells beautiful, almost herbal. I have now even bought the hydrating day cream! Highly recommend!!

Great product

I loved this night cream however it isn't my holy grail. I have normal skin and this felt lovely on but didn't do all that much for me

Great, light night cream

I tried this night cream in a sampler pack and have used it ever since. It is a great night cream and for me the major bonus is that it is not too heavy. I have oily skin with some dry patches, so really struggle to find a night cream and serums that work well for me. This ticks all the boxes, it moisturises and lifts my skin, but doesn't clog it up or make it too oily.

Smell divine!

I've bought this after reading the reviews. The texture is so light and smooth. If you have super dry skin, this may not be thick enough but ok for me. I love this non-comedogenic and doesn't block my pores. My skin is so smooth and nourished! I love this.

Feels nice but can't deal with the smell

The cream is hydrating and feels really nice on the skin. My skin feels good however the smell is really strong and overpowering. I can't really use as I can't handle the smell - it smells like old bay, that red spice they add to crabs - and is really strong. I am disappointed though as I really like how it feels on my skin, I just have to convince myself to ignore the smell and use it - so def detracts from the experience.

Lovely

this product is honestly amazing! It nourishes my skin and makes it feel so hydrated and soft! I definitely recommend this product to anyone and everyone, especially if you have dry skin!

Velvety smoothness, effective and lasting

I love this night cream! The smell is a little unexpected, perhaps making it a bit of an "acquired taste" for some users but I actually think it enhances the product. The cream is rich but not heavy. It has a velvety smoothness that really penetrates the skin leaving it feeling nourished and hydrated well into the next morning. The citrus-like smell adds a tinglingly refreshed sensation which I find (strangely but pleasantly) both reviving and comforting! I have been using ASAP's anti-aging night cream for a few months now and not looking back! I highly recommend it, especially if you have skin which is prone to breakouts.

Clearer skin overnight

I received this as a GWP and whilst it's not my HG night cream (I prefer something richer for my dry skin) it definitely left my skin looking clear and even toned no doubt due to having some glycolic acid in it. A great option for those wanting clearer skin overnight!

Smooth night cream

I love asap products and was quite excited for their night cream, but it's not as amazing as some of their other products (eg. b serum). Yet to see big results but it has a nice smell and consistency.

Great Active Serum

Love this range! Really great product that makes my skin look smooth and hydrated and gives it a lifted appearance. Just a bit expensive but otherwise love the results


Good

I love asap products esp this one. I use it a few nights a week and it gives me instant results. Just wish it was slightly more affordable

Leaves skin feeling great

I have dry/sensitive skin and find that this works really well for me. It goes on really easily and my skin still feels really soft in the morning. The price is great when compared to most other night creams. The only negative is the smell, it's quite strong.

Nice moisturiser

Love the texture and glides on easily. Good consistency. Don't like the smell. Bit weird. Feels good on my skin

Boyfriend loves it

I bought this along with 3 other ASAP products to try and get my boyfriend into skincare. He absolutely loves this and how smooth it makes his skin feel. He has really oily skin but this doesn't make it greasy at all.

Good product

Really good hydrating moisturiser , however need to use small amounts as if you put to much on especially on chin it can get a bit oiley . Otherwise really good as used to use the ASAP spf moisturiser .


Great for Oily Skin

Loveing this product, I have oily acne prone skin and this is amazing at hydrating and plumping my skin and isnt causing any breakouts at all. Great soothing and lightweight nourishing night cream.

Great night cream

This has been a great addition to my night time routine - I use it after the Skinstitut Retinol Serum on alternating nights to Alpha-H Liquid Gold.
It's moisturising but not too heavy and does not leave my face feeling greasy.
Always wake up fresh-faced.

Great product

I have used this product nightly for the last few years, skin feels soft immediately after use, not a heavy night cream, a little goes a long way.

Anti ageing

Really great product that makes my skin look smooth and hydrated and gives it a lifted appearance. Just a bit expensive but otherwise love the results

Chemically smell

I really didn't enjoy the smell of this. To me it smelt chemically which was really off-putting before bed.



Waking up with soft skin

I know we should always attend to our facial care routines - but there those days when I am just TOO exhausted or I'm sick or some other thing gets in the way - and I realllly notice a difference in how my skin feels the next morning!! I absolutely love this moisturiser. I've tried other products and none have made such a noticeable difference to my skin the following morning, not like this one. I love how it smells, I love how it tingles when I apply it, and I love how my face feels the next day. Very happy customer.

Nice Moisturiser but unusual fragrance

This night cream feels very moisturising but the fragrance is a bit of a down point. The fragrance was a somewhat citrus smell and in a night cream it was difficult to relax with unwind to. It gave my skin a nice finish.

amazing night cream

ASAP make wonderful little products - Aus made and great price too. This night cream leaves my skin feeling very soft/hydrated and baby smooth. It's got a lovely light fragrance too. The pump pack means it doesn't spoil and it's easy to dispense down to the last drop.

Lumpy texture which leaves small ball like lumps

I'm not sure if it's just the one I have maybe an off batch but it was a very Lumpy texture which leaves small ball like lumps that don't soak in
I do feel like my skin felt ultra soft after using though
Can't tell if it's helped with pigmentation or not as I use a few other products for pigmentation at the same time

Love this night cream

I love ASAP products, I think they are reasonably priced and I definitely get great results from their products, and this night cream is no exception. The overall condition of my skin has improved since using this cream, my skin is smother and has that plump fresh look from well moisturised skin.



LOVELY CREAM

This is a very light and lovely cream i put it on over my serum b and c .
Its really good none greasy and so light and feels so smooth.

Awesome cream

Only just started using this and already noticed that my skin feels a lot smoother. The cream is light and feels nice on the skin. I decided to buy based on the reviews and Im glad I did.

Silky smooth skin - should have tried it earlier!

Fighting the urge to buy anti-ageing cream for months, I finally relented. Best. Decision. Ever.
Silky smooth skin & plump complexity with a subtle tea scent.
Don't need to use much each night so the size for the price is well worth it

Glides on easily with great results

I had only tried this with a sample previously but liked the immediate feel of the product. It is super light and not greasy at all. You don't need much to feel the results the next morning. I also like to alternate this asap night AHA cream, every couple of nights with a richer, hydrating cream, so this works well in my routine.

Great

After using this product over a six week period, my skin is noticeably smoother. As I am prone to lumps and bumps under my skin, I find this product really helps maintain a more leveled complexion.

Great for overnight AHA

I love that this has AHAs that work overnight on my skin. My skin feels smoother and more soft after use

Best best night cream

I highly recommend this product, I been using it for nearly a month and I'm so happy for the results, made my skin smooth glowy also my wrinkles around my eyes almost gone . Actually I love my face next morning soooooo smooth like baby skin. Good product especially for the price it's perfect.

fast results

I received this as a sample so I didn't really have any specific expectations for it but was pleasantly surprised! after using this at night I woke up the next morning I found that my skin looked felt and looked smooth, soft, even and plump, and my acne scars even seemed to look less noticeable. I will continue to use the sample up and am likely to purchase the full size after!

Excellent

I got a sample of this. I cannot believe the difference I noticed after using a few nights. I use other ASAP products so I knew their cleanser and body moisturiser is great too. But this stuff is going to be a stayer in my routine.

Nice texture

I like the texture of this. Originally I got it as a tester, and then I got some myself. I like that it doesn't dry my skin out.

I'm hooked

I also received a sample of this. I noticed results after the first night. My sample was a decent size and will last me a couple more weeks but I'm going to purchase the full size before I run out. I have an addiction to skin care products and this is now one of my favorites!

Baby soft skin

I received this as a sample in the free gift with purchase, and I was happily surprised at the instant result.
I am a tired mum that is looking just that. The morning after first use, my skin was so soft, looked plumper and more refreshed. I have just made an order of the full size bottle. Happy to add this to my skin care routine.

Great

I have been using this cream for two weeks and I have noticed a huge difference in my skin already. I don't think I will ever look back. All Asap products are amazing and affordable for what they are. If you're considering this product, just buy it... trust me.

Love it!

This moisturiser is not just for ageing skin. I started using it in my early 20s as a preventative. It is so lightweight but extremely moisturising. Leaves your skin feeling like velvet. I absolutely love it.

Softer

I brought this product 3 weeks ago and I am so glad that I did. After appying it over toner in the morning my skin is soft, hydrated and blurred giving me a fresh faced look that I can rock all day— make up free.

Love it!

My face feels amazing the next morning, easy to apply, nice & light & works a treat. I love this product!

Pretty good

I like the way this smells, and it makes my skin feel really lovely and smooth (probably too soon to say on the anti-ageing thing since I'm in my twenties). It also absorbs quickly and is just thick enough to feel luxurious without feeling like you're putting on a gloopy mask.

That said, the price tag is a bit off-putting to me, so I'm not sure I'll get it again. While it's great, I feel like I'm running through it too quickly to justify spending that much! But if you can afford it, it's worth it.

SUPERB NIGHT CREAM - at an affordable price

Love this product - have used just about all the expensive products, Estee Lauder, Lancome, SKII etc- and I think ASAP are the BEST and affordable - and ASAP do not use animal testing - a big plus for me- and our animals!

Affordable Skincare

I've recently changed over to the ASAP range and I found this night cream great! It's light in texture, doesn't feel heavy on your skin and leaves my skin feeling soft in the morning. Love the ASAP range so much as it's affordable but also has made a big difference in my skin!

Works but don't like the smell

I love asap products but this cream I hate to wear as it smells strong and chemically. I need to mix with other cream to be able to go to bed with this on. Although it works I won't buy again.

Great cream for use before bed

Lovely thick cream. Quality pump pack that is virtually unbreakable.

I bought this cream for the first time, my skin tolerated it well. Odour not quite as pleasant to smell as the Ultimate Hydration cream. But it is still very nice.

Looove this cream!

I ordered this when I recently had a dry spell with my skin (partly swimming in pools and also some over using a strong cleanser) - and I desperately needed to get my skin back to being supple and moisturised.

Well this definitely did that! I apply it at the end of my skin routine (every second night as its just too humid to at the moment to wear every night).

It glides on over my skin so beautifully and feels so luxurious. When I wake up my skin feels so supple and so well moisturised. I always make sure I cleanse my skin in the morning though just to remove any remaining cream. Absolutely will buy again and would recommend!!

Beautful night cream

I have tried many different night creams over the years but this one is my favourite. I love the texture and I use after the serum. It glides on beautifully and soaks into my skin. It feels so soft and I wake up with soft skin, not dry or tight. I also love the slight scent it has. I will be sticking with this one!

Great product!

Keeps my skin feeling hydrated overnight. Thick consistency which absorbs into the skin and smells great.

Smells so wonderful

I adore this night cream. It smells fantastic and the texture is really nice, and it just soaks into my skin. I have dry combination skin and this cream works really well for me. I will continue to use it.

forever my favourite serums

I will use these serums until I go broke I swear, they clear up my skin while looking after it and you just notice such a big difference, no other product has done this and I have very troubled skin!

Love it

I never used to use a night cream before. And started using this and have noticed the biggest difference in my skin. Especially when i wake up in the morning my skin looks amazing

Great night cream

I was between night creams and decided to give this a go as I'd had good experiences with asap products in the past. I'm 36, with normal skin tending towards oily. I have few skin problems but I'm noticing a few fine lines & a little dullness so I wanted something to perk my skin up.
This cream works a treat for me - it feels rich and nourishing but isn't greasy at all, and a little goes a long way. Two pumps is enough for the whole face & neck. I wake up with dewy skin, with a little more glow than previously. It's got quite a nice smell and the packaging is sleek. Highly recommended!

The best

The best night cream I've ever had. I put it on before bed and wake up with really soft skin. It absorbs easily too, so no greasy skin.

Nothing special

I do actually really like the texture of this - it's thick, but it absorbed quickly and makes your skin feel soft. I didn't realise it had AHAs and out it on after a particularly intense skin needling appointment - don't do that, it burns like fire and turns your face lobster red! Learn from my mistakes. Overall, not bad, but I think there are better moisturisers for the price point.

My skin feels very smooth.

I read a review that says to exfoliate in the morning after using this.. I do and the result is great... my skin feels really smooth and calm. Pores have reduced. My skin is normal to a bit dry (used to be combination) and It doesn't feel overly moisturising but then my skin isn't dry either. I will purchase again for the warmer months but may need something more in Winter.

Fantastic

The best time for your skin is when you are sleeping. So to add a nourishing product like this night cream is a saviour for me. I have Normal /Sensitive skin and being Middle Age is best suited to me. There are other Night Creams I have tried that are fantastic as well but this one is not overpriced and your skin shows results and looks /feels good in the morning.

Night skin treat

I've received many samples of this in my time shopping with adore beauty and love it. I take it away with me when I travel to easily pamper my skin when I don't have time and would usually neglect my skin. Using it alone or with a serum underneath I always wake up with my dry skin feeling refreshed and rejuvenated in the morning with a nice glow and smooth texture. Great product.

Perfectly suited for night

I've tried many creams that advertise for night use and/or day and this is by far the best. I can still feel the effects of this cream when I wake up in the morning. Extremely hydrating without cause undue oiliness. Skin feels soft and supple in the morning and I'm still surprised at how good it works. Try it, you won't be disappointed!

Wake up glowing!

This has reduced the appearance of my fine lines just after a week of using and my skin looks much brighter. I have also received compliments that my skin is glowing in the morning. It's so light and easy to apply you only need a tiny little amount, texture is lovely and absorbs easily. The pump makes sure you don't pump out more then you need it. ASAP products never fail to impress! I've just purchased the platinum collection after using several of their anti ageing products

Helps to hydrate dry skin

This product helps to hydrate my dry, sensitive skin without causing additional irritation.

Love this night cream!

I have avoided night creams as they have always been way too heavy for my skin, and end up clogging my pores.

This one is a game changer. It's so light and silky to apply, absorbs instantly. Its even light enough to wear in the morning under my makeup if i want to.

The smell is different to other ASAP products.. it's definitely stronger but I don't mind it and it doesn't linger at all.

If you have sensitive skin and don't have the need for a thick heavy cream - this one is perfect. I wake up with the softest skin. Pairing this with the Radiance serum has transformed my night routine and my skin.

Perfect!

Loving this night cream. Spreads well after putting your other ASAP night serums. Wake up with glowing skin!
When I had my facial done the lady told me to wash the face straight away in the morning with the ASAP gel and scrub in order to get rid of the dead skin that accumulated over night by using this night cream. It works wonders! Your skin is smooth in the morning! Love it!

Not too thick

This night cream made my skin silky smooth. I love how the product is dispensed so that you don't waste any also.

Great night cream moisturising

My face looks so healthy and glow ,I can see the difference just 1 week,feel so smooth when I woke up in the morning ,smell good too

Light and fresh moisturiser

I live this product i have found other night creams to be heavy but this one is lightweight but moisturizes beautifully and has a nice fresh smell not too over the top. My son always says when i kiss him goodnight how beautiful my face always smells. This product has had a lightening effect on my face it has brightened my complexion

Strong smoothing effects and smell

Unlike other reviewers, I don't like the smell on this one. I find it has a strong chemical smell, although I am sensitive to scents. I received a trial size of this and find that it is quite powerful - certainly not an every night product, but good for when your skin needs a boost

Smells as good as it works!

This is great, my skin feels beautiful when I use this before bed. Soaks in quickly but is still very rich and nourishing and the smell is absolutely beautiful! The lemon verbena is strong so it smells completely different to all other anti aging night creams I've tried, more natural and less chemically.

Amazing anti aging cream

I use it daily night this cream and really worked on my skin. White tea and AHA in this cream i was looking for and makes my skin hydrated . I definitely recommend this cream .genuine price and in size .

My holy grail night cream

This has made me look 10 times younger I swear! 32 and no wrinkles

Good

I really like this night cream but if you are looking for something hydrating this isn't for you

Light Night Cream

I have only used this a few times but love it. It's nice to use, not too heavy like most night creams but still gives plenty of moisture. Reasonable price aswell.

Great anti-aging night cream

This cream is great and does what it says! There is a bit of fragrance in the product but it hasn't been an issue for me. I have sensitive skin and usually a bit of fragrance in a product is problematic but not with this night cream. The bottle is quite large and lasts a few months

Awesome!!

This product is amazing.. makes my skin hydrated and it feels amazing.. definitely recommend

A must have!

This cream is light and highly moisturising - perfect for night time as it doesn't irritate whilst sleeping. My skin looks and feels smoother the next day. Outstanding value for money.

Beautiful!

This night cream keeps my skin so soft and smooth and helps eliminate the fine lines I get on my forehead! It feels so beautiful and isn't too thick and heavy. Just the best night cream I've used!