asap anti-ageing night cream 50ml 50ml
4 instalments of $14.63
Or 4 instalments of $14.63 with
LEARN MORE
4 instalments of $14.63
Or 4 instalments of $14.63 with
LEARN MORE
Official Stockist
Is this for you?
Infused with AHAs, the asap anti-ageing night cream is designed to promote youthful looking skin by stimulating collagen, encouraging cell renewal and removing dead skin cells.
Cosmeceuticals
Cruelty Free
Vegan
Australian Made
Artificial Fragrance Free
Sulphate Free
Eye Concern:
Age Prevention

Deep Lines
Skin Concern:
Dull, dry or dehydrated skin

First signs of ageing

Wrinkles and loss of firmness
Skin Type:
Dry

Normal to dry

Normal to oily

Oily
Frequently bought with
Please wait while we find a match
Questions & Answers
(7 Questions)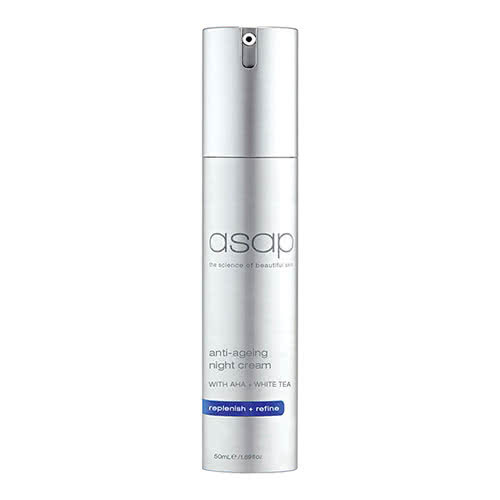 asap anti-ageing night cream 50ml
Get an expert to answer your question about this product!
asap anti-ageing night cream 50ml Reviews
86% recommend this product
Most Helpful Positive
good
good night cream and it absorbs into the skin nicely
Most Helpful Criticism
Not great
I found this very drying on my skin and wasn't rich enough for a night cream. It also smells awful.
Not bad

Feels good and hydrated on the skin but I don't think there are any other benefits.

good

good night cream and it absorbs into the skin nicely

Smooth and nourishing

I got this night cream in a goodie bag and ohhh lala it is great. nice consitancy, goes on well, lightly scented but nothing strong. Will be part of my night time routine once I have finished my current night cream

Don't love it

Was really excited to try this but honestly I don't like it. It's not very moisturising and I really really dislike the white tea smell. Usually I can ignore fragrance but you can smell it for ages after application and it makes me feel nauseous.

Irritating and Not Nourishing

Am a user of many ASAP products but this one just didn't make the cut. The cream consistency is nice but the actual cream stung and sat on my skin, rather than sinking in. Also irritated my skin around my temples (and I use a lot of retinol and BHA/AHA products without this issue). Had to give away to a friend which was a shame. Wouldn't repurchase.

Weird texture

Received this as a sample in one of the goodie bags. The sample size was generous so decided to use it over next 2 weeks to get a good idea of the product. I don't know if it was just that the product in the sample size was a bit off but the cream had a very strange texture with solid bits in it. It left white globs on my face that I needed to rub at vigorously to dissolve. It did leave my skin fe...

Read More

Dramatic results

I received a sample tube of this, and was reluctant to use it because my skin can be dicey with new products. I gave it a try and was completely blown away the next morning! My skin was visibly smoother and clearer, and felt so soft. It has also cleared up some minor skin redness / congestion I've had for aaaages on my chin. I'm really surprised how much of a difference this has made to my skin, a...

Read More

Good night cream

I love love ASAP! It's really nice. This night cream helps my skin a lot and keeps my skin looking really pretty! I love it, definitely recommend it.

Fantastic Product - great results

Lovely smooth moisturising cream, that provides great results

Hydrated The Next Day!

Whilst the smell is little weird, it doesn't stay for too long on the skin so it's something I can ignore. That said, this night cream really softens my skin the next morning. It gives me the same hydrated feeling I would get from using a regular moisturiser and face oil, so this night cream gives really good payoff.

Best night cream I have ever tried

Best night cream I have ever tried. The slight fragrance is lovely, the texture is just right: not too heavy not too light, the bottle is great and the cream absorbs into my skin perfectly. At this price you can't go wrong.

Lovely Night Cream, but the smell is unique!

I received this as a sample in one of the goodie bags, the size of the sample was generous and I was able to get almost 2 weeks use from it. I felt my skin did appear hydrated and more "glow-y" whilst using the cream, but also this could be because of my other Vitamin A, B & C serums being used during that time.

This night cream is highly moisturising and sinks into the skin well, ...

Read More

no difference

I received a sample of it and used few times, no much difference can be found after use and I dont really like the texture. feels like a scrub cream...

Love it

I love the asap products and this one is no different. Lovely night moisturizing cream that doesn't feel heavy and leaves my skin soft.

Nice night cream

This cream is wonderful, feels and smells beautiful and does its work while you sleep

Moisturising but clumpy

Pleasant smell and lovely to use. Felt very moisturising, however came out a little bally and clumpy. Well priced, I probably would not repurchase. I generally prefer a serum consistancy rather than a cream.

Beautiful

I love this, the consistency is perfect and it sinks into my skin so well. It's so so moisturising and feels great. I love this brand too, always helps my skin!

Could be better...

I have actually brought this twice now and after the second use found it really wasn't providing the hydration that I needed at night. My skin still felt dry after use so I would end up using quite a lot of product. It smells lovely however just really wasn't doing it for me. asap's ultimate hydration product is much better in my humble opinion :)

obsessed

I am obsessed with this night cream. The texture is so pillowy and absorbs so nicely into the skin. I wake up and my skin looks so fresh and plump and feels so lovely and smooth. I have a combination skin, I suffer with breakouts and scarring along my jawline and on my chin and this cream has definitely improved the overall appearance and texture of my skin and helped to reduce the appearance of m...

Read More

Another great ASAP product

I added this to my night time routine and haven't looked back. Highly recommend.

Skip the smell

This has a funny distinctive smell, but if you get past that it's wonderful!!

I love it! Winter Moisturiser for Oily Skin

Despite having oily skin, I really love this moisturiser - so much so, I've already used 3 bottles of cream! It's an essential part of my skin care routine and I actually use it morning & night, which is really surprising since my skin is so oily. However, this has been from autumn and winter, so I might move to a different moisturiser for the day time during summer. I use with serums and The Ordi...

Read More

Not for me

This moisturiser was not for me. A received a good sized sample some time back and used it a few times and it just wasn't making me wake up to skin I loved. I took a break and tried it again. I find sometimes, depending on season, it's just not the right time for the particular product. When I tried it again I still didn't like it however. The consistency is also not feeling 100% right to me. Ok c...

Read More

Reaction

My skin therapist had given me the gentle cleanser and day moisturiser as a trial, absolutely love them, so I thought I'd like to widen my range of ASAP skin products, I have only used the product 2 times and the second time I had a reaction, my eyelids and under eye area has a burn or eczema and every time I put someone on top of it now it burns... it might not be for me but yeah unfortunately I ...

Read More

Received a free sample and glad I did

I've been using this for the last couple of weeks. I give it 4 stars because of the results it delivered. The first week of using my skin looked brighter, clearer and was more radiant. It has a weird texture and sometimes clumps, but it is still very effective. Too strong for my sensitive skin to be used every night but every other night has been delivering good results. I usually follow with a hy...

Read More

Great product

I really like this night time cream. I find it really light weight and effective. It's a really good price, it also doesn't break me out which is important.

Loveeee

Love love love this! So moisturising first the evening and glides on and feels beautiful over serums. Smells like the white tea which isn't as pleasantly fragrant as others but it doesn't bother me.

I woke up with smooth skin and a clear appearance.

I'm not sure why anyone would give this one or two stars. This is a really great moisturiser!
O.k it's not the most luscious smelling moisturiser but I would consider it a negative if it was too scented. It smells fine! It isn't really about the smell tho is it?? I applied this at night before going to bed and I woke up with super smooth skin. I really noticed that I didn't have any skin con...

Read More

a great night cream

this is a great night cream, does everything it needs and doesn't work out to be too expensive when you only need such a small amount

Not bad

Hydrates my dry to normal skin but I haven't seen any life changing results.

Great

I have used a sample tube of this and love it. A little goes a long way and I use it on my eyes and forehead. It's leaves your skin feeling fresh and moisturised without leaving residue or leaving your face feeling tacky or greasy. I'd definitely purchase a full size tube.

Moisturising

Who doesn't love anti-ageing products! This Night cream feels like it was meant for your skin. Absorbs easily into face and your skin still feels healthy in the morning

Unfortunately it smells

Only just got this with the platinum collection I love all the other products so far and they all smell great but this absolutely stinks I've had to wash off my face I can't bear the smell of it also the pump took ages to start working had to bash the bottle to get it to pump got 2 pumps and it stopped pumping again all the other products with same pump seem to be fine though

Not as good as other asap products

I bought this as I am using other product in the asap range. While I like it I don't love it, it is quite drying and I dont feel it is rich enough for a night cream.
it also drives me mad that I have to tap the container to get the pump to work.

Good all rounder

I enjoy this night cream because it also contains AHAs to help exfoliate my skin overnight, I do find it a little drying sometimes but for the price its a good multi-purpose product.

Lovely and light

This is so lovely and light but provides great hydration to my dry skin.

Love it

Skin type: combo oily/very sensitive. Only used a week but I love what it has done to my skin. Found my skin is more firm and smooth (finally). It has a citrus smell but I like it. A little goes a long way. Love the ASAP range

Just love it!

I have changed to asap products about a month ago and I am loving all of them! This night cream is just the right balance after my night time cleanse and serums. Highly recommend

I just can't get past the smell and texture

I had high expectations for this product as all the reviews were so positive and I have used and enjoyed asap products in the past. However I am so surprised that no one else has mentioned how horrible the smell is! It's like a hybrid of very strong white tea (wouldn't be so bad on its own) mixed with some other herbs and a sort of overpowering plastic/chemical smell. I have never before been so p...

Read More

Not great

I found this very drying on my skin and wasn't rich enough for a night cream. It also smells awful.

Off consistency

I've had this three times -- the first time I really loved it and thought it was a great, thicker/more hydrating, cream. The second time, the consistency was almost watery with clumps of cream through it. I got in touch with the Adore team and they sent me out a new bottle which was fine for the first couple of weeks but the same thing happened. It was horrible to apply even after trying to emulsi...

Read More

Great anti ageing product

I have slightly dry skin with some ageing concerns and I love this product, have purchased a number of times now. The cream is not greasy and settles in very quickly. No fragrance that is strongly discernable. From my experience, it helps refine the texture of my skin while really hydrating overnight. The cream lasts longer than the packaging looks. The pump action package is impressive and ...

Read More

A great night product

I've been looking for something a little heavier and more concentrated to work during the evenings and this is the perfect addition to my ASAP collection. I currently already have the gentle gel cleanser and ultimate hydration moisturiser which I was using day and night but now switching to this of a night is great. Beautiful texture without feeling too heavy.

Good for the price

This doesn't give me the same results that more expensive night creams have however considering it is about the 1/3 of the price I am still really happy with it! It is very gentle and easy to layer over retinol serums.

Winter must

This is a must for the colder months when my skin starts to dry out. A small amount goes a long way.

Essential part of my night routine

I love this as it is gentle enough that it does not make my skin peel or super dry, but I have been using it nightly as part of my night routine and I feel like it makes my skin smoother.

A lovely product from ASAP

This is a really lovely gentle night cream that I think is perfect for normal to oily skin types. Its got a nice light texture that still feels really rich and nourishing for the skin. Despite containing AHA's I find it is still gentle enough to use after applying a retinol.
My absolute favourite thing about it is the scent! There must be some Australian botanical ingredients because it simp...

Read More

Night cream

This is the first time I have used this night cream but so far I am liking it very much my skin is definitely responding to this product

Doesn't feel greasy

This night cream isn't too heavy, and doesn't feel greasy on the skin, which I've found a lot of night creams do. The only problem I have is the size of the bottle, I do feel like I have to re-order much more regularly than the 100ml day cream.

Lovely gentle night cream

I've been using this night cream with the asap vitamin b serum and alternating the asap super A and radiance serums. It is a really gentle cream which feels light on the skin and absorbs well. It also leaves my skin feeling moisturized and soft.

incredible

even though I'm not concerned with ageing yet, I love this product, leaves my skin feeling refreshed in the mornings and is just a dream product to apply

So good for my oily skin

Love this night cream, it is a quite thick and it works really well for my oily skin. Love the way it smells as well. Giving it 4 stars because I have found better for cheaper.

Loving it!

I have normal - oily skin. I really enjoy this moisturiser! I wake up feelng hydrate and it pairs so well with my serums. I will continute to buy this product! I think the price point for it is great as well.

Great night cream and really clears up my skin

I find that this really clears my skin. It melts into your skin and has a lovey scent to it. Face is very soft in the mornings after using it


Nice and hydrating

I like this product as it makes my skin feel hydrated and replenished when I wake up in the morning. Would recommend.

Not moisturising enough

I have dry skin and found that this wasn't moisturising enough. I found that I had to use a lot of product to feel moisturised across my whole face. Probably won't repurchase because of the price.

Smooth sailing

This is a very nice night cream to apply and a very small amount goes along way. However, my problem areas are the fine lines around my eyes and I haven't noticed much of an improvement after using the cream for almost 2 months!

Very moisturising

Very nice m daily moisturing cream. It's very soft and has a nice smell.

Nice nightcream

Not hydrating enough for my skin, but it has a beautiful texture & like the built in pump

Good product

I liked this night cream. Quite hydrating but my husband didn't like the smell so didn't repurchase.

Night time

This night cream is ok, it has AHAs in it which is really great to use in your skincare routine, helps remove dead skin on the face!

Silky smooth!

I have been using this night cream for the last few months and I love it! I have very oily skin and so I was a bit worried as I read it was quite thick however, it feels great on and my skin feels hydrated and silky! Would recommend.

nice on the skin

this leaves a nice finish on the skin. one pop is enough to cover whole face and it leaves my skin feeling hydrates and not too greasy

great night cream

onto my second bottle of this night cream and im really loving how it feels on my skin! its very light and wearable but feels like its doing what it needs to do ! love the results

Happy with it

I've been using this for a few months now and I'm happy with what it's doing for my skin. I wake up feeling much more plump and hydrated since adding this to my regime. The texture is thick but easy to spread and soaks into the skin well. Also goes a long way so the price point is very affordable. Very impressed with the ASAP brand overall for my skin

So far so good!

I've been using this moisturiser for the last few weeks and so far I'm loving it! It's nice and lightweight for summer and since using it I've noticed that my skin has had fewer breakouts.

A lovely cream but not as hydrating as i hoped

The cream itself has a very strong scent, it reminds me of herbal tea containing echinacea- so if you're not into strong scents, I wouldn't recommend this. The smell didn't bother me as I'm an avid herbal tea drinker so I was used to it, but it even took me by surprise. The cream is light and goes on easily without feeling sticky or greasy. I just found though that it just isn't quite hydrating en...

Read More

Very good

I have used this product a few times and really like the results. My skin is brighter and it seems to help my pigmentation issues too. I have oily skin and this product is hydrating without being too heavy. The only thing I don't like is the smell, but once the cream has absorbed the smell goes away.

Beautiful Moisturiser

I tried ASAP on a whim because it was an Australian made and owned brand and I'm so glad I did! The Anti-Aging Night cream is light but incredibly hydrating. It smells delicious too. A little goes a long way and I get about 2.5 months out of a 50ml bottle.

OK night cream

After some bad experiences with some of asap serums. I finally tried the last two products in the platinum collection. Both the night cream and ultimate hydration are ok. As a moisturiser definitely did the job.

Works

I find that this really clears my skin. It melts into your skin and has a lovey scent to it. Face is very soft in the mornings after using it

Great

This cream has made my skin look better over time but i have not seen any anti ageing effects but that takes time

Love this brand

This night cream is so hydrating and very gentle.
I love using it in combination with the other night products (A & R). I have noticed such a difference in my skin since I started using it.

My go to!!

I use this every night and it just melts into your skin, leaves skin smooth, soft and defiantly notice the difference in a few weeks.

great for the skin

leaves my skin feel so soft and keeps me young. boosts my confidence.

okay

This feels nice on the skin, not too heavy but I can't say anything about its anti-aging benefits as I haven't seen any. It doesn't break me out.

great night cream!

loving this night cream so far! it makes me skin feel super lush after use

Not bad

I've been using this night cream for the past six months. It's very light for a night cream so would be perfect for summer. I find that in the colder months I need something a bit heavier. Not sure that I will repurchase but it's not a bad night cream

Night time miracle

I use this every single night after cleansing and applying all my serums
I always wake up with my skin looking and feeling so hydrated and so clear. You only need to apply a small amount. This last me a long time. Such great value for money and does exactly what it says it does

Amazing

I love this night time moisturiser.
I use it every night religiously, makes my skin feel incredible!

Must have.

I've been using this product for almost six weeks now and am having great results. Its not too heavy but makes my skin feel so hydrated. Alittle goes along way. Am loving this product.

Nice and hydrating

A nice hydrating night cream that doesn't feel oily on the skin and absorbs quickly. I can't say I saw a big difference in my skin but it left it looking hydrating.

Nourishing night cream

I purchased this cream to compliment other asap products Ive been having success with treating my acne prone, sensitive, oily skin. At first I wasn't convinced, as it leaves an oily feeling. However, the results have been great. My skin isn't feeling dry anymore. My breakouts have improved. My skin texture is better. Definitely recommend, but be aware of the oily feeling (I still find that hard to...

Read More

Great product

I recently changed to this night cream because my usual one was becoming to expensive. I'm 54 and quite picky with my skin products now. This is a light feeling night cream which I use over a serum. When I wake in the morning my skin feels soft and moisturised. I am now into my third bottle and have no regrets changing to this ASAP product.

Excellent night cream

I am very happy that I bought this night cream. I have oily skin and pigmentation on my forehead and around my mouth and find this cream is helping with my complexion. Its thick but soaks in nice and quickly and makes my face feel instantly soft.

VERY Happy with this purchase

Im 35yo, don't wear makeup on a regular basis but I'm noticing my skin starting to age and have occasional hormonal breakouts. The very first morning after using this night cream I NOTICED A DIFFERENCE; it started to heal my breakout spots and my skin felt so soft. After a few more nights I noticed my skin was softer again and was not as thirsty for the cream (first night I used 2 pumps, every oth...

Read More

Great! Especially if you don't like thick night creams

I've been using this for about a month and have really enjoyed the results. It's not at all rich like some night creams but does a great job of revealing glowy skin. I think the exfoliating properties of this do a great job without drying or irritation. I also like that it doesn't have a heavy scent and layers well with my serums. I also like the price! It's very reasonable for a night cream. Look...

Read More

Great nighttime cream

I love a good night cream and this one is easy to use, spreads over the skin, sinks in nicely, and leaves my skin smooth. Great when used regularly, my skin does look more rested

Glowing skin

Absolutely loved this product!! I have hormonal breakouts and can be dry, if use this most nights it's cleared all breakouts and have my skin a radiant glow!!!

Not the best on already dry skin

I use this on my combo skin and love it, but hubby doesn't like it on his dry skin

Very good

I like this night cream as it's very light and doesn't sting the skin. I feel that you need another layer of moisteriser if you have very dry skin as this might not be enough hydration.

Excellent night cream

I love this night cream, super hydrating and really great for clearing up my skin.

Love!

Love this! Wish it came in a bigger size for the price but definitely worth it as you don't need much per application

Not bad

I used one bottle and did not notice any significant changes in my skin.

Excellent for oily or congested skin

I have very oily skin and struggle to find a night cream which is not too thick and heavy and causes skin congestion. The consistency of the asap night cream is beautiful on my skin, it is nice and light and doesn't clog my pores.
It feels very nourishing - I can't comment on it's effectiveness on wrinkles as it isn't one of my skin concerns, but my skin is visibly smoother and brighter. I ...

Read More

Definitely Recommend

I have dry skin, but get hormonal acne around my chin so I wanted something that soothed my skin but didn't congest it. I really like this product.
It has quite a herbally smell which I like, but if you aren't into fragrance, that's something you might want to consider

Okay, but not great

I really wanted to love this product, it is good - but it is no show stopper. Still leaves me a little dry, although it sinks in quickly I see little of its anti ageing qualities. I really wanted to see more from this product.

Old faithful!

I have used this product for many years now and it is my good to in my nightly routine. It is lightweight yet great coverage and have a lovely citrus smell.

Perfect amount of hydration after applying serums at night

This works so well as the last step of my skincare routine at night. It provides enough moisturisation and prevents any dryness. It also absorbs quickly and isn't sticky so it doesn't end up my pillow!

Light formula but very effective

I have been using this cream for two months now. It is a very light formula but is very effective in making my skin nice and hydrated. The bottle dispenses the perfect amount with one pump so no wastage (I am notorious for using too much moisturiser) I have sensitive skin and I have had no issues using this.