Alpha-H Liquid Gold 100ml
Questions & Answers
(30 Questions)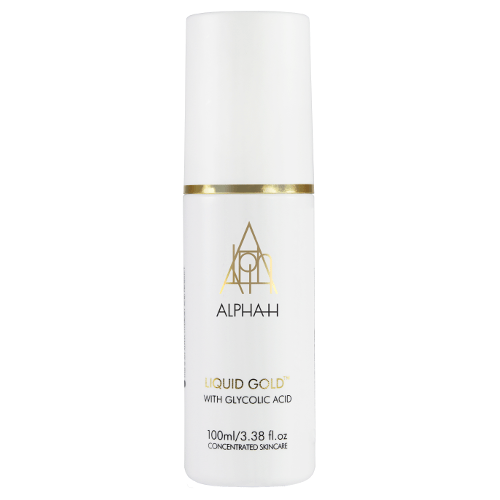 Alpha-H Liquid Gold
Get an expert to answer your question about this product!
Ask a Question
91% recommend this product
Most Helpful Positive
Alpha Glow
Minimises pores and gives dewy glow!
Most Helpful Criticism
Not sure about it
Didn't seem to do a lot for my dry skin, it's nice but I think there are better products
Alpha Glow

Minimises pores and gives dewy glow!

Can't believe how good it is!

I was a little sceptical about spending the money on this product, particularly because I was buying out of frustration when I'd had enough of my skin looking so tired and congested. Wishing 3 weeks of using this product, along with some others, even my husband noticed that I looked brighter. I just love this!!

Favourite product

I adore this product.. I use it every second night (alternating with Skinstitut Retinol & ASAP night cream), and it is so amazing.
My face always looks so fresh in the morning. It also stamps out any breakouts as soon as they pop up, and seems to help speed up the healing process for any that get through.
My ride or die!

A fave

This is one of my favourite toning products. It stings a little so you know it's working. It really clears my complexion when I use it every second day

Amazing product, has changed my skin!

I have dry and dull skin, with a bit of acne scaring. I've been using Liquid Gold 2-3 times a week for a month and can say it has entirely changed my skin, for the better. After one use my skin was glowing, my boyfriend even commented and has started using it himself. Skin is softer and looks like it's glowing from the inside. My makeup applies more smoothly and I even look better on makeup free days. This really is a dream product and does exactly what it states. I would highly recommend.

Worth the hype

I am on my fourth bottle of Alpha H Liquid Gold and still love it as much as day one. I no longer feel the stinging/tingle sensation that I used to, so only wish they did a slightly stronger version. I love to use it as my prep before wearing heavy makeup, nothing tightens my pores better. Definitely apply using a cotton pad in upward motions. Avoid the eye!

Solid product

I have oily skin with the odd breakout. I use this product twice a week and find the next morning my skin looks nice and fresh. The bottle says you don't have to use a moisturiser after application, however even with my oily skin, i find it's a little drying so i tend to apply a serum over the top half hour later. I don't feel it helps with my pores or pigmentation though hence the 4 stars.

Happy

Seems like a good product. Have been using for a couple of weeks and haven't seen huge results, maybe slightly smoother skin. Good product but not hugely better than others.

Instant results!

After the first use I could see a change in my skin. My skin never seems to dry out after using this product and has a healthy feel and glow to it.

Great

Love this product! I saw changes in my skin immediately in its texture, possibly because I wasn't using an exfoliater before. I have recommended to all my friends.

My skin loves this product

I have oily skin and it loves this product. Unlike many exfoliating products I have used before, my skin doesn't end up oilier afterwards. I use it before bed twice a week and follow with my night moisturiser. My skin looks luminous the next day, and it's really helping to clear my skin. Occasionally (about every month) I use Alpha H and then don't follow it up with a moisturiser, giving my skin a deeper treatment - it always gives amazing results. My skin did purge for the first 3 weeksish, but after this the results have been amazing.

An essential in your skincare

I have ordered this product over and over and will continue to, it is an essential part of my skincare products. I recently tried some of the ordinary's products which whilst are great for the price in no way compare to this. It leaves no residue, I use it then put on my moisturiser and make up and it doesn't affect the way the make up sits on my skin unlike other products.

Legit gold

This stuff is amazing. I use it a few times a week and a little goes a long way, it's made my skin glow like a freaking angel. 10/10 would recommend!

Fresh face

I was a little worried this would be too intense but it's gentle and thorough. I wake the next morning with a fresh glowing face!

Silky skin afterwards

I love the formula and I was surprised to find it very gentle on my skin, after I was told to expect a bit of a tingling sensation. Didn't find that at all, love the product.

Happy with

I was recommended this a few months ago because I was getting frequent hormonal breakouts on my chin and blind pimples under the skin. I wasn't entirely sure what it was meant to be from the wording and description (toner, treatment, serum ect) anyway it has the consistency of a toner and very thin and watery made my skin feel really clean and tight and it did sting a little on my breakout areas. I added serums afterwards as it was a little drying if I used every day. Pretty happy with how my skin is going since using

Beautiful on my skin

I received this as a sample recently and I was excited as I'd been eyeing it off for a while and wasn't sure whether it would work or not.

I have only been using this twice a week as the weather at the moment is quite drying for my skin and I didn't want to dry my skin any further. It leaves my skin feeling very clean and bright. I will continue to use it as I'm enjoying what it is doing for my skin.

If you have very sensitive skin it may be a little too much, I'm not sure. I guess use with caution. I have a combination type skin but at the moment it's slightly dryer than normal just due to the cold and dry winter winds.

Amazing

Such an amazing product that creates a beautiful glowy and hydrated complexion! Really love this product

great chemical exfoliant

The sensation when applying is well worth it when you wake up - brighter and softer skin! If you have dry skin I would recommended moisturiser because it can be quite tight.

Love this

Got this as a sample. Noticeable difference after using - use x2 per week. Will occasionally spot treat blemishes with this too, seems to help.. will be purchasing once I finish sample

Glowy clear skin tonic!

I have been using Liquid Gold for the past 5 years or so & always have a bottle on hand.
I am over 40 with combo skin & suffer from occasional breakouts. These days I tend to use Liquid Gold once a week or the night before an event for glowy skin. Slight tingle but no bother. If my skin is congested I use every few days to clear up my skin & always have great results! Have recommended to my Mum who is in her 70s & she loves it too!

Cult favourite

This is much loved for a reason! This is an amazing product and really makes a huge difference to the skin when used over time!

Highly recommend

One of my favourite Alpha-H products. I use this probably twice a week to help with congested skin, especially around my chin. it really helps clear any dead skin and leaves my skin feeling smooth. The first time I used it I found the tingling sensation quite strong, however after a few years of use I barely feel it anymore. If you have particularly sensitive skin however I probably would not recommend this.
I occasionally use it on my partner if he has any break outs from sweating at the gym etc and it clears his skin overnight!
I have recommended to several friends who also love it.

great results

this product without a doubt leaves my skin smoother and brighter, it gives the skin such a beautiful effect. However, I do think there are cheaper alternatives such as the Ordinary's glycolic acid toner which is a fraction of the price and achieves similar results

Love it!

I have sensitive skin and it stings a little on application but then leaves my skin feeling plump and invigorated! I use 2x a week.

Amazing!

My skin looks so plump and pretty when I wear this. My skin loves it! Definitely worth the spend!

Liquid Gold is Gold

I have gone through 4 bottles of Liquid Gold. I use Liquid Gold every second night after I have cleansed. I use to apply it to my face using my hands. However, I now apply the liquid gold using a cotton pad. I have noticed that it gets rid of left over makeup and noticed that my skin has responded better via this application. It has reduced my breakouts, made my skin feel tighter, cleaner and luminous. It has maintained my pigment, however I have not found that it has reduced my pigment. It does sting when applied over my breakouts, however it does reduce the longevity of them which is gold. I love the effects of Liquid Gold and agree that it is liquid gold for the face.

Magic!

I have millia, pigmentation and starting to get a few wrinkles.. and this baby has taken care of all of it! Prior to this nothing had worked for my millia, and the pigmentation I'd gotten as a side effect from medication seemed to be with me forever, but now both of them are well on their way out of my life.
I've also got KP on my arms which I wipe the excess liquid on, which has made a dramatic difference in smoothing them out and making them look like normal arms. Highly recommend!


Great product

This works great skin is brighter over night.Ive been using it for about 3 years

drastic results after first time use

I am 36 with normal-dry skin, some mild sensitivity and pigmentation issues. I tried this for the first time tonight, followed by my usual serum and moisturiser. I was really shocked by the immediate effects. It's left my skin petal soft with a noticeable improvement in fine lines and pore size. I'm loving how my skin feels but the drastic results have made me a bit wary. I don't normally use strong chemical exfoliants so I probably won't be using it every second day as per the instructions, perhaps more like once a week. In any case, I'm really pleased with the results.

Love it

I've used alpha h liquid gold for years. Many, many bottles I have been through. It just works. Makes my skin bright and luminous in the morning, helps with breakouts and exfoliates my skin.

Reduced appearance of blackheads

I saw a real difference in the appearance of the blackheads and whiteheads on my nose after using this a few times. I have sensitive skin so it can sting a little when applied, but the stinging subsides quickly and by morning my skin looks and feels noticeably better. My pores are becoming smaller and nose is much smoother already. Definitely recommend

Good toner, but EXPENSIVE

I received a 50mL free sample of this. I think it's a good product and it does what it says, but $50+ for only 100mL of a product is very expensive.

I'd also avoid the eye area with as it made my eye area burnnnn. I probably won't be purchasing the full product; I'll be going for a cheaper glycolic acid toner.

Liquid gold junkie

Another liquid gold junkie right here. Love how it leaves my skin feeling and looking. I have used two bottles now and I can't find another exfoliant I like as much as my liquid gold.

Amazing results!

One of my favourite products and I'm onto my 5th bottle. I find that sometimes after applying there is a short sting, but in a good way. If I don't use this consistently I can definitely see a difference in my skins appearance. My skin always feels clean and polished after applying.

Great for comedonal acne

This product has been great for my recent comedonal acne. It has made my skin texture smoother, reduced redness and improved skin appearance. A must!

Highly recommend

This product is a new staple in my skincare routine! You can feel it working straight away and I saw results within my first week of trying. It makes your skin so soft and I noticed a huge improvement in the pigmentation of my skin. I have noticeable acne scarring and this definitely helped reduce the appearance.
I can definitely tell when I forget to use this product for a few days as my skin just doesn't look as clear and bright!



All time fave

This does everything it says!!! It's so addictive. One bottle lasts 6 months for me using nearly every night, definitely worth it!

Great

I really love this product because you can feel it working straight away. My skin feels so nice the next day after using liquid gold. I use it every other night as directed. I would use it every night if it was advised.

Good!

This product is great for an intense exfoliation treatment - I use it max once a week and definitely see that my skin is smoother and softer!

Absolutely love this product!

Cleared my skin up within a couple applications! When using with the alpha-h cleanser, all my blemishes had gone within a couple weeks. Would 100% recommend. Good priced for how much product is in the bottle. Only need a little bit on a cotton pad.

Not sure about it

Didn't seem to do a lot for my dry skin, it's nice but I think there are better products

Alcohol based and irritating

I have to say, this product didn't live up to the hype for me at all. The main ingredient is alcohol. Who wants to be putting that on their skin? It's drying and irritating and there is no good reason for it, in my opinion. Might be ok as a spot treatment, or maybe for areas on the body with thicker skin. For a toner with clearing, exfoliating and smoothing properties, I would look for one with similar active ingredients but without alcohol.

Smooth Skin

This has become part of my daily routine each night I apply this before bed its kind of like a toner consistency but smells beautiful. I apply it with a cotton makeup pad and it leaves the skin feeling really tight and toned. The next morning my skin always feels so silky soft and smooth. I will usually put a nice serum on the next morning because I have heard this product can be drying if used daily. Overall love this!

Fresh face feeling

This is one of my favourite products, really great at exfoliating without being too harsh on the skin. I use this product a few times a week and I really feel like it also helps the absorption of other serums I apply
Couldn't recommend more

Great for price

Alpha h do a great job of creating well priced products that work. Minimises pores and gives a nice fresh toned look and feel after using.

Love liquid gold!

I am so impressed with alpha h liquid gold. I recieved a sample from adore beauty & have since purchased the full size bottle. This is actual gold in a bottle. Makes my skin so smooth, less textured, less blotchy & has helped clear my uneven skin tone. I am an oily skin type & have found liquid gold works perfect for my skin it doesn't make my skin oily at all and makes my makeup go on smoother in the mornings. I use this alternate nights with the alpha h repair 24hr cream and really do find its helping with anti aging. Honestly works wonders! Would highly recommend!

Would recommend

Big fan of the Alpha H Liquid gold, I have found it has drastically helped my skin. The overall texture and look of. my skin has greatly improved.

Didn't work

Don't see the hype with this product as it made no difference at all for me

Wake up with brighter and fresher skin

I have super sensitive skin and have had no reaction to this. I use it every second night. I find it does leave the skin looking brighter, cleaner and tighter in the morning and definitely softer! ! I'm yet to see see anti ageing effects! It definitely works to refine the skin that's for sure! Not sure if it's completely worth the price. ASAP skin clearing gel almost does the exact same thing and I use them in conjunction. I am an addict however I do love this product and would recommend it.

Worth the price

I use this twice a week in the evening, after a hot shower and a light scrub (nothing added on top - no moisturiser). I use it for acne, I won't buy anything else. If i use it too often my face gets dry, to be expected with a chemical exfoliator.

Loving this!

I recently got a tester of this and have since bought the full-size product as I love it so much! I also use the Alpha-H liquid gold mask and this is fantastic to use daily in between using the mask weekly. My skin feels softer and my moisturisers seem to soak in better, and overall my skin is much less dull and has a beautiful dewy appearance. Would definitely recommend this product!

Strong and powerful but not for all skin types!

My sister recently purchased this product which seems to be strong with alcohol, while it works wonders on her oily skin type it dehydrates and burns my normal to dry skin! I can see why it would be great for oily break out prone skin but not for normal to dry sensitised skin.

Unconvinced of actual results

I've been using this product for several years, however I'm just not convinced this new version does what it says. I think this new formula may be diluted or have less glycolic acid, as my skin isn't responding how it used to. Perhaps my skin is just used to the product now, but I won't be purchasing again. I've experienced better results with 'The Ordinary Glycolic Toner' and a Peter Thomas Roth product.

Amazing

Use this once to twice a week and it seriously has changed my skin, all my dark spots have slowly disappeared!! I love it

Love to use this every few days

Skin type: combination
Skin concern: Dry skin, blemishes on jaw line
I really love the way this leaves my skin feeling- very smooth.
I was originally using it everyday but cut it down to every 2nd day as I found it a little drying.
I have added an oil into my regime each night now to combat the drying (plus it's almost winter which can be drying).
I have used some other toners previously but I find this one is the best as it seems to remove the most dirt.
Recommend to use with a heavy moisturiser for those who have dry skin.

What's all the hype about?

I was underwhelmed with this product. I didn't see any difference in my skin after using this for a few weeks, except I was breaking out more! I've stopped using it now and won't use it again

Miricale in a bottle

I got the 50ml of this amazing product. At first I thought it was going to be a serum, but the surprising texture was a liquid toner type. I use it every second night, so not every night, due to the contents of glycolic acid. I have sensitive skin and have used other formulations will glycolic acid in them, but with this product I did not have a skin reaction. Its gentle but highly effective. I use it on it's own but you can wait for it to dry completely and then layer your favorite serum and/or moisturizer on top. It really improved my skin texture, minimized my pores and left my skin soft and supple. Highly recommend!

A great buy

Was recommended to me by so many people. Seeing good things so far, after only using for a short while, will definitely keep as part of my skincare regime

Wow

This product made my face feel so refreshed. Will definetely purchase again.

Great exfoliation!

I love this product! I use it every second night and leave it on until morning for an intense exfoliation. Skin is much brighter and pores are tighten. Will keep using this product!

Amazing

This product is honestly amazing! Its been one of the only things that has kept my pimples away without damaging my dry/sensitive skin.

Where has this been my whole life?!

My amazing Aunt bought this for me at Christmas. I can sometimes have sensitive skin so I was a little hesitant to use it but OMG it's amazing! I only use it twice a week and each time I do, I wake up with glowing skin the next day! It did tingle a little the first few times I used it but that has stopped. I've now got my dearest friend onto it too, and no doubt my daughter will probably want to try it soon also.

I will be buying more the minute it runs out!

Stings on breakouts but works!

This had a little sting and left an uncomfortable feeling for a few minutes after applying (just being honest) but 100% worth it my skin has really cleared up. It can dry the skin a little if over applied or overused so I make sure I alternate with a hydrating facial or use the Medik8 vitamin C serum afterwards.

Thankful I got this

It is expensive but im so glad I got this it has really helped with my breakouts not only reducing them and helping them to go away but stopping them from coming back. In saying that, when I got this I also used it in conjunction with blue and red light therapy and started drinking herbal teas.

Gentle glycolic toner

This is a really lovely glycolic toner that leaves skin looking smooth and clear. Gentle enough to use every day (just be sure to wear an SPF when using this one as it increases UV sensitivity). I used to purchase this often however I prefer Pixi Glow Tonic now as its more affordable and results are similar.

Nice product

This product is pretty potent, I find it works well reducing large pores on my nose. I tend to use moisturiser over the top so it's less full on

Bloody as good as everyone says

Can't believe I was thinking about purchasing the product for 6 months before taking the plunge...it is the best product I've ever used!

I was suprised the texture is so liquidy, and also confused about not applying moisturiser after...but man it works a treat!

My face looks fuller with 100% less fine lines...and it feels rediculously soft. I can't stop telling people to touch my face. Seriously gooooood

I love liquid gold

I have been using liquid gold for quite a while now. It has improved my skin tenfold! Not only has it helped with congested pores, it give me a smooth and bright complexion. I use this every second night and my skin looks great when I wake up the following morning

so impressive

amazing results! I love how easy it is to use at night, just soak a cotton pad and wipe it over your skin and the next morning you wake up with fresh and glowing skin

Overnight treat or quick treat

I received this as a good size gift sample and I really loved what it did for my skin overnight. I woke up with dewy skin and it also helped keep my skin clear and fresh. It can sting but that subsides after a while. When I first started using it I would wash off after 20 minutes but I can now use it Overnight too.

Face feels amazing the next morning

This product has been amazing for helping clear up my skin. I was originally using this product 3 times a week as recommended by an alpha-h professional to help clear up my skin, and it did just that! Now I only need to use it once a week. The tingle on the skin is quite intense, but I still love it!

Miracle worker

Love this, it works so well. A noticeable instant improvement the next morning. Upon waking my skin felt really oily or greasy, but you simply wash it off and can see instant results. My skin (and my partners) had less fine lines, deeper we'll set wrinkles were also improved. I have been using for a month or so now and still love it. It also seems to help reduce the appearance of breakouts.

refreshing

This product is an absolute dream! it is light weight but also leaves your skin feeling refreshed and almost new! it does tingle but i find sometimes i like the sensation of the tingle as i feel its getting down to the roots of my skin. i would definitely purchase this again

Works wonderfully

I recently bought this and I don't think my skin has ever looked this good.

Effective but not harsh

I started getting breakouts a few months ago after going off the pill (mainly large blind pimples under the skin) and tried everything from serums to scrubs to cleanser you name it. Nothing worked at all. Then I found this product and the FOREO blue light acne therapy and I am so impressed with my results. Days after using these together all my inflamed pimples halved in size and all the pain was gone from them. I use this Alpha H liquid at night only on my breakout areas and then go over it with the portable blue light by Foreo which is expensive but worth the investment and then go over with a serum at the end. So happy I invested in both of them because I dont think you can put a price on reducing painful breakouts. Highly recommend.

Too chemical based for sensitivities

I found this was way too intense for my sensitive skin and didn't experience any benefits. It made my skin itch and had to stop using.

Can't believe it's taken me so long!

Can't believe it's taken me so long to get onto this product! I have combo to dry skin, so exfoliators have always scared me a little. But Alpha H is amazing. I'm only using once or twice a week as that's all my skin can handle but when I do I just apply to clean face and leave overnight and the next morning my skin is so smooth. It's worth trying !

Awesome results within a short period of time

I have had issues with the size of my pores for a while, from using this products for a few months I have seen the size of my pores diminish & my skin look much more hydrated in the mornings if used overnight.
I would recommend to use this product at night on a cotton a pad followed by applying a moisturizer as this product is quite tingly if left on it's own - that means that it's working though!

Love using this

Tingles when you put it on, so I feel like it's doing something. At first felt strange not putting moisturised on afterwards but I wake up in morning with a very fresh smooth complexion. Definitely an important part of my routine and helps keep acne at bay (along with my cleanser + spot treatments)
Love it! Will be buying again and again

Great for softening dry skin

I tried this for th first time last night and am impressed with the result this morning. My skin feels soft and smoother than it has for a long time. Really glad I discovered this product

Holy grail for oily/blemish prone skin

I LOVE this product! It has cleared up congestion on my chin and forehead and I have had several comments on how 'clear' my skin is looking. I use 2 times per week and it is amazing!

Really happy

This had a little bit of a sting to it when I first applied it because I applied it straight onto breakouts on my chin after cleansing my face - which is understandable. Other than that it smells really minimal and lovely and comes in a convenient little bottle with lid. It helped to dry out my breakouts which meant they left quicker and it also made the rest of my face feel really exfoliated and smooth. Will start using just once a week and more if I have breakouts and followed my a moisturiser.

Helped reduce my blind pimples

I get breakouts of blind pimples on my chin caused by hormones (and they usually last 2-3 weeks before going and are quite painful) and was recommended to try this out on them. I was skeptical at first but after applying this morning and night for 3 days in a row they are almost completely gone. It definitely helped reduce them and also helped calm the puffiness in the process. It stung a little to apply for a minute or two each time I applied from the glycolic but really happy I tried this now. It has made my skin really dry on my chin because its only recommended to use every second day so will start doing that and applying serum afterwards.

Amazing routine exfoliator

The best, no fuss routine chemical exfoliator. I use it every second night and it keeps my skin clear and allows other serums to penetrate deeper. No dry patches anymore!

literally gold

Love this product it is literally liquid gold. I use it all the time.

Great for all ages!

I use this once or twice a week when I'm giving my skin a break from retinol type products. My skin is dehydrated. It is so quick, as I apply after cleansing and I'm done. It leaves my skin glowing and soft the next day. My teenage daughter also uses it and it helps with her hormonal acne.

Does what it says, but ease into it

I love this product, thank you for sending me a sample. I now have a bottle of this magical fluid and after a few weeks I've noticed my spots and hyperpigmentation have improved

I would recommend going easy on this stuff at first, it can sting quite a bit and you might get a purging breakout. I started off using this every 3rd night, on evenings when i don't exfoliate or use retinol... then workd up to every second night. I soaked a cotton pad in water before putting a few drops of Liquid Gold for the first week, slowly increasing concentration until I was used to it

It dried out my skin to just use the serum on its own, so I follow with moisturiser

All in one great skin in a bottle

My husband came from 10 step skincare since using. Roaccutane for very bad pimples. After a year of not taking it and recovering from pimples, he ditched the rigorous skin care routine and swapped with this one step. He loves it and works for him.

Great product. It makes my skin feel so tight and youthful

This produt is easy to use and had instant results. It leaves skin feeling tight, refreshed and youthful.

Amazing product!!

Wow, my skin has never looked so good after using liquid gold, highly recommended. Love the tingling feeling as I know it's working wonders on my skin!

Its not ideal for dry skin

I dont know how to feel about this one, id be cautious if you had very dry skin like me!! it gets quite stingy!

Minimal Improvement in Skin

I have combination skin and I had very high hopes for this product because of all the hype around it. Honestly I have not really noticed a massive difference in my skin. It does tingle somewhat when i apply it but really wouldnt rave about it.

WOW.

i was skeptical about this product to being with- heard it was very harsh and drying. I used it for the first time last night and WOW. my skin is sooo smooth and soft this morning. I used a serum and moisturiser afterwards so it isn't as intense and was super happy. Cant wait to use this more and see the long term results!

Amazing!

I use this product every night and it's amazing. I feel like I already saw the effects after 2 days of using the product, and on nights when I don't use the product I feel I notice the difference. It's pricey, but you really don't need a lot of product if you are using a cotton pad to apply the product, and if you only apply 2-3 a week it will last even longer.

LOVE the tingles

i bought this and have loved and repurchased
it feels great on the days my skin needs an exfoliating
i dont use any products after this as i feel thats how i get the best results on my dehydrated skin
im 40 and find my skins looks brighter the next morning after use

it does tingle and itch on the skin but its not uncomfortable at all
i think its good value a bottle lasts me such a long time and i use this twice weekly if you are considering def give it a try

effective cleanser for non sensitive skin

i have sensitive skin and found this a little harsh for my skin. The cleanser itself is effective and assisted with firmness and improved skin elasticity however would recommend this for those that have non sensitive skin.

Unicorn juice

This product is now a holy grail in my line up and I will continue to use forever. Bright, smooth, hydrated skin. I've seen results in 2 days. Buy it, you won't regret it!.

Can see the Benifit!

I use liquid gold every second night and can definately see results, have been using it for about a month. On the night where I'm not using it I use the alpha h vitamin E serum, the two really seem to work well on alternative nights!

Very good product

Liquid gold is a staple in my skin care routine, and has been for the past 10 months. I apply 2-3 times a week at night, followed by my Alpha-H vitamin A serum and daily essential moisturiser, and wake up with the smoothest skin.
The stinging sensation is only for a few seconds so is not unpleasant to use at all.