Alpha-H Clear Skin Blemish Control Gel 20ml
Frequently bought with
Please wait while we find a match
Questions & Answers
(3 Questions)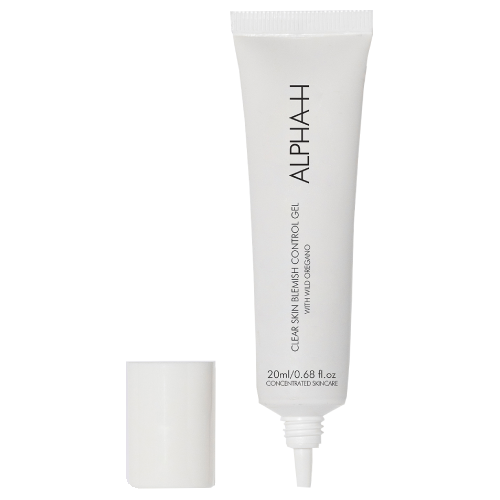 Alpha-H Clear Skin Blemish Control Gel
Get an expert to answer your question about this product!
Ask a Product Question
86% recommend this product
Most Helpful Positive
does the job
effective at reducing the duration of a pimple. Smells fresh and eucalyptusy :)
Most Helpful Criticism
Pretty good
Smells good and didn't irritate my breakouts although not really sure if it reduced them at all, they just didn't get any worse
does the job

effective at reducing the duration of a pimple. Smells fresh and eucalyptusy :)

Spot treatment

Very effective to minimise angry red spots overnight. Definitely calms the pimple

Effective!!

This gel helps to control and clear my spots within two days. It is also very affordable. Works quite well for me.


Handy zit zapper

This spot-fighting gel from Alpha-H is a pretty solid staple in my skincare rotation. I love the fact that it's completely clear - if I'm having a no-makeup day I can dab this on and no one is the wiser. Extra points for the slightly medicinal yet equally soothing eucalyptus scent.

Great

I have hormonal pimples on my skin and this is pretty good. It is calming, gentle and doesn't dry out the skin at all, smells nice and you only need a tiny amount.

Clears breakouts in 2 days.

Love this product as it always clear my pimples and breakouts within 2 days. I also love the eucalyptus smell.

Awesome

only a pea size needed, I apply this on fresh breakouts at night and by morning they are reduced in size and aren't as inflamed, highly recommend

Actually works

I have tried so many different spot treatments and this is deffinately my favourite! Reduces the size of pimples and redness within a day. I love the smell aswell

Not a fan

I feel that it doesn't do much much for my skin to be honest. Especially on under the surface pimples

pretty good

I love this!!

I put on as I can feel i'm getting a serious pimple, it isn't for every day for sure.

pretty good it defiantly helps and is better than others I have tried like Aesop control

Amazing spot treatment.

I am 46 and have good skin but I have started to get a few breakouts here and there. This gel is fantastic. I put the smallest amount to each spot twice a day and within 24 hours the redness has gone and you can barely see them. My 15 year old son is also starting to get a few nasty pimples and again same result within 24 hours. Wonderful product. Highly recommed. Love Alpha H products.

Works fine

This gel helps to control and clear my spots within two days. It is also very affordable. Works quite well for me.

Spit treatment

I love this spot treatment. I put some of this on whenever I have a pimple and within a day or two the spot looks much better.

Great Product

This works really well. Smells nice and you don't need much so it can last for a long time. Seems to controls breakouts and spots.

Good

Overall this treatment is a powerhouse of GREAT ingredients and when compared to some other products it's cheap and affordable! I have very evil pesky skin so the fact this product has done stuff for my acne speaks for itself. Give it a try!

Did the job

Seems to make my spots stop and not get any worse. I usually get them around my chin and it helps clear them up

Love it

As a user of other alpha h products I bought this one for my teenage daughter as acne was starting to be a problem for her. She started using this morning and night and almost straight away noticed a difference in the size, colour and pain associated with the pimples. Her skin is now beautifully clear, she only gets the rare flare up and at the first sign of this she will apply the blemish control which stops it before having a chance to get worse.

Love this stuff!

Love this blemish control it has really helped with the pimples I had breaking out, now that I have used the Alpha - H products for awhile my blackheads have disappeared and my pimples are gone, just waiting for the final blemishes to go! - LOVE LOVE LOVE Patience is the key here!

Am looooooving this!

I've just started using this (when a spot pops up) and am finding it to be fantastic. I've used many many MANY spot treatments and recently they have have all been "burning" my skin, leaving me with a sore and dried out area which then peels and take ages to heal. With this, a spot appeared I put this on pretty quickly and by the next morning it was nearly nearly gone, WITHOUT any burning or sensitivity in the area. Win, win situation and an effective product that works!

Works well

I like this product. It did well with red spots, lessening the swelling by about 50% over night after 2applications. Seems to have stopped further breakouts in the same trouble spots. Will continue to use.

Works without drying

This stuff is great for whiteheads and for inflamed spots that don't come to a head. It works without harsh drying and make up can be applied over the top. My son is just coming in to his teens and suffering his first few blemishes and it's great for him too as it dries clear, is not super strong smelling and the tube has a nice small opening so getting a tiny amount out to apply is easy. On to my second tube and will re-purchase again in future for both my son and I.

great for blemish control

great for blemish control as it reduces inflammation and suitable for oily skin types

Pretty good

Smells good and didn't irritate my breakouts although not really sure if it reduced them at all, they just didn't get any worse

Amazing

The combination of tea free & niacinamide & salicylic acid is perfect yet not too harsh to clear my skin. Helps get rid of deep cystic pimples in days not weeks!

Great product for breakouts!

I've been using this for a few weeks, and I've noticed a huge difference with my breakouts. I use it in the evenings, and by the morning the redness and swelling has reduced and by day two, it's almost gone.

Gets rid of breakouts instantly

Tried for the first time and I'm so impressed! If I've ever got any blackheads or breakouts I'll use this and the results are pretty much instant.

No more spots!

I love this product, not harsh on the skin at all but gets rid of any blemishes I have. Smells great too which is always a bonus! Goes on smooth and works well when layered with moisturiser and foundation.

Great

This product is amazing! I love this more than anything! It has been helping so much with my recent breakouts and helping them stay away. It has such a refreshing smell. I will definitely be buying more

'Meh'

Not the best spot treatment on the market. Works here and there but haven't seen any major results. Would have been more upset if it didn't have the affordable price tag on it.

Amazing

I have been using alpha H skincare for a few years now
And love it, I decided to add this to my cart to
Try as I'm getting married this year and didn't want to run the risk of pimples on the big day! It definitely didn't disappoint. Any sign of a pimple i put on overnight , next morning it's so minimal you can hardly notice! I think it may be my new favourite.

Unsure

I have never been the type to struggle with pimples but get the occasional hormonal breakout and find this is quite effective at reducing the redness and calming the area.My sister suffers from acne and she didnt find any improvement on her skin after using this product.
I think this product is good as a spot treatment for people who get the occasional breakout but if you get persistent pimples I would invest in something stronger and more effective.
I personally wouldnt rebuy but would consider repurchasing if this product became a cream rather than a gel.

Bye Blemishes

This product is amazing! I love this more than anything! It has been helping so much with my recent breakouts and helping them stay away. It has such a refreshing smell. I will definitely be buying more


No more Spots

I love this product! I originally bought this for a few pesky break outs. I put it on cleanser skin at night and in the morning, all the redness has gone and pimple is barely noticeable. Continued using it for a few days and the spot disappears. It has even reduced the appearance of a few acne scars I have and you don't need a lot of product at all.

Yes!

Love this, apply when I feel a spot coming on and it just smothers it and when I wake up it's gone. A big fan of alpha h

Works a treat

I put this on blemishes after I shower and the next day they're gone. Best blemish gel I've used on my skin

not my fave

it smells nice, but i'm not 100% convinced it makes blemishes go down any faster.

Love alpha h

I love alpha h products, though this one wasn't as good as the other products I've used. It works fine, but isn't more effective than other similar products. I did like that it dries in a way which makes it easy to put makeup over it, that's not always the case with blemish control products.

Good

I do love this product but do find it alone is not enough to conquer a spot as it is just not strong enough. However alongside the rest of my skin regime it goes quite nicely. I find it does enough to soothe large aching cystic pimples and calms redness.

Alpha-H Clear Skin Blemish Control Gel

I find it does enough to soothe large aching cystic pimples and calms redness.

Bye bye spots!

I am a big fan of Alpha H skincare and they are all I use in my skin care routines! I recently decided to add this to my collection as I am prone to the odd hormonal spot or two. I have been using this in conjunction with my usual Alpha-h routine and popping it directly on to a couple of spots as they appear and have noticed amazing results. Spots seem to disappear almost overnight! It seems to remove the redness and inflammation in them. It absorbs quickly- so it doesn't slow down my morning routine waiting for it to absorb before following with my primer etc. Similarly- it can also be applied over make up (for any fast appearing spots- you can deal with them quickly!).
It has a nice smell- fresh and soothing.
It will definitely become a staple in my skincare routine now!

Not a miracle but helps

Helps dry out spots a little with antibacterial ingredients

Pretty good

I don't have a huge problems with acne these days, so I'm not sure if it would work well if you have that. But if you get the odd hormonal spot then it definitely seems like this product makes it go down quicker! Well worth a try.

Not for me

This is a good spot treatment if you have those little pesky ones, but if you have an ugly pimple I don't think it does much. It does have good ingredients, it's just not something I reach for as much as another I like more. Wouldn't care much if it went awol.

Great

This product is amazing! I love this more than anything! It has been helping so much with my recent breakouts and helping them stay away. It has such a refreshing smell. I will definitely be buying more

Good

This is such a good blemish control gel. After using this my blemishes are calm and less noticeable. Also smells great :)

Great to control spots

Used this in conjunction with the rest of the clear skin products and it really targeted those pesky spots. After having kids my skin was hormonal, oily and I had milia and it really do help to combat this.

Love this range

I use the alpha h clear skin range every day as I struggle with terrible breakouts on my chin and nose. NOT ANYMORE! alpha h has cleared all my breakouts!
I cleanse with the clear skin daily face wash followed by this clear skin blemish control gel. I no longer break out thanks to alpha h products!

Better than Mario!

Tried out Mario Badescu drying lotion but would pick this gel over it anyday. This gel doesn't dry out the skin to the point of having flaky skin but instead shrinks the blemish considerably upon a few applications. I usually apply overnight to let it work its magic.

Great!

I love this gel! It's great for really drying out spots and pimples fast, however I wouldn't say overnight. But, if you really want a pimple gone extra fast, I usually apply the gel a couple of times throughout the day on the area, and by the next day, it's practically gone/less inflamed.

Works quickly

Bought for my son, has been amazing at clearing his breakouts quickly.

Didn't work for me :-(

Unfortunately this product didn't work for me.



Holy Grail

This product is incredible! I'll put it on breakouts before bed and I wake up and notice a huge difference. It doesn't dry my skin out either which is a huge plus because normally these type of spot treatments do for me.

Like it

I dont get many blemishes but when i do i put this on and it clears it right up!

Gets the job done

I have been having so many breakouts lately that I'm so glad I ordered this item (I'm having to smear it pretty much all across my face at the moment so it's getting a good workout!) I enjoy the fresh scent and it's not too noticeable on the skin. Also really happy with the size of the product for the price because it's definitely going to last me a while if I have hardly made a dent in it with the workout it's been getting the last couple weeks!

Saves my life!

I have pimples on my body, chest and back areas and this little tube clears it in 2 weeks completely! Doesn't work on my face for some reason though but perfect for pimples on my body!! Love it!

Great Product

I love AlphaH products and this one is no difference. I am in mid 40's and have oily skin, with small visible capillaries and blemishes around the base of my nose. I found that the product improve my complexion, and my overall skin tone evens out. Definitely worth buying.

Clear Skin finally

The Alpha-H range is like heaven on my skin. I have sensitive, pimple prone skin and find that the Alpha-H range works wonders on it! I have used many of their products before but nothing gives immediate results like this blemish control gel. There are plenty of pimple and blemish serums and gels out there but this is the only one I have found that actually works on my skin. It doesn't dry the skin out, burn the skin or make the skin feel tight. It treats the blemish/pimple and I see results within a 24hr period (sometimes overnight even). If you are like me and have trouble finding good products that are going to do what they say on the package then this is the one to buy, it doesn't cost you an arm and a leg and it actually does work! The Alpha-H range is honestly perfect for difficult skin like mine

There are better spot correctors

This product was ok but there are much better spot correctors on the market

Very Effective

A great spot treatment which is fast working and really effective. When I apply it at night time on my zits, I wake up with less redness and the pimple almost gone! Such a good product for getting rid of those pesky zits!

Like it

Pretty good, probably not recommended for intense teenager pimples, but great for the odd blemish that pops up!

Not sure it works...

I'm not really sure whether or not this works. I bought it after using Murad's spot gel which seems to just burn pimples leaving no pimple but a long-term scar. This version is definitely much more gentle, which I love, but I'm not really sure whether it does speed up the process or not. Not sure I would purchase again, but I will continue using it until I run out.

Affordable and works!

Love this product. It's cheap and works quickly. Been using it for years and will continue to do so.

Not amazing

Expected this to be a miracle worker after reading so many good reviews. Didin't do anything miraculous for me. It's really thin and spreads well, smells nice and sits well with other products, but I don't feel it worked as well as simple niacinamide on my breakouts.

This is a winner

This product is a little pocket rocket and it does what it says. Alpha H is my favourite skin care product and doesn't disappoint. This blemish gel felt like it was working instantly and I was pleased to see that it reduced the redness and healed spots quickly. I am 53 and have had some hormonal chin breakouts and this product cleans them up beautifully. I like to put it on at night on any spots but also have been using at any time. It is inexpensive and will be a staple in my collection. This is a winner.

Amazing

I have used many blemish control gels in my time as I suffer from acne, and this stuff is incredible! Not only does it get rid of my blemishes almost over night, it also doesn't stain or bleach my pillows like many of the other products that I've tried before! I highly recommend this product

Cheap and effective

This is a great cream because some of the oils and creams can make someone with dry skin end up with acne, so its a good way to ensure that you dont get pimples from the products while still hydrating your face well!

A MUST FOR BREAKOUT PRONE SKIN!

This stuff is fantastic! I pop this on my skin on my little breakouts after cleansing and it helps them go down and reduce inflammation around that area of the skin that is feeling troubled! Super antibacterial, and such a great price for what it does and the result it gives! If you're struggling with lingering breakouts, this stuff works a treat! Alpha H honestly have the most afffordable result driven products, and I just love how natural and active their products are.

Amazing

Great product - ideal for hormonal breakouts at "that time of the month". I find this product refreshing and it really works.I normally suffer from extremely oily skin, enlarged pores and frequent blackheads, along with the odd hormonal blemish. I always need to have a spot treatment on hand to target individual pimples and over the years I have tried endless products, searching for the ultimate zit zapper. I have been impressed with this blemish gel as it has proven to effectively stop pimples in their tracks and prevent new ones forming. It is to date, my 'Holy Grail' spot treatment, and that is saying a lot :)

didn't work for me

I bought this when I had a lot of breakouts and I didn't find that using this daily reduced my breakouts in any way. :(

not very effective

I found this product reduced the life of the spot a bit and the spot didn't get really big but I actually found the Apha-H Liquid Gold better at getting rid of spots.

There are better products available

Was underwhelmed by this product given all the positive reviews. I notice little results after use. I think there are more effective products available. A little does go a long way and it relatively inexpensive so still worth a try.

FINALLY! A spot treatment that works!

This product is one of the most underrated products I've ever purchased. I don't know why everyone who has ever had a nasty pimple has never tried this. I find the supermarket products incredibly drying, and for a similar price this product is gentle on the skin but works miraculously on spots. I purchased this a few months ago and have gone through hardly any of it. A little goes a very long way on this item! Definitely purchasing again soon!

Great product

When I use this product I see results in a few hours! I only get few breakouts though when I do I apply this gel straight away and the redness reduces very quickly. It stops breakouts and removes my blemishes and is a must have in my skin care routine!

A little bit goes a long way!

Only a very small amount of this product is needed when applying to a pimple or breakout, I have found. Despite the small amount, this definitely helps in reducing size and intensity of pimples/breakouts. It's not a magic wand that erases a pimple on first touch, but it takes a couple of days off the recovery time.

Good consistency

This gel is never t sticky or drying, it also doesn't feel like there is any burning. A good breakout gel to have on hand.

Well worth it

For someone like myself who generally has pretty good skin but occasionally gets a nasty pimple this is perfect! The gel is a nice consistency and applies well, I usually notice a difference within a few hours of application.

Probably the best pimple cream I've ever tried

I found this gel really effective and fast-working. It works well on the really painful, stubborn blind types of spots and actually less is way more with this product. It can dry the skin out and cause flaking, but if you apply a very thin layer, it doesn't flake up too much. For me personally, I have found it works best if I apply it on a spot every second day if it's particularly stubborn and it will typically clear away within a week.

Effective

I found this product pretty effective. For the most part any blemish I put this on is gone in 1-2days. Will definately purchase again.

Good, not great.

I'm a huge Alpha-H fan and use a lot of their products. I was excited to try this as I find their products to be some of the most effective and which show real results. I get occasional pimples, usually 1-2 larger hormonal pimples around my chin. This helps dry them and maybe speeds up the healing by a day. Even when applied early as the pimple is starting to come up, I wouldn't say it prevents or lessens the size of the pimple. A day less is still a win in the scheme of a sore, red pimple, but I wouldn't say it's the most amazing blemish treatment I've ever tried.

Really works

I purchased this for my teen son who was getting pretty bad breakouts - within a week of using we have noticed a big difference in his skin- the red 'angry' blemishes have calmed right down and his cheeks look the clearest they have been in a long time. Very effective, yet still gentile on sensitive skin.

ALPHA-H CLEAR SKIN BLEMISH CONTROL GEL

I do love this product but do find it alone is not enough to conquer a spot as it is just not strong enough. However alongside the rest of my skin regime it goes quite nicely. I find it does enough to soothe large aching cystic pimples and calms redness. However I feel like it would take at least a week for this product to be able to treat a pimple. I also feel it has done a lot to treat the blackheads on my nose, which is saying something. Overall this treatment is a powerhouse of GREAT ingredients and when compared to some other products it's cheap and affordable! I have very evil pesky skin so the fact this product has done stuff for my acne speaks for itself. Give it a try!

LOVE it

I'm in mid 40s with oily skin. My problem is mostly pigmentation, aging spots and dull appearance. I don't have much lines which I'm thankful for. After using this product I notice my skin glows, aging spots start to faint and overall complexions improve. I thoroughly recommend this products and will definitely rebuy.

Works well but can be drying

As the title says, this stuff is strong! It is extremely drying when applied to the skin so it's perfect for big breakouts.

I apply this directly on a pimple after cleansing, and by the next morning it's actually reduced in size. It's not magically gone, but it does look like it's halved in size. Just be sure to only apply to the pimple otherwise youll end up with dry patches!

Helps reduce redness

oily/acne prone skin. Helps reduce the redness of the pimple and not drying compared to other spot treatments i've used in the past. Not sure if speeds up the process of healing the pimple quickly.

It actually works!

I have gotten so many of my family and friends onto this product who love it as much as I do. I apply it multiple times a day when a breakout appears and find it helps to minimise and clear it up so much quicker than without it! A little goes a long way to so its great value!

Helps dry spots

A thicker, clear gel, definitely only for spots on my combination skin, too drying for use on larger areas and just a night time treatment to help lessen inflammation over night. Personally I prefer the Alpha H Clear Skin Daily Hydrator Gel which contains salicylic acid, not glycolic, and isn't as drying but helps to keep pores clear. A good alternative for those finding glycolic a bit much.

Best pimple product

I have always suffered from hormonal acne and have used a multitude of products for spot treatments. I always find that they excessively dry out the skin and then you're left with dry irritated skin.

The Alpha-H Clear Skin Blemish Control Gel is so gentle on the skin and uses natural ingredients to heal blemishes and soothe the area. I apply the product at night before bed and in the morning my blemishes have gone down and started to heal, without any irritation to the skin.

I highly recommended this product and have bought it again and again because of how good it is!

Spot be gone

This product is great for those pesky little break outs, without having to cover your whole face!

Pretty good

I like this product because it doesn't irate my often sensitive skin, and I can bravely put it on healing spots which I have irresponsibly picked... without any tingling or other bad sensations.
It works okay at addressing spots, it definitely doesn't magically make anything disappear over night, but I thinks it helps to decrease inflammation and assists in the de-pimpling process.
I've bought this product a couple of times now because it is really gentle on the skin and helps to reduce inflammation.

Excellent

Use this product when pimples appear. Tend to use it just at night as I find it leaves a crusty, dry appearance on my skin in the morning. Reduces inflammation greatly and seems to suppress the appearance of the pimples in the morning. Does take a couple of nights to work for me. Great value for money as you don't need much when applying.

Pretty good!

I find this product works really well at soothing and reducing the life of most blemishes. I will say that I do have to apply it 3 times a day to get the best effect, but even if I only treat them once or twice there is a noticeable difference. I find it a little bit drying on the surrounding skin, but really, I expect that with this sort of treatment (even on my oily skin). I also like the scent of the product and you only need to use a little bit of it at a time which makes it great value for money.

Best for nighttime

I like using this at night before going to sleep. I might lay it on thicker than needed, but it seems a bit too shiny/noticeable to use in the morning before I leave for the day. Great for spot treatments and gentle on the skin!

Stops the scarring and any infection

Unfortunately this doesn't stop the pimple from occurring in the first place (still looking for that holy grail!) but it does reduce the time/redness/scarring and most importantly for me - stops any secondary infection creeping in. I'm now onto my third tube as it works wonders!

An absolute blessing in my books!

Hit and miss

I purchased this to treat the occasional pimple I get, both blind pimples and the ones with a head. The gel has a lovely tea tree smell. It is best to apply this directly on to the pimple as well as the skin area around the pimple for best results. I find that it is a bit hit and miss probably depending on how "angry" the pimple is. Sometimes I find that it does reduce the length of time of the pimple, sometimes I feel there is no difference. Overall, I do think treating it is better than not in the long term as I hate the obvious scarring that comes with the aftermath of a pimple. As I only get the occasional pimple, I do like how the tube lasts 24 months after opening as this tube will last me for a long time!

Great spot treatment

This gel works really well to reduce the life of pimples of all shapes and sizes. I have been getting pretty severe hormal breakouts and since using this product I find that any spots that pop up heal up much faster than they would on their own. I've also noticed that scarring is much less, even when I pick..

Holy Grail Blemish Control Gel

Hallelujah, what a great product! I have normal/combination skin with hormonal acne in the jaw line (plus still some underlining cystic acne that I haven't completely destroyed) and this is such a great product. It helps to dry and reduce my pimples and minimises the severity of my breakouts.

It has reduced the acne scarring (where I haven't gone ape and picked it all the time, my bad!) and really helps with the redness and inflammation. I love this product and if it came in a bigger tube, I would love that!!

Definitely recommend this to anyone and everyone who has acne problems.

Spot treatment

Finally a spot treatment that actually works!
Smells like tea tree oil, and leaves a cool feeling on the skin!

Cannot get enough!

During a major breakout I ran out of my regular spot treatment, so in a mad rush added the Alpha-H Clear Skin Blemish Control to an Adore Beauty order I was making. I figured it was cheap enough that if it didn't work I wasn't losing out. I was SO SURPRISED at how effective it is. Significantly reduced the size of my blemishes overnight, and helped them disappear within two days. Now anytime I feel one coming on I pop some of this product on and they don't even surface! Added bonus: it smells divine!

Winner winner chicken dinner

I love this. I pop it right on my pimples as the very last step of my AM and PM routine. As it's clear, I can wear it throughout the day - which I love.
Some reviews say this didnt have any effect on blind pimples but I disagree, this reduced the life of every kind of pimple I had. This will reduce size of pimples dramatically.
I've just bought another tube before finishing my other so I'll never be without!



best spot treatment ever

i was super sceptical if this was going to work or not as i have tried so many different spot treatments over the years but this one has been a total game changer!

the whole clear skin rage has done wonders to my skin, i apply this morning and night to any blemish that i have or feel coming on and when i applied before bed, i wake up to a much less red blemish and after a couple of days, its completely gone!

i also struggle a lot with scarring from pimples but since using this, im finding that im getting no where near as many scars, which makes me think that this is helping heal my pimples the right way.

one tube has lasted me quite a little while and a little goes a long way with this product!

i recommend this to anyone looking for a spot treatment that actually works!!