Aesop Violet Leaf Hair Balm 60ml 60ml
4 instalments of $8.75
Or 4 instalments of $8.75 with
LEARN MORE
4 instalments of $8.75
Or 4 instalments of $8.75 with
LEARN MORE
Official Stockist
Is this for you?
Softening and shaping balm suited to unruly, coarse or dry hair. This exquisite balm offers a botanical alternative to tacky wax and mineral oil hair grooming products.
Australian Made
Cruelty Free
Sulphate Free
Vegan
Hair Curl Type:
Curly

Very curly/African/Caribbean

Wavy
Frequently bought with
Please wait while we find a match
Questions & Answers
(1 Question)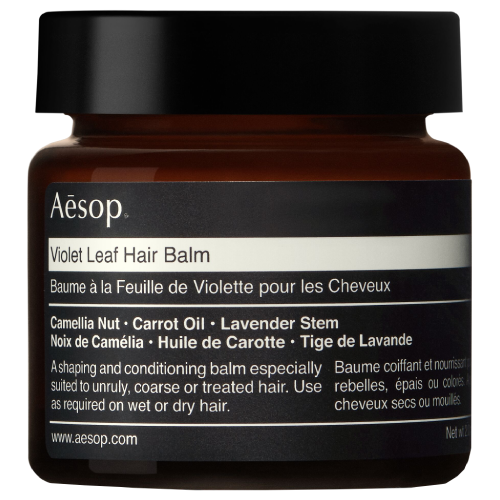 Aesop Violet Leaf Hair Balm 60ml
Get an expert to answer your question about this product!
Aesop Violet Leaf Hair Balm 60ml Reviews
76% recommend this product
Most Helpful Positive
Great product.
I found it is very good for dry hair, very hydrating. I love it.

Most Helpful Criticism
Ooh, no.. the smell..
I am honestly struggling to use this product due to the smell. It's sort of like lawn cuttings but unfortunately not that beautiful spring scent. The texture is somewhat thick and easy to work with, my hair requires a lot and it does seem to add moisture. It's just the smell, it's so off putting. I might give this to a friend who can tolerate the scent.
Ooh, no.. the smell..

I am honestly struggling to use this product due to the smell. It's sort of like lawn cuttings but unfortunately not that beautiful spring scent. The texture is somewhat thick and easy to work with, my hair requires a lot and it does seem to add moisture. It's just the smell, it's so off putting. I might give this to a friend who can tolerate the scent.

Great product.

I found it is very good for dry hair, very hydrating. I love it.


Love this I'm always looking for curly girl friendly products

My hair is thin, wavy and Very chemically damaged, it sucks up the violet leaf hair balm and is soft and conditioned instead of brittle and frizzy.
The bright grassy scent of violet leaf is unusual but soon fades, personally like it but for those who don't it's short lived.

Bye bye frizz

Got this as a sample the other day and like all Aesop products it has a wonderful 'day spa' aroma. I was battling a bit of frizz prior to using this, and it managed to bring it under control so my hair now feels smooth and moisturised.

thrilled to get a sample of this

easy does it - use just a little! lovely for curly fine hair but use sparingly. I was so excited to get a sample of this. Years avgo AESOP had a product "wild lime hair polish" - note to aesop please bring this back please please bring this back - i miss it years and years later
however this lovely balm is on my wish list for stuff to buy next. I love aesop

Strange smell and hair feels coated, not conditioned

I was sent a sample of this with another order. I have very thick hair which gets dry and tangled. The packaging describes the product as "a conditioning balm especially suited to unruly, coarse or treated hair" so I thought I'd try it out. My first impression of the product is that is has a very strange smell which I found unpleasant. Maybe it's what violet is supposed to smell like, but I didn't...

Read More

Heavy product perfect for coarse and dry hair only

I have coarse, dry and thick hair that just sucks up just about anything I put in it. It responds best to nourishing products that don't weigh it down and control frizz and this is just amazing. I use it as a treatment, leaving it on overnight with my hair in a plait and in the morning it's the softest most conditioned wave ever. Just be careful not to use too much.

The smell is a bi...

Read More

Perfect for Curls

This defined my curls so well. I was a little skeptical due to mixed reviews but honestly, I loved it. I've got colour treated, spiral hair and use quite a light conditioner so my hair isn't weighed down. Because I use a light conditioner sometimes I have issues with frizz and this eliminated it completely. I even got rained on and still good, baby! 10/10 would buy again and again.

bit heavy for me

bit heavy for my thin hair
just need a tiny bit
it is nourishing however and does tame any frizz
if my hair was thicker think it would work well

Not for thin hair

I bought this without reading much about it but my fine soft hair was overpowered by this balm but my friend with thick luscious hair has since rehomed the balm and says it is a godsend!

Better than expected

I was doubtful before buying but thought to try anyway. After trying I was impressed immediately. I can see fly aways and frizziness gone. My hair is so coarse and thick and the product manages to tame it. It looks natural so it doesn't look like I have any product on. Love it!

tame hair

I use this to tame fly aways, it's good for dry hair but I find the balm a little difficult to use, you have to spread it out. Not the biggest fan of the texture personally

Like it

This hair balm is non sticky balm that helps to soften my hair and make it look nice. The scent is also great. Definitely like it.

Great for unruly days

If my hair is feeling and looking ungrateful, a very small amount of this lovely shaping balm, really makes it take a turn for the better. It softens and makes the hair look nice and shiny, and is a good styling product if you don't like sticky products which make the hair look dull.

A good tamer

I used this, I found it a little heavy but it was super hydrating, I actually gave it to a friend with dry hair, and she reported that it is her favourite hair styling product, it tames and soothes those unruly dry hairs.

Smells delicious

Bought this for my friend who has very dry, thick, long hair. He said he uses it ever day and that it smells great. Can be a bit sticky and oily but absorbs over time.

Its okay

I dont mind this product. It smells great, but it makes my hair a bit oily and its not super holding.

nice natural balm

Love the smell of this and I use this to tame fly aways, really keeps my hair in place

Bit heavy

Love it but I find it a bit heavy on my ends, gets rid of frizz and smells fantastic but wont be a repeat customer!

Adds a little shine

Softly holds and adds a little shine.

Best scent.

This balm makes my hair smell so amazing. I always use it straight after washing my hair so that it's less frizzy when it dries.

Works a treat

This balm is so soft and doesn't clump hair. It smells gorgeous I get complimented on he scent all the time and it really helps with fly away hairs. Love it.

gorgeous product

I put this on wet hair after washing. I have very very thick and course, rebelious wavy hair. It loves the locks on top and around my face, but doesn't control the fuzz of the tight curls underneath. Hydrating and leaves hair soft, but leaves a residue that I'm not a fan of. Kind of feels a bit dirty?

Love!

I've been using this as an overnight leave in and it leaves my hair really soft and doesn't weigh down, I have super thick hair, the only downside is that it can be quite hard to scoop out, especially when you're getting close to the bottom

good for styling frizzy hair

This balm smells nice and is good for styling frizzy hair. It doesn't really do much else though

Beautiful

I put this on as soon as I get out of the shower and go to bed and the next day my hair is so soft and brings my wavy hair back to life. My hair is long and thick, up to my waist and It works wonders. It has an earthly smell that I like as well. I recommend.

Didn't suit my very fine damaged hair

I have very fine and damaged hair. This product was a bit thick and hard to soften to work into my hair. Maybe would be okay for someone with thicker hair? Would not repurchase.

Great product - Just not for me

This product is fabulous, makes hair feel so soft but given how thin my hair is I have to me too sparing with it. Prefer something I can add a little more it. But again, good product just not for me

Soft!

Made my hair feel soft, i would recommend, thanks adore for the sample :)

Love this

Moisturising like nothing else. I use it as a styling product and also as a treatment - I slick the ends of my hair with it when wet, plait and sleep and it's beautiful in the morning.

Weird smell but you get used to it. I've got thick coarse wavy hair and it's perfect for my hair type.

gives hair nice texture

I think because my hair is so fine this product gives a sea salt spray effect and kind of leaves a residue but it smells nice and washes out easy. I wouldn't repurchase but maybe I'm not using it the right way for my hair type

Good

This is like a more "holding" version of bumble brilliantine which I also love. The scent is green and does dissipate. It provides moisture with the shea butter and camellia oil. I scrunch into my ends and outer layers for shape and to give some softness. The pot is clinical, though I prefer tubes.
Not sticky, it's neck and neck with the brilliantine and I have stocks of both.

Love it

I really love this product. It works so well at controlling my flyaway hairs around the front of my hair. So easy to use and I really love the natural smell it has. Doesn't dry my hair out and once washed out leaves hair really nice. Such a wonderful products

lovely!

this is a great product to control frizzy and unruly hair! My hair is super curly and frizzy and this works wonders

Beautiful if you like freshly cut grass

It smells just like that. It may be good for you, but the smell needs time to adjust and adapt. more masculine than feminine.

Keeps my hair behaved, without weighing it down

I only need to use a small amount of this balm onto my hair and it keeps my hair behaved and flat and controls all the frizziness. I actually like the green grassy smell. It's not sticky and doesn't feel like oil which drips and oozes down my face. I can go out of the house with this hair balm conditioning my hair!

Great for the fuzz

I like it and it works. I don't mind the smell and it really calmed my frizzy locks down.

Just love it!

The only hair product that u can use and not have to wash yr hands immediately.
Works brilliantly and unobtrusively..
Get panic stricken if about to run out!!

This is a truly excellent styling product for men as an alternative to mineral oil based gels, waxes or pomade; the texture is silky, smooth, light and lovely. A small amount spreads well in damp hair to provide light hold, smoothness and natural looking shine without the 'helmet head' effect and without weighing the hair down. I purchased this as a gift and it was very well received, so much that...

Read More

Ok - smells weird, but i actually kinda like the way it smells. It's a very natural, green scent. But don't be expecting Yardley Violets. Feels very moisturising. Don't know if it would work on longer hair but gery helpful on 'problem hair' aka damaged hair.

Hmmmmmm, I'm on the fence about this one. The product itself was fine - good hold and texture - but the smell was quite strong. Probably won't re-purchase for that reason.