Aesop Rose Hair & Scalp Moisturising Masque Tube 120ml
4 instalments of $9.25
Or 4 instalments of $9.25 with
LEARN MORE
4 instalments of $9.25
Or 4 instalments of $9.25 with
LEARN MORE
Official Stockist
Is this for you?
Weekly botanical hair treatment to restore vitality and shine. If you want gorgeous, soft hair you need to spend half an hour indulging in an application of this fabulous hair treatment masque.
Australian Made
Cruelty Free
Sulphate Free
Vegan
Hair Concern:
Breakage and split ends

Dull, lacking shine

Frizzy hair

Flaky scalp
Hair Curl Type:
Curly

Straight

Very curly/African/Caribbean

Wavy
Frequently bought with
Please wait while we find a match
Questions & Answers
(1 Question)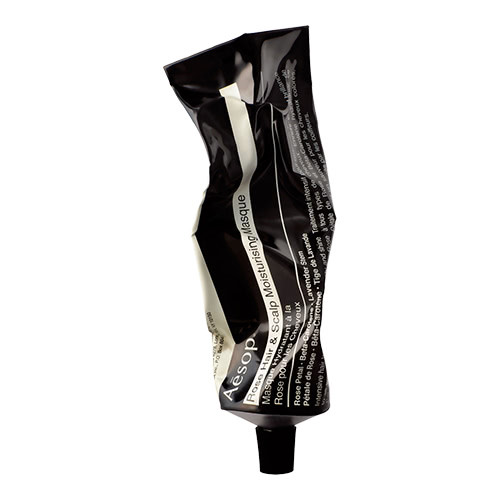 Aesop Rose Hair & Scalp Moisturising Masque Tube
Get an expert to answer your question about this product!
Aesop Rose Hair & Scalp Moisturising Masque Tube Reviews
64% recommend this product
Most Helpful Positive
Gorgeous!
I love this hair mask - a delight to use!
Most Helpful Criticism
smells so nice
This rose masque smells so nice, but I didn't get the results I wanted. Hair felt hydrated but also a little dry which is weird
Gorgeous!

I love this hair mask - a delight to use!

Gorgeous!

I love this hair mask - a delight to use!

It works

Gentle and excellent as a leave in product for fine hair. Leaves hair feeling soft and healthy.



Softens The Hair

I find this is great for the fragrance and to soften the hair. Not a fan of the recommended application method, but for what it is I think it's alright.

Smells divine

I love how this product smells! It's a bit heavy for my fine, low-density hair type. My husband has very thick, course, curly hair though and it works great for him. It's a good way to make his hair smell nice without washing it (he doesn't wash his hair often). I would say A+ for thick, course hair. But for my hair, really only works in the ends.

Smells AMAZING but too rich/heavy for fine hair and low effort/gain ratio

Was expecting some amazing results for a product that you leave on for 10-30 minutes, but was not impressed by the effort to gain ratio. If you enjoy the whole lengthy, elaborate & relaxing self-care rituals, this product might be for you. It does smell AMAZING. However, with my busy lifestyle, that 10-30 min wait had better produce some amazing results but it just didn't. There are more effective...

Read More

Amazing

I have dry coarse wavy hair prone to flyaways and this product works wonders on it. I use it as a treatment and also overnight with my hair in a plait. Also I will use it as a styling product even with my hair in a bun at work when it really needs some loving care. It's pretty versatile and really hydrating and nourishing.
I think it wouldn't be suitable for thin fine hair but can't be posi...

Read More

second tube, smooth, shine hair

I like the smell. I feel not many people like this product but I am a big fan. Soothes the scalp and moisturizes hair with a lovely rose scent that helps chase away life's stressors. It helps when anxiety flairs up.

Great!

This really helps with my dry flaky scalp, it also has quite a nice scent.

lovely

this masque has a lovely scent, not too strong but definately rose. It makes my hair feel more hydrated but it's not my favourite hair mask

Good smell but not hydrating

Hair texture did not change or soften

smells so nice

This rose masque smells so nice, but I didn't get the results I wanted. Hair felt hydrated but also a little dry which is weird

Nice but wont buy again,

Smells amazing but I dont find it leaves my ends feeling as soft as it does with other products, not the best for extremely damaged hair.

I've tried better

It didn't do much to hydrate my hair and I wasn't a fan of the scent - this is coming from someone who usually loves Aesop's scents. The tube also got a hole in it after a few uses so that was a hassle.

Lovely but not WOW product

This divine smelling hair masque is very nice to use, I have quite long hair and I find I don't need to use a lot. I only use this on my mid-lengths and ends, and my hair feels moisturised afterwards, but I don't think the results are out of this world for the price. I do like the fact that it contains natural active ingredients and the metal tube is great to keep in the shower.

rich travel masque

nice rich travel masque that keeps my hair hydrated. strangely it doesn't smell like rose to me, i'm not a huge fan of the scent

nice rose scent

glad I bought the tube first and not the huge bottle. it works well and has a nice rose scent but I wouldn't repurchase. it doesn't do wonders for my hair which isn't that damaged in the first place

Not the best treatment Ive tried

Was okay but didn't really feel like it was a game changer

Fairly efficient at Reviving dry, damaged hair.

Fairly efficient at Reviving dry, damaged hair. Smells really good.

Amazing hair treatment

This product moisture my hair without making my hair too oily. I usually use this product twice a week. It gives my hair a more healthy look. Also, I really love the smell. Love it.

I don't think it did much for me

I don't love it, smell isnt great and i felt it didn't do alot for my hair either..

I don't like the texture of this mask

I just find that this flattens my hair a lot and doesn't really do much in terms of hydrating and nourishing my hair. I won't buy it again.

Moisturising

I use this overnight before plaiting my hair and wake up with soft moisturised waves. The sales person in an Aesop store recommended to use it this way or even as a daily styling product. I have very thick coarse hair and barely anything makes it look greasy so this kind of thing works for me.
Am not much of a fan of the rose scent - it's a bit earthy and grassy and intense but I find I get ...

Read More

Aesop Rose Hair & Scalp Moisturising Masque Tube

My hair feels so much healthier and even shinier. I can honestly say I have had at least 5 more hair complements since I started using this product a month ago.

Not hydrating enought for dandruff

I found the scent so lovely but did not help my dandruff at all was disappointed.

great product!

Super hydrating and smells amazing! I love the packaging

Nice but average

This is quite a nice product, I've tried many hair masques and while this is good, I found it quite average in terms of adding hydration and shine to my hair

EXPENSIVE?

Expensive ?! Yes!
But it's really a good product - best treatment for scalp , if your hair is chemically processed , over and over again - this might be not work! I love it because it smells great , can prevent my hair from loss and yet's it's very moisturizing without weighting down the hair's strand.

Smells great - doesn't do much for my hair or scalp

It's a lovely conditioner and I love using it - but I have to follow up with a heavier moisturising conditioner for my rather curly hair. It feels like it soothes the scalp, but doesn't help much the dryness my scalp is usually experiencing. Don't particularly like the packaging here either - the bigger bottle is better value and easier to dispense the product.

Smells lovely!

This definitely tames the frizz and smells lovely but unfortunately it's not the most hydrating mask around. The tube doesn't last long as you need to use quite a bit of product.

One of my favourite aesop products!

This masque makes my hair feel incredible! I always use it before an important event or meeting because I know it will make my hair look great. It's very easy to use and you don't need a lot of product for it to work well. I have very long, wavy hair and this product has been great for me.

Not as hydrating as I would have liked

I was exciting in purchasing this conditioner as I knew how hydrating and nourishing Awsop's hand creams are. Unfortunately, I was disappointed as it was not as hydrating as I had hoped. My hair was getting very dry from the very drying WA air and shower water and hoped this would do the job. I left on multiple times between 10 mins and 1 hour. While my hair felt a bit softer after 1 hour, it didn...

Read More

Perfect first time

I got two small sample of this masque when I bought my Aesop scalp treatment. I literally just used it tonight and it works wonder for my hair. I've had keratin treatment done and coloured recently so it has taken its toll. When I used the masque tonight it made my hair feel stronger and healthy. Normally treatment just tend to make my hair soft and repair it without being noticeable for a while. ...

Read More

Amazing

This is the most amazing mask...stops hair fall right away

soft, super shiny hair!

I love this product and have repurchased it many times; onto my 5th or 6th tube & have the 500mls waiting!! Itleaves my dry, coloured midlengths and ends super shiny and touchably soft! I was advised by the aesop sales assistant to pop it into dry hair the night before washing, then i use just a little bit more as a regular conditioner. Love it.

I have been looking for a hair treatment that would not only make my hair shiny but soft and more manageable. I strolled into David Jones to the Aesop counter and was advised to use the Rose hair & scalp moisturising masque for my fine yet curly hair.Intrigueingly it comes in a red tube, as if it was some sort of old fashioned salve or balm.I am sold!! this is a heavenly product. It's a thick ...

Read More

The rose-geranium smell is the best thing about this product - it's not a greasy or heavy product so it's not nourishing, really - my hair didn'f feel softer for using it, but it felt stronger and smelled good. It's more of a pamper product than a result product.

This smells beautiful but sadly didn't do a real lot. Very disappointed. Lovely conditioner, but made no dramatic difference like most hair treatments would. So glad I had a sample and did not buy a full size.

I'll start with some positives about this product - the packaging is beautiful and the tube is user-friendly. The smell is lovely (although it's more of a natural/organic rose rather than the sweeter synthetic versions we can sometimes be used to). Unfortunately, I was fairly disappointed by the product. I only have a chin-length bob, and my hair is not thick, but I had to use so much. It didn...

Read More

I so wanted to like this. Smells gorgeous and Aesop's usual stunning presentation. However on my long hair I found I had to use an enormous amount for it to be effective as it was difficult to move through the hair and did not act as a detangler as most conditioners do.My hair is quite dry with brittle ends and it took too much effort to use it that I was worried I was doing more damage than good....

Read More

Its a lovely moisturising and silkening hair masque for me. Natural, blonde, relatively healthy hair. I leave on after showering post swim, then rinse off later. Leaves my hair smelling of roses, and silky and shiney. A winner. The tube does last a while, but next time I want to exxy pump pack!

A creamy, rich moisturising hair masque that smells like a bed of roses. My hair is coloured and tends to be coarse and sometimes brittle. This masque makes my hair nice and soft, but I find it more pamper-y than strengthening. It's a lovely product to use but I tend to prefer protein-based treatments.