Aesop Resurrection Aromatique Hand Wash 500ml 500ml
4 instalments of $10.00
Or 4 instalments of $10.00 with
LEARN MORE
4 instalments of $10.00
Or 4 instalments of $10.00 with
LEARN MORE
Official Stockist
Is this for you?
A superior cleansing gel for hard-working hands. This globally adored product gently cleanses without dehydrating skin.
Australian Made
Cruelty Free
Vegan
Skin Concern:
Dull, dry or dehydrated skin

Sensitivity and redness
Frequently bought with
Please wait while we find a match
Questions & Answers
(2 Questions)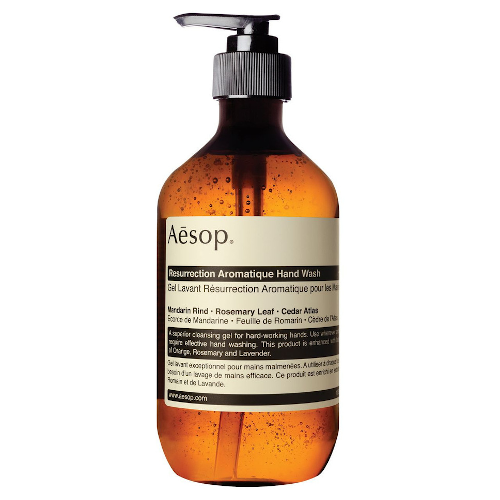 Aesop Resurrection Aromatique Hand Wash 500ml
Get an expert to answer your question about this product!
Aesop Resurrection Aromatique Hand Wash 500ml Reviews
97% recommend this product
Most Helpful Positive
Luxe
Love a fancy handwash, this smells amazinggggggg
Most Helpful Criticism
Worth the price but not the quality
I've got dry skin so it didn't feel smooth after washing my hand but rather dry. The smell is great but not the ingredients that makes my hand dry
Worth the price but not the quality

I've got dry skin so it didn't feel smooth after washing my hand but rather dry. The smell is great but not the ingredients that makes my hand dry

Luxe

Love a fancy handwash, this smells amazinggggggg

All class

you know you are bougie when you have this in your bathroom!

good

The soap has a clean refreshing smell and feels great on your hands. It does not strip them of natural oils and dries them out.

Gorgeous scent!

I love this hand wash, my mum constantly has this on her kitchen bench and she's converted me into having this as a staple in my home. The scent is beautiful, it's not drying at all and makes your hands feel extremely clean without feeling dry and tight!

Lovely scent and aesthetic

I got sucked into the hype, but I just love the smell of this. So luxurious!

Lovely scent

Very gentle on the skin and leaves your hand feeling soft.

It works

The soap has a clean refreshing smell and feels great on your hands. It does not strip them of natural oils and dries them out.

Smells good, looks great

Love my hand wash, smells so good and looks great.
Wish I could buy a refill instead of a new bottle when it's empty

Will never buy supermarket hand wash again!

We all know the scent when you walk into an aesop store, and this is recreated in the hand wash!
It's like a mini spa trip, in the kitchen or bathroom. The product doesn't dry out the hands and the smell is so fresh. The sleek packaging means it looks great on the countertop also. Did I mention the smell?

Amazing Hand wash

I bought this so many times. The scent is always amazing! It makes hands absolutely clean.

Beautiful

Beautiful, hydrating hand wash - lasts for ages and leaves your hands so soft and wonderfully fragrant.

Can't go past this amazing hand wash

Smells amazing!

Worth the price and you only need a tiny bit! Lasts a while.

Smells divine, doesn't dry hands

Yes it's expensive for handwash but it's worth the money. Leaves hands soft and smelling nice without being too cloying. It's gentle on skin and it's such a big container that it lasts ages.

good hand wash

I love this hand sanitizer so much that it doesn't feel tight after washing my hands.

Smooth like A butter :)

Best hand wash ever, I like the smell and glass bottles. The best part is after used my hand smoothed like butter, love it. But. there only one thing i consider is the pump too hard to press

No.1 Handwash

Aesop Resurrection Handwash is my absolute No.1 handwash. It fills my en-suite bathroom with the most beautiful Aesop-y scent. I wish that the price point was lower...but I do believe that it is worth it. Hence why I always have a spare bottle ready to go!

Bougie hand wash

this is my bougie hand wash but i love it and will treat myself to it from time to time. Smells amazing and fresh, and is not drying

Smells Great

This hand wash is really nice! I get lots of compliments from guests. Citrus isn't really my thing so I probably won't buy again. However if citrus your jam, go for it! You won't regret it.

Love it

Personally think these are worth the $$ - they look, feel and smell great. I personally prefer the handwash with the beads in it but this one is still lovely. Great present idea too!

Favourite hand wash

I received this handwash as a gift and was devastated when It finished! It has such an energising scent and looks gorgeous next to the sink. I also loved that it left my skin feeling clean but not dry.

Aesthetic hand wash

I love this hand wash - firstly, it's very aesthetically pleasing to look at and looks great and iconic on any vanity or even kitchen, but it also isn't drying and has a beautiful scent. I wish it wasn't so expensive but I do treat myself to it every now and then and is one of those luxuries I enjoy splurging on from time to time because it's enjoyable to use.

Divine

This is a gift I was given last year when I was sick for quite a while. It was pure aromatherapy, left me feeling very clean & positivity. We all know that certain smells effect us & this gives such a boost. Was grateful to get it & recommend it highly, a little goes a long way!!...I used it in the shower, who cares :)

An experience

Best hand wash ever, non drying, great aromatic scent and also slightly exfoliating. It's great!

The best

Smells so fresh and citrusy, exactly how it is described! Makes such a nice gift and looks great :)

Lovely, non drying

Love this hand wash. The mandarin scent is just heavenly. It's effective and doesn't dry out your hands. It also looks great on display but I wouldn't use it everyday due to the price.

nice but expensive

very nice handwash cleans well and leaves hands moisturised and smells amazing! however quite pricey

lovely

this hand wash is such a lovely smell and the pump is great quality. love using this every time!

Must have!

The perfect spoil yourself gift to have in the home. The scent is absolutely divine and there is a reason why this is the must have Aesop product you see in every bathroom shelfie!

A pleasure to wash with

Washing your hands has never felt so fancy. I do find that I need to moisturise after, but it's an extra step to caring for your hardworking hands; they deserve the extra splurge and care.

Feels good to wash my hands with this product

I tend to have dry skin on my hands and with all the hand washing that I'm doing now, it's a real treat to use this often. Follow up with moisturiser. The scent is fabulous too.

Nourished hands

Amazing hand wash, extremely nourishing for naturally dry hands.

Smells amazing and feels boujee

Love this hand wash. This ones the best smelling of the Aesop range and it makes your bathroom feel extra boujee.

Little Luxury

I splurge on this hand wash for my master ensuite. It feels like such a beautiful indulgence every time I wash my hands. The smell is divine and my hands feel soft.

Can't say enough good about this handwash

Smells amazing and leaves my hands clean but not overly drying! I have one in the kitchen and one in every bathroom. Probably Aesop's best product!

love

I bought this because my hands were drying out from washing my hands so often with supermarket handwash #justpandemicthings
Can't even begin to explain how phenomenal it smells, and it leaves my hands feeling so soft and nourished. Literally obsessed with washing my hands now?

Glowing Hands

I love love it . This is just my fav . I have tried so many hand soaps but this is the best . Even my 18 month old loves washing her hands coz of Aesop smell.. it's just so soft moisturizing yet keeps ur hands so clean .

Glowing Hands

I love love it . This is just my fav . I have tried so many hand soaps but this is the best . Even my 18 month old loves washing her hands coz of Aesop smell.. it's just so soft moisturizing yet keeps ur hands so clean .

Smells A.M.A.Z.I.N.G

The smell of this alone makes ti divine :) Lovely hand wash.

Good product

Smells amazing and leaves your hands feeling lovely and soft! Great purchase :)

Smells amazing

This is a an effective but yet gentle hand wash. Love the smell. It's a bit pricey for a hand wash though.

Lovely!

Yes it's a bit pricey for a Hand wash but the fragrance is gorgeous and stays on the skin for longer than other handwashes. Doesn't dry out skin either.

pretty packaging but pricey

this does look really pretty in the bathroom but it is a bit too much money for a hand soap to purchase all the time

a nice hand wash

leaves hands feeling soft and clean. Also nice packaging to be used in the main bathroom. It is a bit expensive though

amazing

absolutely love this, smells great and not drying

Beautiful smell and feel

This smells amazing and the aroma stays on your hands until the next wash.

Great for sensitive skin

I love that this does not contain harsh soaps that dry my skin out very excessively. This is gentle and soothing on my sensitive skin and doesn't leave them super dry after all the hand washing! Scent is also a plus

Great gentle hand wash

I have struggled for years to find a hand wash that does not leave my hands dry and flaky, especially in the cooler months. I decided to give the Aesop Resurrection hand wash a go and I'm hooked! It smells amazing and doesn't leave my skin dry. My hands look and feel so much better now.
It is a little pricey but it is worth every cent.

The Best

This is the loveliest hand wash I've ever bought. The smell is so luxurious but not overpowering - and my hands don't get dry using it throughout the day. As someone who cooks a lot and is constantly washing their hands, this is a great thing! Would definitely recommend - favourite scent of all time :-)

Great

Lovely handwash, smells incredible and is non drying.

Aesop

I have eczema between my fingers and struggle to find a hand wash that doesn't irritate or dry it out. I love this hand wash from aesop because it makes my hands feel clean without making them excessively dry.

Smells amazing!

Doesn't dry the skin out and smells great.

Amazing smell

This soap smells amazing and leaves your hands feeling super soft. Highly recommend!

Luxurious

Aesop is my preferred bathroom brand for understated luxury, this soap is the best

Luxurious hand wash

My husband and I have been using this hand soap for a while now. It smells so nice and feels so good on the hands!

Best hand wash!

This one is a staple now in my household, despite the higher price tag.
It's great for sensitive hands, and does not make my hands dry either, which is an issue I have with generic supermarket handwashes.

Bathroom staple

An essential in my bathroom, beautiful scent and a little goes a long way so the bottle lasts ages.

great hand wash

smells so lovely and does not dry my hands

AMAZING

the most incredible scent. So worth the money

smells amazing

this smells absolutely amazing! so so soft on my hands too, i love it!

Luxury in a bottle

This handwash has such a beautiful scent, and it feels so luxurious when you use it. It's gentle, smells lovely and a little goes a long way

good for sensitive hands

this is good for my dry sensitive hands, it is expensive for how much you get though

my hands bestie

recently stocked up on this product due to the COVID-19 situation and absolutely loving the scent and how my hands feel after use! love it!

Love it

Non drying hand wash. I sometimes use it for my face as I keep it in my ensuite. Love the fresh scent of citrus and herbs.

Luxury Hand Soap

Really nice luxe touch to my guest bathroom.
Smells beautiful and very hydrating!

Amazing

Smells delicious and gently cleanses and soothes your hands !

Good for dry and sensitive hands

I get dermatitis on my hands and it doesn't dry it out or make it worse!

Hand's bestfriend

Smells good and you feel that your hands are softer than the usual handwash.

Great handsoap

This is the best handwash. I've been washing my hands with a very high frequency due to the Covid 19 situation, and it does the job without drying out my hands.

It smells nice, has a great consistency and looks nice on the bathroom sink.


Divine

This is beautiful, high quality, gentle and luxe. <3 <3

Lovely hand wash!

Love this hand wash! I use it for my guest bathroom and my visitors love it!

Our fav Handwash

Using this hand wash past 3 years. Amazing smell, great quality and bottle design.


Hbd care

I suffer from terrible dermatitis on my hands
People think this is a luxury hand wash I think it's an absolute necessity it's gentle cleasing and leaves your hand feeling fabulous

Love this handwash

We regularly purchase this hand wash for our ensuite (no kids allowed!)
It smells amazing and cleanses beautifully + because it's so concentrated, it lasts for ages.

Beautiful scent

This handwash has the most beautiful earthy/herbal scent that it great in the bathroom or kitchen and lasts a surprisingly long time.

Great hand wash for the kitchen

Lovely hand wash and the packaging looks amazing on any countertop. This one in particular I use in my kitchen - has an invigorating scent and really cleans well. Great product.

Old favourite

I love this product and have used it for years. Excellent hand wash, smells good and lasts for ages. Great together with their hand balm

Great choice

This hand wash smells amazing and it is great for the family and guests. It also does not leave my hand dry despite washing my hand many times

just wow

the smell is wow, I love the fact that it makes the hands feel so clean! I usually wash my hands twice but with these I only use it once because it really gives this nice feeling of cleanness.

aesop

lovely, non drying and lasts ages in the 500ml size

Deliciously smelling handwash

This is my favorite hand wash. The gel consistency, the beautiful smell, the hydrating effect, it's completely heavenly and leaves skin clean and soft, they all make for a wonderful experience. I cannot describe the smell, to me it is more about spices and wood than mandarin. I am really looking forward to try the other hand wash from Aesop. I highly recommend.

beautiful

beautiful handwash, a little pricey but it looks great and smells great for the kitchen and bathroom

love it so much

I love the scent so so much. Price not cheap but definitely worth it. Will buy again.

Calming and efficient

This hand wash does a great job of cleansing and leaving your skin smelling fresh and clean and feeling refreshed.

Divine!!

I always re purchase this, the scent is so gorgeous and uplifting and the product is really hydrating for a wash it doesn't strip at all and leaves hand soft and hydrated!

amazing

love this hand wash. amazing smell and makes my hands so soft

This scent <3

Such a beautiful scent! And a lush product. I knocked a star off because of the price which is a bit exxy. That said it lasts a while and it is chock full of premium ingredients.

The best handwash

Amazingly nourishing hand wash.
Leaves your skin hydrated and smelling great.
Worth the extra $$ - it lasts for ages, and is so nice to use!

aesop

i have sensitive skin and love the aesop hand wash, super hydrating and doesn't feel like your hands have been stripped after use. smell is refreshing

My all time fave handwash

I absolutely love the scent and the way it cleans without stripping moisture. Love this product

gorgeous

smells lovely and isnt drying. Aesop's my favourite brand, i love everything!

JUST LOVELY

I love this hand wash and it has become a favourite must have of mine. Stylish packaging and lovely fresh scent. I have this in the kitchen where I'm always washing my hands after food prep. It doesn't dry my hands out and helps to keep them moisturised.

A beautiful (but costly) hand wash!

I splurged on this, mainly because I know it's a luxe product and I like the look of it in my bathroom. It's beautiful, lasts for a long time and makes my hands feel really soft. The only thing that I struggle to wrap my head around is the price. If you can afford it and don't feel bad about spending $40 a pop on hand wash, go for your life! This will definitely be a "when guests come around" soap...

Read More

Good functional handwash

Love the pleasant fragrance of this hand wash everytime I use it. It's gentle and doesn't dry out the skin yet effective at the same time. It is pricey for a hand wash though.

Love it

I love this hand wash. I have been using it for a while and I personally love the fragrance and find the quality of the product wonderful.

soft and gentle

i have sensitive skin and love the aesop range. this hand wash is super hydrating and doesn't feel like your hands have been stripped after use. good for sensitive skin and the smell is a refreshing bonus

Smells so good

I received one of these as a Christmas gift otherwise I would never have tried it as it is quite expensive for a handwash. It smells very very nice, but not overpowering. I wash my hands more than the average person during the day as I am a germophobe and would never ever touch my face without washing my hands even in between my skincare or makeup application. As a result, my hands get very dry a...

Read More

great hand wash

love this hand wash so much. makes my hand feel so soft and smooth. highly recommend

Best Hand wash!

This is one of the best hand washes I've ever used, it cleans my hands without drying them out, and has the best texture. I love the smell too. It's expensive but lasts for ages.

Love it

A staple in my bath room, smells nice, made without harsh chemicals, expensive but worth it