Aesop Post-Poo Drops 100ml
An aromatic botanical bathroom deodoriser to combat the malodorous.

After vigorous activity has occurred in the bathroom, Post-Poo Drops' crisp citrus peel notes – fortified with rich floral elements – effectively neutralise disagreeable smells.
An aromatic botanical bathroom deodoriser to combat the malodorous.

After vigorous activity has occurred in the bathroom, Post-Poo Drops' crisp citrus peel notes – fortified with rich floral elements – effectively neutralise disagreeable smells.
Alcohol Denat., Polysorbate 80, Citrus Medica Limonum (Lemon) Peel Oil, Citrus Tangerina (Tangerine) Peel Oil, Citrus Nobilis (Mandarin Orange) Peel Oil, Cananga Odorata Flower Oil, Pelargonium Graveolens Extract, Geraniol, Citral, Linalool, d-Limonene, Farnesol.
This ingredients list for Aesop Post-Poo Drops is correct at the time of publishing, however is subject to change. Please consult the product packaging before applying, or contact Adore Beauty customer service for more information.
Postage & Delivery Estimates
Standard Australia Post : FREE

Express post : $6.95 or FREE orders $50+
Returns
Easy 90 day returns
Questions & Answers
(1 Question)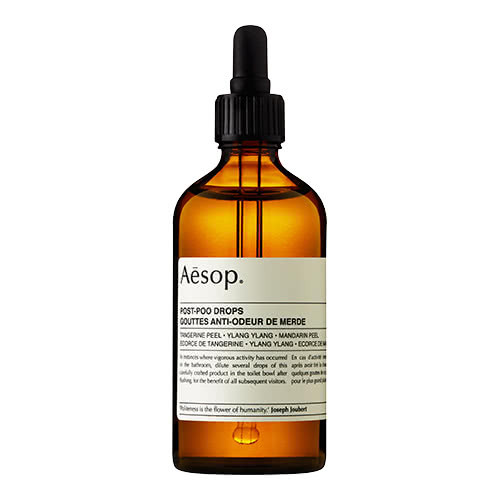 Aesop Post-Poo Drops
Get expert an expert to answer your question about this product!
Ask a Question
97% recommend this product
Most Helpful Positive
Great Product
This product is amazing! Eliminates all smells but doesn't make the bathroom smell like traditional air fresheners.
Great Product

This product is amazing! Eliminates all smells but doesn't make the bathroom smell like traditional air fresheners.

A bathroom essential

An excellent scent diffuser. And a cute addition to the bathroom. It come it a really nice bottle and is well priced (considering how much you get).

Worth it!

I had to try it after reading the reviews, as I hate the smell of most air freshener sprays..... this stuff is the bomb! Love it.

Excellent product

A beautiful smell, much nicer than VIP. It does what it says. This is a bathroom necessity when living with males.

Great

These drops work wonders. Little miracles in a dropper. I've given these as housewarming presents for two years and now all of my friends want to know where they can buy them.


Fresh Air

These leave a really nice long lasting fresh smell. TIP you can also use the drops in the kitchen sink which I love to do after completing the dishes.

Great

Lovely smell, and it lasts for ages. Tasteful packaging and about three million times better than cheap supermarket air freshener.

It's an utterly first world product that I kinda wish I never bought because now i can't stop.

Wonderful product

I must admit I was a bit skeptical as to weather this product would neutralise bathroom odours and I was pleasantly surprised, not only does it work but it smells great, unlike those awful sprays that you purchase in the supermarket that just make the smell worse, with this product you just need a couple of drops and the job is done. I will definitely be purchasing this again in the future.

The best present we've been given

When you live in a small share house with boys, this is the ultimate present to have been given. I love that it is tasteful in it's packaging and so keeps the bathroom look classy, whilst having the word poo on it.

I'll definitely re-buy when it's finished.

really works

This is a nice alternative to those horrible sprays! and works just as well if not better

Outstanding product

I was a bit sceptical about the performance of this product, but it really does work and you don't need to use very much. An original idea for dealing with an age old problem.
This is my first experience of purchasing through Adore Beauty. Not sure I would use again. I received one free sample, not the advertised two. Not that this was the reason for purchasing the product.

Gorgeous scent

I love the scent of this bathroom product and works so well leaving the room smelling fresh and clean with a pleasant smell. I have bought this several times as i use this throughout the house also.

Works!

Love this product and works a lot better than some other, cheaper brands. As a gift, perfect blend of funny/not-so-serious but actually practical, works, and is a luxurious gift!

AESOP POST-POO DROPS

I bought this as a joke present for my husband but it turned out to be astonishingly good! They leave a pleasant fresh scent and do wonders to tackle the less welcome smells that inhabit that area of the house! They are so good I have bought some more for our other bathroom too!

Best bathroom edition

Great bathroom addition, and smells a lot nicer than previous brands I've used.

No more poo shame!

This smells amazing! I find myself using it when I don't need to because it gives the bathroom a nice aroma. Much nicer to have this sitting in the bathroom as well rather than a nasty spray bottle. I'm usually quite sensitive to bathroom sprays so these drops are perfect - guests always comment too.

Recommend!

We recently finished our en-suite renovation and I splurged on a few Aesop products to deck it out. This one I was unsure about but it works an absolute treat!! I do wish they would reconsider the name but I guess that is what it is... Will definitely keep in mind as a funny/useful gift in future!

My boyfriends best friend

I bought this for my boyfriend as a joke however it is now a state in our home and I don't think we could live without it anymore. Its an absolute lifesaver, literally.

AMAZING

smell amazing, but it's far nicer and a lot more subtle than the usual supermarket branded spray. Great bathroom addition, and smells a lot nicer than previous brands I've used.

Amazing scent

Really works on covering any bathroom smells and is so luxurious. The scent is so calming I even use throughout the house.

Essential staple for the home

I received these drops as a house warming gift. They have since become a staple in my bathroom. So pleasant smelling and are very effective at making bathroom odour disappear. I have repurchased multiple times.

Life changing

These seem like a funny product but its actually an incredible innovation. Works so well and perfect for when you have guests over. Love the scent

A laughable life changer

I initially purchased this for a bit of a laugh with my partner, but have to say it's a beautiful product - not surprising from Aesop.
Not only does it smell amazing, but it's far more luxe and a whole lot more subtle than the usual supermarket branded spray that awkwardly sits to the side and smells awfully like my Nanna's garden.

Cute but works

I bought some of theses for a stocking stuffer for Christmas and its a cute little giggle. Bottle looks nice in the bathroom and its a fresh smell that isn't over powering.

cute and effective!

I got this as a cheeky present and I just love it, it works great and also gives a giggle to all my guests!

5 stars

Love it! smells really good and actually does work

Cute addition to the bathroom

This was bought on a whim, but actually smelt really decent. Makes the bathroom a tad more fancy as well. It almost neutralises the smell with its fragrance rather than mask the smell. Con: Very expensive for what it is though.

You know what it's for

Covers up unpleasant bathroom doors just like it says it does. Cute enough bottle that I can leave it out when guests are over.

Thought this was gimmicky but actually AMAZING

When I first saw this product I thought it was really gimmicky and a limited-edition one off thing that no one would seriously buy/have a use for, right? But I needed to reach free shipping and bought this on a whim having read the reviews and its so good! It adds that aesop scent we all know and love without being overpowering and is especially good to use when guests are over

Good!

Surprisingly works a treat! A little goes a long way with this product. I bought this for my boyfriend as a funny but actually works gift.

Great

I bought this because it made me smile and having tried it, loved the scent (and hate fake sprays). Not only that - but is a subtle and stylish addition to the bathroom. It does everything it needs to and I'm now buying as fun Christmas gifts for those hard to buy for people who I know will appreciate it the way I do!

Surprisingly amazing

I was surprised at how great this product was. My partner got this as a funny gift, but it turned out to be amazing and what we needed in our bathrooms. Pleasant smell and much better than the usual bathroom sprays.

Beautiful scent. Amazing deodoriser

This works wonders all over the house. I use this in the bathroom kitchen, and even use a drop in the ducted heating vents . So good.

Interesting concept, but it works

great product, works really well at masking any unwanted scents!

Love it

i seriously love this product!! Also a funny gift.

Lovely scent

This product smells absolutely gorgeous. The dropper makes it very easy to use, and you only need to use a little bit so it lasts for ages.

a small bit goes a long way!

Great for all size bathrooms, i put a drop in the toilet, basin and bath and works well in the kitchen in the sink after cooking. Dont need to use much a little bit goes a long way!

Wonderful scent

I really love the orange notes of this. I cant be without it!

A stylish solution to a not so stylish problem

Let's just say, it works! And the bottle is much nicer than a can of spray.

Would make a great gift

So much nicer than regular toilet sprays, not a fake smelling scent at all! Also look stylish in the bathroom, definitely a talking point when friends come over.

Smells wonderful

I was really confused about how these would work but they're actually great. Smells lovely and they last for a long time! Would definitely recommend trying them. So much better than the cheap sprays that you buy from the grocery store

Totally Works!

if bathroom smells are something that you are worried about, this product makes the room smell like citrus, fresh and clean. I had doubts it would work, but now, I can keep up the facade that I never poo, thanks to Aesop!

Useful

Great product to put in the guest bathroom, or any bathroom. Neutralizes any nasty odours.

Works a treat!!!

This product might be a little expensive compared to department store sprays, however its worth it.
It masks smell more than other sprays that simply mix with bathroom smells. It also looks better than other bathroom sprays.

Since getting as a gift, I have purchased it every other month..

Natural and gives a giggle

I was given this a gift, and though I would never have thought to purchase for myself, it is such a nice addition to the bathroom. The bottle always gives our guests a little giggle, and it is lovely to have a natural oil in the bathroom instead of the usual synthetic 'smell' masking products. If only I could ensure that my husband would remember to use it!

Wow

I am shocked how great these work! I have one in every toilet in my house, and one in my bag. It's amazing!

Cannot believe how effective these are!

Like the other reviewers, I was super skeptical, but these totally work!
They don't work like a spray that tries to mask odors while filling your bathroom with an overpowering toilet spray smell; they smell more like a citrusy alcohol that doesn't really leave any smell behind.
I would liken the way they work to mouth wash eliminating bad breath (and they kind of smell mouthwash-ish). You drop them in the water, the bad smells dissipate, and there isn't really any smell left behind -- of the toilet or the product.
You only use a few drops, so a bottle will last you months! I am totally converted and will never purchase toilet spray again.

Super skeptical initially but so effective!

I have to admit when Aesop first released this product I very much rolled my eyes at the idea. However, having tried it at a friend's home it really is incredibly effective at addressing an embarrassing problem everyone has, but no one discusses in a manner most typical of Aesop - elegantly and wonderfully fragranced. Have since purchased for my family and it keeps the peace at home!

Fun light heart gift

Love this product it's just a light hearted fun bottle to sit in the bathroom. On to my second bottle already

It actually works

I initially was skeptical about this product but it does work! Will definitely repurchase this

Happy with purchase

These drops are so much nicer to use than a typical toilet spray which tend to be horribly sweet, overpowering and obvious as to what has just taken place in the rest room. The drops have quite an inconspicuous, natural smell and almost instantly disguise the prior odour. I also agree with other reviews, the bottle looks very sophisticated sitting on top of the toilet. However, I am in fear that the man of the house may accidentally knock it off and I'm not sure such a pretty bottle would survive a fall from that height.

Am I the only one who doesn't get it?

I love Aesop as much as the next person (hence why I'd pay $29 for air freshener) but I just don't find this product very effective. It doesn't neutralise in the slightest... but it is a mildly nice smell!

Classy

This is such a fancy looking product for not such a flattering use. Makes me feel so fancy and it smells very strongly which is great. Loveeee

Pootentially Effective

There's nothing that can get rid of natural smells of waste, but at least with this you can bear going to the toilet immediately even after being used for you know what.

GIFT

I bought these as a present for a friend ('marriage survival kit'!) and had such brilliant feedback that I had to buy them myself. I have to say these are so popular that they were sold out in a lot of shops. It smells lovely and really does work! Looks so classy so no one will think its strange to have them in your bathroom.

YAS QUEEN

I needed these.

I have a great roommate, but she had a bad habit of stinking up the bathroom.

This product has saved our relationship.

thanks Aesop.

No more stinky poo

Initially purchased these, simply for the name. However, i have found that these make my bathroom smell lovely and really help mask the smell of my husbands stinky poos.

Best smelling bathroom ever!

These post poo drops are incredible. Fixes bathroom stank right up and sticks around too. Super true-to-aesop scent with lots of citrus. Love LOVE it, will never go without again.

Best on the Market!

I prefer this to supermarket sprays so much! Bottle looks great as well - and it's always a topic of conversation with visitors. Price point suits the product as it lasts for ages!

Smell great

This product is great at masking bad smells in the bathroom and does the job well.

Nice smell and cute bottle

I hate the smell of supermarket air fresheners but this is a nice subtle citrus smell, and the bottle is always a giggle for guests when they are over.

Funny and good!

These drops have replaced normal bathroom spray! Love it!

Wish they were a bit more 'Poo'-tent!!

Great packaging, great gift idea, and great smell. The only thing is the smell doesn't linger very long. Definitely gives a quick burst of lovely citrus fragrance to combat any odours, but this dissipates really quickly. Wish the lovely smell lingered longer, but that's the only fault!

Luxury in the loo

Smells divine, lasts a long time and offers a bit of luxury for guests in the bathroom. Not necessarily a must have (I'd consider this a luxury item), but if you're looking for something to make your toilet going experience pleasant - this is perfect!

Forget Glen 20. Get this stuff

I will NEVER use one of those supermarket sprays again. Literally 2 or 3 drops into the toilet after use and the smell instantly goes away and doesn't leave the nasty waft that so many supermarket sprays does. Aesop make quality products that last for months and months. This will now become a staple in our household

13/10 would poop pleasantly again

This literally saved my a** on a date! Mid poop there was a knock at the front door, with no windows and hardly any ventilation, I was sh*tting bricks, (you have to pass the bathroom as you enter the front door!) Thankfully I remembered I had armed myself with this citrusy goodness blessed by the toilet Gods themselves and after a few several drops, (mind you, 2 or 3 will do but I wasn't taking any chances!) and you literally couldn't smell sh*t! Thank you so much for creating this liquid gold, now if you could make a smaller travel size for sleepovers, that would be great! :D

Great to have the in the toilet!

This will last forever because you don't need much. Aesop is great and nothing can beat it :)

Saviour in the bathroom!

This is a must-have in any bathroom! No one wants a smelly space. The scent is fresh and conceals odours very well. The dropper is much easier to use than a spray bottle. It's a great price point for such a quality product. A little goes a long way!

Bathroom staple

A new staple for our toilet. It looks better than a spray bottle and works really well.

Great to cover up nasty smells

Lovely smell to cover up any nasty odours caused in the bathroom!

Perfect gift

I love this product. This is my go-to gift for family, friends and work colleagues. It is such a practical and convenient item but also makes for quite a unique and amusing gift. Also, its a product that people rarely buy for themselves but end up using all the time. The product works as described and I carry a bottle in my handbag wherever I go just in case. I strongly reccomend!!

LOVE

Excellent product that all my guests love -- including my partner! Only need to use a few drops and it lasts for ages so well worth the money. Will purchase again!

NO MORE UNWANTED, ALBEIT NATURAL ODOURS!

I'm not an uptight person when it comes to bodily functions, however one thing I can't stand is the scent of anyone's poo post loo time! So this is a gem. No more incense ash to clean up and definitely no use of fluorocarbon polluting sprays. It's an easy and pleasant fix: just flush one's loo, wash hands thoroughly and dry, then use a couple of drops in the bowl. Easy-peasy-lemon-squeezy as the funny politician in 'IN THE LOOP' so amusingly states. Your guests and co-inhabitants at home will thank you. You no longer need keep fans extracting for half an hour. Nor a window wide open in the middle of a chilly winter or boiling Australian summer. Excellent value too.

LOVE

I love this product! It really is amazing! It's not a strong smell, quite subtle, but it leaves our toilet smelling so fresh and really takes away any awful smells. You don't need much - only 2-3 drops in the bowl - and it makes such a difference. Our current bottle has lasted us about 2-3 months now and there is still 1/4 left.
My husband loves it too!

A perfect post poo cover-up!

I love the fresh herbal scent and it really does a great job in covering up the terrible post poo smell. I'm not digging the cloudy texture when it's diluted with the toilet bowl water. It's expensive but you only need a couple drops of it so it should last for 1-2 months.