Aesop Post-Poo Drops 100ml
4 instalments of $7.50
Or 4 instalments of $7.50 with
LEARN MORE
Some delays due to high volume. COVID-19 update
4 instalments of $7.50
Or 4 instalments of $7.50 with
LEARN MORE
Official Stockist
FLAMMABLE

This item is flammable therefore postage is restricted to Standard Post within Australia
Is this for you?
An aromatic botanical bathroom deodoriser to combat the malodorous.
Cruelty Free
Vegan
Australian Made
Sulphate Free
Frequently bought with
Please wait while we find a match
Questions & Answers
(3 Questions)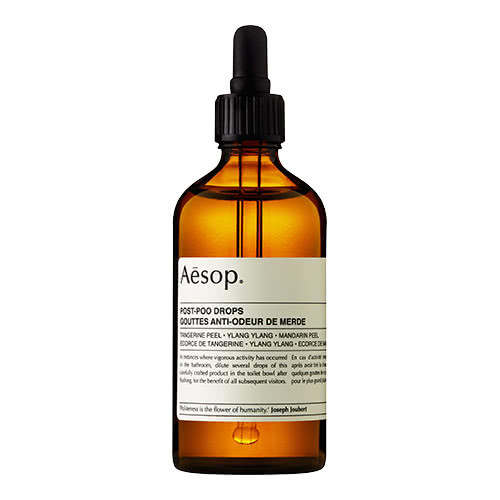 Aesop Post-Poo Drops
Get an expert to answer your question about this product!
93% recommend this product
Most Helpful Positive
Amazing
Covers the smell almost completely!
Most Helpful Criticism
for the bathroom
Hilarious product, though I do think an air freshener works more effectively but we still have a bottle in the bathroom. Don't think it works as well as poo pourri which I've heard great things about
Amazing

Covers the smell almost completely!

Boogie, but good!

Definitely a boogie toilet addition, however it's completely necessary when you live with my boyfriend. I love that the packaging is classic Aesop luxe realness and adds a beautiful touch to the bathroom. The smells is soft and subtle, however does a lovely job to eliminate some odour. I feel like the smell could be stronger, so to fill more of the bathroom air rather than just immediately where t...

Read More

Great for a sharehouse

My old housemates and I went through a couple of bottles of this and we loved it. The scent is strong but nice and we found it a good way to conceal a smelly bathroom using a natural product and not something with chemicals in it

Never thought i would need this

Never thought i would need this, until i got more family friends visiting, and is awesome that it covers the smell.

Smells good, does not work

This smells really good, but it does not last long. Also it is $30 for a product that is meant to be air freshener yet is way more expensive than a normal air freshener. This is good to make your bathroom smell good for 10 minutes - it does not cover up bad odours.

A unique and (fun!) product

My friend brought this along to a cruise vacation we went on and I was able to also use this. It was great to use after you go to the bathroom and leaves a very nice scent! A must if you will be sharing a bathroom with multiple people!

like it

tihs one is funny, got it cause recommended by a magazine. and couldn't belive i would need one.

Really does work!

Not only does having Aesop in your bathroom really help to elevate a room with it's reputable decadence, just two drops of this (lasts forever too) and you'll never have known anyone had ever been in there!

aesop post poo

mask odours in a natural, pleasant way. no artificially sweet, chemically scent like you find with other air fresheners

They work!!

All I can say is they work!! Quit buying the ones from he supermarket and invest in this, it works and looks beautiful in your bathroom too

works!

This works so well I was quite shocked when I first used it but now I will always have it in my bathroom!

I know you'd like to think your shit don't stink

Despite the fact that I poop scentless gold mini nugs, I am onto my second bottle of Aesop's poo poo drops! These are not an extravagence but an absolute necessity if you live with anyone, hell if you want to be able to look yourself in the mirror after a curry then buy. these. drops!

Like all Aesop products, the fragrance is earthy and rich without being sweet or sickly smelling. T...

Read More

Household essential

This is an amazing stuff. It works really well at eliminating all smells and has no chemical residue.

Best smell for the bathroom

Yes it's expensive but it does last a long time - both in the bottle and the lingering smell in the bathroom. I haven't found another air freshener that compares - and it does so well at masking odours! Only problem I found was the dropper cap broke after only a few uses. Will re purchase though, because I'm a sucker for good smells.

Good addition to the bathroom

I received this as a gift and I thought it was a good. The product does what it says and leave the bathroom smelling great.

Great house warming gift!

I love getting this for friends moving in with their partners! Is such a fun gift and best part is... they actually work and lasts a long time!

Fun product

I received this as a gift otherwise I don't think I would have purchased it. It does work as it said and I do get comments from guests very often.

Aesthetically pleasing and functional

This little brown bottle looks good in my bathroom and also smells amazing. The smell is clean and can cut through unwanted odours in an instant. I originally bought it because I thought it looked cool but was surprised at how much I love it.

Aesthetically pleasing and functional

This little brown bottle looks good in my bathroom and also smells amazing. The smell is clean and can cut through unwanted odours in an instant. I originally bought it because I thought it looked cool but was surprised at how much I love it.

Work so well

This product not only looks so lux in your bathroom it really works to cover odour and lasts so long

Doesn't work but a bougie bathroom accessory

Basically this is for people who want to waste money on an aesthetic (myself included). Does absolutely nothing really. Doesn't freshen but leaves the water looking milky with a slight orange smell in the air.
Once it's empty I might try a diy essential and keep it in this bottle... couldn't do a worse job.

So random!

This has to be the most random purchase, but it was necessary to complete my Aesop bathroom collection!
They do work, but it requires you leave the toilet lid up, in order for the fragrance to diffuse after use :/

Works well if you place a few drops down the hand basin too!

lasts forever

adds a little luxury to a not so luxurious time. aBsolutely love this fragrance, not fake or overpowering and it easily gets the job done

Very nice

Not as strong as traditional air fresheners but I still continue to buy it! Not only does it have a fun product name, but it also has a great smell.


Nice surprise

This is such a smart nice product ! only need one or two drop and last for a while

Swear by!

My friend introduced me to these drops after I used their toilet. They are amazing! Actually works and you only need to use a drop or two so it lasts forever! Beautiful smell.

kind of gimmicky

Fragrance is a bit meh, you're better off using a citrus toilet gel

Nice surprise

This is one of my best non beauty related purchase. Absolutely love it !

Amusing but effective

This is an admittedly amusing product and I was surprised to find that it actually worked! Rather unlike air fresheners that have an overpowering and artificial scent, this product makes the bathroom smell wonderful and really does neutralise (or at least mask) unwanted scents.

Great product

This is a great little product that has just the right amount of fragrance! Lovely to keep the bathroom smelling fresh without any nasty chemicals

Works effectively

Nice product, gives a citrus smell in the bathroom

I like to give this to people for Christmas, it's a funny little gift

I like to give this to people for Christmas, it's a fun little gift. I think it makes a big difference to the smell of the loo too.

Amazing

This is a must have in the toilet or bathroom and it beats all sprays hands down. I will be using this all the time now.

Perfect balance

This product strikes the perfect balance between eliminating odours without filling the whole house with an overpowering, unnatural fragrance. As you would expect, the drop have a delight scent which if anything - could be a little stronger.

Magic

This stuff is MAGIC. Smells divine and actually works. And the bottle lasts a surprisingly long time!

Love it

Great concept and beautiful packaging for a not so classy product. Much prefer this to your standard airfreshers which just smell like my grandmas house

Great product

I love having bottle of this in my guest bathroom. Not only does it have a fun product name, but it also has a great smell. Not as strong as traditional air fresheners but I still continue to buy it :)

No.2's secret weapon

These drops really work. I was a little concerned about the price however the product lasts and lasts, and for the quality I think it is good value. Only a few drops left in the bowl after flushing fills the air with a much more pleasant odour than what preceded it! The scent is beautiful...luxurious.....
These will be a staple in our en-suite from now on.

Fantastic alternative to sprays!

Purchased these as I'm an asthmatic and sensitive to sprays. These drops are fantastic and smell beautiful, not fake or artificial- just your typical "Aesop smell". Only thing I'll say is that if you accidentally drop it on the seat and don't realise it stains a little bit and looks like wee on the seat. It does come off with toilet cleaner so nothing permanent, but can be annoying so make sure yo...

Read More

Will Buy Again - Staple Product!

These are bloody great. Legit one drop and it stops the smell in the toilet. Will keep on top of the toilet forever. Very discreet so even after use you cannot smell a weird cover up smell. It's just fresher!

Luxury!

I am a big fan of Aesop and was not disappointed by the Post-Poo Drops. The botanical fragrance is beautiful and the ease of the pipette is both efficient and helps you to judge the correct quantity. The scent masks odour and lasts for a couple of hours, if I am picky I would love for it to last a little longer. I also use it in my sinks as well as the shower and bath.

The best

Love these - effective, smells lovely unlike fake air freshener scent and the bottle lasts a surprisingly long time.

Excellent house warming gift idea

This is an excellent house warming present! I've bought it a few times as a gift and also have one in my bathroom. This has a nice smell and helps 'cut' through undesirable bathroom smells. Also looks cute on my shelf. Will continue to buy this again and again.

Love it

I was looking for a way to keep my bathroom smelling fresh without using sprays that always fade away. This is a wonderful alternative, you can put a couple drops in the basin or shower and the scent will last all day.
I feel it eliminates odours, rather than masking which is perfect.

Funny!

I like these post poo drops! They always make my guests have a giggle but they honestly work really well at masking bad smells. A little pricy but worth it in my opinion

Fancy

So the name itself is funny but it is a great product. I fine it is much more effective than spray and the smell isn't very intense but still powerful to mask any smell

Keeps hands in good condition

I suffer badly from dry hands so really appreciate this hand wash which is lovely on my hands. I need to wash my hands frequently, so to have a product that washes and moisturisers at the same time is absolutely ideal. I even use it on my face cause it is natural and doesn't irritate.

share house is happy

I live in a busy share house so the look gets a real workout, this stuff works really well and taking that horrid smell away, I think air sprays mask the smell where this product equalisers the bad smell.

Makes a great present for the person who has everything!

My partner and I have a $30 cap limit for presents and this was such a great 'novelty' present that actually is useful and of the normal quality you would expect from Aesop. I prefer this over the sprays too - so the product residue isn't sitting on the toilet or walls.

for the bathroom

Hilarious product, though I do think an air freshener works more effectively but we still have a bottle in the bathroom. Don't think it works as well as poo pourri which I've heard great things about

Smells fabulous, works a treat, family love it

Decided it was time to make all aspects of the bathroom elegant...! Smells fab, love it, onto my second bottle.

Smells great but does not last

I was disappointed with my purchase. It smells great from the bottle, but it seems that the smells dissipate as soon as it goes into the toilet bowl. I think an air freshener would do a better job with half of the price.

Must have

My friend recommended this product to me.
It has basically saved my relationship!

Good

this product does what it says by taking away the odor. Make the bathroom smell good

Cute but overpriced

Nicely presented and a cute idea to leave drops out for when company is over. It Doe's what it says it will do. Having said that, $30 for some drops for the toilet is a bit dear

works

Great product for the guest bathroom and it works!

Very effective

A nice product which does work, and is so very easy to use. Looks very discreet too. The smell works quickly too and is really lovely and natural

Best product

Awesome, no more waiting for the bathroom to clear of smells or using those dreadful sprays.

Very good

This is great, just a few drops is all that is needed, I was a bit skeptical purchasing this due to the price but have found it to be fantastic.

Does what it says

This bottle is like magic, the odour goes almost immediately and there is no more complaining of smelly bathrooms in our house.

Effective, but dollars down the drain

Definitely effective, almost has the effect of a room spray. There's something though that doesn't feel quite right about dropping those Aesop essential oils that are worth so much down the toilet, and it leaves me wondering if money would be better spent on that room spray.

Effective

Actually is very effective for calming down smells. Inconspicuous bottle is easy to store

funny but useful

We keep this in the guest bathroom and it's a funny but useful product. Kind like poo pourri

Surprised how well they work

I thought it was a gimmick but these actually smell great, and the little bottle is very unobtrusive for the bathroom.

Surprisingly love this!

I kind of bought this as a joke but then when I used it I found that it really worked, and I now love it. If I were Aesop, I would be making handbag friendly, travel size bottles.

Great

I have to say, this really works. Thank the lord I can now go into the bathroom straight after my partner!

gets rid of smells, doesn't just mask them!

Been buying this product for years and it really works! Actually dissolves the smell instead of just mixing in with it. Lasts a while so worth the price. Also a great house warming gift!

Works well

I have a bathroom and toilet without external ventilation and sometimes it can get rather smelly, and just a few drops of the liquid and what a difference it makes, no need to wait extended periods before using the toilet any more.

Works wonders!

Straight after doing your biz, add a couple of drops and BAM! Everything smells clean and fresh and no one noticed that you had a burrito last night lmao.

Always a pleasure dealing with your company A+

These drops are just great for the bathroom always makes my bathroom smell fantastic and the bottle goes a long way.Aesop is a really good brand and I dont waste my time buying any other now as they are expensive and dont have longevity a as these drops have.

Seems like a gimmick but works!

This product is honestly so good. It can cut through any smell and, like it suggests, is great to use after your male partner has used the bathroom. Nice citrus smell.

Smells great

Smells great and great for when you have guests

Gorgeous smell

What a gorgeous product this is, you only need a couple of drops and the bathroom smells fabulous, I love Aesop's packaging and my friends always comment when they see Aesop products around my home.

Obsessed

These leave your house and toilet smelling fantastic. Never that awkward moment when you go do your business and have visitors over anymore! Recommend!!

great for the bathroom

This is great for the bathroom and my friends really get a kick out of it. It is also effective

Great solution for the inevitable

Adjusts the scent of any bathroom odours, i like to have it out for guests but my mum finds it very not-PC to do that!! The purpose of a bathroom is a reality so good to have a nice smelling and looking solution when required.

Works a treat!

Most amazing smell eliminator ever! A few drops into the bowl post flush and the room smells heavenly. These drops really work and last for ages.

not bad

stop the odor but rather pricy sure supermarket items could do the same

Smells great! Works well!

This is a super great product to have in the bathroom! Just one or two drops wrks well

a bathroom/toilet staple

it works wonders, the smell is divine (as per all Aesop products)...you really just can't go wrong!

love

fun product and it actually works

Bought as a joke for my husband

.... And I'm so glad I did! Smells amazing and fresh. Will last longer than other air fresheners, even for the expense.

Just delightful

These drops work wonders. A subtle way to solve a dare I say stinky problem.
Love the packaging and the scent is divine.

Smells great but is very expensive

Not sure about this one it smells great but works as good as any other essential oil or room spray for half the price.

I bought it for my cat

Fun product, give me good emotion.i also use it after my cat poopoo

Cute product

Bit of fun, quite expensive for what is essentially an air freshener but looks very stylish in the toilet. This is always a gift I get people when I can't think of what to get them

love it

Honestly this is too expensive for what it is really, but I just love the look and smell, most of these things I find smell absolutely awful, barely better than what youre covering up lol. But this is so nice and fresh

works but is expensive

Ok so this works well. Looks good in the bathroom. BUT... it is expensive just for an air freshener

The perfect gift!

Does so well to neutralise odour without the fake smell whilst being easy on the eye!

Adds a touch of class to toilet visits and makes for a humorous gift.

I like that the smell isn't fake or sweet like most fresheners are. As always the packaging is on point and contrary to being embarrassed when guests are over it often turns into a some times hilarious conversation point after guest visit the toilet.

I'd also recommend this as a great gift option when buying for someone who has 'everything.'

Cute present!

I purchased these for my parents as a present when they renovated the bathroom. They're expensive for an air freshener but a cute/funny gift.

Smell lovely and much nicer than an air freshener!

Miracle in a bottle

These drops work wonders. Little miracles in a dropper. I've given these as housewarming presents for two years and now all of my friends want to know where they can buy them.

Gorgeous

I wouldn't have brought this on my
Own accord but a visit to my mother in laws house and I noticed she had these drops so I thought I should give them a go.
It was gorgeous without making it smell too scented like some toilet sprays.

This wouldn't be on my list to purchase over and over again but if you have extra $$ give it a shot.

One of their best

These drops work wonders. Little miracles in a dropper. I've given these as housewarming presents for two years and now all of my friends want to know where they can buy them.


Hands down - best present idea

This is a fab present idea when you don't know what to get someone. I've used it so many times, and have kept one for myself, does it do exactly what it describes? Yup!

Worth every penny

I love this product and it works so well to eliminate bathroom and toilet odours.

Boujee but worth it!

Are Aesop products pricey? Sure. But are they packaged beautifully? Smell amazing? And all round fabulous? Absolutely! I treated myself to another addition to my IG worthy bathroom and so glad I did. Practical and looks beaaaaautiful!

Great!

Smells divine and makes your bathroom look lovely too.

Great Product

This product is amazing! Eliminates all smells but doesn't make the bathroom smell like traditional air fresheners.

A bathroom essential

An excellent scent diffuser. And a cute addition to the bathroom. It come it a really nice bottle and is well priced (considering how much you get).