Aesop Lucent Facial Concentrate 60ml
Skin Concern:
First signs of ageing
Oiliness and shine
Skin Type:
Normal to dry
Normal to oily
Oily
Questions & Answers
(No Questions Yet)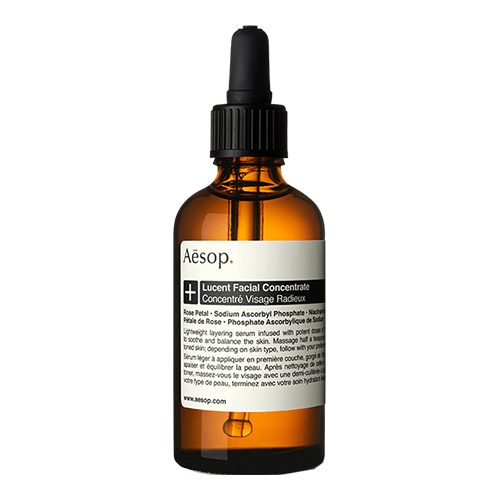 Aesop Lucent Facial Concentrate
Get an expert to answer your question about this product!
Ask a Question
63% recommend this product
Most Helpful Positive
new found love
My skin and noticeably softer and smoother. I will definitely buy this again when it runs out.

Most Helpful Criticism
Underwhelming
I was expecting it to be more nourishing, it was very light and nice to wear but didn't feel like it did much
Underwhelming

I was expecting it to be more nourishing, it was very light and nice to wear but didn't feel like it did much

Not hydrating enough

This is a lovely light hydrator it definitely was not enough for my dry skin it felt like a very thin layer then disappeared.

new found love

My skin and noticeably softer and smoother. I will definitely buy this again when it runs out.


Amazing

Such an incredible face oil, it smells incredible and completely revitalizes my skin. It's so expensive though, so I try to use it sparingly. Definitely worth the investment.

BEST serum there is!

Love this serum it's my favourite Aesop product, delivers hydration and vitamins without the sticky feeling. Best thing about it is the smell it's like a bunch of roses, just beautiful. Skin feels so smooth after use, and you can layer moisturiser or an oil over the top. Love it!

Great

This was a nice hydrating serum for the summer, but it sure wasn't worth the price tag. I bought this wanting to have a serum in my arsenal that I could use during the day to supply active brightening ingredients to my skin to help fade all my post inflammatory hyper-pigmentation and erythema but the concentrations were perhaps too weak for this serum didn't perform too well as a brightener.

Great hydration and non greasy

Easy absorption and no greasy at all. It is very light and watery gel, good for the sensitive skin, very good hydration, but smells so so.

Beautiful feel and finish!

Amazing product! My dry skin feels like silk after putting this on top of the rest of my skincare products. I love the smell, the feel, the finish. Love it all!

Not worth it

This is pretty pricey for a serum and it didn't really do much for me other than slightly hydrate. I know it has vitamin c in it too, but I just didn't see an improvement with my skin

Yes, Yes, Yes!!

Okay, I seriously love this! While the price tag is quite high, you really don't need much of it, so I feel like it will last awhile and the price is justified. Oily combination skin here; this really soaks into my skin like a sponge, and doesn't leave it feeling sticky or that there is a residue, like a regular serum would. The smell is also AMAZING!! I will definitely be repurchasing

Aesop Lucent Facial Concentrate

My skin and noticeably softer and smoother. I will definitely buy this again when it runs out.

Good

Has a nice scent and feels lightly hydrating on the skin. It absorbs really fast. Not sure if I would repurchase, it's not the best hydrating serum I've tried, but I do really like the soft rose scent

Lots to like

Smells amaaazing (a sweet rose smell that isn't cloying and dissipates fairly quickly) and has a wonderful texture for a serum - super slippery and you really only need the tiniest amount to fully spread over your face/neck/chest. Sinks in instantly. Just wish it came in more stable packaging.

loveeee

This is a dream come true for oily skin!!!! Balances oil and makes my skin feel great

Great for oily skin

This is the only hydration product that doesn't clog my very oily skin - I'm over the moon!

Hydrating and Plumping

Received a small sample of this - it was a really nice textured facial felt really nice to apply. Really calming scent to it also. Left my skin feeling really hydrated and plump. Giving it 4 stars because of the price, I personally wouldn't pay $120 for it.

Love it!

It's a great product which smells great, works for my flakiness, and skin tone. Great little dropper dispenser too.

Beautiful product

I received this as a sample a few weeks ago and it smells really lovely and feels really cool and calm on the face. My skin felt amazing afterwards. Very hydrating facial. Only gave it 4 stars because of the price. Not sure I would spend $120 on it.

Lovely serum like facial

I recently received a sample of this. Putting aside the price I think it was a really lovely facial it was a cool clear facial that really felt nice on the skin which I loved. My skin did feel really hydrated when putting it on and once it was off. I personally wouldn't pay $120 for a bottle of it but would 100% recommend to anyone who would. Great facial.

Smells good

This has a lovely rose smell. Didn't see much of a difference in my skin though and it made it feel quite tight before moisturising.

It smells divine

face product that smells like Aesop shop - Love it. I will definitely repurchase as it leaves my face glowing and feeling so soft and supple.

Nice product but not sure

I received this as a sample recently and even for a sample size it did last several days of use.

I loved the smell and feel of it as you apply it. However, it didn't find that it was overly moisturising (I have combination skin) and at first it has almost a sticky feel on the skin until it is absorbed. I found myself going back and applying an additional bit of my moisturiser. I would have considered buying this product, but the price of it and the feeling of not complete hydration means I just can't justify it.

Beautiful facial

I received this in a sample and its really hydrating and feels great on the skin. My skin felt really lovely after the first application. Personally I love all the AESOP facials. I only wouldn't purchase this one as it seems quite expensive. Otherwise its a great product.

Super Hydrating - Smells Great

I received this as a sample with an order and if it wasn't for the price I would 100% purchase a full size. It was a really cool gel like texture and after applying my skin felt really nice and hydrated. The next morning my skin still felt smooth and silky. Great facial.

Underwhelming

I have combination skin and found this serum a bit underwhelming, considering the price! It's nice and lightweight but didn't really do all that much for my skin

So luxurious

I love this concentrate as it feels like I am going to a professional salon. It feels lovely to apply and quite hydrating while still being light on the skin.

Not that great

I felt quite underwhelmed by this product, especially considering the price. I prefer a lot of other Aesop oils and serums that cost less.

apothecary

I love their apothecary style packaging but the pipette SO doesn't reach the bottom of the bottle. For this price, they could've done was include the pipette that had the reservoir thing so you can get all of the product with the dropper.

I have dry skin so I did have to add something with this serum to add more hydration before moisturizer but this would be enough for oily skin.

Best Vitamin C!

I have only been using this for a couple of months but am really happy with this one. I love the brightening effects of vitamin C but have struggle to find one I like. This is a lovely vicious serum with vitamins C and B3. Very hydrating and feels like a lux product.

I was using the Parsley Seed Anti Oxidant serum before this which I did love - and other vitamin Cs not from Aesop and struggled to find one I really liked . All though this Lucent Facial Concentrate is a bit more pricy than the Parsley Seed Serum - I like that it cuts out a step of adding another vitamin C product and is more potent with vitamins that I love so am happy to upgrade and pay a little more to have this in my new routine. Will repurchase.

Worth the price!

High price but lasts for months, definitely good value. I live in a really hot and humid area which means using face creams is a total no-no, unless you want to sweat profusely! I found that I could use this serum and it would totally sink in, no stickiness, just nice hydrated, not sweaty skin..!! Plus it smells lovely too. Highly recommend