Aesop blends plant-based botanicals with laboratory-made ingredients to create highly effective products, which are backed by scientific research. They have a team of skilled chemical scientists who work in a custom-built laboratory to research and develop ingredients and build prototypes, whilst their botanical ingredients are sourced from reputable suppliers around the globe. The combination of nature and science produces the finest products which nourish the skin, hair and body.
Where is Aesop Skincare from?
Aesop was founded in Melbourne in 1987 and has since become a global brand, delivering the finest quality skin, hair and body products enriched with botanical ingredients. Whilst they are still based in Melbourne, their huge success has allowed them to open offices all around the world including in New York, London, Paris, Tokyo and Hong Kong.
A Holistic Approach to Beauty
Aesop have adopted a holistic approach to beauty and believe strongly that beauty products should compliment a balanced lifestyle and offer protection against the 21st century environment we live in. Rather than packing their products full of anti-ageing ingredients, they focus on antioxidants to give your body that natural protection it needs to age gracefully.
Part of a Sustainable Lifestyle
Aesop understands the damage of free radicals on our skin, hair and body so enrich all of their products with antioxidants to help neutralise the free radicals. Their Parsley Seed Skin Care range is particularly potent in antioxidant ingredients and is suitable for all skin types. They also heavily promote a balanced and healthy lifestyle as stress, smoking, an unhealthy diet and lack of sleep can all heighten the damaging effects of free radicals.
All Aesop products are packaged in their iconic apothecary-style bottles and tubes, designed to add a touch of luxury to your home. Even their cult classic Post-Poo Drops have been created to look elegant in the bathroom.
A Growing Range
Aesop has developed a large product range to suit all of your beauty needs. From shampoos, conditioners and hair masks for all different hair types, to hand and body washes, hand creams and mouthwash. Their skincare range is one of their largest and features moisturisers, serums, cleansers, toners and more. Aesop are constantly developing and expanding their product range to feature new ingredients and formulas.
Aesop don't believe in throwing lots of potent and active ingredients at your body in the hope of undoing any damage, instead they aim to promote prevention whilst aiding any skincare concerns. If you want to age gracefully, with a touch of luxury, look no further than Aesop.
Official stockist of Aesop.
Showing 20 products of 128.
---
Recent reviews on Aesop products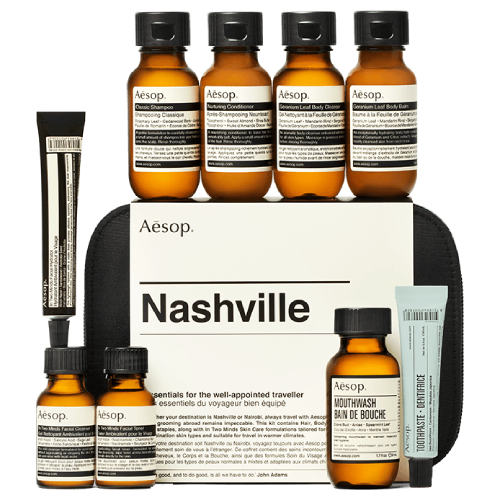 Aesop
Aesop Nashville Travel Kit
$80.00
Amazing!
My daughter bought me this pack when I was going away on a holiday to Europe and I absolutely love it. Love Aesop products, they are so good for my skin and smells so fresh and beautiful.


Aesop
Aesop Arrival Travel Kit
$41.00
so great for traveling
Great for travelling, very cute and definitely good value! Love these products anyway but together they're a great for gifting too.