Weleda Revitalising Hair Tonic 100ml
Hair Concern:
Brassy tones (blonde/grey hair)
Breakage and split ends
Dull, lacking shine
Fine or limp hair
Flaky scalp
Frizzy hair
Oily hair
Oily roots, dry ends
Thinning hair
Hair Curl Type:
Curly
Straight
Very curly/African/Caribbean
Wavy
Frequently bought with
Please wait while we find a match
Questions & Answers
(No Questions Yet)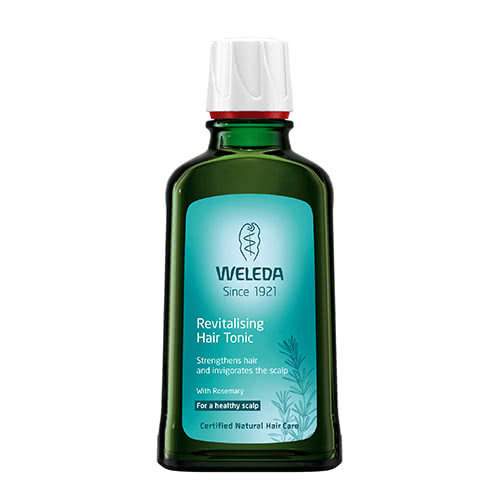 Weleda Revitalising Hair Tonic
Get an expert to answer your question about this product!
Ask a Question
100% recommend this product
Most Helpful Positive
Wonderful
I just decided to use it forever
Most Helpful Criticism
WELEDA REVITALISING HAIR TONIC
I have been using this for about 3 months. I have naturally curly hair and let it air dry 95% of the time.
Some days I will apply this (only a teensy amount) and my curls will look defined and lovely. Other days I'll apply the same amount and it looks like I've coated my hair in olive oil.
Wonderful

I just decided to use it forever

Helped my thinning hair

This hair tonic really helped my thinning hair, it's allowed me to fill out some spots on the near my temples that were looking a bit patchy when I have my hair up. It's really well priced and comes in a great bottle.

work wonders!!!

buying it now for the second time, i used it on myself and my two daughter, and have seen a drastic change in all of us hair growth, highly recommended!!!!

Love it!

I am surprised how fresh it feels after using it on my scalp.

WELEDA REVITALISING HAIR TONIC

I have been using this for about 3 months. I have naturally curly hair and let it air dry 95% of the time.
Some days I will apply this (only a teensy amount) and my curls will look defined and lovely. Other days I'll apply the same amount and it looks like I've coated my hair in olive oil.

Fresh

I'm pleased that this doesn't leave any residue in the hair so it can be used between washes, it actually felt like it did freshen up my hair too.
It is a little bit hard to get it into the scalp where you want it - I do think an applicator would be handy for this product. I might do as one of the other reviewers did and put it in a dropper bottle.
Pleasant smelling. No change in hair growth yet but still a pleasant product to use.

Great

Bought this to strengthen my hair and for my partner to use for his thinning hair. Smells really. I've and refreshing, like rosemary! Can see a little bit of difference in the appearance in both of our hair, but more strength and shin.

Good

I was worried this product might make my hair oily, but it didn't at all. It applies wet, but after a while it drys, almost as if it wasn't there.

Its too soon to tell if it's making a difference for hair growth, but it smells good, my hair feels healthy and parts of my scalp which get irritated are calmer.

One thing I don't like is the bottle/dispenser. Would be much better with a dropper so its easier to put on your scalp.

Helps with volume so far

Have been using product for the past week and have noticed more volume. My hair is actually more manageable too. Easy to massage into scalp, smells nice and doesn't leave any residue on hair. I just blow dry as normal. I'm hoping it helps with strengthening but I don't think I've used it long enough to see a difference in that area yet. Also a little goes a long way.

Very promising

Have noticeable thinning hair on top lately which prompted me to try this product

Dispensed this tonic in a dropper bottle to allow direct application to my scalp

Two bottles in, and have noticed a significant difference in the amount of scalp that is no longer visible in my hair line

Doesn't leave a greasy residue or weigh down hair once absorbed