Weleda Everon Lip Balm 4.8g
Skin Concern:
Dull, dry or dehydrated skin
Frequently bought with
Please wait while we find a match
Questions & Answers
(No Questions Yet)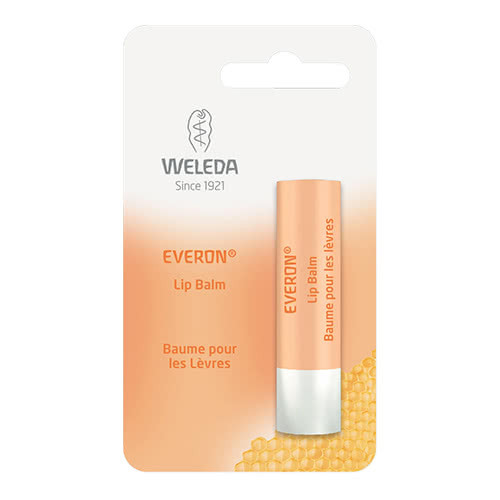 Weleda Everon Lip Balm
Get an expert to answer your question about this product!
Ask a Question
77% recommend this product
Most Helpful Positive
Love it
Really nice and moisturise. Super soft and feels lovely. I love Weleda a lot!
Most Helpful Criticism
It's alright
Nothing overly special. Did the job but I don't think I will repurchase it!
Love it

Really nice and moisturise. Super soft and feels lovely. I love Weleda a lot!

Nice and light

This is a lovely light balm that doesn't go on too thick. Even though it's nice, I don't think I'd purchase it again.

Lovely lip balm!

I have been using this lip balm for quite a while and really like it. The formula smells quite herbal like most Weleda products, personally I quite like it and don't mind the herby flavour on my lips, but I think it is somewhat of an acquired taste. The balm lasts well on the lips and makes a good base for matte lipsticks as it has a thick waxy texture, so doesn't slip around. I think this would be very effective at protecting your lips from chapping in the cold or wind due to the texture. Also quite well priced in my opinion.

Intense moisture

Nice and soothing. Feels light on application and has a subtle scent. Does wonders for my dry lips.

New favourite

I bought this today and it's already my favourite lip balm. The texture is really silky; it applies in a thin layer that doesn't feel greasy or heavy yet is still hydrating. The scent is very subtle but lovely with a hint of rose. The finish is matte and already my lips feel softer. Nice compact size for pocket/handbag.

works ok

This isn't overly fragranted which is good. Not sure I like the spf factor, it kinda means I'm eating some spf protectant. Would actually prefer if it didn't have that but all in all it's not a bad lip balm

Winter-proof your lips!

Think of this lip product as a protective veil. It coats your lips in a rich, softening balm that hydrates and protects your lips from the cold winter weather. Especially good to sleep in as it lasts well, and isn't sticky or glossy.

A really great option for men who want subtle lip care!


Our Lips Are Sealed (with moisture)

♪ Can you see them?
See right through them
They have no shield
No secrets to reveal ♪

The lips of OTHER people, that is. My secret is I shield mine with this amazing moisture barrier.

I often find lip balms disappear and require immediate re-application, but this one leaves a nice supple feeling on the lips when it fades.

Heavier than other lip balms I've used but definitely worth it.

Weleda Lip Balm

This is great for someone who does not like sheen or that lip gloss feeling. It will hydrate nicely without been stick and is a great bag size!! I find I do have to reapply a fair bit but as it is so affordable it doesn't both me and I actually like apply lip products through out the

It's alright

Nothing overly special. Did the job but I don't think I will repurchase it!

Nice natural go to lip balm

I really like this lip balm and will forever have one in my handbag as it's such a nice pick me up when my lips are feeling dry. Not oily or stick at all but gives a really moisturising after feel. No scent or smell really and comes out clear. Love that it's made from natural ingredients too!

Does the job

Really nice, right amount moisture, not too thick or greasy and easy application. I do wish it stayed on for longer though.(it might be, that I'm just not drinking enough water overall)

Nice but not amazing

This lip balm is ok. It is quite nourishing but I find it a bit too thick/heavy. It's fine for at night before bed but I wouldn't really use it when I'm out during the day as it takes a while to sink in. It's still nice but definitely not my favorite. I probably won't repurchase.

The best for your lips

The only 2 lipbalms that work on me are this weleda and the weleda skin food, they are both amazing.

Gave it away

I love my lip balms and always have one within reach. I didn't really like this one though, it was a bit too dry and left a heavy feeling with a tacky residue and no hydrating effect.

Quite nice

I thought I'd try this product was quite nice not too heavy

Does the job

Initially I didnt like the smell of this balm it seemed sickly sweet but it does loose scent quickly on the lips and hydrates well. Good for on the go due to the portable packaging.

WELEDA EVERON LIP BALM

I have been using another leading brand for years and decided to try this balm for something new. Wow! Complete convert. I love the way it feels and has helped so much with dryness. Not going back to my old brand after trying this product.

Nourishing lipbalm

Absolutely adore this lip balm! So b
Nourishing and hydrating! My lips are smooth and supple.. smells delish and it's all natural ingredients

Daily essential

I like how the lip balm applies a good coat. Lips feel conditioned after using for only a few days. I also like that the lid is secure and won't fall off in my bag.

My all-time favourite!

I have tried so many lip balms on the market, but this is definitely the best, especially for the price. The formula is very spreadable and hydrating, without leaving a thick or moist residue. I only have to put it on once or twice a day. Great for everyday use.

Great simple lip balm

Great simple everyday lip balm. It's not to know that I am not putting poisonous ingredients into my body

Not too bad

This is a really thick lip balm. I find it has a dragging like feeling on the lips. However, it does feel nourishing, smell pleasant and do the job.

Great

I adore this. The best lipbalm I have ever used. It keeps my lips moisturised and there is some spf too which I love.

ok

This is just a simple lip balm that moisturizes my lips when i use it outdoors.

Great!

Lovely organic product that stays on all night when applied before bed. Very healing & protective.

Excellent

Moisturising, smells and tastes nice, can use with lip pencil for a daytime look, lasts well on the lips and is healing. I buy lots of these and have them lying around handbags and the house. Never melts in your handbag.

Decent

Fine for a basic lip balm, prevents cracks and is organic. Don't see much point in spf 4, would be much better with higher protection.

Lovely!

At first when I applied this it didn't feel as thick and hydrating as I prefer my lip balms to be. However, it certainly keeps my lips hydrated the whole day and I find that I don't even have to reapply. My lips get dry and flaky easily and the balm smoothes all that out real nicely and keeping it constantly moisturised. Pleasantly surprised and will repurchase! I use it at night too before bed and the next morning my lips are still moisturised. Winner.

Nice organic licare

Very useful, and hydrating. Good option if you prefer to put it straight from the container to lips.

Really nice lip balm and good price

Really lovely lip balm at a great price! Makes my lips feel lovely and smooth and helps to heal cracks. I like the packaging and the taste.

Would definitely recommend and I will be purchasing again.

Lovely and natural

Very beautiful product if your looking for an organic lip balm.

Good

A good basic lip balm from a trusted brand. It provides adequate moisture and slight sun protection. The smell is subtle and not offensive - even if your not a huge rose fan. Great value for money.

So Good

I am SO glad I bought this. Best value for money natural lip balm I've found. It actually works. I'm using it less as my lips get softer. My bottom lip tends to be really dry in winter. It cracks and bleeds easily, doesn't heal well. I feel self conscious about it too. This Weleda balm started healing and softening my lip from the first day I tried it. Such an awesome relief. I love the gentleness of it and seriously my bottom lip hasn't cracked to bleeding in the whole six weeks I've been using this. I highly recommend it if you have hard dry lips that crack a lot like mine used to.

Different formula?

Normally i love this product, but this time the formula seems different - i'm not sure if it has changed. Its more sticky and thick. Still great healing and moisture though.

Best lip balm you will ever try

I have very dry lips and approximately 20 lip balms. Stop looking, this is it. Cheap, no colour, smells lovely but not too strong, no taste, thick enough to stay on but thin enough to moisturise, perfect wear with lip liner for a natural look. Packaging good, easy to get laid off but won't accidentally come off in bag. Doesn't seem to melt in summer and become a sticky mess. Have bought 4 of these so there is always one nearby.

Fantastic smell & long lasting

This is the only lip balm I have been buying for years now and still love it.
Smells fantastic. Feels smooth but not sticky. I'm in love with this lip organic lip balm (and so is my boyfriend).

Initially, the price put me off. Then, I realised that one balm lasts over 9 months where I used to go through 2-3 before.

Make the investment once and see for yourself!

Great lip balm soft and long-lasting

Having tired of Lucas Paw Paw as lip balm, I decided to try a few organic ones. The
Weleda Everon Lip Balm is fantastic, being soft, non -waxy and long-lasting. It has a gentle rose scent, which is not overpowering. Great value.