Five generations of family crafted, world-class organic oils. Thousands of years of Ayurvedic practise and skin expertise to draw upon.
UMA Oils prove you don't need to choose between results, and organic, sustainable products that promote social good. With formulations that have been the secrets of royalty, UMA has never lost its sense of luxury or efficacy.
Centuries later, and UMA Oils are still handcrafted in small batches. Unlike the majority of natural products available on the market, UMA Oils prides itself on using either no carrier oil, or as little as possible. This philosophy ensures that the active ingredients in UMA Oils are not footnotes in the ingredient list - rather, the precious, efficacious oils are the star ingredient just as they should be.
Is UMA Oils certified organic?
Unfortunately in India, there is no formal process for an organic certification. Instead, UMA have continued their practise of never using pesticides or GMOs - just the way they used to centuries ago. UMA Oils is organic, without the certification.
How is UMA Oils sustainable?
UMA is dedicated to minimising the ecological footprint of their family owned, family run farm in Central India. Wherever possible, any waste produced by the farming process is turned into energy to power the farm, or recycled to become product. UMA Oils Incense is the perfect example of this, featuring recycled products.
Does UMA Oils use any synthetic ingredients?
UMA Oils is completely free from synthetic ingredients. In fact, UMA Oils barely use natural carrier oils for their organic, botanical elixirs. You'll never see a synthetic ingredient or preservative in an UMA formulation.
No parabens
No synthetic ingredients
No preservatives
No GMOs
No use of pesticides
No artificial fragrances
Showing 17 products of 17.
---
Recent reviews on UMA Oils products


UMA Oils
UMA Oils Pure Energy Wellness Incense
$25.00
Bit expensive
I am a huge fan of incense and regularly use incense for traditional and non-traditional activities. This is a very strong smelling incense which is good if I just have to light one but for traditional activities, I have to light multiple of these and can be a bit overpowering. Also, these are on the expensive side.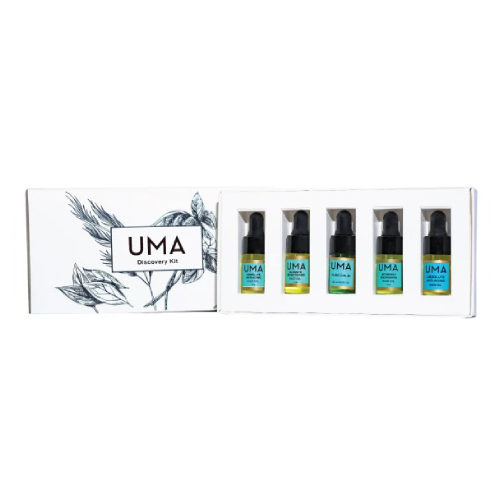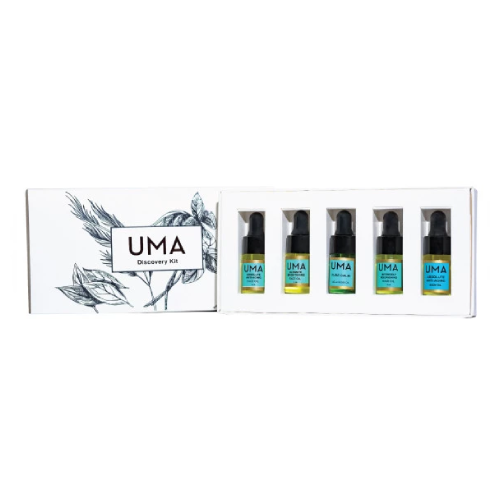 UMA Oils
UMA Oils Discovery Kit
$77.00
Great sample kit
This is a great budget friendly way to try out the oils in this range. I'm glad I bought this kit before splurging on the full size versions which can be quite pricey.