Ultraceuticals at Adore Beauty

Where can I buy Ultraceuticals products online?
Ultraceuticals products cannot be purchased online at Adore Beauty, however you can shop their products online at ultraceuticals.com.
If you are an existing Adore Beauty Ultraceuticals customer, please phone our customer service team at (03) 9344 1671 for how to re-order your products.
Ultraceuticals at Adore Beauty Skincare Centre
We stock the full range of Ultraceuticals skin care products at the Adore Beauty Skin Centre in Brunswick West, Melbourne.
At our Skin Centre, you'll meet Denise, our experienced and qualified beauty therapist. Denise can assist you in finding the right Ultraceuticals products for your skin type in a one on one consultation, and is fully qualified to perform Ultraceuticals treatments in salon. We offer Ultraceuticals tailored facials, microdermabrasion treatments, sonophoresis treatments and Ultraceuticals peels.
You can book an Ultraceuticals treatment, or a skin consultation to determine the right products for you, here. Alternatively, you can call our friendly customer service team on (03) 9344 1671 for advice or to book an appointment.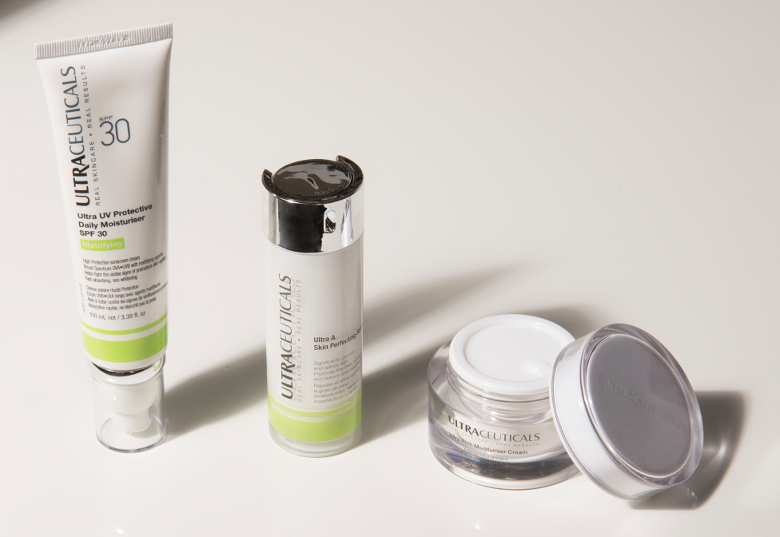 What is everyone saying about it?
Ultra UV Protective Daily Moisturiser SPF 30 Hydrating
★★★★★ My all time favourite SPF product. – Alexandra
I struggled for such a long time to find a sunscreen my skin liked - they either caused me to break out, or weren't hydrating enough for my dehydrated skin type. This is the first SPF product my skin has absolutely loved - it doesn't cause congestion, it's super hydrating but absorbs really easily, and doesn't leave me with a white cast.
(shop the Ultra UV Protective Daily Moisturiser SPF 30 Hydrating at our Skin Centre, or on ultraceuticals.com)
Ultraceuticals Even Skintone Serum Mild
★★★★★ Hellooooo flawless skin! - Shannon (Staff)
Let me tell you, I've never been complimented on my skin the way I have been since I started using this in my routine. As time has gone by and I've tried more and more chemical exfoliant products, I've been feeling a bit overwhelmed with choices. As someone who doesn't like having a complicated routine but (hypocritically) wants to try every product under the sun, it's nice to know that there's a product that has worked for me for years, no matter what has been happening with my skin.
Yes, I'm talking about the mild version. I'm 26 with some sun damage, pigmentation and acne scars I'm still working on, and I'm prone to flakiness. My skin has been really good lately but it's never been perfect, I've seen real results over the years that I've been using this about once a week. This is my 'serious' chemical exfoliant - I'll often use much milder ones in conjunction with this once or twice a week, depending on how my skin is. Another bonus - I reckon I've only bought this about 3 times since I started using this 4 years ago.
Best to consult your skincare professional, but don't be fooled, unless they recommend it don't be tempted to try the regular strength Even Skintone Serum first - the Mild is highly effective and a great starting point, or for more sensitive skin types!
(shop the Even Skinton Serum Mild at our Skin Centre, or on ultraceuticals.com)
Ultraceuticals Ultra UV Protective Daily Moisturiser SPF 30 Mattifying
★★★★★ Combination skin saviour! - Shannon (Staff)
If there was only one bottle left of this in the entire world, I'd absolutely fight everyone over it. OK, maybe not, but it's a close call.
I really, really love this SPF. It's my holy grail of all day moisturisers too - I've stopped considering others and I've repurchased this more times than I care to count.
Yes, there are cheaper options out there, but I've never had a single product come close. This seems to give me excellent protection from the sun, which means a lot to me as I'm very fair and prone to burning in 5 minutes flat without SPF.
Even though this is mattifying, it doesn't dehydrate the skin. In fact it's the opposite - I don't have problems with flakey skin using this, and my skin looks really well hydrated. This isn't a perfect matte, so I think this would be best for combination skin types as many oily skinned people might prefer something that actively removes oil, but for me this is exactly what I need. By the end of the day, I'm dewy, not sweaty. No white cast either!
It's not too rich, it's not too thin, it's not too dewy and it's not too matte - if Goldilocks were choosing a daily moisturiser, this would be her favourite!
(shop the Ultra UV Protective Daily Moisturiser SPF 30 Mattifying at our Skin Centre, or on ultraceuticals.com)