The Ordinary Hyaluronic Acid 2% + B5 30ml
Skin Concern:
Acne, breakouts and blackheads
Dull, dry or dehydrated skin
First signs of ageing
Sensitivity and redness
Skin Type:
Dry
Normal to dry
Normal to oily
Oily
Questions & Answers
(38 Questions)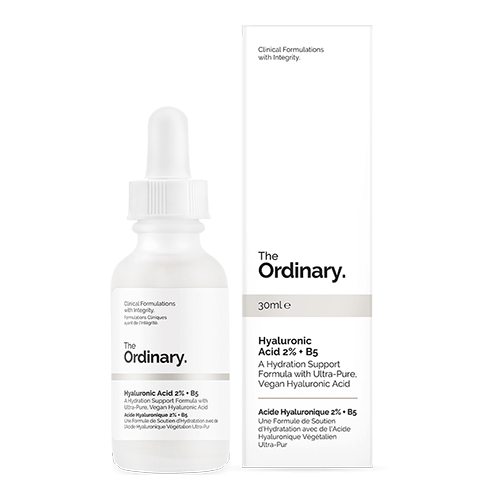 The Ordinary Hyaluronic Acid 2% + B5
Get an expert to answer your question about this product!
Ask a Question
90% recommend this product
Most Helpful Positive
Super hydrating
Worth the price to try it out! Really hydrating and gentle
Most Helpful Criticism
its OK
it hydrates but is not so good at long term hydration. and sometimes it does compete/fight against other skincare products when used together, but its definitely worth the price
Super hydrating

Worth the price to try it out! Really hydrating and gentle

Works great

Helps with slowing down the anti ageing process. I use it twice a day!!

Good for combo skin

I have been using this product for well over a month and use it day and night. I have a very oily t-zone and find that this product isn't too heavy to use on my forehead. Helps hydrate my dry cheeks too. It leaves my skin hydrated, but not greasy! Great to use under make up. Just make sure to let it set well before applying moisturiser and primer.

Perfect price hydrating serum

Amazingly priced serum, when you want to splurge on some other skincare but can't afford the expensive serum too! I purchased one for me and one for my boyfriend as he has dehydrated but very oily skin. After two days we can already both see the difference in skin plumpness and general hydration!

Best serum for me especially this winter

if you dont like thick moisturiser, then this is perfect for you to use in winter as it is not too think and perfectly moisturise your skin

Amazing

Before using The Ordinary's Hyaluronic Acid 2% +B5 my skin was extremely dry and flaky in some areas, but also congested and pimply in others. After 5-6 weeks of using it, my skin is no longer so dry and is clear of pimples. After trying so many other more expensive products, I'm amazed to find a product that not only works but doesn't break the bank.
I use it morning and night along with The Ordinary's 10% + Zinc 5% , Natural Moisturing Factors + AH and 100% plant-derived Squalane .


Amazing product with great price

I have used this for over a year now and dont think I will ever go to another brand. Its just a great non fuss, really well priced product which does an amazing job. I slap this on my face morning and night during winter otherwise every evening in summer. I have dry/dehydrated skin and this has really improved my skin since using it. It sets in quickly and is super easy to build with other products. Highly recommend

Leaves your skin feeling hydrated & soft

Love this serum! I bought it originally for my dry winter skin to protect it from the harsh weather & so far I have not seen any dry patches appear on my face (as they usually come up in winter). I apply this serum prior to applying any of my other moisturizers so it mixes in together well & hydrates my skin well - definitely worth a try!


Daily Staple

I adore this product, it is now a part of my daily routine and I think that it has made a difference to the pigmentation issues I'd been having with my face. Can leave it feeling a little dry after its dead, and definitely notice pilling around the baby hairs, but can't complain about the price point and a bit of moisturiser is recommended after this product if you've got excessively dry skin like me.

Feels great

I've been using this for around a week and so far am loving it. Just be carful to not use too much as it can gather on your skin in places and clump together and come off on your fingers.

its OK

it hydrates but is not so good at long term hydration. and sometimes it does compete/fight against other skincare products when used together, but its definitely worth the price

Very good first impressions

Love the concept of The Ordinary and was so happy to receive it within two days in the mail! The product is quickly absorbed by the skin without any residual stickiness. Only thing is that application via the pipette is a little messy as some of the product tends to dribble out but not a big deal. Just started using this though, so will need some time to see long-term effects on my skin. But so far so good!

Hydrated my skin

I have dry skin and this definitely hydrated my skin. Its great value for money too.

Moisturiser which flakes

I used it every morning... it started falling a bit ... and my skin feels very tight later changed to night still the same doesn't hydrated your skin ... used it for a month with patience still no luck ... so a big no no

FANTASTIC

I love this hyaluronic acid. Its amazing for its very cheap price point. I use it morning and night and it last quite awhile still. I notice that my skin is more hydrated and plump.

great for before moisturiser

i always have problems with not getting enough moisture in my skin and this definitely helps. since it attracts water, i'm a bit scared that it'll dry out my skin if i don't use it correctly, so i always sort of sandwich it between a water based moisturiser first and then this serum, and then a cream based moisturiser. its really helped out my skin, and now i find that everyone is saying that i have really clear skin - kind of like that glass skin trend thing. my skin is combination/oily, but sometimes dry, which is weird.

So hydrating

I use this with a 0.3 derma roller and i woke with super hydrated skin after one use! Excited to see future results with continued use

Good value product

I have tried a number of hyaluronic acid products and this is as good as any for a fraction of the price. My skin definitely feels hydrated and moist. My skin feel more plump and my wrinkles are becoming less defined. I use the hyaluronic acid after using the dermal roller skin needling and can definitely feel it sinking into my skin. I really like "The Ordinary" range of products and they are great value for money.

one of my favorite product

have bought twice here. The texture is like glue, but it is good for dry skin especially in the winter. I would recommend you as it can add to the routine and improve the hydration.

Plump & Hydrated Skin!

I bought two of these serums, one for my Aunt and one for my Mum. Both have more mature skin and both have noticed that fine lines have been plumped up and their skin is more hydrated. The serum is very lightweight as well. Super cheap and very effective.

Game changer

I began using this at the end of last year every night. Overall it has improved my skin texture tone and just gives my skin a little bit of extra glow when I wake up!

Affordable and effective

This product is great for the price point, its a very affordable Hyaluronic Acid serum. It doesn't absorb as easily as some other brands and can be a bit sticky, however it is effective and leaves your skin feeling very hydrated. Packaging is convenient and easy to use. Would repurchase.

Hydrating even good for combination skin

This product has ensured that my skin which is a combination type with cystic acne remains hydrated year round. It's doesn't feel greasy at all and just sinks straight into my skin!

Great product that helps with my cystic acne.

I've been using this for maybe 2 years now, and it's a great morning product. Gives enough hydration for my very dry skin around my chin, and helps ease my cystic acne around that time of the month.

LOVE IT

I love this hyaluronic acid. Its amazing for its very cheap price point. I use it morning and night and it last quite awhile still. I notice that my skin is more hydrated and plumper when I use it

Excellent product!

I've been using this product for a few weeks now and am loving it! My skin is so soft and smooth. I was testing another Hyaluronic Acid serum that is valued at $110 and this product is exactly the same and saw the same results. Loving it!

I am on my second bottle and absolutely loving it!

This is my second bottle and I absolutely love the product. I apply twice a day, morning and night after cleansing. It leaves my skin dewy and hydrated enabling the moisturiser that is applied afterwards to absorb so much better. On days when I've skipped using this I can definitely notice the difference.

Noticeable difference

I have finished my first bottle and definitely repurchasing as it's made a noticeable difference to my skin. It looks more hydrated without dry patchy areas I used to have, and seems to have cleared up some blemish prone areas too. I used morning and night, with Niacinamide 10% + Zinc 1% at night time.

Great hydrating serum!

This products provide my skin with instant hydration without causing oilyness or breakouts! I have oily temperamental skin and was reluctant to try this but I have incorporated this into my skincare. After toning, I apply this serum followed by The Ordinary's Niacinamide and then moisturiser and it has been a great hydrating serum without the nasties!

Loving this so far

This product has been extremely nourishing for my skin. I am still getting used to the feel of it on my skin after I apply as it leaves a somewhat sticky feel for a few minutes. But for the price, it has been a great addition to my regime

One of the best!

Super hydrating. Really good for combination skin. Great to put on under moisturizers.

Helping reduce breakouts

Using this as I have been plagued with spots and breakouts on jaw line for a couple of months.
I have sensitive skin, the product smells strong and I was concerned but have not irritated my skin and is really helping reduce the breakouts, my skin feels a lot smoother so I'm really happy.
Great price too!

A good hyaluronic acid but I prefer the Ordinary oils

I thought this was a good introduction to HA for me, but I now find that I prefer the hydration I get from the Ordinary squalane oil. This applies ok, but does get a bit "flakey" - perhaps I will try mixing it with my body moisturiser as others have suggested, or may come back to it going into Winter in dry Melbourne!

Part of my routine

I got this to use in combination with some serums and retinol and to help balance out my combination skin which has always ended up with dry patches. I'm finding this a great part of my routine as it gives my skin nice even hydration all over and means that I only need a light moisturiser - which is perfect, because heavier ones cause me to break out. I'm now also able to use a glycolic toner each day, and retinol several times a week, plus a glycolic mask and still don't end up with dry patches.

Great value serum

I purchased this as my skin is quite dry. I have been applying under moisturizer day and night and my skin feels much better and is less blotchy. Amazing value for money and looking forward to trying more TO products. Only complaint is that it is a little sticky.

Great

I have used second bottles already
Very reasonable price and quality is okay
Just easy to mix any kind of face oil/cream then apply though the face, then feel hydrated.



The perfect hydrator

This serum is the ultimate - smooth on the skin and soaks in perfectly, and the most reasonable price point! Will buy again and again.

Winter essential!

With winter weather upon us in cold, dry Canberra - this has been a skin saver this past week and for sure will be for the rest of the autumn/winter. I wear in the am - under spf 50 moisturising sunscreen and in the pm - under face oil and moistursing cream. Skin feels soft. It is not sticky and sinks in. Definitely worth a try!

Great oil

I have never been a fan of oils, but this is great!

Great product

Amazing, moisturising, leaves skin feeling soft but not sticky. I use this morning and night, and also before applying any makeup to help my makeup apply smoothly. I have fairly normal skin, and sometimes use this product after oilier products in my night routine to help them sink into my skin faster if I'm too tired to wait.

Wonder product.

This works amazingly well, I always feel so hydrated straight after using it and I can tell a noticeable difference in my skin. I also use it before a makeup application and my makeup looks beautiful!

Good tip to use this product is wet your face before applying :)

Perfect for dry skin in winter

I use this product in conjunction with some of the acids and treatments from the ordinary that can be quite drying, It's great value for money and does exactly what it promises. Very moisturising and pleasant on the skin.

MUST HAVE!

Beautiful hydrator, it repaired my moisture barrier before I even used half a bottle!

TIP: Buy an extra bottle and use it with your body lotion for moisturised, dewy skin.

Use at night only

I have mixed feelings about this. It is hydrating, but it's not the best HA I have used. I can only use it at night because it flakes a bit, so I can't wear under make up. For the price though, it is good value.

Love it

I have been using this product together with the moisturiser after switching from Skinstitut and I am abosokutely loving it. Great combination and doesn't leave the skin feeling greasey or oily, and no break outs!
For the price, this brand is fantastic!

Great moisture

Thanks to the live chat advisers, I end up with this product, I didn't even had HA in mind and I was not expecting a positive result in just few days.

Excellent product

I love this product. I have oily combo skin and find this does not make it oily at all but does provide hydration and helps with the dry skin.

Keeps dry skin at bay

I started using The Ordinary last year and am extremely happy with the products and price point. It's great value for money and, the products do exactly what they say they'll do. My skin has always been on the dry side and this serum (combined with moisturiser applied afterwards) has helped keep dry patches away. I use it day and night and have seen results, have repurchased a few times

Love it

Good product.
Skin type: combination oily in t zone
Age 25-30
I find this product very moisturising. I will definitely buy again.

smooth

i tried this product for the first time, and the bottle is nearly emptied !! this product works perfectly for smooth skin and keeping your face moisturised and hydrated

its nice

is hydrating and feels really nice to apply, only use at night as it does ball up when i apply makeup afterwards. will continue to use every night under my moituriser and eye cream

not good under makeup

i used it a few times under makeup and it does not sits well. if i apply makeup over it it becomes a rubbery like texture and tries to come off. that makes me think it does not gets absorbed by the skin very nicely. however, when i tried using it on its own in night time it was fine and did not cause any rubbery feeling

So luxurious and rich!!!

This is hands down my favourite product in my (extensive) skin care regime!
It is so thick and rich, but settles and soaks into the skin beautifully.
Although in my late 20, I had started noticing my skin lacking a little volume and plump.
After weeks of using this my skin is looking more youthful, plump and moist then ever before.
I tell every person in my life that they need this product in their life!

On par with products 5x the price

I have dry skin - particularly my t-zone. As part of a comprehensive skin routine, I use a hydrating serum morning and evening. I used to use the Ultraceuticals 'Ultra B2 Hydrating Serum' ($95, 30ml), but tried this after caving in to all the hype, and I haven't gone back!

I noticed no difference in my skin after changing products, and have now been using The Ordinary HA for six months - the price point is unbeatable.

Good for the price but

The Ordinary is very good for the price but I don't feel this product holds a candle to the more up marketed Hyaluronic Acids from Medki8, SkinCeuticals and Hylamide.

Hydrates my dryness from rosacea

I use this a few times a week at night with my retinol to assist with my rosacea dryness. I have to be careful with the intensity of the product with my sensitive skin but it seems to help especially when I am having a particular dry period

Plump skin

I have combination skin and love using this with my Niacinamide 10% + Zinc 1. It makes my skin feel plump and healthy. My skin feels hydrated and ready to tackle the day with this product. I would recommend it to be used with The Ordinary products. Great combo!

Cheap & cheerful

This provides a great boost of hydration for the skin. The only downside for me compared to similar hyaluronic serums is that the consistency is a bit more thick and tacky than others, but that can be overlooked for the price.

Great product

I've been using HA for years but never tried this brand. Excellent product you can feel the difference straight away. I'm definitely a convert and will be buying this brand from now on.

A Great Dupe for More Expensive Brands

I absolutely adore the Medik8 B5 serum but this is a super good alternative when the budget doesn't stretch as far. It hydrates my dehydrated skin and sinks in beautifully under makeup. It's also a great serum if you use multiple serums as it plays well with others and doesn't cause irritation. Not my HG but due to its price and efficiency I'll always have a bottle handy!

Keep ordering!

I love this face care product! It makes me feel confident about my skin and people comment all the time how it glows and stays youthful.

Very hydrating

My skin feels very soft, hydrated and smooth after using this. A great way to hydrate oily skin without making it look greasy.

So hydrating

In a little over two weeks of using this and other products from the ordinary, my skin is so hydrated. I'm obsessed with this brand and the routines. All of the serums are super silky and the price is unbeatable. I've seen fine lines disappear and my pigmentation is going away with this line. I've used super expensive products and the simplicity of this range is unmatched and doing wonders for my skin.

Helpful but can actually be drying!

I originally bought this to fix some dry patches I was getting around the nose and mouth. After about a week of using it (underneath my moisturiser) my patches were gone. If I skip a day or two of applying this the dryness on my nostril reappears.

However, as we are approaching winter I do not think this will be enough/work. Hyaluronic acid can actually dry your skin out if there is not enough humidity in the air and Australia is particularly dry in winter. So just be aware!

I will add though that it has not fixed my surface dryness.

Amazing

I'm in my twenties and having a ridiculously dry skin this hyaluronic acid hydrates it so well that my skin finally looks plump and moisturised. I use it in a.m. and p.m.

indecisive

this product does give a nice boost of hydration but I don't think it really does any benefits for my skin its abit tacky once tried which I don't love

If you want dewy and hydrated skin!

I have combination skin and this product works amazingly. I always spray a toner beforehand and apply HA while my face is still damp. This makes my face feel so plump and dry patches are gone! Makeup goes on like a dream over the top too. I'm on my third bottle already!

Amazing hydration - better than any moisturiser!

This has done wonders for my combination skin. My dry patches are so hydrated without the oily/greasy feeling. I use this morning and night and one bottle will last me at least 2 months so it is really good value.

Cheap & Cheerful

I use this every night underneath a moisturiser. It is quite thick but does last a very long time and you don't need much. I haven't seen a huge amount of difference in my skin. Slightly more hydrated but thats about it.

Hello hydration!!!

This is a fantastic serum and I honestly can't live without it! I switch between this and the "buffet" and find them very similar. I'm in my 30s with sensitive, combination skin with signs of ageing. I use this product morning and night straight after cleansing while the skin is still slightly damp as I find this really locks in the moisture. I then follow with my other skin products and tbh my skin has never looked better! I have used more expensive brands of Hyaluronic Acid serums and I honestly have preferred the ordinary one! The price is absolutely amazing for the quality of the product

Holy grail

I have dry skin and decided to try this after a friend recommended it to me and have just purchased my second bottle! Makes my skin feel so hydrated. Couldn't live without it now

Longlasting hydration

This serum makes my face feel hydrated all day long. I'm so glad I found this product.

Thick, hydrating serum

This is a very thick serum that is also very hydrating. It becomes tacky on the skin. I recommend layering it under other skin care.

Hydrating and non greasy

Having a dehydrated but oily skin is very tricky. This serum penetrates quickly and leaving my skin well hydrated throughout the day. Five month in using it and I only am just about to buy another one.

Hydration galore!

I bought a suite of The Ordinary products recently and this was one of the products. I need some hydration moving into my 30's and this has been a game changer within a couple of weeks. My skin is looking amazing. Very cost effective, would absolutely recommend.

Unsure still

I have used this a couple of times and I have trouble with the formula, it gets almost soapy and doesn't absorb in super well? I have dehydrated, oily, acne-prone skin and I just aren't seeing crazy results. The formula seems quite inelegant. My mother, however, who has oily, mature, acne-prone skin swears by this and is sure it helps plump and hydrate her skin. I'm going to keep experimenting with how I use it.

Happy I tried, sad it dissapointed

I tried this product after receiving strong recommendations from a girlfriend. This product though was too harsh on my skin, and aggravated my dermatitis. I wouldn't recommend for anyone with sensitive skin. Such a shame as the price tag and rave reviews left me so excited!

Doesn't have an effect on me

I have oily and dry patches with mild acne. I tried using this a lot but didn't really think it did anything? Didn't make my skin peel and didn't improve it or make it worse

Must have in everyone's Skin cafe routines

Defiantly a must have for everyone!
hyaluronic acid is a must!!!
Great value for Money
Love the ordinary range

Inexpensive yet effective skincare

Incorporated this into my skincare regime.
I apply it before my moisturiser, A.M & P.M.
My skin looks more hydrated than usual.


Feels good

Im completely new to serums, but I do reckon my skin is feeling smoother. I'm using it in combination with the moisturizer so I assume one of them are working. Love that it's in a glass bottle too.

HG product

I WANT TO BATHE IN THIS! such an excellent affordable option. Great product, love the little bottles. Will never be without this layer in my skincare routine.

absolute bargain

Love the ordinary products but this hyaluronic Acid is not as good as some others I have used but for the price I literally can't complain at all!! It hydrates my skin well but I prefer a thinner texture and will probably go back to medik8 hydrate + b5.

great for oily skin

I have been using this product morning and night for about 6 months. I love how it is quickly absorbed and makes my skin feel super hydrated. It is also great to use under my makeup

Immediate plumping effect

My mum can't live without this product! She (55, combination skin) uses it in her nightly routine as well as in the morning before applying make up. I (28, oily skin) only use it occasionally because it tends to sit on top of my skin but it still has an immediate plumping effect on me - especially around the eyes. If you have baggage in that area, this hyaluronic acid is for you

Like the price, not the packaging

I tried this, a retinol and ascorbyl glycoside to replace more expensive serums. Trying to unscrew each bottle, use the dropper (which leaks, as it's inappropriate for this formulation) and apply makes my evening skin care routine far from meditative. I don't enjoy using this product which is a big negative for me.
This serum plays well with my night time moisturiser La Mer, but takes it's time soaking in in the morning when I use SPF moisturiser, so I have stopped using it.
It seems to be working as well as my more exy HA, but I probably prefer the convenience and less mess of an appropriately packaged product.
Will only buy again if I'm broke!

Great for oily skin

I thought this would make my skin oily but it dries completely within minutes of applying. I would recommend this for oily skin.

Definitely moisturises, but be careful if you're acne prone

I did really like this product. My skin responds well to hyaluronic acid, and it absorbs quickly without being sticky. As I'm oily, I thought this would be a great addition to my skincare. However, after a few uses, I developed closed comedones in the pores around my nose, which is not a place I ever develop acne. I tried it on an off as they cleared up, and I discovered that unfortunately, this clogs the pores around my nose. Is it a good product? Absolutely. It does what it promises, but it did clog my pores, which is why I'm only rating it three stars.

Great for Dry Skin

If there was only one product I would repeteadly buy from the Ordinary it would be the Hyaluronic Acid 2%. It's easy to use, sinks in fast, layers great with every moisturiser, leaves my skin feeling and looking visibly hydrated and it's the cheapest hyaluronic acid on the market! 100% recommend.

A great addition to my daily routine.

This is a great serum I've added to my routine, it's a nice touch of moisture that absorbs well into the skin at a super affordable price.

Love!

Just adding this into my beauty regime has saved my skin, it has added some much needed hydration

A permanent feature in my bathroom cabinet

This is the second time I've bought this, which, as a skincare/makeup junkie, is very rare for me.
I love using this before moisturiser to really supercharge the hydration. It also works well as a primer. I slather it on after a hot bath or a facial to calm my skin, the list goes on. At that price point, I really can't fault it. No frills and it works.

A brand I love!

Obsessed with this serum. I suffer from Rosacea and it leaves my skin so dehydrated and flaky but I still have an oily T-zone. For my skin type, serums work wonders on me. It really brightens my face and makes my skin soft and supple. I apply it after cleansing and before moisturiser. Love this serum, it doesn't irritate my rosacea and plumps up my skin..especially love that it's really affordable. Great buy. Will purchase again.

great hydration

I use this am and pm under all other products. The 2% Hyaluronic is apparently the perfect percentage for hydration. This product is great value. Some brands charge much more and don't disclose their percentage of Hyaluronic acid so you don't know what you're getting.

So Hydrating!

Is great at plumping up the skin and giving it much needed hydration. I either use it before my moisturiser or sometimes just mix it in with the moisturiser. Would definitely recommend especially for the low price point and good product


Affordable!

A beautifully textured serum, better than some more expensive brands I've tried. An excellent product for this price. Once again 'The Ordinary' come up with the good stuff.

Good hydration!

I live in a very cold, dry alpine environment so my skin gets so dry so quickly. This has been my life saver and keeps my face super hydrated and I've even started to notice some fine lines reducing and my eye bags looking softer! This has quickly become a staple in my skin care routine and I've noticed how nicely my makeup sits on my face now that my skin is supple and hydrated.

Great for lips

I use this on my lips when they are looking dehydrated on even slightly cracked. I found no irritation. I definitely hydrated my lips and I felt they looked plumper. Will buy again.

A staple product that would benefit anyone's skincare routine

I put this on morning and night with other serums before moisturiser. It's such a lovely, hydrating product which plays nicely with other products. It doesn't feel greasy or overly hydrating, but it just takes a minute to sink in to the skin. It's so affordable too - I will definitely repurchase when it runs out.

Ticks all the boxes

This is a fabulous serum to add to your routine, It is light, cost-effective and most importantly, extremely hydrating. It has made such a difference to my dull and dehydrated skin in a few days.