The Ordinary Buffet 30ml
4 instalments of $6.23
Or 4 instalments of $6.23 with
LEARN MORE
4 instalments of $6.23
Or 4 instalments of $6.23 with
LEARN MORE
Official Stockist
Is this for you?
The Ordinary Buffet combines a comprehensive array of studied technologies to target multiple signs of ageing at once.
Cruelty Free
Vegan
Artificial Fragrance Free
Sulphate Free
Eye Concern:
Age Prevention

Deep Lines
Skin Concern:
Dull, dry or dehydrated skin

First signs of ageing
Skin Type:
Dry

Normal to dry

Normal to oily

Oily
Frequently bought with
Please wait while we find a match
Questions & Answers
(47 Questions)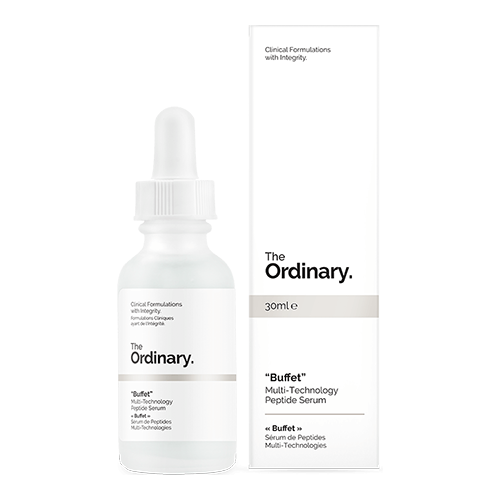 The Ordinary Buffet
Get an expert to answer your question about this product!
The Ordinary Buffet Reviews
92% recommend this product
Most Helpful Positive
Gentle skin nourishment
Love this gentle but powerful serum, light and non greasy for under makeup also.
Most Helpful Criticism
I wasn't a fan
I found this serum a bit too watery for my liking and didn't feel like it did much at all in the way of hydration. I wouldn't purchase it again.
Gentle skin nourishment

Love this gentle but powerful serum, light and non greasy for under makeup also.

Amazing product

Love this product, been using for over three years now and is a staple in my routine

All time fav

Ive been using this for while now and it never disappoints! Skin is more plump, smooth and hydrated

Daily essential

I use this every morning in my routine! I have dry skin and I've noticed a huge improvement since using the Buffet amongst the other The Ordinary products. I like that this targets multiple signs of aging.

I like it

This felt good and lightweight on my skin. Great to add into my evening routine especially as the weather cools!

Do I truly understand this product? Nope. Is it fantastic? Yes!

This product is my go-to for when my skin is feeling a little sensitive and dry, and thus wouldn't be able to handle any actives. It feels hydrating and light, with all round benefits. Do I really know what it does and how? Nope! Regardless it helps to calm my skin on nights it needs a break. Also, fantastic price point!

Meh😒

This does nothing for me. It's like putting water on my skin, It dries out and there is no effect. I used it the entire bottle to check if maybe it takes longer, but I just feel I'm wasting my time and will not give it another chance after the first purchase.

Anti ageing

This affordable serum is filled with all the goodies - peptides! My skin personally works well with this serum and had no issue with the texture. Definitely repurchasing!

Great every day serum

Really great every day serum. Suited to most skin types. I purchased this product a really long time ago when I was having hormonal skin issues which resulted in a lot of dryness. I've since come back to this product and it's now part of my daily routine!

favourite

Love this stuff! I was skeptical of this brand after all of the hype, but really love this serum. It makes my skin feel really, really hydrated, comfortable and soft.

Fantastic

Have only had this product a short time but it has replaced several others with single ingredients have noticed a difference Fantastic product would highly recommend it

best skin product!

This will always be my go-to. I've been using for years and have no complaints. I use in AM and PM, I have sensitive fair skin that can get quite red and irritated and this certainly keeps it from happening and improves skin texture. It's such a great price, if you're thinking about getting it you definitely should. I'd recommend to anyone in a heartbeat.

an essential

feels like my skin needs it now!

A great first serum

I first tried Buffet when wanting to try serums to revive, hydrate, neutralize and repair my skin at an affordable price. I love Buffet because it has so many factors, including hyaluronic acids, matrixyl, amino acids etc– it's like a one-stop shop. Perfect for time-poor people who aren't skincare devotees. I apply twice a day and now can't live without it. My skin laps it up and I believe it's wo...

Read More

Best overall

The best general serum that will work for every skin type and perfect for everyday use - those days you don't know which serum to use - this is it!


I love this

It feels very good on your skin and Makes me glow

buffet

I bought this for my mum and she said this really worked well to firm up her skin and keep it hydrated and healthy (she has dry skin and uses a moisturiser with this). She will be repurchasing

Good for dry skin

I have found this product really good for hydrating my dry skin. I struggle with dry patches on my skin and I have found this to be really good with preventing them.

Visible improvement

This product felt very nice on the skin. My skin looked brighter after its use. It is one of the more expensive products on the Ordinary's list though.

Wonderful Serum

This product has everything you need for any skin type. I have extremely dry, sensitive premature ageing skin and this is perfect for every day.

The EXTRA-Ordinary

Super happy with this product - TO have done well to produce such effective products at very affordable price points.

The buffet has done my skin a heap of justice in just a small amount of time (1 month).

Love the thin serum consistency, absorbs like a dream and just feels pleasant to apply overall. I use this after cleansing and spritz toning, and slap on TO's 10% nia...

Read More

Affordable and works

I have oily skin so I find this works well at giving my skin the hydration it needs without feeling greasy and at a decent price too

Amazing !!

I think you need to use this for a week or two before you see the results but I'm happy overall and it works well in combination with the the other products

normal

like this brand but see nothing special effect on this product and a little bit Sticky

Great

Like most of The Ordinary products I use I don't quite know what exactly it's job is but all I know is when I stop using one my skin goes dull. It works well together with all the other products I'm using and I'll never not buy it

Soft and smooth skin

I haven't used many serums before. This one seems quite good and left my skin soft and smooth. Have only been using a few weeks and skin seems generally brighter. Haven't seen any affect on fine lines yet.

Amazing

I have been using expensive hyaluronic serums and moisturisers for years. This product was truly amazing. TO be honest I never really notice a huge difference with any beauty product but this made my skin so smooth and dewy and I have had any outbreaks and flaky skin for over a month now. I am buying the supersize version,

No improvements

I've gone through 2 bottles of this and it hasn't really done anything to improve the skin in the long term. Sure it adds a little bit of hydration to the skin but any other serum, essence of toner can do the same thing or even better. The name "buffet" implies something super nourishing to feed the skin but I got no where near that.

Not for me

I am a huge fan of TO products and really wanted to love this, seemed like the lynchpin to any TO routine. However I found my skin reacted badly - got burning sensation when I put it on, and occasionally broke out in rashes. I have sensitive and dry skin, often eczema prone. However I havent had similar reactions with other TO products. I also found it clashed with other products that were more im...

Read More

Great for skincare beginners

A great place to start when you haven't taken the time to love your skin before. Absorbs easily and sits nicely under makeup.

great for hydration

I have been using this product for quite some time, I found this product to really hydrate my skin.

great

this has to be my favourite product from this brand. my skin feels amazing after each use and can noticeably see a difference

I love this!

I have been using this for ages. I use the supersize one whenever I can get it in stock. Its great to have one serum that I know is great and can wear under makeup rather than have a 3 or 5 step routine. I use moisturiser at night with it and just on its own in the morning. It's not greasy at all. #yearofinnisfree

Good value

For this price point, this product is absolutely amazing. I have been using this product for the last few years and my skin feels so fresh after using it! It keeps my eye eczema away completely - seriously is my saving grace. The serum is quite watery but it does the job for me!

Not for me (causes/contributes to breakouts)

I really wanted this serum to work 'wonders'. I wanted my 37yr old, sensitive & dry skin that gets some breakouts/hormonal breakouts to love this. The result of this is constant breakouts.

Trial one: with TO's Hyaluronic Acid 2% + B5 - this was too much for my skin. It loved the moisture, but was just too much. I broke-out all over and it took sometime to settle.

Trial t...

Read More

Broke me out

I bought this as an alternative to Estee Lauder's ANR serum - it's not a good dupe in my opinion, and unfortunately broke me out after a week!

Super Affordable,Totally Worth It!

Can already see a change in my after a week and a half! A really good serum-like product, definitely worth buying!

Love it

Used in combination with The Ordinary HA and moisteriser, this had made my skin softer and stopped that dry cracking feeling I often get through autumn and winter. I love it.

Great product

This is a great product for me, make my skin looks great and the price is great. I have been using it for a while combined with other products from the ordinary.

Great value serum

This serum works really well and adds a "glow" to my skin. It's not serum isn't very hydrating by itself but paired with a face oil and moisturizer I see great results.

The Ordinary's Buffet

Buffet is an amazing serum a blend of peptides, acids, and elements that make just the perfect serum for me. It is not only the best value for money - but it would be cheap at twice the price. I use it everyday and people have been commenting me on my 'glow' which Buffet gets most of the credit for.

Great serum! Alternative to Hyaluronic

This serum is really nice. It's like your multivitamins for the skin :D

It works!

When I use this consistently I definitely see benefits in terms of skin smoothness, reducing the appearance of fine lines and wrinkles and overall hydration of my skin.
For most effective resultS I find it works best applied to damp skin, and then lock the hydration in with a nice occlusive moisturiser. Also you only need a few drops, maybe 2-3. If you use to much I find it makes the skin a...

Read More

I like it - but haven't noticed a huge difference.

I've been using this for 3 months now and not sure I've noticed much of a difference? I'm 27 though so maybe it'd be more obvious if I had more wrinkles. I bought the supersized bottle as I think this is something you need to use for a long, long time to get results - but who knows, maybe I'll be glad I used it when start aging more!

It didn't work for me.

I was really keen on trying this product after reading all the great reviews here and there but sadly it just wasn't for me. As much as I wanted to love it but my skin says otherwise. I have combi type of skin and lucky enough to have clear skin and only get to have hormonal pimple when it's the time of the month. Sadly, I get breakouts in 12 hrs after applying the product on. At first, I thought...

Read More

great product

I bought this product because I wanted to add one more serum to my night time routine and I'm so glad I picked this. My skin looks so much brighter and smooth when I wake up after using this product. Would definitely buy it again

Love this serum

I use this serum every day at night and it has helped improve my skin tone and reduce breakouts.
I use it with a combo of other Ordinary serums & some Alpha H products & they have just been such a great tool for my skin.
If I run out of any of these products I notice a definite change in my skin. Buffet feels lovely going on and is so affordable, would definitely recommend :)

great start

this was the first ordinary product i bought, when i will still a bit overwhelmed with all the products and what they were for. its a great starting point if you are just getting into skin care

Gentle hydrating serum

Using every morning for hydrated bright skin, love that it is fragrance free and affordable

Improved my skin texture, very gentle but powerful serum.

I never heard of the Ordinary until I started watching online beauty tutorials and listened to some beauty podcasts. At such an affordable price I thought I would give their products a try. I used this serum on a daily basis for a month as part of my morning routine. I would cleanse, then use the Ordinary's Niacinamide serum followed by this serum. The texture of my skin has improved and my ac...

Read More

great for dry yet oily pimple prone skin

My skin is starting to age (dehydration. dullness, fine lines), yet I still have an oily t-zone and most rich, heavy products cause me to breakout. The buffet is a nice, light texture that is easy to apply, but still feels like it is adding moisture.

six drops is enough for my entire face and neck.

I use this with other ordinary products in my daily skincare routine, and...

Read More

perfect under moisturiser

This is very hydrating and it softens my fine lines

for young skin

It's a nice product for these people in their 20s who want to try some anti aging products. It feels good on skin and moisture the skin, however don't expect to see a big difference

It's working

Bought a few products from The Ordinary and has called in love with this product. My skin has definitely become more smooth and softer just after a few uses. It's too early to comment on its effect on reducing the neck wrinkles but I think it will work if I keep using this product for a while. Will purchase it again. :)

Smooth and dewy

Love this product it has really helped my dry skin and is so calming.

Nice serum

I've been using this for about a month now and have noticed my skin is plumper and firmer. Just a few drops is all you need. Love the ordinary.

Very good serum

When I discovered The Ordinary I bought a heap of products because they were so cheap. After a while I realised I should have just bought Buffet. Its great.


watery

watery and easy to spread on the skin. can't tell any significant changes but it provides short term hydration

Pretty good!

It was hard to tell if this product helped my skin or not since it seemed like such a basic serum. But after a while I did see my complexion improve. My skin does look a look smoother and fresher. I can't wait to try more if this brand's products!

love it

I'm onto my 2nd bottle of Buffet now and find it a great addition to my routine. It's not as watery as some of the other Ordinary products which I find easier to apply. It doesn't irritate my skin either which a lot of anti aging products do.

Light, moisturising serum

Absorbs nicely into my skin and makes it feel soft and hydrated. I apply it at night after cleansing.

Great product.

Having used this produce for a month, my skin feels more supple and healthy. Wrinkles are becoming smoother. Love it.

LOVE LOVE LOVE

I absolutely love this serum, works very well with dry skin.

bought before, want to re buy agian

I used Buffet few years ago with very good result. My skin was more smooth and less pimples. I want to re buy again.

Perfection

I use this in the morning and at night and it leaves my skin so soft and hydrated. The texture is a little watery but I find that it absorbs quickly. Can't go past the price - great value for money.

Hydrating

I love this, it is so hydrating and the fact that it is anti-ageing is a plus. I'm not someone that has wrinkles (yet) but I thought this would be a great way to start the anti ageing process.

Soft and smooth skin

The Original was my first step into the world of syrums, so whilst I can't compare it to anything I do know that my skin is definitely softer and smoother after having used this for a while!

Perfect All rounder

This product is the perfect all rounder serum! Definitely great to have a part of your am/pm routine.

Perfect addition to my boyfriends night time routine

Great results, feeling super hydrated and brighter skin.
As hes getting older it is the easiest addition to his night time routine as its an all in one kind of product

Beats any $$$$ serum!

This hydrating serum beats any expensive serum I have previously spent my hard earned coins on. I have recommended it to all my friends and they love it too, I have oily skin and this is such a great hydrater and you can't go pass the price point.

I wasn't a fan

I found this serum a bit too watery for my liking and didn't feel like it did much at all in the way of hydration. I wouldn't purchase it again.

Happy

I purchased this product to see if I liked it. I have made numerous purchases of this product. My face feels smooth and soft. I wear it under my makeup and under my cream at night. Yes its cheap, but I feel it works

Good consistency

I've been using it since Feb 2020, can't say that I notice a huge difference as I don't have very wrinkly or scarred skin, but the consistency is nice, no odour. and I'm sure is working preventatively for my future skin

Great Pre-emptive measure for anti-aging

I used this for a month and could see some faint lines disappearing.

It's good, but not better than the HA

This is a nice serum however I don't think it does much more than the HA serum - for the price point, I thought it may be better. I'm about half way through the bottle and will finish it, if my skin gets even better by the end I'll be happy.

Not for me

I bought this as a recommended dupe for Estee Lauder's Advanced Night Repair serum, but found it made no difference for my skin except for break outs.

My skin loves this!

I have been using this serum for over a year now. My skin is plump, soft, and moisturised. I love that thi is so effective while at the same time being so affordable!

Overall Serum

I try not to have too many steps in my skincare so was looking for something that would do lots of things in one, so I decided to give Buffet another crack this time around with a very minimised step skincare routine and it has done wonders !

Even out my skin, brought life to the dullness making it brighter, my pores also seem to show less too.

Worth the investment ! Wi...

Read More

This is beautiful

I loved using this day and night to brighten my skin complexion. I think I will repurchase the buffet with copper peptides next to see what that can do for me! These products are so affordable and honestly lovely to use

Skin care staple

I use this each morning and it has made such a difference to my complexion. My skin is so much smoother and has fewer breakouts, plus it looks more plump.

Amazing product

My skin looks so clear using this. Helps with in even skin tone and blemishes. Nice and hydrating too. So affordable

Great for texture.

I really like the hydration this product gives my skin. I feel there are other products that give stronger results though, but overall noticed a difference and I would purchase it again.

Ms

I bought this 2 months ago and straight away my skin felt hydrated. I love the feeling on my skin. healthy appearance, I will be continue to use it.

Part of my everyday routine

I was skeptical about the Ordinary, but after watching reviews and many other things on Youtube I decided to give it a try.
My biggest concern is my oily skin. I have been using buffet with Nacinamide 10% + Zinc 1% and to my surprise, my usually very oily skin by lunch time could look amazing until late evening, until I wash everything off.
I love this products and the best part that i...

Read More

Loveeee

I'd been recommended this product by so many people and I'm so glad I gave it a go! It always leaves my skin super hydrated, glowing and has greatly helped with my overall complexion. It's a staple in my PM routine, definitely try it!

Calm, hydrated skin at the ready!

I love this serum a lot, like I mean a lot, a lot. It's awesome, there are so many brilliant ingredients that help plump, hydrate, reduce sensitivity and give great glow to the skin. I have to be on my 5th bottle of this stuff, I'm definitely purchasing the supersize next time I need a refill.

Great value!!

Best serum I have used by far. Great result with my skin and such a reasonable price.

Hydrating and plumping

I find this serum to be really nice and hydrating and plumping. I feel like it has also made my lashes and brows stronger and healthier! Apart from that though I don't really see any other changes

Best Serum

Best serum I have used by far. Great result with my skin and such a reasonable price.

Fantastic!!

I bought this product as part of an anti aging regime I read about on The Ordinary's website and I am loving the results so far! My skin is glowing. I use this morning and night after cleansing and before all other products.

My new best friend

I have only been using this product for three weeks but I'm already loving the results. A little goes a long way and it's very light and absorbs quickly but best of all is what it's done for my pores. Every pore on my nose and across my cheeks was visibly clogged and nothing I've ever used has helped with it before using this product-and after three weeks they have practically disappeared and no c...

Read More

love this

easy to use - absorbs nicely into the skin. Feels very hydrating. Unsure whether i've witnessed any changes in the appearance of my skin due to this product, but I do like it.

Made skin itchy

I found my skin became itchy after a few days of using this. There must be an ingredient in there that doesn't suit my skin. I've used other "The Ordinary" products and have no had any issues.

No better than their HA

I like to rotate this product into my routine however I don't feel like it makes much of a difference. The texture and results are much like their HA. I won't be repurchasing.... just going to stick with the normal HA.

Bang for Buck

Buffet sums it up - comprised of all the goodies you need to ensure your skin receives a hydrating boost.

Have used other more expensive variants but find myself coming back to this especially when dermarolling given I can use it a little more heavy handed without feeling guilty about the price tag.

Great value for money

Great value for money. I have introduced this product into my morning routine. Does have a slight chemical smell but it works on my fine lines.

Effective serum

Have bought several bottles of this and use morning and night. Definately helps with skin tone and texture but not happy with the last bottle I bought and had just started using as the cap has split and I now can't screw the lid back on a virtually brand new bottle. Hasn't happened with the ones I've used previously. Other than that it's a great budget friendly serum comparable to more expensive o...

Read More

Easy yet quality multi-purpose serum

As someone who moves between 2 houses frequently, I've this serum to be a saviour as it's basically an all-in-one multipurpose serum. I use almost every morning and it affectively helps to hydrate, plum and freshen my face. I'll buy this again and again, especially for the price.

Not as good as I expected

I brought this product back in April and have been using it most mornings since, I have not seen a huge improvement since using it. Unfortunately I was expecting big things from all the great reviews but my skin type may just not be suited. I will continue to use the buffet until it is out.

Worth the hype!

I was skeptical about this product. I wasn't sure what it was intended to do or if it would be worth it when comparing the cost to other products from The Ordinary. However, it has become my go to.
Even on a lazy skin day, I use Buffet. My skin is super hydrated and I've seen a huge improvement in fine lines and initial signs of aging.