The Ordinary Amino Acids + B5 30ml 30ml
Is this for you?
The Ordinary Amino Acids + B5 helps to boost the skin's barrier function, elasticity and hydration, resulting in a plumper look and feel.
Skin Concern:
Dull, dry or dehydrated skin
Frequently bought with
Please wait while we find a match
Questions & Answers
(1 Question)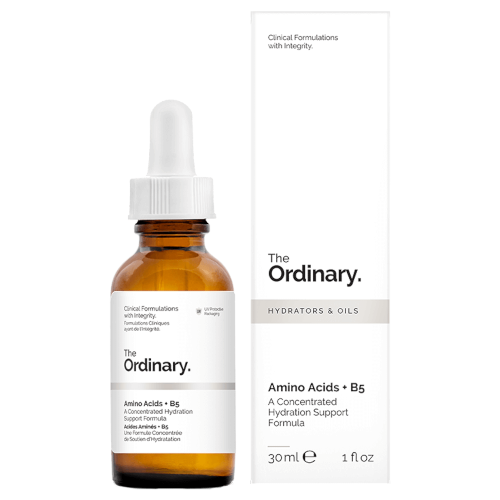 The Ordinary Amino Acids + B5 30ml
Get an expert to answer your question about this product!
95% recommend this product
Most Helpful Positive
Great product
Does it's job for a great price. Feels nice to put on and hydrates well
Most Helpful Criticism
Average,
I used the whole bottle and didn't really notice much difference in my skin condition overall. I'd recommend trying other products from The Ordinary, because they do have a wonderful range. This was just not that great to rave about. Didn't break me out, but didn't make my face radiant either. Meh.
Great product

Does it's job for a great price. Feels nice to put on and hydrates well

Good moisturiser

I have found this to be a good moisturiser without causing any irritation to my skin.

Great

Bought this for my mum and she loves it. She has very very dry skin. Have finished a bottle and wants another already.

Great

This makes my skin feel so much softer and hydrated

I love this!

I've only been using this for five days and my skin looks absolutely amazing! Best thing though is using it for the first time overnight then waking up to smooth and plump skin! Didn't expect any results overnight at all so was very much pleasantly surprised. I used it in conjunction with Hyaluronic 2% and natural moisturising factor. I put this over the eczematous patch on my skin and it didn't s...

Read More

Love it!!

This serum is lightweight and moisturizing. I got this to add to my moisturizer cream for added nutrients for my skin. This product is amazing and inexpensive to add to your skincare routine.

Better than buffet?

I switch between this and Buffet and I've noticed it absorbs a lot better than buffet. I can't tell any other difference between them so I'll continue to use up my buffet bottle but will probably replace completely with the amino acids in the future.

Hydration support

I don't quite realize how much I love this product until I run out. It really does assist with hydration and giving that extra glow to my aging skin. Applies easily and not too tacky or sticky. I then apply an occlusive moisturiser afterwards to lock in the goodness.
I can't be without this one.

Hydration support

I don't quite realize how much I love this product until I run out. It promotes hydration and gives me a super glow to my aging skin. Be assured it does work. It is easy to apply not sticky/tacky on the skin. I then lock in that goodness with an occlusive moisturiser.
I cannot be without this one.

It's a yes from me.

I have really dry skin, and this has been amazing for me. It's taken me a while to figure out exactly what works well for my skin and this is one of my staple products. I use this after the Marine Hyaluronic Acid, and use the Plant-Derived Squalane shortly after that both morning and night.

Hydration staple

I use this occasionally in my routine when I'm feeling extra dry during winter. Works every time to get y skin back on track!

Very hydrating but made me shiny

I was looking to change up my Ordinary skincare routine a bit, and after reading reviews that this was better than Buffet I decided to give it a go. It is definitely very hydrating but I've found it makes me a little shiny as (thanks to other Ordinary products!) my skin is no longer that dry, so I'll probably wear it overnight only and stick to Buffet for during the day. Definitely recommend for a...

Read More

Hydration Lifesaver!!

I usually only feel more dry across my forehead with quite an oily T-zone and this product has saved my skin during winter. I no longer feel dryness or tightness across my forehead, and it doesn't make the rest of my face feel more oily. Feels like it gives the skin a drink of water. Would recommend

Hydrates and absorbs well

The product is hydrating and nicely smooths out the skin. It is quite a lot thinner than all the other The Ordinary serums; this means it absorbs nicely (much better than the Buffet or Niacinamide) but you also use more of it to cover your face.

Amazing value

I have to agree with the other review about this being better than the buffet, and for the price you can't go wrong! Definitely something that I will be repurchasing

Will definitely repurchase

I've been using this twice a day after cleansing and before moisturising and have found that it's significantly decreased the dry and flaky patches I've been experiencing.
I have combination skin (oily t-zone, dry patches) and occasional eczema flare ups on my face and this product has been gentle and moisturising without triggering any breakouts or exacerbating my eczema.
(For refer...

Read More

Nice product

I have just started using this product and it definitely hydrates my skin. I will continue to use it as my skin is very dry and this product is so accessible and a great price.

So hydrating

It does hydrate skin so much. It feels so pumped after 1 use. I found this to be better than the buffet on the ordinary. Love the price too. Will repeat this.

I'm glowing

My face is glowing after introducing this to my skin care routine

Great for moisturizing and repairing

I have normal to dry skin and had a bad break out from introducing a new serum into my routine. I discontinued the serum but my usual routine was not clearing the break out for 3 weeks.

I started using this serum to provide more moisture and help repair my skin. In a matter of days my skin calmed down and started repairing. I use this serum now every night accompanied by their Natura...

Read More

Definitely worth the money

I really like the consistency - its on the thinner side and my face seems to be glowing a little more after adding this serum to my everyday routine.

Love it

I have dry skin. Been using this everyday morning and night. Up to my second bottle now. Really enhances the moisture barrier and support. Will return for more

Subtle hydration

This has subtly increased my skin's elasticity, made it feel slightly more hydrated and smoothed out texture a little. It's not an overt miracle worker, but it does something.

great subtle effects

I have been using this for around 2 weeks now and have noticed my skin looks clearer, smoother, and has a better texture. The changes to my skin happened gradually and slower than I expected but in saying that, I am really happy with the product.

Works really well

I love the ordinary. This makes my skin more even, smooth, toned, and soft! An amazing product for the price and lasted a fair while considering the size of the bottle!

Great

Amazing for oily skin
It's the second time I'm buying this product, I love it.
It really hydrates the skin without making it greasier (I have very oily skin).
I used it every night before I go to bed and my skin feels amazing the morning after!

Love this product

It protects, it plumps, it hydrates...Love this product.

Average,

I used the whole bottle and didn't really notice much difference in my skin condition overall. I'd recommend trying other products from The Ordinary, because they do have a wonderful range. This was just not that great to rave about. Didn't break me out, but didn't make my face radiant either. Meh.

lovely product

I found this product goes really nice on my skin, early days using it but very happy so far

A great addition to my skincare routine

I bought a whole bunch of TO products and using them all in conjunction makes my skin feel and look amazing! I only need a tiny bit of this product, a few drops is enough for my entire face. It can feel a bit greasy if you use too much but it doesn't take long to absorb.

Soft skin!!

After a few days I definitely noticed waking up to a smoother complexion, it's not so heavy on the skin however it feels a tiny bit greasy but overall would recommend, especially for dry skin! I wear it under my primer as well and find it keeps skin well hydrated!

Amazing hydrator

Very soothing, not scented and feels amazing on my skin. Love the consistency, it is very water like, dries immediately and not sticky at all. I add 2 drops to my face AM and PM. Mixes well with all my serums. Highly recommend this!!

Amazing stuff

This is amazingly and a must have if you have dry peeling skin like me!!! Such a lifesaver at an amazing price too

affordable and great!

like it a lot.I mix it with my natural moisturizing factors and my skin feels really hydrated.I had no stinging when I applied it.I will repurchase!

Must have for dry skin!

The moment I applied this to my face, I knew this would work well for my skin. Within moments after applying this product and letting it absorb, my skin felt so supple and smooth similar to the feeling you get after using a face mask without the sticky feeling. To be honest, when I first read the product description I felt a little worried since it mentioned that the product might cause a little t...

Read More

Nice

Super hydrating to my very dry skin and gentle on my sensitive skin. Its very watery just wish it was a little bit thicker.


Amazingly Beautiful Serum

A wonderfully hydrating water-based serum that makes my skin feel SO good - for the price it's amazing! I have very dry skin and this has made my skin so smooth and luscious. I would repurchase a million times over! I do agree that using a hydrating toner and moisturiser with it is key, but besides that it's really just a super nice addition to a skincare routine.

Superstar!

Beautiful, gentle product that leaves skin hydrated, clear and bright. I'm definitely adding it to my holy grail list.

TIP: Layer with a hydrating toner and moisturiser. Game changer!